Have you looked up at the night sky lately?
Well, if you live in the city you probably can't see too many stars because of light pollution in cities.
But they're out there whether you can see them or not.
And when I'm in the countryside I always take time to appreciate the beauty of the night sky with so many stars like pin holes letting light through a black curtain.
There are many ways that we have interpreted stars.
What used to be superstition later turned scientific with the astronomical study of the heavens, but good old astrology still exists to this day.
We often like to think that there is some pattern of fate at play in our lives.
And this is a role that the stars have somehow taken over; "Hey baby, what's your sign?"
There are also famous stars such as Betelgeuse or the North star.
And plenty more types of stars exist such as shooting stars, dwarf stars, and nuclear stars (black holes).
And I'll bet one of the first songs you ever learned as a child was Twinkle, Twinkle, Little Star.
So when it comes to music, there is no shortage of metaphors if you want to write about stars.
The biggest problem is probably finding a fresh idea that hasn't been done by countless artists already.
So let's get started and check out some of the best songs about stars that music has to offer.
1. Starman – David Bowie
As soon as you hear the discordant chords that start this one off, you can be sure that you're in for something weird and wonderful.
And David Bowie isn't one to disappoint with a tale about a being from another solar system who has decided to communicate with Earth's youth.
Back then TV and radio were really how many people interacted with the outside world, so if a radio broadcast was hijacked by an alien it would be pretty fantastic indeed.
Keep in mind that this was before famous pranks like the Max Headroom character hijacking a TV channel.
And the song also plays on the everlasting disagreements between teenagers and their parents.
In fact, he just wants young people to boogie and have a good time. Sounds nice to me.
I don't know where the Starman calls home but I sure wouldn't mind taking a vacation there!
Written by: David Bowie
Year Released: 1972
Album: The Rise and Fall of Ziggy Stardust and the Spiders from Mars
2. Black Hole Sun – Soundgarden
We often like to think that the human race is the center of the universe and that's fine since there is no proof otherwise.
So when we hear about stars going nova and becoming black holes that suck in and devour everything, we naturally think "Oh that could never happen here."
Sure we have scientists that study that sort of thing, but if our own sun was going to burn out in the near future, do you think they would tell us? I'm not so sure.
And in this famous 90s Grunge song, Chris Cornell sings about disillusionment and depression, wanting to "hang my head, drown my fear, 'til you all just disappear".
But although rain is sometimes associated with hard times, there's a twist in this song as the lyrics call for a black hole sun to wash away the rain. In other words… destroy everything.
A lot of Rock bands tackled hard issues in the 1990s but few did it so creatively and melodically as Soundgarden.
Written by: Chris Cornell
Year Released: 1994
Album: Superunknown
3. Paint the Sky with Stars – Enya
If you need to unwind or slow your heartbeat this New Age song with an Irish flavor will do the trick.
According to Enya herself, the song was inspired by two things: her daughter, specifically that thing where you can "have a star named after someone", and Enya's love of looking at the night sky to clear her head.
Having said that, I don't think the song means you should paint the sky with stars by having children!
Rather, I interpret the song's lyrics as fathoming the vast size of the universe (and our tiny place in it) and also trying to find beauty in our lives.
In other words, try to never lose that sense of wonder that a child has as it experiences things with a fresh perspective.
Written by: Enya and Roma Ryan
Year Released: 1997
Album: Paint the Sky with Stars: The Best of Enya
4. Born Under a Bad Sign – Albert King
This song puts the superstitious aspect of the stars into a groovy Blues jam that is so infectious that it might give you the blues.
Now what may seem predictable in the Blues genre these days was still somewhat new territory when this recording was released.
Although Blues music started earlier, a lot of the biggest names associated with the genre are from the 1960s and this song was also recorded by Cream in 1968.
And as for whether you think it's possible to be born under a bad sign, I guess that depends on whether you believe in astrology or not.
I will say that it seems like some people just seem to be lucky all the time.
And the line "if it wasn't for bad luck, you know I wouldn't have no luck at all" is one of the greatest Blues lyrics ever.
Written by: Booker T. Jones and William Bell
Year Released: 1967
Album: Born Under a Bad Sign
5. Starcrossed – Ash
Ash – Starcrossed (Official Video) – YouTube
Fate again takes center stage in a Rock song about a relationship that wasn't meant to last.
And while the song isn't breaking any musical barriers for me, the reference goes back many centuries.
In Shakespeare's Romeo and Juliet, the young couple from two feuding families is introduced as "From forth the fatal loins of these two foes, a pair of star-cross'd lovers take their life."
So this song gets points for paying homage to one of the most famous astrological curses in literature.
And if you've never seen or read the play, things get pretty tragic, echoed in this song by "now it's far too late, the poison's in our veins".
And maybe you don't believe in the "alignment of the stars" but most of us have experienced bad luck that felt like a curse.
Written by: Tim Wheeler
Year Released: 2004
Album: Meltdown
6. Wandering Star – Portishead
It's been a while since I've listened to some 90s Trip Hop, but it still sounds good and the bass really pumps on this track.
The song is about feeling disheartened and centers around a chorus that views stars as not so romantic or wonderful: "wandering stars, for whom it is reserved, the blackness of darkness forever".
Sure they look nice from down here but in reality, space is cold and empty.
In fact, William Shatner who recently traveled to space (not deep space but at least outside of earth's atmosphere) on one of the commercially available flights, said that all he saw was death.
So this song may get nearest to the scientific truth of what it's really like out among space and the stars in the distance.
But one of the wonderful things about music is how one thing can be interpreted so many ways and one isn't necessarily better than the others.
And if you dig this track, the whole album is solid and worth a listen!
Written by: Portishead
Year Released: 1994
Album: Dummy
49 More Great Songs About Stars
| | |
| --- | --- |
| Title | Artist |
| "Corcovado (Quiet Nights of Quiet Stars) | Stan Getz and João Gilberto |
| There's a Star for Everyone | Aretha Franklin |
| Northern Star | Hole |
| New Constellation | Toad the Wet Sprocket |
| Stars and Planets | Liz Phair |
| Rewrite the Stars | Anne-Marie and James Arthur |
| Another Star | Stevie Wonder |
| Counting Stars | OneRepublic |
| STARGAZING | Travis Scott |
| Lucky Star | Madonna |
| When You Wish Upon a Star | Cliff Edwards |
| Here Comes the Sun | The Beatles |
| Shining Star | Earth, Wind and Fire |
| Shining Star | INXS |
| Shining Star | The Manhattans |
| Starlight | Electric Light Orchestra |
| Starlight | Taylor Swift |
| Starlight | Muse |
| Neutron Star Collision (Love Is Forever) | Muse |
| Bright as the Stars | Talib Kweli featuring Black Star |
| Star Bright | Vanessa Williams |
| Moonlight Serenade | Frank Sinatra |
| Shooting Star | Bad Company |
| Shooting Star | Elton John |
| Shooting Star | Bob Dylan |
| Shooting Stars | Billy Idol |
| New Killer Star | David Bowie |
| Ziggy Stardust | David Bowie |
| Lady Stardust | David Bowie |
| Blackstar | David Bowie |
| Black Star | Radiohead |
| White Dwarf | A-ha |
| All My Stars Aligned | St. Vincent |
| Vincent (Starry, Starry Night) | Don McLean |
| Starry Eyes | Motley Crue |
| Starry Night | Iggy Pop |
| Starry Eyed | Ellie Goulding |
| Written in the Stars | Westlife |
| Written in the Stars | Vertical Horizon |
| Written in the Stars | LeAnn Rimes |
| North Star | Faithless featuring Dido |
| North Star | Daryl Hall |
| North Star | Offset featuring CeeLo Green |
| We Are All Made of Stars | Moby |
| Stars | Marshmello |
| Constellations | Jack Johnson |
| A Sky Full of Stars | Coldplay |
| All of the Stars | Ed Sheeran |
| Son of the Morning Star | Danzig |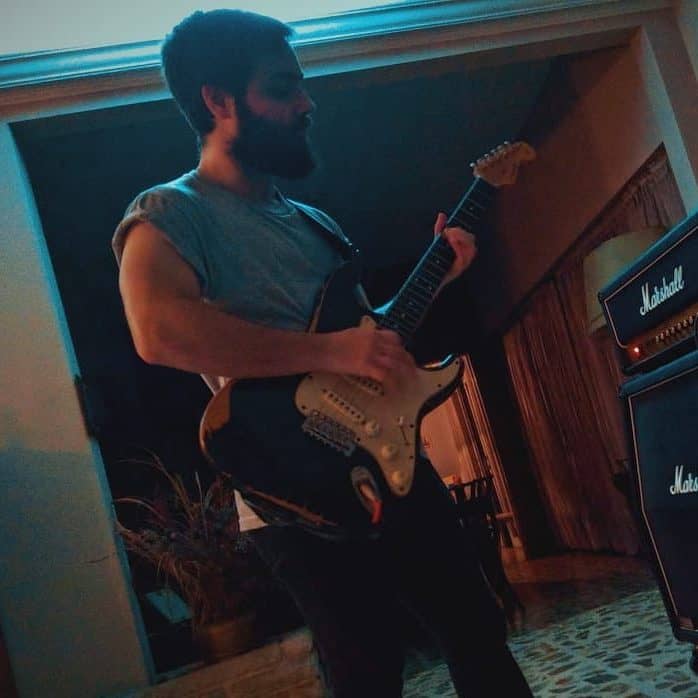 Hello there, my name is Ramiro and I've been playing guitar for almost 20 years. I'm obsessed with everything gear-related and I thought it might be worth sharing it. From guitars, pedals, amps, and synths to studio gear and production tips, I hope you find what I post here useful, and I'll try my best to keep it entertaining also.