You can think of "wonder" and its derivatives in a couple of different ways.
First, it means to ponder or think about something with a sense of curiosity such as it is used in children's songs such as Twinkle Twinkle Little Star.
So in this sense, it can be used as a pretty dull word like "I wonder who left the window open".
But on the brighter side, we often associate it with pleasantness, admiration, or joy such as being filled with wonder, something wonderful, or a wonderland.
And since all these words pop up frequently in some great songs, let's see how musicians feel when it comes to "wonder".
Be forewarned though. These aren't all happy songs as you might expect them to be.
1. Little Wonder
Changes isn't just a famous song by David Bowie, it was a whole philosophy that led to him exploring many types of music throughout his career.
In the mid-1990s electronic music such as Jungle and Drum & Bass attracted his attention, leading to an Electronic / Dance album.
But whereas most electronic music is primarily based on synths, sequencers, drum machines, etc., Bowie still incorporated more traditional instruments such as guitar and bass into the music.
And I'm a big fan of that approach since it makes the music a little more entertaining on tv or at a concert.
I mean, have you ever been to an EDM concert and wondered why you paid money to watch someone use a laptop computer?
Anyway, what or who is a "little wonder"? Is it a person or a pill such as MDMA?
I don't know for sure, but if you listen closely you will hear the names of all 7 dwarfs from Snow White spread throughout the lyrics.
Written by: David Bowie, Reeves Gabrels, and Mark Plati
Year Released: 1997
Album: Earthling
2. Hello
This song is about admiring a woman from afar, while trying to summon the courage to ask her out on a date.
And the character in the song finds himself wondering where she is, what she does, and whether she is lonely or with someone.
Now it may seem that he is letting his imagination run wild and that he should just ask her out already but it is a very sweet song with great vocals and a beautiful guitar solo.
And compared to many songs from the same time period, it has aged like a fine wine.
So remember this one the next time you can't think of a song to do at karaoke night.
Written by: Lionel Richie
Year Released: 1983
Album: Can't Slow Down
3. What a Wonderful World
This classic by Satchmo (satchel mouth) never gets old and reminds us that if we are feeling down sometimes, all we need to do is look around at all the beauty in the world.
And I think that "wonderful" means a little more than good or beautiful here as he describes looking around him with a real "sense of wonder" like seeing the world through a child's eyes.
This song was recorded only a few years before Armstrong's death so I like to think of it as a beautiful coda to an amazing career.
Written by: Bob Thiele and George David Weiss
Year Released: 1967 (single) 1968 (album)
Album: What a Wonderful World
4. Wonderboy
Never a band to take anything too seriously, comedy duo Tenacious D shook up the music world with this silly and creative song.
As Jack Black sings about Wonderboy you may hear hints of Progressive Rock and Heavy Metal songs that did take themselves a little too seriously.
And while I have nothing against the band Rush, for some reason this song reminds me of their song Tom Sawyer in that regard.
This song even had Dave Grohl playing drums and doing some of the guitar work if you need another reason to like it.
Written by: Jack Black and Kyle Gass
Year Released: 2001
Album: Tenacious D
5. I Wonder
This song is about a guy feeling trapped by his life, wanting to escape, and wondering how things got so bad.
This song was released as the third single from their debut album after they hit it big with the song No Rain.
And although they released another full album and even one more posthumously after the death of their singer, these poor guys were always remembered as the band with the "bee girl" in the music video for No Rain.
Written by: Blind Melon
Year Released: 1992
Album: Blind Melon
6. It's a Wonderful Life
Sparklehorse? This song is more like a horse tranquilizer.
Because it sounds like the singer is struggling against a dose of Ketamine and listening to it might slow your heart rate a bit too.
So in this song, there's a lot of irony going on between the title (presumably taken from the classic Christmas film), the lyrics, and the drugged lullaby style of the song.
And although it is haunting there is still something beautiful about it as well.
Written by: Mark Linkous
Year Released: 2001
Album: It's a Wonderful Life
7. What's He Building?
This song about nosiness and suspicion is like a spoken word performance with some atmospheric music to accompany it.
And here the protagonist is constantly wondering about what his neighbor is up to and assumes only the worst.
See, sometimes a curious mind is not a healthy thing when it becomes an obsession, with this guy even going so far as to watch what kind of mail his neighbor sends and receives.
While we never find out what the neighbor has been building (if anything, maybe he's just doing some home repairs) I think the song's protagonist really needs to stop wondering about his neighbor's activities and find a hobby of his own.
Written by: Tom Waits
Year Released: 1999
Album: Mule Variations
8. Boogie Wonderland
For the last track that we will cover in detail I think it's time for a feel-good collaboration tune by Earth, Wind & Fire and The Emotions
This infectious and over-the-top song is about dancing, letting it all hang out and forgetting about all of your worries.
Or is it?
There is a theme at the beginning of the song about how nightclubbing and having a good time isn't a band-aid to be applied to problems in your life.
So maybe Boogie Wonderland is more of a state of mind than a night out at the hottest 1970s dance club.
And you need to be attentive to your state of mind during the daytime too.
Whatever it's about, I'm not one to say no to having a good time.
Written by: Ailee Willis and Jon Lind
Year Released: 1979
Album: I Am
19 More Great Songs about Wonder
| | |
| --- | --- |
| Title | Artist |
| Wonderland | Taylor Swift |
| Winter Wonderland | Felix Bernard and Richard B. Smith |
| Wonderwall | Oasis |
| Runaway | Del Shannon |
| Twinkle, Twinkle, Little Star | Jane Taylor (lyrics) |
| Wonderful World | Sam Cooke |
| Wonder Boy | The Kinks |
| Wonder | Shawn Mendes |
| Wonderful Tonight | Eric Clapton |
| Sometimes I Wonder | Fate Sensor |
| Star of Wonder | Tori Amos |
| Makes Me Wonder | Maroon 5 |
| Wonder Milky Bitch | Air |
| It's the Most Wonderful Time of the Year | Andy Williams |
| I Stand in Wonder | Joe Cocker |
| Well I Wonder | The Smiths |
| Wonder | Natalie Merchant |
| World of Wonders | Bruce Cockburn |
| I Wonder | ABBA |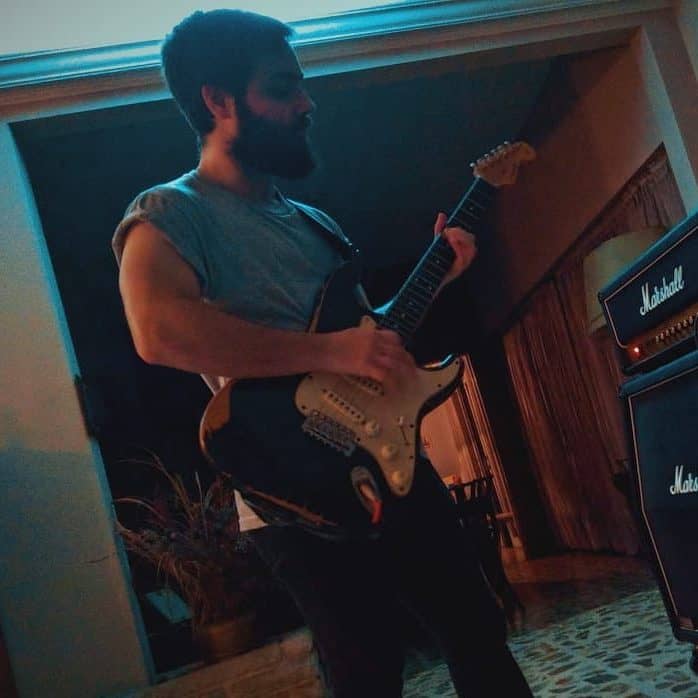 Hello there, my name is Ramiro and I've been playing guitar for almost 20 years. I'm obsessed with everything gear-related and I thought it might be worth sharing it. From guitars, pedals, amps, and synths to studio gear and production tips, I hope you find what I post here useful, and I'll try my best to keep it entertaining also.