Water is ubiquitous. It's literally all around us and we simply couldn't exist without it.
In fact, our bodies are mostly made up of water too, which is why it's so crucial.
And whether it's freshwater, seawater, bottled, or out of a faucet tap, it's all really the same when push comes to shove.
But symbolically, people have different interpretations of it: from referring to a handsome or beautiful person as a "tall drink of water" to the changing of the ocean tides meaning that life goes on though people come and go.
And while you would think that water would usually represent life-giving qualities that's not always the case.
In fact, I have known people who couldn't remember the last time they drank water, instead preferring soda or other drinks!
And natural disasters such as floods, typhoons, tsunamis, etc,. loom large in the minds of people. I sure hope you know how to swim!
And people are also frightened by what they can't see below the surface.
So grab your favorite brand of bottled water and let's see how water has seeped its way into the world of music.
1. Five Feet High and Rising – Johnny Cash
This simple but fun song shows a child's perception of his town being flooded.
Everything gets washed away as a family tries to escape and each time the child asks his parents how high the water is, it increases in the chorus, going from two feet high to five feet by the end of the song.
(Johnny Cash seemed to like this format in songs as he used much the same technique in another song titled One Piece at a Time, about building a car from scrap parts).
Apparently, it was based on the actual flooding of the Mississippi River, which had a silver lining because the cotton crop the following year was incredible after the flood had stirred up and revitalized the soil.
Well, count your blessings even when things seem dire because God or whatever forces of nature you believe in can work in mysterious ways.
Written by: Johnny Cash
Year Released: 1959
Album: Songs of Our Soil
2. Bridge over Troubled Water – Simon and Garfunkel
Here's an absolute gem of a song that will help to restore your faith in humanity when you feel like no one cares.
Haunting and beautiful, the instrumental accompaniment is deceptive in its simplicity, highlighting the vocal performance perfectly.
And the lyrics take on the part of someone offering emotional support to another who is in trouble, kind of like a mirror of the famous song Stand by Me.
And if I'm ever in need of a helping hand, I sure hope someone like this will have my back to get me safely over the troubled water!
I'm not the only one who feels that way because the song resonated deeply with music lovers and won a ton of awards. It's still held in high esteem today too!
Written by: Paul Simon
Year Released: 1970
Album: Bridge over Troubled Water
3. Cool Waves – Spiritualized
Coming from a band that was very talented at integrating Gospel-style music into other genres, this song does just that and also has a dreamy lullaby feeling.
The lyrics encourage someone to take solace in the singer's love for them despite what challenges life may bring, like cool water flowing over them.
And I think the music has a fluid element to it as well if that makes any sense.
Now if you think you can hear the influence of drugs in the music or vocal style, I wouldn't argue with you because many of the band's other songs are about drug abuse.
And the songwriter used to be in another group called Spacemen 3 which had an unofficial album titled Taking Drugs to Make Music to Take Drugs To.
Hey, at least they're honest about it!
But to get back to this track, the whole album it's from is great and worth listening to if you like this tune.
Written by: Jason Pierce
Year Released: 1997
Album: Ladies and Gentlemen We Are Floating in Space
4. Water – Atoms Family featuring Aesop Rock
This track comes from a Hip Hop collaboration album from the early 2000s, much like the style of an old Hip Hop mixtape.
And while this wasn't stuff you would hear on FM radio, it had some of the best underground rappers of the time involved.
This song takes a bleaker look at life in the modern world where water isn't safe anymore.
In fact, nothing is safe anymore ("Run for the fountain but the fountain is a desert optical tease").
For example, just a couple of generations ago people would have laughed at the idea of paying for bottled water; now it's commonplace.
But amid the urban decay and pollution caused by industrialization, the song's lyrics speak about wanting to stay optimistic and help others through their problems: "I'm just trying to be a solid oak tree for every child to carve its name across".
And I think it's a message worth hearing and trying to integrate into your own life.
Instead of getting angry about what is beyond your control, you can always do your best to improve yourself and the things you do have control over.
In other words, try to lead by example.
Written by: Atoms Family?
Year Released: 2001
Album: Euphony
5. Ænema – Tool (clean version)
If you're getting tired of too much optimism, the jaded guys of Tool have got your back.
Because here water represents washing away all the unsavory aspects of life (in Los Angeles in particular) and starting over like in the Biblical flood tale.
After listing all of the things that he sees as being wrong with present-day life, Maynard sings that you should learn to swim as he prays for rain to create a tidal wave to clean up the landscape.
And if I remember correctly, included in the liner notes for the album was a picture of California sinking due to the famous San Andreas fault line under the ground (earthquake risk)!
As for the music, it is incredibly well crafted and mixed, slowly building to an amazing crescendo.
Some people may even think of this album as one of the last great Rock or Progressive Metal albums, at least in the mainstream. I think it's certainly a high point in the genre.
Written by: Adam Jones, Danny Carey, Maynard James Keenan, and Paul D'Amour
Year Released: 1997
Album: Ænema
6. Song to the Siren – Tim Buckley
In my opinion this is one of the best songs of the last hundred years, or maybe ever.
If you're not sure what exactly a siren is in this context and you just think of an emergency vehicle or tornado warning, it's best to understand a little background first.
A siren in Greek mythology is a woman whose (bird)song would entrance and then lure men to the sea, resulting in their watery deaths.
And the myth is present in the song as it follows a man who crashes his boat on the rocks after being caught in a siren's sweet spell.
There's no need to analyze this one beyond saying that it is about tragedy.
Just listen to it. And if you like what you hear then listen to the cover version by This Mortal Coil too.
I guess I'm a sucker for sad songs but for me, it's just a perfect mix of emotion and a little bit of black magic.
Written by: Tim Buckley
Year Released: 1970
Album: Starsailor
33 More Great Songs About Water
| | |
| --- | --- |
| Title | Artist |
| Ocean Rain | Echo and the Bunnymen |
| Perrier Blues | Jimmy Buffett |
| God Moving Over the Face of the Waters | Moby |
| Waterfalls | TLC |
| Red Water (Christmas Mourning) | Type O Negative |
| I.C. Water | Psychic TV |
| When the Levee Breaks | Led Zeppelin |
| River Runs Red | Life of Agony |
| Down By the Water | PJ Harvey |
| Here Comes the Flood | Peter Gabriel |
| Between the Devil and the Deep Blue Sea | Ella Fitzgerald |
| Still Water (Love) | The Four Tops |
| The Same Deep Water as You | The Cure |
| Still Water (Peace) | The Four Tops |
| The River of Dreams | Billy Joel |
| Water Grave | The Imperials |
| Missing | Everything but the Girl |
| Dirty Water | The Standells |
| Go with the Flow | Queens of the Stone Age |
| Breathing Water | Skin |
| Cry Me a River | Ella Fitzgerald |
| Swamp Water | Swollen Members featuring Phil da Agony, Planet Asia and DJ Revolution |
| Green River | Creedence Clearwater Revival |
| Yes, the River Knows | The Doors |
| Walk Into the Sea | Johnny Marr |
| Splish Splash | Bobby Darin |
| La Mer | Nine Inch Nails |
| The Ocean | Led Zeppelin |
| Drink the Water | Jack Johnson |
| Wade in the Water | Tedeschi Trucks Band |
| Lake of Fire | Meat Puppets |
| River of No Return | The Jeff Healey Band |
| Something in the Water | Carrie Underwood |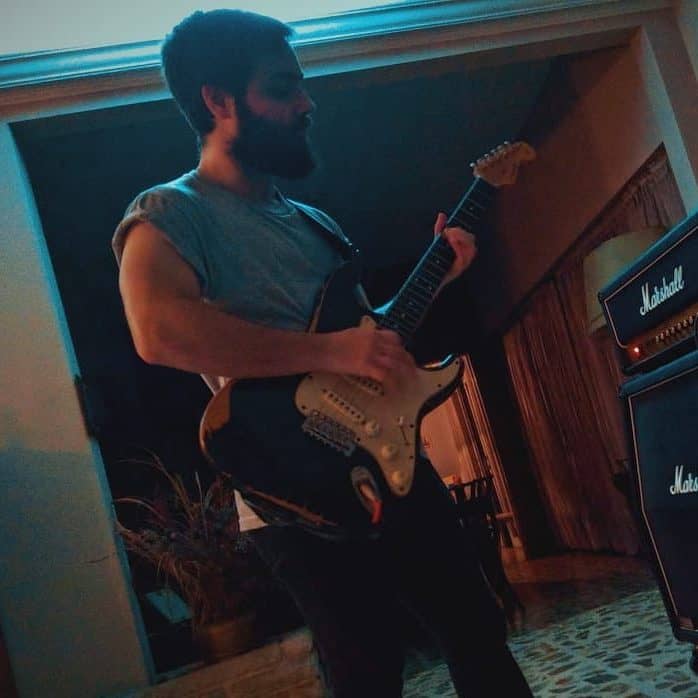 Hello there, my name is Ramiro and I've been playing guitar for almost 20 years. I'm obsessed with everything gear-related and I thought it might be worth sharing it. From guitars, pedals, amps, and synths to studio gear and production tips, I hope you find what I post here useful, and I'll try my best to keep it entertaining also.