Life can be a lot of different things to people and depending on your experience, it can be positive or negative.
Life is full of difficulties and full of joys and many songwriters have endeavored to share their views on life in their music.
I've put together a list of songs on what singers think about life.
Some of it's really deep and some of it's not so much, but it's all somebody's view of life and we can all relate to different music at different times.
1. That's Life – Frank Sinatra
Frank Sinatra doesn't waste any time or beat around the bush in this song.
The entire hook is quite in your face and so I felt it makes for one of the best songs about life because Sinatra proceeds to sing about and describe some simple things and then call them life.
Sounds a bit plain, but that's because it is.
This is a simple song about some simple, but relatable views.
It can be a bit dark on some notes, but overall it's about resilience and "picking yourself up" and getting "back in the race."
2. 7 Years – Lukas Graham
7 years is a sober look at a life progressing through different stages and the different bits of advice for each stage.
Graham took this concept and expressed it brilliantly, making for a song that is not only relatable but that gets you thinking too.
3. Circle of Life – Elton John
A very uplifting track that starts with the iconic Lion King opening cry.
While we may not understand the words, the song is instantly known by our ears.
Elton John did a cover and I wanted to give it a bit more attention, but the original was sung by Carmen Twillie and Lebo M.
The Circle of Life is a song all about the beauty of life and about being kind to those around you.
The chorus goes on to talk about how life tends to be two sides of a coin, with despair and hope entwined as we find our way.
4. Bless the Broken Road – Rascal Flatts
A song about learning from our mistakes and finding love and not letting go of hope.
It's a bit of a country-feeling song, but the lyrics are pretty widely applicable.
The song sings about how God blessed the broken road that leads us to love.
It's a mixture of a song about life and a love song and makes for good listening for both when you feel pensive and when you want to be romantic.
5. Wonderful Life – Black
Wonderful Life is a timeless hit, but it's also an uplifting number for when you're feeling like appreciating life around you.
In fact, I'd recommend listening to it especially when you're feeling down in order to lift your spirits.
It's all about embracing life and seeing that it's wonderful and truly beautiful.
That's not to say there aren't hardships, but life has a way of turning tragedy into beauty and giving us hope despite the aftermath of storms.
And that's what this is all about, don't run and hide away, keep hoping and living and loving.
6. Lush Life – Zara Larsson
Living your life in the moment is what this song is all about.
With its upbeat pop rhythm and its carefree attitude, "Lush Life" is a really great song for when the going is good and we're out to party.
I'd say it makes for a good car radio song that you can listen to while driving with your windows down and the wind running through your hair.
7. Hurt – Johnny Cash
Something a lot more pensive, Johnny Cash's voice gives a heavy and sober weight to this song originally by Nine Inch Nails.
He made it into a Johnny Cash song, rather than just being a cover.
There's so much I can say about this song and how Cash's raspy aged voice just lends to its weariness which is true to all of us at one point or another.
Fun fact, Cash actually changed one or two of the lyrics to remove the swearing from the original.
8. Dream On – Aerosmith
Dream on is a pretty motivating song about "Dreaming on until your dreams come true."
The song is made more real by the fact that at the time that Steven Tyler wrote this song, Aerosmith wasn't yet famous, in fact, they weren't even a band yet.
It was just a song he had written about wanting to chase his own dreams.
They released it as a band song sometime after they formed and it didn't do too well until it was re-released later after they'd achieved success, which makes it a song that has its own story outside of just the story it's trying to tell.
9. Don't Stop Believing – Journey
Journey wrote a lot of good songs back in the day, and everyone knows "Don't Stop Believing."
Just the opening line alone can get anyone breaking out into a song and that's mostly what the spirit of this song is all about while many of us won't know all the lyrics, we definitely know the final part of the song.
I think it's because it rings true in everyone's hearts, that we have the desire to keep believing in life, despite the difficulties we face.
10. The Show Must Go On – Queen
The Show Must Go On is a song built on the idiom of the same phrase.
It's full of metaphors about how we have to continue, even if things are going wrong or if things are difficult.
It's more of a song about resilience and perseverance that you can look to when you're feeling a bit beaten down by the world.
The song chronicles the efforts of frontman Freddie Mercury to continue to perform despite approaching the end of his life.
This was written during a time when his AIDS had not been made public, but the media was widely speculating that he was seriously ill.
11. How To Save a Life – The Fray
This song is less about life in general but more about a narrative centered around a difficult life experience.
Isaac Slade (the band's lead singer) explained that the song was inspired by an experience he had while working as a mentor at a camp for troubled teens.
The song is related to just such a troubled teen and the chorus refers to how at times you're faced with a situation of somebody else's and you just don't know how to help them or give them advice.
12. All My Life- Foo Fighters
All my life is one of the Foo Fighter's most popular songs.
The lyrics and the entire composition can be quite uplifting to listen to, but you'd be surprised about the hidden meaning of the song.
It certainly can be open for interpretation and many have interpreted it as a song about how life, searching for something more, and loving life despite the bitterness it leaves you with.
But Dave Grohl actually described it as a dirty song, about giving certain pleasures to a woman, hence hating the taste but loving doing it.
So make of it what you will.
13. Forever Young – Alphaville
Forever Young is another classic that will live on for at least the next few generations, mostly because all our parents play it and it also features on plenty of other media platforms, like in movies and adverts.
The song is about wanting to stay young and resist the shortness of life, however, it follows up with a rhetorical question about how we might want to reconsider what we're wishing for:
"Do you really want to live forever?"
It's a song about life but not in a conventional sense.
14. My Life – Billy Joel
My Life is somewhat of a middle finger to the overbearing types who like to tell other people how to live their lives.
"My Life" is about living your own life and not letting other people define you and asserting your independence.
The song has quite an uplifting tune throughout with a slowed fill to it, very common in 80s music.
In it, Joel sings to the listener to go ahead and live their own life and leave him alone. Something I think everyone can get behind in their own lives.
15. Bucket List – Mitchell Tenpenny
Tenpenny takes a simple concept and turns it into a poetic device to carry us through his whole song.
"Bucket List" is about seizing whatever time you have left and using it to its fullest. It's about facing the short time we have with people and making the most of it.
It's a good song about living life without regrets, and Tenpenny's voice reminds me a lot of John Mayer but if he grew up in Kansas.
10 More Songs About Life
| | |
| --- | --- |
| Title | Artist |
| Life Changes | Thomas Rhett |
| Let It Go | Zac Brown |
| I've Had The Time of My Life | Black Eyed Peas |
| Beautiful Life | Ace of Base |
| Beautiful Day | U2 |
| Good Riddance | Greenday |
| It's A Great Day To Be Alive | Travis Tritt |
| Edge of Seventeen | Stevie Nicks |
| Bring Me To Life | Evanescence |
| A Design For Life | Manic Street Preachers |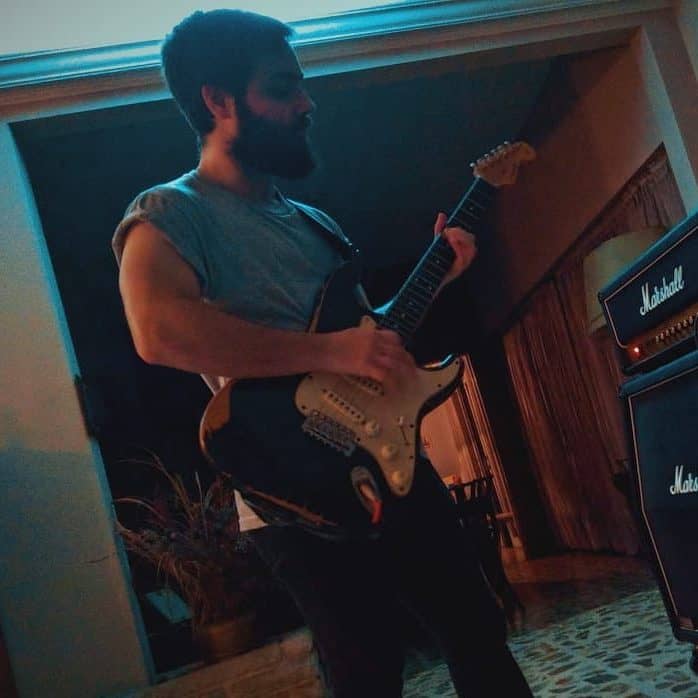 Hello there, my name is Ramiro and I've been playing guitar for almost 20 years. I'm obsessed with everything gear-related and I thought it might be worth sharing it. From guitars, pedals, amps, and synths to studio gear and production tips, I hope you find what I post here useful, and I'll try my best to keep it entertaining also.