Gold has fascinated cultures for eons, whether due to its shine or due to its mineral qualities.
For most of us, gold's appeal is that it's so valuable and it doesn't wear down.
Musicians have tried to capture the cultural appeal of gold in many songs over the years, so I decided to put together a list for you.
1. Fields of Gold – Sting
Sting was inspired to write the song when he moved out to a house with barley fields next door to it.
He saw the wind moving through the fields and it looked like "the wind was making love to the barley".
Sting thought it would be a great idea and so Fields of Gold was born.
Fields of Gold is actually a cover that sting did of the song written by The Tremeloes in 1964.
It's a bit of a cheeky song as it talks about the sun being jealous of the relationships it witnesses from above.
2. Gold on the Ceiling – The Black Keys
Gold on the ceiling is a little vague in its meaning, but it's speculated that it has a lot to do with addiction.
A lot of the lyrics allude to addictive imagery, but the phrase Gold on the Ceiling could also be interpreted as the roof of a cathedral.
3. Gold Rush – Death Cab for Cutie
Gold Rush was written by lead vocalist Ben Gibbard, inspired by the rapid changes to Seattle's Capitol Hill neighborhood, where he had lived for 20 years and some areas were almost unrecognizable after the influx of mass corporation company staff.
The song is about corporate expansion, how it seeks to constantly grow and how it changes (sometimes tragically) the environment around it.
It's about watching the town you grew up in be transformed by greed and become unrecognizable.
4. House Of Gold – 21 Pilots
House of Gold is about growing old, taking care of your parents, and about shattered dreams.
The song was released in 2011 and is somewhat of a tribute to the narrator's mom.
House of Gold seems to allude to the fulfillment of dreams, with the song contrasting that desire with the singer's constant failure to achieve said dreams.
It's a beautiful song with a simplistic ukulele lead that is slowly built on throughout the progression of the song.
5. Gold Dust Woman – Fleetwood Mac
Gold Dust Woman is a bit of a weird one, but like many rock songs it revolves around a metaphor for drugs, more specifically cocaine.
In it Nicks stated that it was her symbolic look at somebody "going through a bad relationship, doing a lot of drugs and trying to make it. Trying to get through it."
Nicks went on to say that she was inspired to write this song after she had a realization of how addictive and dangerous cocaine could be.
She had never bought any, but her lifestyle led to a lot of it "just being around" and she made a whole story about that impression.
6. Gold – Imagine Dragons
Gold is a song that bases itself on the story of the Midas touch and uses that as a metaphor to touch on lead-singer Dan Reynolds' depression struggles.
The song was written while Reynolds was on a retreat and reflecting on the past couple of years and the lyrics reflect much of the emptiness that comes from gaining success.
7. Heart of Gold – Neil Young
Neil wrote heart of gold at a time in his life when things were a lot more positive for him, hence the more uplifting feel of this song compared to his following albums.
The song is a pretty straightforward metaphor about looking for someone who has a good heart.
It's interesting that he states that he's been all over looking for one, implying rather pessimistically that today it's difficult to find good people.
8. Gold Lion – Yeah Yeah Yeahs
A pretty catchy light rock song from 2006, Gold Lion was a song that was partly written as a chant and partly written as a metaphor for the golden lion that the band received as an award for their previous music.
The song becomes about how they're hoping that their success will continue to grow.
At least that's one speculation, another is that the song is a reference to Las Vegas and the golden lights along with the different forms of debauchery there, from gambling to drugs to sex.
9. Gold Digger – Kanye West
Gold Digger is about what it says it's about, but with Kanye West's genius spin and wordplay added to it.
The song loops a sample from Ray Charles' "I got a woman", but West starts off the song by changing the lyrics to "She takes my money when I'm in need."
The song is all about gold-digging women and West's warning about them, however, he playfully refuses to call the woman in question a gold digger throughout the song.
A bit of an ironic song that has aged poorly, considering more recent events.
10. Golden Slumbers – The Beatles
Golden Slumbers looks back on and mourns the moments when we are looked after as children, but that we can never have back.
The song seemed to be a reflection from Paul McCartney on the lives of his own children, which he left the Beatles a year later in order to raise them.
Which is good, it's good to raise your children while they still need you to bring them up.
11. Weight In Gold – Gallant
Weight in Gold is about feeling weighed down, in a really dangerous way, as Gallant explained in his interview with HungerTV.
A lot of the song alludes to metaphors about being brought down but trying to push forward regardless.
It becomes a song about withstanding the weight of the world and looking for a glimmer of hope, despite wanting to let go and succumb to everything.
12. Silver and Gold – Dolly Parton
I remember growing up with this song, and it's a beautiful tale about how worldly possessions can never buy back the time we have in this life.
It's another one of Dolly Parton's characteristic down-to-earth country songs, with this one being about avoiding materialism and also alluding to a heavenly eternity.
She references Jesus in this song and also sings about going to a place where silver and gold mean nothing.
13. Golden – Harry Styles
An indie pop song with a 1970s Southern California sound, Golden seems to be a love song in which Styles uses the word golden to refer to the light of the sun, but also simultaneously the brightness and beauty of the girl he's singing to.
I personally don't like a lot of pop music, and this song is about as cliché as most pop songs out there in terms of metaphor and composition, but Styles manages to make his own unique style shine through and make it an uplifting song with his desire to bring cheer to his listener.
14. Golden Days – Panic! At The Disco
Golden Days is a song about living in the moment and enjoying your youth.
It starts out with the verses dealing with happy memories that aren't Brendon Urie's own memories.
The verses contrast with the chorus that focuses on his own struggle with the fear of losing youth, however by the end of the song he has accepted the thought of getting older and living in the moment, as these days he has, are his "Golden Days."
15. Gold – Macklemore & Ryan Lewis
This song, as Macklemore explains, is about his perfect world and what it would look like.
It's about what he would take away and what he would do to this world to make it better.
The song goes on about how if everything were golden, nobody would be worried about poverty anymore and nobody would need to chase anything anymore.
Everyone could party and relax because there would be equality all around.
10 More Songs About Gold
| | |
| --- | --- |
| Title | Artist |
| Fools Gold | The Stone Roses |
| Black Gold | Sam Sparro |
| Goldie | A$AP Rocky |
| We Are Golden | Mika |
| Make Them Gold | CHVRCHES |
| Gold Dust | Galantis |
| Gold | Jill Scott |
| Everything You Touch is Gold | Gregory Porter |
| Fool's Gold | One Direction |
| Band of Gold | Freda Payne |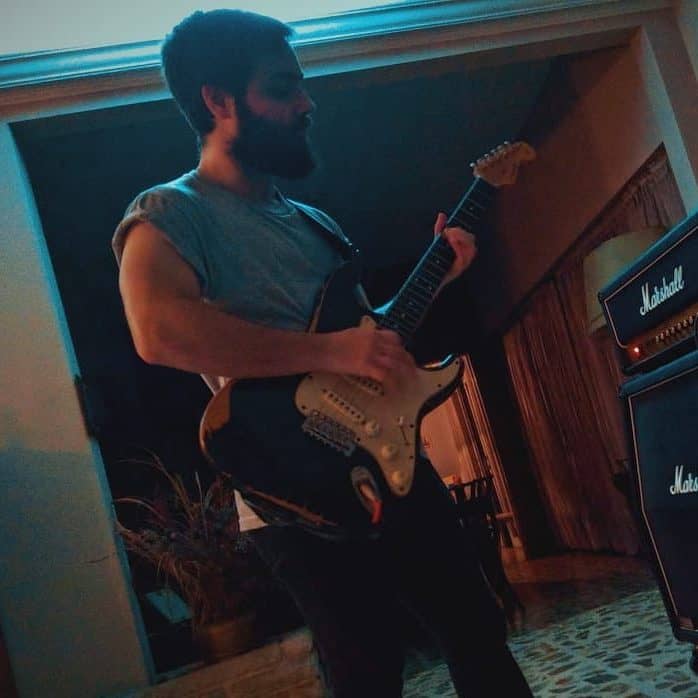 Hello there, my name is Ramiro and I've been playing guitar for almost 20 years. I'm obsessed with everything gear-related and I thought it might be worth sharing it. From guitars, pedals, amps, and synths to studio gear and production tips, I hope you find what I post here useful, and I'll try my best to keep it entertaining also.