Hair is more than just a part of our bodies.
It's a symbol of identity, culture, and personality.
Throughout history, hair has been the subject of countless songs, from rock anthems to soulful ballads.
From classic tracks to modern hits, songs about hair have captured our hearts and minds for decades.
Whether it's about long hair, short hair, curly hair, or straight hair, these songs celebrate the uniqueness and beauty of our locks.
In this article, we've compiled a list of 21 songs about hair that are sure to make you tap your feet and feel good about your own hair.
So, let's dive into the world of hair and music, and explore the power of our locks in song.
Don't miss out on this musical journey – keep reading to discover the best songs about hair!
1. Hair – Lady Gaga
Heading this list, we have the magnificent Stefani Germanotta, best known as Lady Gaga.
When it comes to hair, this artist cannot be missed! Released in 2011 as part of her album Born This Way, this track is an upbeat pop anthem written about how Gaga's parents used to get pissed at her outfits and her hair when she was a kid.
In this song, the hair metaphor serves as a symbol of the singer's identity and self-expression.
The infectious and energetic melody makes it an empowering and fun song that encourages listeners to embrace their unique qualities.
2. Don't Touch My Hair – Solange Knowles
This amazing soulful R&B track was released in 2016 as part of her critically acclaimed album, A Seat At The Table.
The song, which features smooth vocals and a hypnotic beat, addresses the issue of cultural appropriation and the commodification of black hairstyles.
Through the song lyrics, the singer asserts the importance of respecting black women's hair and identities, stating "Don't touch my hair ", referring to a common behavior towards prostitutes.
The track's powerful message and lush production make it a standout on the album and a significant statement in contemporary music.
3. Whip My Hair – Willow Smith
Originally written by Ronald "Jukebox" Jackson, this track was the debut single of the American artist Willow Smith.
Released in 2010, the song goes on themes of self-love, freedom, and being as wild as possible.
Featuring a bouncy melody and catchy lyrics, the song transmits a message of self-expression, youthful energy, and the joys of dancing and letting loose.
At the time of its release, the song's music video and Willow's distinctive style garnered significant attention, and the track became a viral hit, propelling the then-10-year-old singer into the spotlight.
4. Flip My Hair – Jessie James Decker
Released in 2021 as a standalone single, this song features catchy guitar riffs and lyrics about feeling confident and empowered.
In this track, the singer has the last laugh at all the male critics and doubters who said that she wouldn't be able to succeed as a singer.
The song's playful lyrics celebrate the feeling of letting loose and enjoying life.
In Decker's words, the meaning of the track is pretty straightforward, and she also encourages women to take any negativity from haters and flip their hair!
5. My Hair – Ariana Grande
My Hair is a sultry and confident R&B track by Ariana Grande.
Released in 2020 as part of her album Positions, the song features smooth vocals and a groovy bassline and finds the singer confidently asserting her independence and sensuality.
As a matter of fact, Ariana's staple is her gorgeous ponytail and she proclaims her love for it.
With sensual lines, the singer addresses her lover to touch her hair once she feels relaxed enough to let him run his fingers through her prized ponytail.
6. Flowers in Your Hair – The Lumineers
In this position, we have a gentle and nostalgic folk track by The Lumineers released in 2012 as part of the self-titled debut album.
Featuring acoustic guitar and soft harmonies, this song is a tribute to the beauty and simplicity of youth, with its lyrics encouraging listeners to embrace their dreams and pursue their passions.
7. Cut Your Hair – Pavement
This indie rock piece is a classic by American band Pavement, released in 1994 as part of their album Crooked Rain, Crooked Rain.
Although the song's title might suggest a literal reference to cutting hair, the lyrics actually address issues of authenticity and the pressure to conform in the music industry.
Through its lines, the track expresses that success should be measured by artistic integrity rather than physical appearance.
Cut Your Hair remains a beloved track among indie rock fans because of its lively guitar riffs, catchy chorus, and memorable melody.
8. Sister Golden Hair – America
Included in the 1975 album Hearts, this is a classic rock track whose acoustic guitar and catchy melody create a warm feeling that is hard to resist.
The main themes of the song are love and self-discovery.
The song suggests a sense of longing and uncertainty and the title evokes a sense of beauty, a track that might be dedicated to a lover.
However, the author claimed that it was just poetic license, but many people believed he was writing about his sister, rather strange if you ask me.
9. I Am Not My Hair – India.Arie
Released in 2006 and included on the album Testimony: Vol. 1, Life & Relationship, this is a powerful and soulful track with an intimate atmosphere that is hard to ignore.
The song's lyrics explore issues of identity and self-acceptance, with lines such as "I am not my hair, I am not this skin, I am not your expectations".
The singer encourages listeners to embrace their true selves and not be defined by societal standards of beauty or conformity.
According to India.Arie, the track revolves around the idea of creating one's own definition of self and rejecting the imposition of external definitions that may not align with one's true identity.
10. Hair Too Long – The Vamps
Hair Too Long is a high-energy pop-rock track by The Vamps and it serves as the third single from their 2018 album Night & Day (Day Edition).
The song is about a person who is tired of feeling trapped in a toxic relationship and wants to finish it.
The protagonist has been trying to make the relationship work, but it seems like nothing they do ever seems to be good enough.
In this song, growing hair too long seems to be a metaphor for the protagonist's desire to break free and make a change in their life.
11. Get a Haircut – George Thorogood & the Destroyers
12. Hairspray Queen – Nirvana
13. Big Hair – The Bellamy Brothers
14. Hair – Little Mix
15. Black Hair – Nick Cave & The Bad Seeds
16. Hairdresser on Fire – Morrissey
17. She's Always in My Hair – Prince
18. Let Your Hair Down – MAGIC!
19. The Haircut Song – Ray Stevens
20. Devil's Haircut – Beck
21. The Girl I Love She Got Long Black Wavy Hair – Led Zeppelin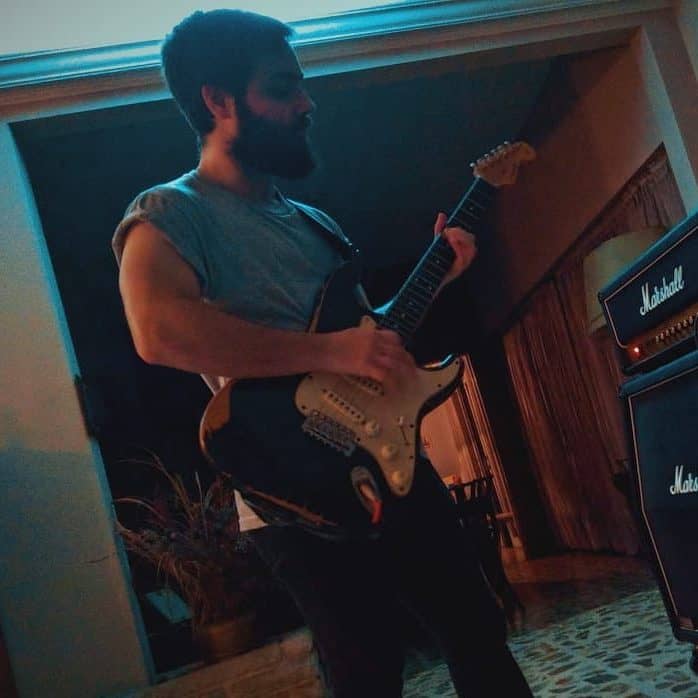 Hello there, my name is Ramiro and I've been playing guitar for almost 20 years. I'm obsessed with everything gear-related and I thought it might be worth sharing it. From guitars, pedals, amps, and synths to studio gear and production tips, I hope you find what I post here useful, and I'll try my best to keep it entertaining also.