Family is often said to be everything.
They're the people that are there for you through thick and thin and who you can often rely on the most, despite any past skirmishes.
As the saying goes, blood is thicker than water, and most of the time, family is inseparable from who we are.
That's not to say that there aren't any really dysfunctional familial dynamics out there, and luckily for those of us who do experience family drama, we're not alone.
Through the ages, this topic has been covered by many musicians from multiple angles, some that put the family in a positive light and others not so much.
I've taken the time to curate a list of family songs that cover a multitude of angles for you today, along with considering different tastes.
1. Dance With My Father – Luther Vandross
This song recalls Vandross's personal childhood memories with his father, who used to dance with him and his mother.
Vandross wrote this song as a tribute to his father, Luther Vandross Sr., who passed due to diabetes complications.
According to his co-writer, Richard Marx, writing the song was an emotional experience for Vandross, because it was a subject matter he hadn't written about before.
Although Vandross was unable to promote his song due to being hospitalized at the time, "Dance With My Father" still managed to reach the number one spot on music stations.
This song was even awarded song of the year during the 2004 Grammy Awards along with the Best Male R&B Vocal Performance accolades
Dance With My Father became one of the most requested radio play songs of its time
The song reached number 1 on the US Billboard Adult R&B Songs
Vandross died shortly after the release of this song in 2005, making it his last top 40 hits in the United Staes, peaking at No.38
2. We Are Family – Sister Sledge
We Are Family is the signature song of this all-female, all-sister singing group.
The song wasn't written by them though, it was written by Nile Rodgers and Bernard Edwards, band members of Chic.
They were originally requested to write songs for other acts by their music label but weren't confident enough to write for big acts, like the Rollings Stones and Bette Midler yet.
They also believed that credit would just go to the established people and they wouldn't get noticed as songwriters/producers.
The pair suggested writing for the label's least established act and if they got a record hit, they'd try out bigger artists.
According to Rogers, the verses were verbatim based on how Greenberg (President of Atlantic Records) described Sister Sledge to them when first commissioning the work. They just took the meeting notes and rearranged the lyrics
The song has become somewhat of an anthem and a general expression of solidarity in various contexts
The song became the No.1 R&B and No.2 pop song on the American charts in 1979
3. Family Man – Fleetwood Mac
Fleetwood Mac released "Family Man" in 1987 on their studio album Tango in the Night.
The song is definitely a sound of its time, with typical 80's musical instrumentation and a constant drumbeat running throughout the song that sounds like it was produced on a machine.
The song's complexity is created by accentuating other musical notes and percussive elements over the basic drum beat and chord progression.
It makes for an earworm of a song, that is both nostalgic and groovy.
The lyrics aren't a very deep reflection on family, but it seems more to be a song to be enjoyed and danced to than a song to listen intently to.
4. Daniel – Elton John
This song was written about a guy returning to a small town in Texas who's been disabled by the Vietnam war.
On arrival, people give him unwanted attention, but he just wants to get back to simple living, the way he did before the war.
To escape the situation, he leaves the country.
This song is also sung from the perspective of the younger brother.
With the notion of missing your loved one and sympathizing with their suffering.
There's a bit of fun history to the song. There was originally a longer, final verse to this song, but Elton ripped it out because he thought it was nonsensical.
There are rumors that this missing verse explains the true meaning of the song, but that's been called "just an urban legend."
The song reached No.4 in the official chart. In the United States, the song reached No.2 on the pop charts and No.1 on the adult contemporary charts for two weeks in the spring of 1973.
5. Mockingbird – Eminem
I don't think there are many adults alive today who don't know this song.
Released in 2005, Mockingbird was exceedingly popular upon its release.
Mockingbird is very obviously about a father singing to his daughter, in this case, Eminem singing to his daughter Hailey with a much more affectionate tone and tempo than Em's other songs.
Known for his rapid-fire lyrics and aggressive style, this song is a much more gentle contrast.
It makes for a bit of a heartbreaking listen, as Eminem recounts the troubles of his family life and tries to explain the situation to his daughter while also stating that he's only gone because he wants to give her everything he never had.
The music video for the song features Eminem sitting in a living room replaying home movies about his daughters.
6. Daughters – John Mayer
Daughters is a song more to fathers and mothers to nurture their daughters in childhood, as the relationships they develop with their parents will affect their future relationships with men when they grow up.
John Mayer uses his own lover's issues to illustrate the belief, with Mayer claiming in interviews that he wrote the song about a previous lover who had trust issues due to her absent father, which eroded their relationship over time.
The song was released as the third single from Heavier Things.
"Daughters" became critically acclaimed and won multiple awards, including the 2005 Grammy Award for Song of the Year.
The song had sold more than a million copies in the US alone as of May 2013
7. Wouldn't Mama Be Proud – Elliot Smith
Wouldn't Mama Be Proud is a bit melancholic in its starting verse, with a minor tonality running underneath the seemingly brighter harmonies.
The song covers Elliot's climb to fame with him feeling a bit unsure about his future and about whether this is what he wanted.
It's about a son wondering if his mother would be proud of his accomplishments, despite the fact that he's not as happy about it himself.
Elliot said about his Oscar nomination that he was happy his mother would be proud of his accomplishment, hence the title of the song.
8. My Father's Eyes – Eric Clapton
When one considers the life of Eric Clapton and parallels this song with his other great song "Tears In Heaven", one can't help but feel a lot of pain for the guy.
Eric Clapton wrote "My Father's Eyes" about the fact that he never met his own father.
He parallels looking in the eyes of his own son, and the eyes of his father whom he never met, through the chain of their blood. Clapton's son Conor, died in 1991 at the age of four after falling from an apartment window.
Clapton performed this track for the first time in 1992 and again in 1996, with both performances being completely different from the official song released in 1998.
He would later stop playing the song in 2004, along with "Tears in Heaven," until his 50 Years Further On Up The Road world tour in 2013.
9. Father and Daughter – Paul Simon
This song was originally released for The Wild Thornberrys Movie back in 2002.
It's a ballad with Simon expressing his love for his daughter, Lulu, who was 7 years old at the time.
Simon's son, Adrian, who was 10 at the time, sings harmony in the song's choruses.
The story goes that Simon heard his son singing along to the song while driving and encouraged him to contribute to it.
The song was released in 2002 as a single but was re-released in 2006 on Simon's eleventh studio album. When re-released as a single, the song became a top 40 hit in the UK
The song also reached no.5 on the US Billboard Adult Alternative Songs and reached no.20 on the Billboard US Adult Contemporary chart
10. Father and Son – Cat Stevens
The song frame a heartbreaking exchange between a father not understanding a son's desire to break away and start a new life, and the son who cannot really explain himself but knows that it's time for him to seek his own destiny.
Cat Stevens was once asked if the song was autobiographical, but he stated that while he and his father never really understood each other, his father never stopped him from doing what he wanted.
Father and son are for people who can't break loose as he could.
The song has been covered by a number of musicians, from Sandie Shaw to Ronan Keating
In 2002, the American rock band "the Flaming Lips" released a song titled "Fight Fest". The song was thought to be so musically similar to "Father and Son" that it resulted in a lawsuit, which ultimately ended in a 50-50 settlement.
The song is also featured in the final scene of the 2017 film Guardians of the Galaxy Vol.2
11. Simple Man – Lynyrd Skynyrd / Shinedown
Simple Man is one of Lynyrd Skynyrd's most popular songs since it became available for digital download.
Simple Man details the story of a man recounting advice his mother gave him when he was young about growing up to be a simple man with good values.
The song is inspired by Ronnie Van Zant's grandmother.
It's a beautiful song that many can relate to, written in the key of C major/A minor, though all the guitars are down half a step, so technically in B major.
The song features an electric guitar intro, accompanied by a bass line and cymbals before the drums and vocals come in for the verse.
The song was also covered by Shinedown back in 2004.
12. Cat's in the Cradle – Harry Chapin
From hard rock to folk rock, "Cat's in the Cradle" is a 1974 song from Harry Chapin's album Verities & Balderdash.
The Song topped the U.S. Billboards Hot 100 in December 1974.
The song has more of a narrative style to it than your typical song.
It is narrated by a man who becomes a father in the first verse.
Not long after his son's birth, the father becomes absent due to his work, despite his son looking up to him.
After graduating college, the son declines his father's offer to relax with him and instead asks for the car keys.
By the end of the song, the now-retired father calls his son to spend time together, but his son declines due to his own job.
The father sees by the end that his son has grown up to be just like him. A bit of poetic irony.
The song topped a number of charts in 1974 when it was released
It was covered by various artists, most notably by Ugly Kid Joe
The song has also been used in other media, my favorite being in an episode of the office, where Dwight tries using the song to guilt Jim, but it ultimately backfires.
13. Papa Don't Preach – Madonna
Papa Don't Preach is an unconventional love song about a young girl who gets pregnant and has to deal with negative responses from her friend circle due to it.
She winds up at a crossroads in life, unsure of which way to turn.
This song was released on Madonna's third studio album True Blue, but unlike most of her songs, she didn't have much of a hand in writing this song.
The song caused quite a bit of controversy upon release due to its lyrical content. Women's organizations and others in the family planning field criticized Madonna for encouraging teen pregnancy but was also praised by anti-abortion groups.
Madonna dedicated the song to Pope John Paul II at her Who's That Girl World Tour, causing her first conflict with the Vatican, who encouraged Italian fans to boycott her concerts.
14. Family Business – Kanye West
The stories in this song aren't about Kanye's family, but rather about Tarrey Torae's from Per Complex.
She's the eldest of 48 grandkids on her mom's side and is the middle of 36 on her dad's side, so she had a lot of material to help Kanye write the song.
Tarrey went on to tell Kanye about taking baths with her cousins, sleeping six in a bed, and her auntie who was known for her bad cooking.
At the end when Kanye is rapping "Let's get Stevie out of jail," he's referring to Tarrey's god-brother.
15. The House That Built Me – Miranda Lambert
This is a song that describes returning, as an adult, to the house that she grew up in and asking the person who now lives there if she could step inside and take a look around.
She refers to it as "the house that built her," because of all the memories that she had of growing up within its walls.
The song wasn't written by Miranda Lambert, it was written by Tom Douglas and Allen Shamblin.
Shamblin based the song on his experiences going home to the house in Texas that he grew up in at least once a year.
The song was well received, with some critics complimenting its earthy tone, grounded by the acoustic guitar with steel guitar fills.
The song has been parodied by Clesius T. Judd, with his own song being called "The House That Broke Me"
The song has been covered by a couple of artists as well
10 More Songs About Family
| | |
| --- | --- |
| Title | Artist |
| Remember Everything | Five Finger Death Punch |
| Family Portrait | Pink |
| Keep the Family Close | Drake |
| Breathing | Kate Bush |
| Love Can Build a Bridge | The Judds |
| Daddy Sang Bass | Johnny Cash |
| Family is Family | Kacey Musgraves |
| The Exchange | Torres |
| Dream Brother | Jeff Buckley |
| Dear Mama | Tupac Shakur |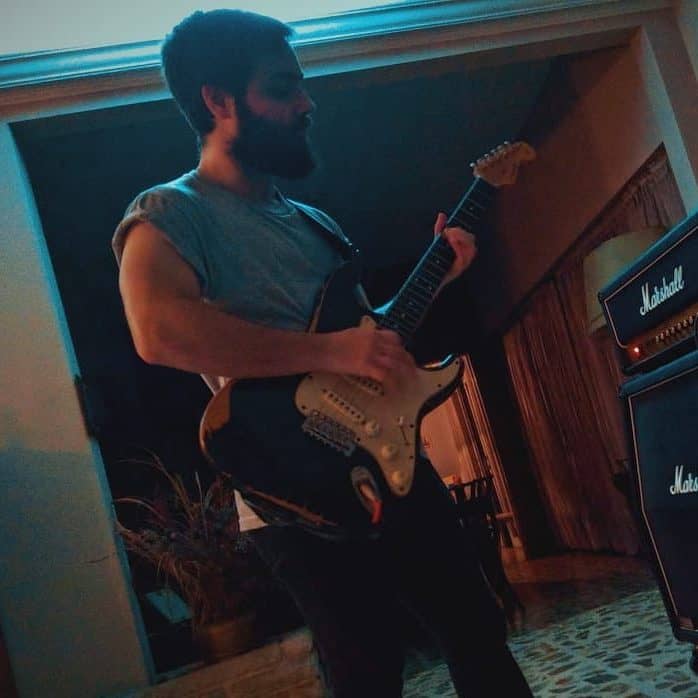 Hello there, my name is Ramiro and I've been playing guitar for almost 20 years. I'm obsessed with everything gear-related and I thought it might be worth sharing it. From guitars, pedals, amps, and synths to studio gear and production tips, I hope you find what I post here useful, and I'll try my best to keep it entertaining also.