If you're wondering about Fernandes guitars, you came to the right place.
Maybe you went to the store and some Fernandes caught your eye. Perhaps one of your friends pulled one of these out of nowhere and started rocking. Hey, maybe you saw someone playing it on Youtube.
There's a lot to learn about this brand and we're here to point you in the right direction.
Fernandes is a great Japanese guitar brand that started out by making replicas of Gibson and Fender guitars. Their instruments range from medium to high quality and have a very good price-to-quality ratio. Especially if you're buying used. Kirk Hammet, Kurt Cobain & Billie Joe Amstrong had chosen this brand.
Fernandes most popular models are the Ravelle, Hide, Revolver, Vortex, RT, RLG, and RSG.
First, we will talk briefly about the brand's history, then we will discuss where these guitars are made. After that, we will check out their most popular models and the famous players that use them. Finally, we will help you figure out which Fernandes should you choose.
Let's get to it!
A brief history of Fernandes guitars
Fernandes is a Japanese guitar company that started its business in 1969. At first, they focused only on classic guitars, but not so long after they started serving the electric market.
Around 1972 they started producing Gibson replicas under the Burny brand and Fender replicas under the Fernandes brand.
In some moments of their production, they worked with the Tokai guitar factory, which is well known for making some of the world's best Les Paul replicas.
As an interesting trivia, the name "Burny" was originally meant to be "Bunny", but misspelled at some point previous to the production process. After learning what it meant in English, the company decided to keep it that way.
Since then, the brand became more popular in the west and has picked up some cult following.
Especially, between the fans of bands like X Japan that featured this brand extensively during their career.
Fernandes is also well known for their "Sustainer" system. A guitar addon that uses electromagnetism to vibrate a string and keep it sounding indefinitely in the likes of what an Ebow could do.
Are all Fernandes guitars made in japan?
Although Fernandes doesn't own any guitar factory under their brand, they work together with guitar factories from different countries.
Particularly, their production is known to be based in Korea, China, and Japan.
Their current range of instruments spans from affordable starter models to higher-end Japan-made Gibson and Fender model replicas of great quality.
Fernandes most popular guitar models
Here are some of Fernandes/Burny most popular models:
Fernandes Ravelle
The Ravelle is one of the most well-known original Fernandes guitars.
With a basswood body, a maple neck, a rosewood fretboard, and Seymour Duncan pickups it's a great hard rock machine.
Burny Hide
The X Japan's guitarist Hide signature guitar is another of Fernandes/Burny's most popular models.
It has a mahogany body with a maple top, a mahogany neck, and a rosewood fingerboard. This model comes loaded with a Fernandes' custom pickup and a DiMarzio DP-100. It also has a built-in Sustainer.
Fernandes Revolver
The Fernandes Revolver is an amazing super strat on the affordable side.
Fernandes Vortex
The Fernandes Vortex is a V-type hard rock and metal-oriented machine.
Fernandes RT
The RT is Fernandes' version of the Stratocaster.
This guitar is a modern review of Fender's classic.
Burny RLG
The RLG is Fernandes' version of the Les Paul.
Burny RSG
The RLG is Fernandes' version of the SG.
Overall quality and tone of Fernandes guitars
For sure, Fernandes is not a luxury brand.
This doesn't mean that they make low-quality not-playable instruments. Actually, they are pretty good for their price range.
We can argue that most of their guitars go from a mid-range to an upper-mid or high one.
You won't go wrong when picking a Fernandes. Especially if you lean towards a used one, for a discounted price.
As for the tone, it's a very broad topic. Remember that they have models covering all the Fender and Gibson spectrum, so I think you'll find something that will suit your needs for sure.
Further than the 2 American big brands' sound, the artist line of Fernandes offers some very interesting models that expand their range.
From vintage classic to modern rock, the Burny and Fernandes range has you covered.
As for the aesthetics, many would say that Fernandes looks are an acquired taste, and that might be true. But we think that the Hide and the Ravelle, as their flagships are really iconic.
Famous players that use or used Fernandes guitars
The following players have used Fernandes guitars at some point in their careers:
Robert Trujillo of Metallica
Brad Gillis of Night Ranger
Billie Joe Armstrong of Green Day had
The Edge of U2
Heath of J X Japan
Hide of X Japan
Hidehiko Hoshino of Buck-Tick
Hisashi Imai of Buck-Tick
Tomoyasu Hotei of Boøwy
You of Dead End
Steve Hackett of Genesis
Tony Campos of Fear Factory
Dave Kushner of Velvet Revolver
Kasper Eistrup of Kashmir
Tobias Forge of Ghost
Kirk Hammett of Metallica
Kurt Cobain of Nirvana
Neal Schon of Journey
Which Fernandes guitar should you choose?
Picking a guitar is a very personal decision and we can't make it for you.
What we encourage you to do is to try to have a broad idea of what you're looking for and then go to your guitar store and do shoot out between the models you already have in mind to see what works best for YOU.
Although if you wanna hear what we have to recommend about Fernandes guitars here we go:
If you're a fan of X Japan, go get a Hide
If you want a different looking hard rock guitar, try out a Ravelle
If you're on a budget and you fancy super strats, check out the Revolver
If you want a V-type metal monster, look for a Vortex
If you fancy a modern Stratocaster, get an RT
If you're into Les Paul replicas, order an RLG
If you prefer SGs, purchase an RSG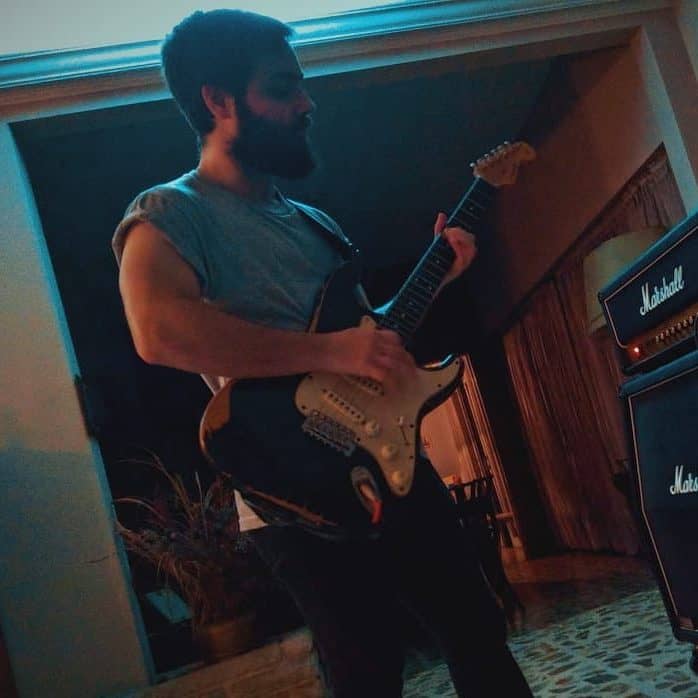 Hello there, my name is Ramiro and I've been playing guitar for almost 20 years. I'm obsessed with everything gear-related and I thought it might be worth sharing it. From guitars, pedals, amps, and synths to studio gear and production tips, I hope you find what I post here useful, and I'll try my best to keep it entertaining also.