Cars have been one of rock and roll's main themes for decades. Moreover, fast cars have made appearances in rock, hip-hop, pop, punk, electronic music, and every genre you can think of.
The muscular power of engines is a trigger to our imagination and the adrenaline of sitting in the driver's seat of a powerful vehicle makes many of us fancy a playlist to go with the feeling.
Speaking of which, this is a selection of songs that cover most musical styles but revolt around speed, greasy engines, and the beautiful feeling of being on the road, flying to your destination with the stereo pumping.
These are 31 songs to hear on the road, on board your four-wheel companion.
1. Highway to Hell – AC/DC
"Highway to Hell" is the opening track to its homonymous record by the legendary Australian rock band AC/DC released in 1979.
The name for the song and the record comes from the real nickname that the Canning Highway in Australia had at the time.
Because it was a route that many people used to go out for a good time and so many people had died on it, Australians gave it that name.
Richard Ramirez, the serial killer, declared that this record obliged him to murder and also that he believed that AC/DC, the band's name stood for Anti-Christ/Devil's Child.
2. Fun, Fun, Fun – Beach Boys
"Fun, Fun, Fun" was included in the Beach Boys' 1964 album, Shut Down Volume 2.
The lyrics to this classic song talk about a rebellious daughter who borrows the Ford Thunderbird that belonged to her dad with the excuse of going to the library to study but instead goes for some fun, fun, fun.
The intro riff was a copy of Chuck Berry's "Roll Over Beethoven".
In 1996, the song was recreated by the then-current lineup of the Beach Boys and the band Status Quo.
3. Drive My Car – The Beatles
"Drive My Car" was released by the Fab Four as part of their 1965 album, Rubber Soul.
This song takes a different perspective than previous work by The Beatles written in the first person of an aspiring actress who tells the man she likes that he can "drive her car". This metaphor can be thought of as a way to bring sexual innuendo to the song.
Although by 1965 Paul and John were mostly writing separately, this song is an equal collaboration between the two songwriting masters.
The "beep beep" that can be heard in the song's chorus is the Fab Four mocking their "yeah yeah yeah" from the song "She Loves You".
4. Highway Star – Deep Purple
"Highway Star" is the opening track on Machine Head, Deep Purple's highly acclaimed 1972 record.
The song is an adrenaline-fueled rock anthem about the love a man feels for his car. Furthermore, the character claims that his car can outrace any other vehicle on the road.
When Guitar World created the 100 Greatest Guitar Solos ranking in 2008, Richie Blackmore's guitar solo from this track ended up in the 15th position.
Speeding tickets were not the only thing inspired by this song; it also inspired other bands to pursue different subgenres of heavy music later known as "speed metal". Bands like Motorhead and Metallica owe "Highway Star" the inspiration for their adrenaline-fueled music.
5. Slow Ride – Foghat
"Slow Ride" was the lead single from Fool for the City (1975), Foghat's fifth studio album.
The song has a radio-friendly and full-length album version. The original goes for over eight minutes while the radio cut doesn't make it to the four-minute mark.
Talking about "slow love" is very common in R&B music because it goes well with the tempo of most songs. Finding a rock and roll song in which that theme appears is quite rare; this is one of those oddballs.
The song revolts around a guitar riff that increases its speed and intensity toward the end of the song to simulate a lovemaking session.
6. The Passenger – Iggy Pop
"The Passenger" belongs to Iggy Pop's Lust for Life album, released in 1977.
Iggy Pop's lone spirit and punk outcast condition can be seen in the lyrics to this song that came to him while he was riding the S-Bahn, a suburban metro railway in Berlin.
Iggy Pop once told The Guardian that he had been touring extensively and going around in David Bowie's car and he didn't even have a driver's license. Thus, he saw himself as an eternal passenger.
7. Mercedes Benz – Janis Joplin
"Mercedes Benz" is one of the very few a-cappella songs ever released by a rock act. It belongs to Janis' sophomore, posthumous album Pearl released in 1971.
Joplin came up with the song and wrote it on a napkin. She didn't think much of it until she showed it to some friends who encouraged her to sing it.
Janis sang the song the same night she created it and before going for it told the audience laughing: "I just wrote this at the bar on the corner. I'm going to do it Acapulco."
Behind the simple lyrics, the song hides a social message criticizing the materialism she could see in friends and colleagues.
8. One Piece at a Time – Johnny Cash
"One Piece at a Time" was written by Wayne Kemp and recorded by Johnny Cash and the Tennessee Three in 1976.
The song talks about the dreams of a man who works at a GM plant building Cadillacs but can't afford one. He devises a plan: he would steal a part a day until he could finally build his own car at home.
The car was finally finished 21 years later, so it had a part from every different year between 1949 and 1970.
The promotion of the song followed the lyrics to build a Cadillac piece by piece from what the label could find at a yard assembly. After it was finished, it was taken to the House of Cash museum where Mr. Cash himself got in the driver's seat and posed for some pictures.
9. Fuel – Metallica
"Fuel" was the third single from the band's seventh album, Reload (1997).
Metallica holds a reputation for being a fast, heavy band and the song is about people living their lives and driving their cars too fast. The band was clearly speaking to their most extreme fans.
NASCAR coverage on NBC and TNT used this song as the official theme between the 2001 and 2003 seasons proving the band was on the right track with the song.
20 years after it was released, the American muscle car brand Dodge licensed the song for an ad that helped the band promote and showcase the brand's high-performance vehicles such as the Charger.
10. Driver´s License – Olivia Rodrigo
11. Little Red Corvette – Prince
12. I´m in Love with my Car – Queen
13. Red Barchetta – Rush
14. Fast Car – Tracy Chapman
15. Mustang Sally – Wilson Pickett
16. Route 66 – Nat King Cole
17. Drive – Incubus
18. Life is a Highway – Rascal Flatts
19. Mercury Blues – Steve Miller Band
20. Ride with Me – Nelly
21. Get Outta My Dreams, Get Into My Car – Billy Ocean
22. Shut up and Drive – Rihanna
23. Drive By – Train
24. Drive – R.E.M.
25. Interstate Love Song – Stone Temple Pilots
26. Born to Run – Bruce Springsteen
27. On the Road Again – Willie Nelson
28. Pink Cadillac – Natalie Cole
29. My Car – Gary Numan
30. I can drive 55 – Sammy Hagar
31. Born to be wild – Steppenwolf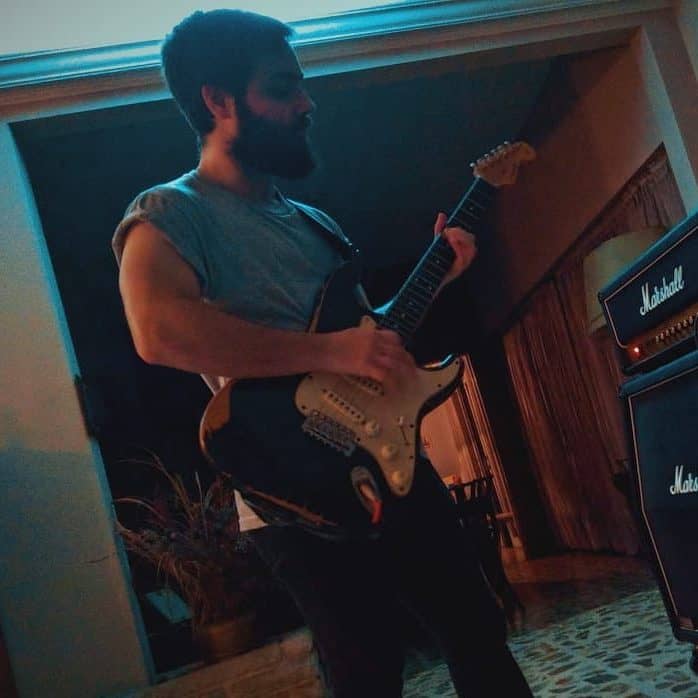 Hello there, my name is Ramiro and I've been playing guitar for almost 20 years. I'm obsessed with everything gear-related and I thought it might be worth sharing it. From guitars, pedals, amps, and synths to studio gear and production tips, I hope you find what I post here useful, and I'll try my best to keep it entertaining also.