Isn't music a beautiful thing?
Music can take us back to moments in our childhood or remind us of our first kiss (or first heartbreak).
It has a habit of becoming entwined with our memory, and for those of us who are remnants of a bygone age, we can tend to miss the songs of our time.
For the younger reader, maybe your parents raised you on 80's music, despite you being born after 2000.
Regardless of your circumstance, old songs can take you back to those memories of the first time you heard them and I think that's why we so often crave the throwbacks, to take us back to the good old days.
For that reason, I've put together a list of great throwback songs from the 80s, 90s, and early 2000s to take you back to simpler times.
1. 1985 – Bowling For Soup
1985 is a song about being stuck in the past and realizing that you're falling behind the times.
The song makes a lot of references to even earlier music, like songs from Motley Crue and Van Halen, and throughout the music video, the band changes clothing to other bands from earlier times.
It's still a classic and is always a fun listen, but did you know that it's actually a cover song? SR-71 wrote the song originally, and Bowling for Soup decided to cover it.
They liked the original, but also made some changes to the lyrics and also added a few new ones.
2. Mr. Brightside – The Killers
Released in September 2003, Mr. Brightside will take you back with its tense melody and lyrics about the paranoia of suspecting your partner of cheating.
The song manages to be both hopeful and stressed at the same time.
The Killer's trademark sound pulls you right into the song, even if you were only a kid when you heard it and didn't understand.
This song takes me instantly back to being a teenager and having relationships in high school, with all that tension of your hormones along with the insecurities of being a young teen, making for an emotional roller-coaster, just like this song.
3. I'm a Believer – Smashmouth
The first time most people heard this song was in Shrek back in 2001, but it was actually already around since 1966.
No, Smashmouth didn't make this song in 1966, but it was originally written by the Monkees and written by Neil Diamond and was pretty popular back in its day too (maybe your grandma will know it).
The Smashmouth version is the throwback for sure though, reaching major popularity back in the year of its release and being beloved by every child alive.
4. U Can't Touch This – MC Hammer
Going back a little further in time to the 1990s, "U Can't Touch This" was co-written by MC Hammer and Rick James, with the song sampling the main riff of Jame's song, "Super Freak."
The song is also notable for being the first rap song to be nominated for a Grammy Award for Record of the Year.
Whether you were around when it came out or you only heard it years later doesn't really matter, this song will always be catchy as hell.
5. Baby One More Time – Britney Spears
This was the debut single of Britney Spears' first album.
Released back in 1998 and played for years after, also being kept popular by being used in media like Robots in 2005.
I have to admit, that's probably the first time I really heard this song, in that movie.
"Baby One More Time" topped the charts in over 22 countries back when it was released and is one of the best-selling singles of all time.
Fun story about the song: back when it was released, it caused some controversy due to the lyric "hit me, baby, one more time."
People thought it was a sadomasochistic request to be physically abused.
6. Ice Ice Baby – Vanilla Ice
Ice Ice Baby has been played and played over and over again and still it hasn't gotten old.
Released back in 1990 on Ice's debut album To The Extreme, it topped the Billboard Hot 100 after being given a chance by disc jockey David Morales.
Ice Ice Baby was a bit of an "ice breaker" in its time, getting a lot of heat for sampling parts of other songs like the bass line from "Under Pressure" by Queen, but ultimately leading the way to make sampling an acceptable practice in the music industry.
7. Don't Speak – No Doubt
Don't Speak came out in 1996 and was the third studio album of No Doubt, fronted by Gwen Stefani and written by her brother Eric Stefani.
The song was originally written as a love song but went through several rewrites before becoming the song we all have come to know.
Despite its popularity, the song never charted on the Billboard hot 100 due to rules for charting at the time, but it did reach number one on the Hot 100 Airplay chart for 16 weeks.
8. Kiss Me – Sixpence None the Richer
I don't think there's a single person born before the year 2000 that doesn't know this song.
Kiss Me is a really brilliant blend between the rock and pop music of its time, with a bit of an unusual chord progression and an accordion mixed in for good measure.
This song is instantly recognizable by its opening line and was the band's highest-charting single in the US.
Funnily enough, the song was written in a motel while the band was on tour and was composed in about an hour.
The band then added more to it and perfected it over the course of a year and a half, no wonder it sounded so good.
9. Real Slim Shady – Eminem
Eminem has a ton of throwback songs and a knack for writing unforgettable music.
Stan and Mockingbird could have just as easily been on this list, but "Real Slim Shady" came before.
Released in 2000, "The Real Slim Shady" was Eminem's first song to reach number one in the UK and it also peaked at number four on the Billboard Hot 100.
Real Slim Shady was not even intended to be part of the album, Interscope Records' Jimmy Lovine wanted Eminem to have a song to introduce the album, similar to how "My Name Is" did on his previous album.
Eminem and friends wrote "The Real Slim Shady" just hours before the final copy of the album was due.
10. Is This Love – Bob Marley
Released all the way back in 1978, this became one of Marley's best-known songs and was part of a number of compilation albums.
It peaked at number 9 in the UK charts in the year of its release.
The reason why it's still remembered today and was known in the 90s was because of how often it was used in pop culture.
It was played in movies, from romances to comedies to horror all through the late nineties and early 2000s.
Many songs that came after also made references to this iconic track.
11. Highway to Hell – AC/DC
AC/DC released this song back in 1979, off their album of the same name.
It would turn out to be their last album featuring Bon Scott, who died early the following year on 19 February 1980. Kind of ironic considering the title of the song.
Despite that, and despite what many people at the time believed, the song was actually about being on tour and being on the road to Hollywood.
The band was going through a rough time when they wrote this song, being flat broke even though they were touring.
Since then, the song has been used plenty of times in pop culture, and it's no wonder we can't get it out of our heads.
12. Milkshake – Kelis
Released in 2003, Milkshake is one of those songs we remember because of how odd the message was and also how sexually charged it was.
As a little kid, singing along to the lyrics, the meaning of the song was kind of lost on me, but the catchy tune was not.
The song was pretty simple in its composition, but it owes its recognizability to that simplicity.
The song peaked at number 3 on the Billboard Hot 100 chart after its 13th week on the chart.
13. Meet Virginia – Train
Train isn't that popular these days and you're unlikely to get any nods of recognition when you mention them now.
But back when they released songs like "Meet Virginia" and "Drops of Jupiter."
Meet Virginia was released back in 1999 and peaked at number 20 on the Billboard Hot 100 in January 2000.
When asked whether the song was about a real or imagined girl, Train's Twitter page said, "She's real parts of real women that make up a woman that I've always wanted to meet."
14. Any Way You Want It – Journey
Released back in 1980 as the lead single from the band's sixth album Departure. "Any Way You Want It" is probably Journey's biggest song.
The song was written while they were on tour and was somewhat inspired by the Irish rock band, Thin Lizzy.
"Any Way You Want It" opens up with the chorus lines, making it easy to recognize; that, along with the unique interplay between the vocals and the guitar, makes for a special song.
Journey's Lead singer Steve Perry's vocals also make for that classic 80's sound that just gets stuck in your ear.
15. Hollaback Girl – Gwen Stefani
Gwen Stefani wrote Hollaback Girl after she decided to go solo, breaking away from her rock roots in No Doubt.
Honestly, most people will recognize Stefani more from this song than a lot of her previous work, since who she is today is so different from the rock singer she was in her early days.
Gwen reportedly wrote the song as an FU to grunge musician Courtney Love, who called Stefani a cheerleader type.
The song was also one of the most popular songs of 2005, when it was released, peaking in the top 10 of the majority of the charts it entered.
16. Footloose – Kenny Loggins
Released in January 1984 as the first of two singles by Kenny Loggins from the 1984 film of the same name.
The song spent three weeks at number 1 on the US Billboard Hot 100.
The song has been covered by a number of musicians, including Blake Shelton and VeggieTales.
I think the reason why so many of us born in the 90 still knows this song is because it was such a hit with our parents.
Footloose, both the movie and the song were huge at the time of their release, and while I didn't go out of my own way to watch the movie, I recall growing up with my parents watching it with me by their side.
I suspect it's similar for many.
17. Single Ladies – Beyonce
This is about the youngest song on this list, being released in 2008, but damn if it didn't spread like wildfire.
The song explored men's unwillingness to propose or commit, with the song having the female protagonist celebrating her singleness throughout the song.
This struck a chord with many women upon its release, making it an instant hit among those who had had the same issues with men in the past.
"Single Ladies" is more of an uptempo dance-pop song, despite its message.
Funny enough, this throwback song is considered a throwback to Beyonce's earlier single "Get Me Bodied."
18. Holding Out for a Hero – Bonnie Tyler
Another song written for the 1984 film Footloose.
Holding Out for a Hero is a bombastic, heavy-handed excess of a song, with loud and almost cheesy vocals, but it all comes together to make for one of the greatest modern rock songs of its time.
The song is most known for its crazy build-up at the bridge of the song, running through tense chords and repeating an ascending melody until it breaks back into the chorus.
Bonnie Tyler managed to carry the song straight into our heads with her raspy vocals, a song we will forever come back to fondly.
19. Dancing with Myself – Billy Idol
Dancing with Myself is a song by punk rock band Gen X, first commercially released in the United Kingdom in 1980.
It was later remixed by Billy Idol (the band's frontman) as a solo artist in the United States in 1981.
The song has been popular ever since, being featured in pop culture, used in soundtracks for movies, and covered by a couple of bands (such as Blink182 and the Donnas) as well.
I mainly recall being hooked on it after hearing it in Flushed Away when I was a child.
20. Maneater – Nelly Furtado
Frankly, I'm not a huge fan of this song and didn't hear it all that much when I was growing up, but I know it was popular at the time of its release in 2006.
The song topped the charts in the UK and peaked within the top ten of charts across Europe and Australia.
Timbaland helped to produce this song and it owes a lot of its creative energy to Timbaland and his production crew.
The in-your-face song caught onto many young girls in its day and was really a song all about feminine confidence.
21. Africa – Toto
Africa is one of the most iconic songs of all time, but also one of the most factually incorrect songs of all time.
Africa was written by David Paich, about his love for the continent and his heartbreak for its plight.
The funny thing is, he'd never been to Africa and only knew about it from a late-night documentary he'd watched.
Regardless of that, the melody of the song along with Paich's vocals make for an iconic hit that is still remembered and used today.
19 More Throwback Songs
| | |
| --- | --- |
| Title | Artist |
| Yeah | Usher |
| No Scrubs | TLC |
| It Wasn't Me | Rik Rok and Shaggy |
| Photograph | Nickelback |
| Can't Help Falling in Love With You | Elvis Presley |
| Say My Name | Destiny's Child |
| Wannabe | The Spice Girls |
| Waterfalls | TLC |
| Kiss From a Rose | Seal |
| Last Resort | Papa Roach |
| Sugar We're Going Down Swinging | Fallout Boy |
| Sk8ter Boi | Avril Lavigne |
| Slow Dancing in a Burning Room | John Mayer |
| Sweet Caroline | Neil Diamond |
| Hot In Here | Nelly |
| Boom Boom Pow | The Black Eyed Peas |
| Stacy's Mom | Fountains of Wayne |
| Toxic | Britney Spears |
| Eye of the Tiger | Survivor |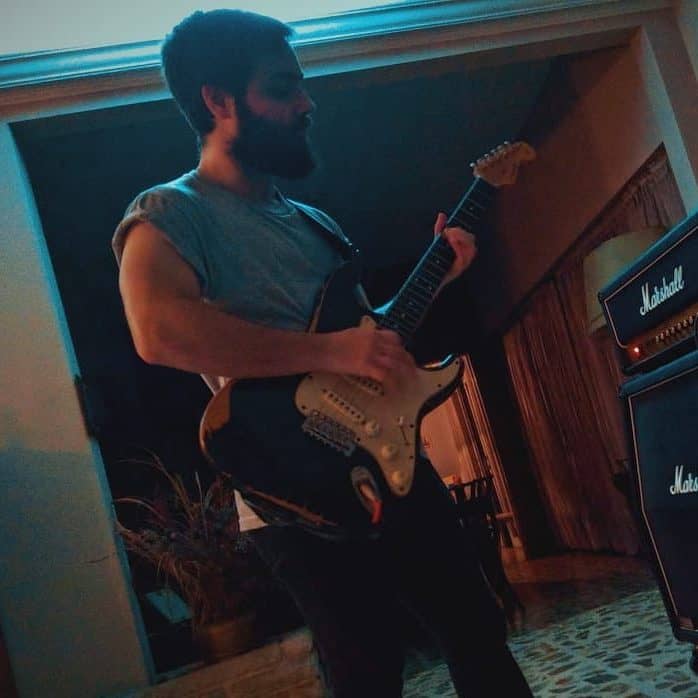 Hello there, my name is Ramiro and I've been playing guitar for almost 20 years. I'm obsessed with everything gear-related and I thought it might be worth sharing it. From guitars, pedals, amps, and synths to studio gear and production tips, I hope you find what I post here useful, and I'll try my best to keep it entertaining also.