The most popular choice for songwriters when they are trying to come up with a new composition is surely a love song.
And of course, the broken hearts that result from the end of a relationship are also popular as a theme.
Because when you're dealing with a breakup of your own, it can be very comforting to think that someone else has gone through the same emotions before and come out unscathed, or at least functional.
And for whatever reason people just seem to enjoy sad songs sometimes.
Or maybe we think that it's romantic that someone cared enough about someone else to be emotionally damaged after a breakup.
Whatever it is, there's no denying that some songs about heartbreak have cemented themselves in musical history.
And with this great selection of songs, I'm sure you'll find a few new ones to add to your playlist in case you have a romantic crisis of your own.
1. Heartbreaker – Led Zeppelin
One of Classic Rock's most famous and enduring riffs introduces us to the idea of beautiful women as heartbreakers or femme fatales as they are referred to in film noir.
And the song's lyrics deal with a woman returning to a town where she has a reputation for leaving men high and dry.
But while some men may be drawn back into a bad situation, Robert Plant sings about finally finding the courage to resist temptation: "Heartbreaker, your time has come. Can't take your evil way. Go away, heartbreaker".
Written by: Led Zeppelin
Year Released: 1969
Album: Led Zeppelin II
2. I Don't Want to Get Over You – The Magnetic Fields
This song offers a different take from most songs, blatantly stating that common fixes for a broken heart situation are unwanted because the protagonist in the song doesn't want to get over love.
But is there something else going on here?
What I'm referring to is a masochistic tendency for people to want to wallow in their grief and cry in their beer.
There is a classic argument about whether art imitates life or life imitates art and I think this song refers to the latter.
Because songs about heartbreak are so popular, it may be that people think it is a situation that should be experienced in life, if that makes any sense.
It certainly would explain why people continually start relationships that they know won't end well…
Written by: Stephin Merritt
Year Released: 1999
Album: 69 Love Songs
3. Owner of a Lonely Heart – YES
This song continues the debate over why we repeatedly risk emotional trauma as the lyrics go back and forth between whether it's better to be lonely or heartbroken.
Basically, the chorus states the virtues of playing it safe while the verses work towards the opposite conclusion: "Don't deceive your free will at all. Just receive it".
And I tend to agree that you have to take some chances and just accept that life will have its ups and downs.
Because otherwise, you may end up with a lot of regrets in your old age, wondering about the one that got away.
Written by: Trevor Rabin, Trevor Horn, Jon Anderson, and Chris Squire
Year Released: 1983
Album: 90125
4. Heart of Glass – Blondie
This song refers to the dangers of having your dreams of romance shattered with a creative description of a heart that is easily broken.
And it does seem as though some people are just naturally more sensitive about such things while others just laugh and "rebound" with another lover.
And this is one of my favorite Blondie songs, but I can't help but wonder if singer Debbie Harry really felt this way about relationships or if she was more of a heartbreaker.
Written by: Debbie Harry and Chris Stein
Year Released: 1978
Album: Parallel Lines
5. The First Cut Is the Deepest – Cat Stevens
Here's some good news if you consider yourself to be one of those with a heart of glass.
Because this song discusses how subsequent love affairs can be less intense as people develop a sort of mental self-defense mechanism in order to avoid being hurt.
I know it sounds really cynical but it's probably true.
If you have an Ouija board, you can just ask Elizabeth Taylor (8 marriages) or Jerry Lee Lewis (7 marriages)!
Written by: Cat Stevens
Year Released: 1967
Album: New Masters
6. Dumb – Nirvana
This is a song that is more about apathy and self-deprecation than love.
But it gets a mention here for a very Grunge Rock poke at traditional love songs.
Because after singing that his heart is broken, Kurt Cobain mentions that he has some glue, turning it into a drug abuse reference: "Help me inhale and mend it with you".
And to be honest, the downcast feeling of the song isn't that different from many other songs about heartbreak.
Written by: Kurt Cobain
Year Released: 1993
Album: In Utero
7. Piece of My Heart – Janis Joplin
8. How Can You Mend a Broken Heart – Al Green
9. Lonely with a Broken Heart – Chris Issak
10. Broken Heart – Spiritualized
11. Break My Heart – Dua Lipa
12. You Broke My Heart Again – Teqkoi feat. Aiko
13. Don't Break My Heart – Romeo's Daughter
14. Heartbreak Hotel – Elvis Presley
15. Femme Fatale – The Velvet Underground and Nico
16. Total Eclipse of the Heart – Bonnie Tyler
17. I'll Never Get Over You Getting Over Me – Exposé
18. Don't Go Breaking My Heart – Elton John feat. Kiki Dee
19. My Heart Will Go On – Celine Dion
20. There Goes My Heart – Mariah Carey
21. Me and My Broken Heart – Rixton
22. My Heart Is Broken – Evanescence
23. Let It Be – The Beatles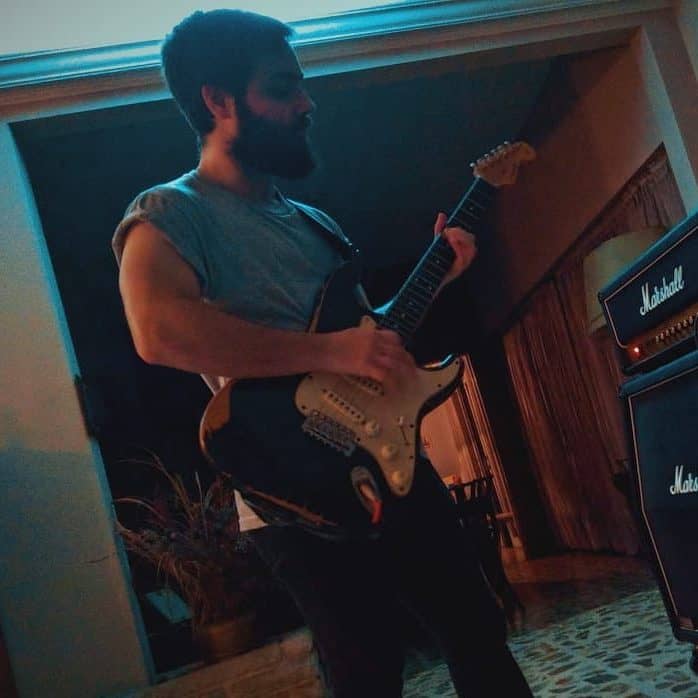 Hello there, my name is Ramiro and I've been playing guitar for almost 20 years. I'm obsessed with everything gear-related and I thought it might be worth sharing it. From guitars, pedals, amps, and synths to studio gear and production tips, I hope you find what I post here useful, and I'll try my best to keep it entertaining also.