Robots have been motors of curiosity since the idea became popular centuries ago.
Everybody has their interpretation of what they are and how they work, which in many cases is pretty far from what science makes possible.
However, that doesn't matter, and the idea of a robot is nowadays a sci-fi concept that has inspired thousands of authors to create amazing art.
Today we will be looking at 21 great songs about robots from the last decades.
1. The Flaming Lips – Yoshimi Battles the Pink Robots
To kick things off we start with a song with lyrics that only the Flaming Lips can make work as beautifully as it does.
Yoshimi is the drummer for the Japanese band The Boredoms, and someone that appears in many places across the album that contains this song.
It's a sci-fi story about how Yoshimi is the only one that can defeat the evil robots that are menacing humanity.
2. Styx – Mr. Roboto
Mr. Roboto is an 80s classic.
With a theatrical feel to it, Mr. Roboto (Japanese for Robot) tells us about himself and hints throughout the whole piece that he's not exactly what we think he is.
The final revelation is that he's actually Kilroy. A name that matches a meme that became popular during world war II.
3. Daft Punk – Robot Rock
To be honest, this list could be just about Daft Punk songs, however, I chose to only include the most obvious of their songs related to robots.
You can't get anything better than robots just rocking out.
4. MARINA – I Am Not a Robot
Marina tells us in this song that it's ok to be vulnerable and it's better to be hated than loved for what we are not.
You are not a robot, and that's ok.
5. Red Hot Chili Peppers – Go Robot
Go Robot is about a couple whose relationship became robotic and are struggling to find a way to humanize things back again.
6. Miley Cyrus – Robot
Miley sings about how she's tired of being controlled and told everything she has to do in her career and life.
She, like Marina, exclaims that is not a robot!
7. Kraftwerk – The Robots
Kraftwerk is a band that never fails to amaze with their sound design. If you are not familiar with them, you should definitely give this song a listen.
It's quirky and might feel outdated nowadays, but The Robots is comprised of an amazing palette of futuristic sounds.
To give you some context, it originally came out in 1978.
8. Linkin Park – Robot Boy
This is not the usual song you would expect from Linkin Park. Especially if you are most familiarized with their earlier work.
Robot Boy is a beautiful short song full of vocal harmonies that can reach into your heart.
The song talks about a boy that has been hurt and is having trouble feeling.
9. Damon Albarn – Everyday Robots
The Everyday Robots are us, in our phones, in our pcs, in our routinary lives.
Damon Albarn, from Blur and Gorillaz, revolves around this topic in his solo album, and he does exceptionally, both lyrically and musically.
10. Tenacious D – ROBOT
The funniest rock duo ever comes in with a song about a sad robot that just wants to be understood and ultimately loved when everyone sees it as only a tool that performs the duties it was designed to do.
11. Röyksopp – The Girl and the Robot
The Girl and the Robot is a collaboration between Röyskopp and the great Robyn.
It talks about a girl who is tired of her husband being a workaholic.
She says that she feels like she's in love with a robot.
12. Aqua – Like a Robot
Aqua comes into the list with an upbeat pop tune about a girl that is not satisfied with how her lover acts like a robot with her.
For the specifics we can't talk about here you should refer to the lyrics.
13. Cage the Elephant – Tiny Little Robots
Tiny Little Robots is a high-energy rock critique of how our modern urban societies work.
It talks about how in the corporate world our lives are designed and free thinkers are marginalized.
14. The Buggles – I Love You (Miss Robot)
As the title suggests, I Love You (Miss Robot) is the story of a guy in love with a robot lady.
He describes, in a very detailed way, many things about their relationship, and he even wonders if she really loves him back.
15. Pet Shop Boys – Sad Robot World
Sad Robot World is a critic of our modern society where most things are run by robots and have no real feeling attached to them.
It ends with the idea that even machines are not happy about it, and that he thinks he heard one crying.
16. Judas Priest – Electric Eye
Electric Eye is a metal classic.
The lyrics tell us the story of a robot from space that looks down on us and has no regard for our privacy.
Released in 1982 it's incredible how they nailed the theme of surveillance and government control through technology.
17. Beach Riot – Robot
I came across Beach Riot while researching this article, honestly.
Their song "Robot" really captivated me. It's a modern punk banger, with a beautiful melodic interlude that includes lush vocals.
It's a beautiful song about someone that doesn't want to be lonely and yearns to feel "right".
18. Scorpions – Robot Man
Robot Man is a fast rock song from the legendary German band Scorpions.
My take on it is that they are mocking "robot men", calling them losers for not being able to feel, or be spontaneous.
19. Don Omar – Virtual Diva
If you are not from Central or South America, you probably don't know about Virtual Diva, but just look at the song video's view count on YouTube.
It's a classic Pop/Reggaeton song from 2009, and it was featured in Fast & Furious.
It talks about a girl in the disco who fries transistors. Literally.
Nothing really makes a lot of sense, but it's a banger.
20. Illya Kuryaki and the Valderramas – Robot
Following the Latino vibes, Illya Kuryaki and the Valderramas is a great funk band from Argentina.
Just listen to that bass line, man.
21. Beastie Boys – Intergalactic
Finally, Intergalactic lyrics are not necessarily about a robot, however, the video for the song features a "terrifying" giant robot attacking a city, and it really brings me back to my childhood when I loved it every time it appeared on MTV.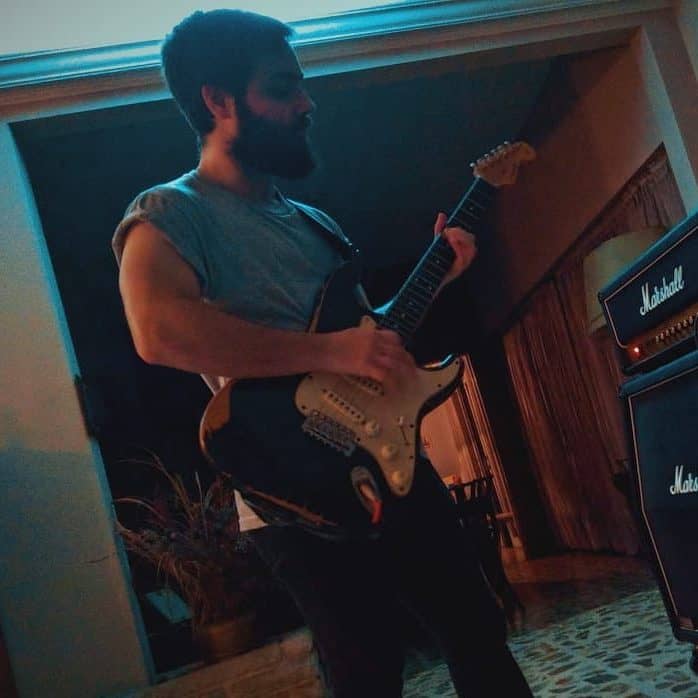 Hello there, my name is Ramiro and I've been playing guitar for almost 20 years. I'm obsessed with everything gear-related and I thought it might be worth sharing it. From guitars, pedals, amps, and synths to studio gear and production tips, I hope you find what I post here useful, and I'll try my best to keep it entertaining also.