Kissing has many benefits.
It's a stress reliever; it boosts your immune system; generates intimacy and trust between two people; and even burns calories!
Not to mention, it functions as an inspiration for artists to create lovely pieces of music.
Sex has been a recurrent topic for singers and bands to talk about, whether it's in the world of rock, pop, rap, or trap.
The same can be said about love. A thousand songs have been written about that beautiful emotion.
This time, we'll focus on the best of both worlds: kissing.
Naturally, the act of kissing is both sensual and romantic, at least, most of the time.
But enough with the babbling, let's see what these artists think about in these 21 songs about kissing.
1. Suck My Kiss – Red Hot Chilli Peppers
Let's start this list with the Californian Funky Monks.
The 1990s presented several quality bands and artists that defined a generation.
The RHCP were one of them, mostly because of their successful album Blood Sugar Sex Magik, containing classics like Give It Away, Breaking The Girl, and the song that appears on this list.
Suck My Kiss is a celebration of the passionate and joyful act of sticking lips together.
Despite the band's constant sexually explicit lyrics (check Sir Psycho Sexy), Suck My Kiss contains a romantic aura.
2. Kiss Me In The Rain – Barbra Streisand
Kiss Me In The Rain appears in Barbra's 21st studio album Wet.
Wet is somehow of a concept album since all the tracks are water-related.
If a kiss was not wet enough, then wait to have it in the middle of the rain.
3. Then He Kissed Me – The Crystals
Then He Kissed Me narrates a cheesy love story about a couple.
They dance, walk home, then kiss each other.
They say that they love each other, then kiss each other.
They arrange a wedding, then kiss each other.
You get the picture.
Believe it or not, the 70s Rock group KISS covered this song for their 1977 album Love Gun.
Talking about this band…
4. Kissin' Time – KISS
Nope. A band whose name's literally 'kiss' wouldn't be left out of a list like this one.
Oddly enough, Kissin' Time is a cover that the band never intended to record whatsoever.
Casablanca Records, the company to which KISS adhered at that time, pressured the group into recording a version of this Bobby Rydell hit.
The reasons were two:
Reason A, there was a radio kissing contest in which young couples would have to kiss for the longest periods of time in order to win. The song would suit the contest perfectly.
Reason B, or the real reason, KISS' debut album was not a success. The single would help Casablanca sell some records, but it didn't.
One way or another, KISS managed to save Casablanca with their multiple platinum Alive! in 1975.
Meanwhile, the song Kissin' Time became an easily forgotten cover on an overall incredible debut album.
5. I Kissed A Girl – Katy Perry
Way before Lady Gaga released Born This Way, Katy Pery's I Kissed A Girl was the real LGBTQ+ anthem.
The song's about a woman undergoing her very first homosexual experience out of curiosity, and remarking how much she enjoyed it.
6. Kiss The Ground – The Interrupters
According to the Free Dictionary, to kiss the ground means to make a display of obsequious reverence, devotion, or respect.
For this song, though, the meaning could change.
"Sometimes when you're low / you gotta kiss the ground"
Maybe it's about showing gratitude for being alive. Maybe it's about seizing opportunities anywhere.
Or maybe, the lyrics deal with surrendering when there's nothing else to do. What's your opinion on this one?
7. Don't Let Daddy Kiss Me – Mötorhead
Trigger warning, the following topic may be unnerving for certain audiences.
I believe the title says it all. This song is about incest.
Sadly, there are always two sides to a coin. Even something as healthy and fulfilling as kissing contains a dark side, which causes severe damage when used inappropriately.
8. Walk This Way – Aerosmith
This timeless classic is about sex.
But of course, there is no sex without kissing.
As the song implies "It started with a little kiss, like this"
Walk This Way appeared first on Aerosmith's album Toys In The Attic. However, a different version featuring RUM DMC was published in 1986, which many consider to be even better.
Here you'll find the original, but both are incredible!
9. Kiss You – One Direction
This upbeat classic features the band "acting" for different movie scenes in the official music video.
Riding a motorbike through the highway; surfing the waves; and even dancing in jail like in the Elvis Presley movie.
Sure, the video might have nothing to do with kissing whatsoever.
But who cares? The video is awesome!
10. Kiss Me Deadly – Lita Ford
Ex-The Runaways Lita Ford published this hit in the late 80s.
The song, however, was written by Mick Smiley. Oddly enough, it turned out to be Lita's greatest single ever.
Kiss Me Deadly stands out because of its epic chorus and moving intro with Lita's magical voice accompanied by some keyboard chords.
11. Kiss – Prince & The Revolution
There's quite an interesting story to this song.

Prince's bass player Brown Mark needed a song for his other band's debut album.
Prince contributed with a demo of the song that made it on this list, which eventually, was rearranged by Mark's band and their producer.
The song was so good that Prince couldn't resist taking it back, adding some touches here and there, and putting it in the Parade album.
Prince promised Brown Mark he would be given credit for the song. Unfortunately, that never happened, despite Mark agreeing to the deal.
Brown Mark never saw a single penny out of Kiss. Ouch…
Don't worry! Brown Mark said that, despite the bitter experience, being Prince's bass player helped him find plenty of opportunities… no wonder!
12. One Kiss – Calvin Harris feat Dua Lipa
13. Let Me Kiss You – Morrisey
14. Kiss Me, Baby – The Beach Boys
15. This Kiss – Faith Hill
16. Just A Kiss – Lady Antebellum
17. Blow Me (One Last Kiss) – P!nk
18. Kiss of Judas – Crazy Lixx
19. Kiss The Girl Goodbye – Peter Criss
20. Kiss A Girl In Black – Fleeting Joys
21. Looking For A Kiss – New York Dolls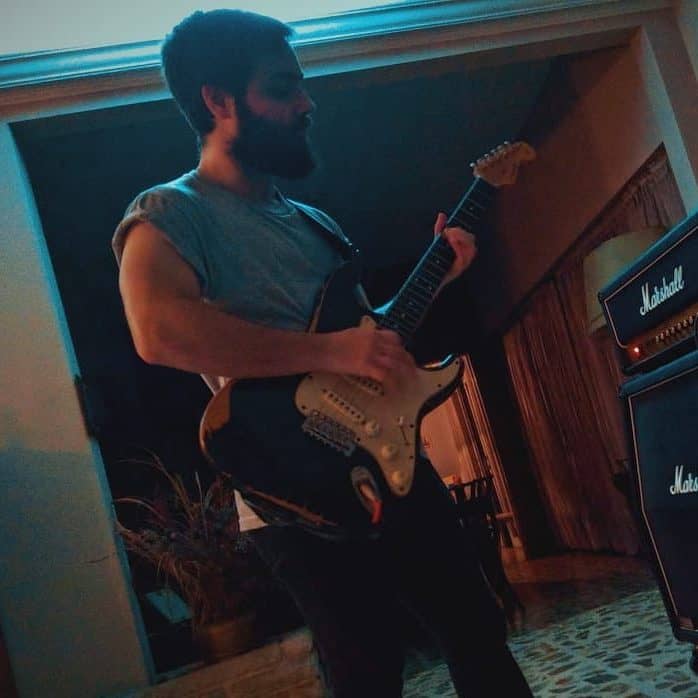 Hello there, my name is Ramiro and I've been playing guitar for almost 20 years. I'm obsessed with everything gear-related and I thought it might be worth sharing it. From guitars, pedals, amps, and synths to studio gear and production tips, I hope you find what I post here useful, and I'll try my best to keep it entertaining also.