Wedding ceremonies mark one of the most important events of our lives.
Shacking up with one person and committing to being with them in all the good, bad, and ugly is no small thing.
Despite that, it's probably one of the most beautiful things you'll experience in life and it has thus inspired many musicians to write songs about marriage and weddings too.
1. Thinking Out Loud – Ed Sheeran
While this list may not be in any particular order, thinking out loud is at the top on purpose.
Ed Sheeran has been taking the world by storm for the last decade because of the beauty of his words and the authentic feeling behind them.
This song off his album "Multiply" or X for short is just such a song.
Thinking out loud is all about finding, building, and maintaining a love that lasts a lifetime.
It helps that it's also been used at many, many weddings as the wedding dance.
2. At Last – Etta James
An oldie, but a goldie- At Last is all about finding the one and that tends to be what marriage is about too.
James sings about how her life has changed after finding "the one" and how it was love at first sight and that can often be the case for couples, especially still in the honeymoon phase.
In my opinion, it's never a good idea to think of love from someone else as the thing that ends your loneliness.
Although we do all seek to be loved, that love should never be expected to be from another person, because our hearts can often be fickle.
Better to focus on doing the loving than receiving the loving, in that way both of you will love each other well.
3. A Thousand Years – Christina Perry
There's a version of this song where a male vocal lead sings along with Christina Perry on this.
But that aside, this is probably one of the most beautiful romantic love songs of the last few decades.
It's gentle, it's sweet and it sings of a patient wait to spend your life with someone.
Dying every day for someone and loving them for a thousand years is a pretty intense feeling of love and it's a perfect backdrop to a wedding dance
4. All of Me – John Legend
All of Me is a tender and simple piano love ballad, inspired by Legend's then-fiance- now-wife- Chrissy Teigen.
The song was literally written as a romantic gesture of proposal, which is pretty cool if you ask me.
However, the song is about giving everything you have to someone and getting to know them intimately in love.
Personally, I enjoy the song because of its honest and vulnerable lyrics along with the gentle melody.
It makes for just as good a wedding song.
5. To Make You Feel My Love – Adele
An Adele song that isn't about an ex.
It's quite a beautiful pleading melody of Adele plainly stating how she wants to love the person this song is dedicated to.
What I like about this song is that it's about a kind of love that builds up and supports and remains.
It may be a good song about long-lasting relationships, but it also works as a wedding song, as a lullaby for your child, and as a song, you can sing to the hostage you stalked and now have in your basement.
"Make You Feel My Love" is a beautiful and bare song and I like it and it belongs on this list because it's romantic.
6. Better Together – Jack Johnson
If you're more of a relaxed person or maybe you just have that beach lifestyle, Jack Johnson is for you.
Better Together is typical of Johnson's repertoire but doesn't fall short of being the kind of song that sings all about lifelong love.
In it Johnson talks about life and the journey we take and how it's better in pairs.
It's actually perfect for slow dancing together, which is great for a wedding ceremony.
7. I'm Yours – Jason Mraz
I'm Yours is another one of those saccharine sweet Jason Mraz songs and it's more about a kind of love that sneaks up on you, and yet it feels instant as well.
It's another song about giving yourself over to someone fully and not hesitating to love them anymore.
It's a beautiful song for weddings too because it's full of love and commitment and the freedom of loving each other.
I guess the song tends to digress to wider love, but overall it's a good romantic song about committing to one person too.
8. Stand By Me – Ben E. King
This song is all about commitment, which makes it perfect for a wedding song.
In it, Ben E. King sings about how life can get difficult, but we stick together through it, even when the night is dark.
Stand By Me is a song all about unyielding commitment to one another.
9. I Do – Colbie Caillat
I mean, those are the words we say at the altar, aren't they?
I Do is led through mostly by a chirpy ukulele rhythm, which gives it this lightness and jovial celebratory tone which I feel encapsulates the heart of love quite wonderfully.
I Do is all about how our hearts change when we find real love with someone and how we become the kind of person who wants to commit.
The song manages to maintain Caillat's characteristic upbeat sound throughout and makes for a lighthearted "sunny day" kind of song.
10. Just The Way You Are – Bruno Mars
Bruno Mars wrote this song back in 2010, but it's still as timeless today as it was back then.
This song is really more of a song about loving someone for every part of them and finding them to be the most beautiful thing in the world.
It was also Bruno Mars's first song, and received a lot of praise, due to his tendency to make his female listeners feel perfect in their own skin, which makes it perfect for you if you're a guy trying to sweep your new wife off her feet.
11. Single Ladies – Beyonce
Ironically, Beyonce released this song around the same time she got married secretly to Jay Z.
This song comes across as a song for single women, but it's actually a call to men to commit. It's not really something to play at a wedding but probably makes for a great song at a bachelorette party.
The funny thing about this song is that it wasn't really even written by Beyonce, but rather by one of her producers who was inspired by her marriage and decided to write a song about the problem of the lack of commitment most men have.
12. Love and Marriage – Frank Sinatra
You can't have love without marriage as the lyrics go, and I'm sure if you're looking at this playlist, you're likely on a similar wavelength to me in this regard.
Love and marriage both require commitment and a loveless marriage is more like a prison, and a marriageless love is a love that goes nowhere and eventually peters out or stagnates.
Love and Marriage wasn't originally written by Sinatra, but he covered it and made it a lot more famous.
Being written back in the 50s, the values in this song sing of a seemingly bygone age, but it sings of a truth that we should still hold dear today.
13. You're Still The One – Shania Twain
Still the one isn't so much a song about a wedding, but it definitely comes up to what you would feel after years of being committed to someone.
Some people take time to get married, and engagements can last for years, but when love lasts throughout that time, it's important to restate that at times.
It makes for a great wedding song when you're marrying someone who you've known for what feels like a lifetime.
14. Ho Hey – The Lumineers
A bit more of an indie song for those of you who prefer indie folk music.
The Lumineers manage to make a simplistic song with a simple message that is echoed throughout the chorus.
The verses are a little more about finding love through difficulty or about the regrets of love missed, but the composition of the song has a happy tune that overshadows the slightly more reflective lyrics.
15. Say You Won't Let Go – James Arthur
And I've saved the best for last.
When it comes to a romantic wedding song, "Say You Won't Let Go" is a tough one to top. In it, James Arthur details the story of how he came to fall in love with the woman he writes about in his song and how it leads and grows into a lifelong bond.
It makes for a beautiful and romantic wedding song.
10 More Songs About Weddings
| | |
| --- | --- |
| Title | Artist |
| Lucky | Jason Mraz |
| Unchained Melody | The Righteous Brothers |
| The Way You Look Tonight | Frank Sinatra |
| Marry Me | Jason Derulo |
| Truly Madly Deeply | Savage Garden |
| You Are the Best Thing | Ray LaMontagne |
| Let's Stay Together | Al Green |
| Can't Help Falling In Love | Elvis |
| This Will Be (An Everlasting Love) | Natalie Cole |
| Amazed | Lonestar |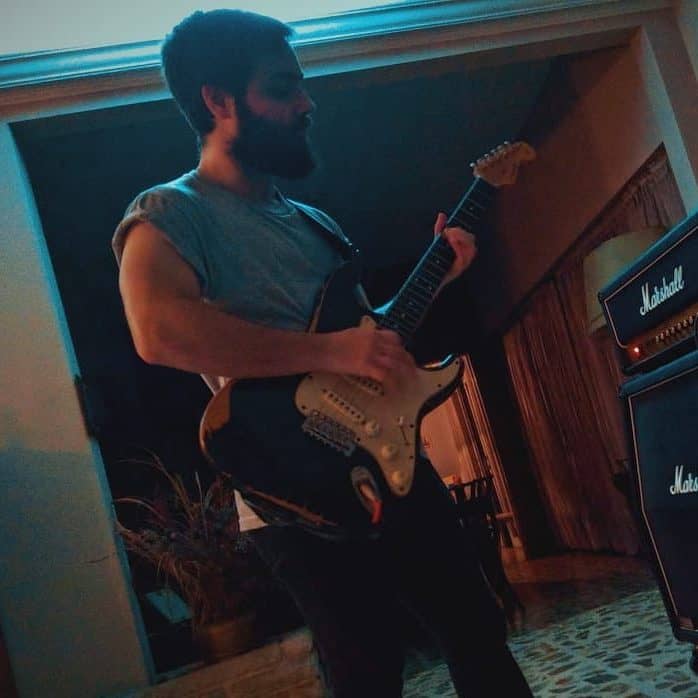 Hello there, my name is Ramiro and I've been playing guitar for almost 20 years. I'm obsessed with everything gear-related and I thought it might be worth sharing it. From guitars, pedals, amps, and synths to studio gear and production tips, I hope you find what I post here useful, and I'll try my best to keep it entertaining also.