Most bands and musical artists want to reach as wide of an audience as possible to achieve maximum fame and fortune.
And two of the most universal experiences in life are food and sex.
But songs about food often end up sounding kind of silly unless you're Jimmy Buffett.
Which leaves us with sex.
And though some people may not want to admit it, sex sells… big time!
From the sex appeal of the artists to songs that get downright explicit, popular music is riddled with songs about what goes on behind closed doors.
And though the internet isn't heavily censored in most countries, radio and television used to be the main ways to distribute new music.
And you may be surprised at some of the stuff that got played on MTV and especially FM radio.
Sure, they may censor a few words but it usually doesn't take a genius to figure out what a song is about.
But I will try to cover some songs that take a romantic approach to the subject as well as scandalous ones.
So if you're ready to get sexy, dim the lights and check out some of these tracks about doing the deed!
1. Lady Marmalade – Labelle
This Soul-inspired Disco track is a notoriously dirty number 1 hit from the 1970s.
And if you like people who speak directly and don't beat around the bush, then this song is for you.
Because the chorus, which is sung in French, translates to "Do you want to sleep with me tonight?"
How's that for a proposition?
I'm guessing that having that line in French was just a clever way to "disguise" what the song was about for marketing purposes.
But the song isn't just a one-trick pony and it is well written, with cover versions climbing the charts again in the late 1990s and early 2000s.
Written by: Kenny Nolan and Bob Crewe
Year Released: 1974
Album: Nightbirds
2. Closer – Nine Inch Nails
I don't consider myself a prude but I am a little surprised that this song was released as a single.
And it's not just that the song is about rough sex but rather the "raw" way it is written.
I mean, "Help me, it's your sex I can smell"? Good Lord man!
But this song was also odd for some other reasons that affected the music industry.
Industrial Rock music had been around for a while, at least in the 1980s and probably further back with the band Throbbing Gristle in the 1970s.
But I don't think it was ever really meant to be mainstream music.
And when Nine Inch Nails became a huge success, it left record companies scrambling to sign Industrial Rock bands as fast as they could.
These days, of course it is mostly an underground genre again but I think everyone of a certain age remembers this song.
Written by: Trent Reznor
Year Released: 1994
Album: The Downward Spiral
3. What's Your Fantasy – Ludacris feat. Shawna
This was the song that made Ludacris a big name in Rap music.
He actually released it twice, first on a self-produced album and then (mostly the same album with a few songs changed) on a bigger music label for better distribution.
It's a fun song but it's mostly a list of places where you can have sex and to be honest, I think Ludacris put out much better songs later in his career.
It was also a bit cringy to hear virgin high school and middle school students singing along to lyrics about BDSM, but I guess you have to learn about the birds and the bees sometimes, right?
Southern rappers often refer to the "Dirty South" and Ludacris definitely represented it with this song!
Written by: Ludacris and Shondrae Crawford
Year Released: 1999 / 2000
Album: Incognegro and Back for the First Time
4. Boom Boom (Let's Go Back to My Room) – Paul Lekakis
This fun dance track takes its inspiration from a slang phrase for sex that you may think is a joke, but people actually use it in some parts of the world.
And the song is another good example of "the direct approach" to getting laid, with model/singer Paul Lekakis providing the sex appeal.
And although the original song never had a music video and was probably more of a club hit, this music video was produced for the 20th anniversary of the song.
This may be one of the cheesiest songs I've ever heard, but at the same time, it never fails to put a smile on my face.
Written by: Tom Hooker, Miki Chieregato, and 3 others.
Year Released: 1987 (single)
Album: Tattoo It (1990)
5. Let's Make Love – Faith Hill feat. Tim McGraw
I think it's time to slow things down a little with a more romantic song about getting physical.
Country music does have a few nasty songs but for mainstream Country music, things tend to be a little more morally conservative.
So one way to get around this is to use the term "making love".
Even better, you can sing a duet about it with your actual spouse as these two did.
Awww… how wholesome.
But I'm just kidding about mocking it and there is something beautiful about this song that celebrates the love between two people who have chosen to spend their lives together.
And the song won a Grammy award as well so I'm not the only one who appreciates the "milder" stuff.
Written by: Marv Green, Chris Lindsey, Aimee Mayo, and Bill Luther
Year Released: 1999
Album: Breathe
6. I Feel Love Comin' On – The Love Unlimited Orchestra
Get this; The Love Unlimited Orchestra was a 40-piece orchestra with Barry White and 3 female vocalists.
One of those ladies, Glodean James, was also married to Barry White.
This album is mostly funky / disco instrumental music with Barry White doing some hot and heavy intro speeches to set the mood.
But although he only says a few lines, like one of those Chuck Norris jokes, Barry White only needs to say a few words to make it sexy.
If you like this sort of thing, I also recommend checking out more songs from the same album such as Baby Blues, as well as Love's Theme and Barry's theme for some great wah-wah guitar work.
Written by: Barry White and Paul Politi
Year Released: 1974
Album: Rhapsody in White
7. Ketchy Shuby – Peter Tosh
If you don't know who Peter Tosh is, he was a member of Bob Marley and the Wailers, but he had a prolific solo career too.
You may also be wondering what exactly "ketchy shuby" is.
And the easiest way to explain it is that it's a really fun game that people like to play in Jamaica.
So if you ever find yourself in Kingston you should ask someone to teach you how to play it.
I'm sure you'll have a great time.
And the bass in this song deserves a mention too.
In fact, I recommend listening to the entire album if you're a Reggae fan.
Written by: Peter Tosh
Year Released: 1976
Album: Legalize It
8. Touch-a, Touch-a, Touch-a, Touch me (from Rocky Horror Picture Show)
9. Rough Sex – Lords of Acid
10. I'll Make Love to You – Boyz II Men
11. I Wanna Sex You Up – Color Me Badd
12. Like a Virgin – Madonna
13. The Bad Touch – Bloodhound Gang
14. Let's Get It On – Marvin Gaye
15. Sexual Healing – Marvin Gaye
16. Sex Machine (Part 1) – James Brown
17. Give It to Me Baby – Rick James
18. Feel Like Makin' Love – Bad Company
19. You Shook Me All Night Long – AC/DC
20. Why Don't We Do It in the Road? – The Beatles
21. WAP – Cardi B. feat. Megan Thee Stallion
22. Push It – Salt-N-Pepa
23. In Those Jeans – Ginuwine
24. Can You Handle It? – Usher
25. F*** the Pain Away – Peaches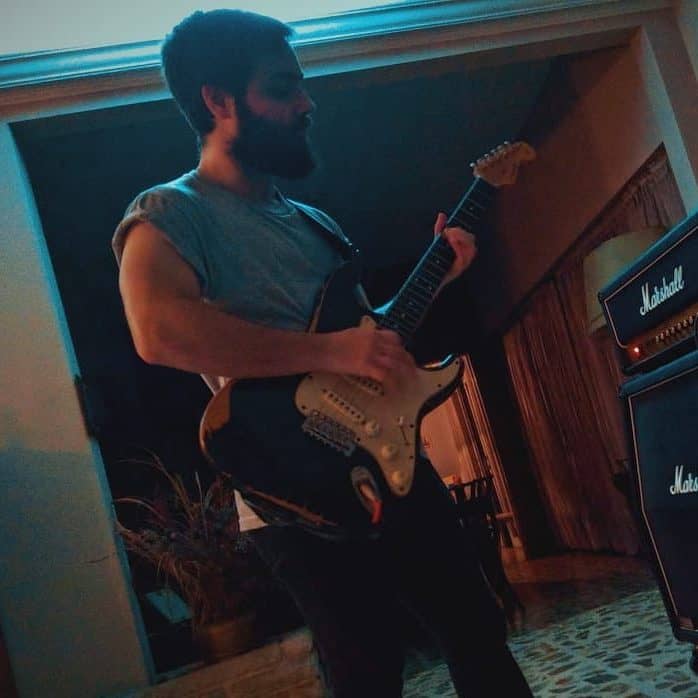 Hello there, my name is Ramiro and I've been playing guitar for almost 20 years. I'm obsessed with everything gear-related and I thought it might be worth sharing it. From guitars, pedals, amps, and synths to studio gear and production tips, I hope you find what I post here useful, and I'll try my best to keep it entertaining also.