Reasons for not wanting to be in prison are plenty.
After all, prisons are nasty places where dangerous situations take place.
However, there's probably but one main reason prisons are so fearful: they deprive people of their freedom.
If we consider that art and freedom go hand in hand, then it's not a surprise to see artists writing songs depicting this peculiar place.
Here we present 21 of them.
1. Folsom Prison Blues – Johnny Cash
Probably the first song that comes to anyone's mind.
Folsom Prison Blues tells a story about a man who shot someone else "just to watch him die."
After that, the man starts doing time at the Folsom State Prison in California. However, every time he hears the train passing nearby, he regrets his decisions and yearns for experiencing freedom once again.
The short story is fantastic, but it becomes more interesting when we listen to the live version played by the Man in Black at the real Folsom State Prison, in front of real inmates.
2. Prison Song – System of A Down
SOAD made a clear statement in the opening track of 2001 Toxicity: they are against the corrupt American prison system.
This song is not against prisons themselves, but rather, on how counterproductive can these institutions result for the majority of people in the long run, especially for those who don't belong there.
3. Jailbreak – AC/DC
Australian hard rock group portrays a story of a man being sentenced to 16 years in prison. The guy found his wife sleeping with another man, so he took a gun and shot the man dead.
However, this prisoner decides he's not spending 16 years in jail at all, so he designs a plan to escape it.
In the end, he makes it out, but with a bullet in his back.
4. London Dungeon – The Misfits
London Dungeon was written after a real-life event.
Misfits members Glenn Danzig and Bobby Steele were at a bar one night in London. All of a sudden, Danzig got paranoid and believed there were some skinheads in the bar waiting to beat them up.
Naturally, Danzig started sharpening a piece of glass on the street to fight those skinheads back but was caught by one of the bar's bouncers.
He and Steele eventually spent the night in jail, thus, leading to the creation of this song.
5. Jailhouse Rock – Elvis Presley
Elvis Presley made life in prison seem like a High-School-Musical-kind-of experience, with delinquents, murderers, and guards dancing and having fun.
This couldn't be further from the truth, unfortunately.
6. Murder Was The Case – Snoop Dogg
Rapper Snoop Dogg was indeed accused of murder before his debut album came out.
He and his bodyguard McKinley Lee were driving when they confronted Philip Woldemariam, a gang member.
McKinley Lee shot the man dead, but both were charged in the end.
Luckily, Snoop Dogg was freed on bail by his record label.
7. Rusty Cage – Soundgarden
Chris Cornell struggled with panic disorder and depression throughout his life. He claimed it was the result of a bad trip on angel dust at the age of 14.
Rusty Cage doesn't mention a tangible prison (unlike Folsom Prison Blues, for instance). It's more about the inner prison that we find ourselves trapped in our heads, and the one Cornell tried to break through during his life, until his tragic ending in 2017.
8. You Know What They Do To Guys Like Us In Prison – My Chemical Romance
Another song about a man involved in a shooting and later landing in a prison.
It appears in the group's second studio album Three Cheers For Sweet revenge.
9. Whiskey In The Jar – Thin Lizzy
The most obvious "song about prison" choice when talking about Thin Lizzy has to be Jailbreak.
However, I thought it would be quite interesting to change things a bit.
After all, Whiskey In The Jar is also about a man landing in prison after shooting dead the guy who was sleeping with his wife.
The protagonist of the story seems to care little about the incident, as long as there's whiskey in his jar.
10. Sublime – Jailhouse
A Bob Marley & The Wailers cover.
For more Sublime songs, check this list we did some time ago.
11. Chain Gang – Sam Cooke
This song talks about prisoners working their fingers to the bone on the highways.
Cooke describes their moaning and the sound their chains produce whenever they move.
12. Hurricane – Bob Dylan
Based on the imprisonment of boxer Rubin "Hurricane" Carter, who spent 19 years in prison for a crime he didn't commit.
"They can incarcerate my body, but never my mind" said the boxer.
13. Jail Guitar Doors – The Clash
A B-Side from the single Clash City Rockers.
An interesting fact is that there's an independent initiative by the same name, founded by musician Billy Bragg.
The goal is to provide musical gear to inmates in the UK and American prisons.
14. Black Steel In The Hour of Chaos – Public Enemy
A fictional story narrating the escape of a man from jail.
15. Chemical Prisoner – Falling In Reverse
Ronnie Radke spent some time in prison before forming Falling In Reverse.
Nonetheless, this song is not about being a jail prisoner, but a drug prisoner.
16. A Week In A Country Jail – Tom T. Hall
American country songwriter Tom T. Hall sings about a man who spent a week in jail.
The man thought he would be free overnight, but as the title implies, he was wrong.
17. Still Doing Time – George Jones
18. Women's Prison – Loretta Lynn
19. Nah Goa Jail – Peter Tosh
20. One Love – Nas
21. Fish In The Jailhouse – Tom Waitts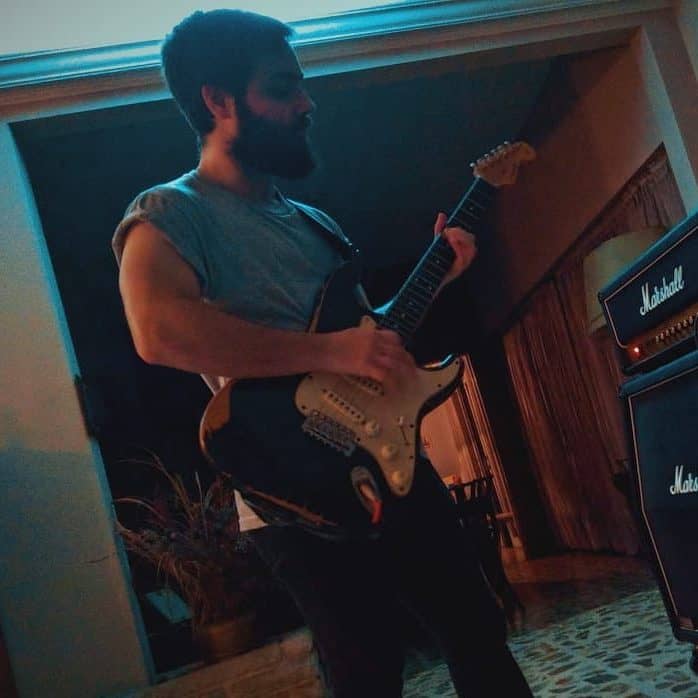 Hello there, my name is Ramiro and I've been playing guitar for almost 20 years. I'm obsessed with everything gear-related and I thought it might be worth sharing it. From guitars, pedals, amps, and synths to studio gear and production tips, I hope you find what I post here useful, and I'll try my best to keep it entertaining also.