I've always appreciated that music isn't really about competition, at least not at its core and not for the fans.
Although you could argue that the headliner of a concert or festival is the winner and the opening acts are the losers, it's not quite the same as it is in sports.
Because people who attend a concert can all have a good time but at a sports game a portion of the crowd will be disappointed when their team loses.
But I'm sure that there is some competition among musicians, sometimes playful and other times vindictive.
And there are a lot of great songs that tackle the subject of winning, competing, being the best, etc.
But while this list will cover some songs with positive vibes, we're also going to take a look at the darker side of success too.
So start thinking like a champion and let's check out some killer songs.
1. Winners
A song from the later years of Sinatra's career, it was actually the theme from a film called Maurie about two NBA Hall of Fame basketball players.
Sinatra gives respect where respect is due and the simple lyrics are an ode to those who push themselves to the limit no matter what their goal is.
And whether your career is in music or basketball, there is no substitute for a strong work ethic.
Of course, it would be ludicrous to pretend that there is no luck involved but even if you don't make it to the top of your game, at least you know you gave it your best effort.
Written by: Joe Raposo
Year Released: 1973
Album: Ol' Blue Eyes Is Back
2. Champion Sound
New Cypress Hill in 2022? Sure, and in this song they want you to know that they haven't lost any of their mojo over the years ("Remain solid while most just fade away").
And it's true that the lifespan of most Rap and Hip Hop groups usually isn't very long as new styles are constantly coming to the forefront, pushing out the old-timers.
So I think they do deserve a trophy for still putting out new music after more than 30 years.
Written by: Louis Freese, Senen Reyes, Demerick Ferm, and Curtis Cross II
Year Released: 2022
Album: Back in Black
3. Everybody Loves a Winner
Rita Coolidge may not be a household name these days but she's worth checking out if you don't know her music.
She even did the theme song for a James Bond film in the 1980s (Octopussy). And that used to be a major notch in a singer or band's belt.
And this slow-tempo song she covered (there is also a Linda Ronstadt version) deals with the social effects of falling off after you've been at the top.
As her friends' smiles turn to frowns after her success has faded she must make peace with her new reality or end up crazy like the character in the classic film Sunset Boulevard.
After all, what goes up must come down, as the saying goes.
Written by: William Bell and Booker T. Jones
Year Released: 1972
Album: The Lady's Not for Sale
4. It's a Long Way to the Top (If You Wanna Rock 'N' Roll)
A lot of people say that all AC/DC songs sound the same and I get it; I can understand what they mean.
Except this particular song has always stood out from the rest to me because of the bagpipes. It shouldn't work but it sounds great!
And just like Blues musicians are expected to "pay their dues" by spending years playing at dive bars and roadhouses, that's the idea here too ("Hotel, motel, make you want to cry").
And AC/DC certainly did pay their dues and didn't become popular internationally for many years.
In fact, their first two albums were only released in Australia (and New Zealand for the 2nd album).
It was only later that some of the songs from their first two albums were repackaged into a single international release and their journey to stardom began.
I'd say they made it to the top too, selling out arenas all over the world for decades.
Written by: Angus Young, Malcolm Young, and Bon Scott
Year Released: 1975
Album: T.N.T.
5. Jurass Finish First
This funky Hip Hop track is a good example of the music scene at the turn of the millennium: a little bit old and a little bit new like The Strokes and Interpol.
The instrumental sound is obviously influenced by music of the past but the lyrics are clever and more intellectual than most of the Gangster Rap of the 1990s.
Called Alternative Hip Hop, Jurassic 5 was definitely down for trying something new ("Cause the trash on the chart leave you gasping for art").
And they may not have topped the charts but they had their moment and came up with some pretty cool songs in my opinion.
Written by: Jurassic 5
Year Released: 2000
Album: Quality Control
6. Lonely at the Top
Whether you love him or hate him, this Randy Newman song tells a sad tale about the lives of celebrities while also playfully boasting that he's the best.
And it's true that the rich and famous can't always just go out like ordinary people without being photographed by Paparazzi or swarmed by fans. You could almost say they are prisoners in their own homes.
And this also reminds me of the recent spate of divorces among celebrities and the ultra-rich elite. No matter how hard I try to understand it, it still blows my mind.
I mean, if guys with unlimited money and supermodel wives are unhappy, what hope is there for the rest of us?
But maybe it really is just lonely at the top.
Written by: Randy Newman
Year Released: 1972
Album: Sail Away
7. Eye of the Tiger
While I admit that this song may sound a little bit dated, I certainly don't think it's any worse for it.
It still hits the spot when you need an inspirational song.
And it was a huge commercial success for the band, and also being used in both the Rocky III and Rocky IV films.
In fact, when the first chords of the song begin, the timing always sounds like punches being thrown at me (Jab! — Jab, Jab, Straight right!).
So if you have trouble dragging yourself out of bed on some mornings, try using this one as your alarm. You'll be as fit as 1980s Sylvester Stallone in no time.
Just don't try drinking raw eggs. I've tried it and it's every bit as gross as you think it is.
Written by: Jim Peterik and Frankie Sullivan
Year Released: 1982
Album: Eye of the Tiger, Rocky III (soundtrack) and Rocky IV (soundtrack)
8. I Took a Pill in Ibiza
In my opinion this is probably the best song of the last 10 years, it's at least in my top 3.
While an EDM remix and the accompanying music video became a huge hit, the original song has an extra (autobiographical) verse about returning to his hometown in Michigan that is cut from the remix.
I guess Ibiza is a sexy travel destination to use in a song but Detroit isn't.
And here, winning and success doesn't simply mean "happily ever after" like in The Lord of the Rings or Cinderella… Unlike a fairy tale, the story continues.
I don't necessarily think it's that Mike Posner was famous enough that he would be recognized everywhere but success for him wasn't what most people think it would be like ("You don't ever wanna step off that roller coaster and be all alone").
And the song mentions another issue of being famous or rich, which is that you don't know who to trust. Do people really like you or are they just after your money, etc.?
It's honestly a pretty introspective song for popular music and while the remix is great, I prefer the rawness of the original.
Written by: Mike Posner
Year Released: 2016 (the single was released in 2015)
Album: At Night, Alone
25 More Great Songs about Winning
| | |
| --- | --- |
| Title | Artist |
| Nice Guys Finish Last | Green Day |
| We Are the Champions | Queen |
| The Distance | Cake |
| Jerry Was a Race Car Driver | Primus |
| Winner Takes It All | ABBA |
| Trophy | Charli XCX |
| All I Do Is Win | DJ Khaled |
| Winning | Santana |
| Nothing's Gonna Stop Us Now | Starship |
| On Top of the World | Imagine Dragons |
| Top of the World | Van Halen |
| I'm Gonna Win | Foreigner |
| We're a Winner | The Impressions |
| The Boxer | Simon & Garfunkel |
| The Champion | Carrie Underwood (feat. Ludacris) |
| Winner | Pet Shop Boys |
| Top of the World | The Carpenters |
| U Can't Touch This | MC Hammer |
| I Will Win | Twisted Sister |
| Can't Stop | Red Hot Chili Peppers |
| Never Surrender | Corey Hart |
| Winning Ugly | The Rolling Stones |
| Quitters Never Win | Dr. John |
| Live to Win | Motorhead |
| You Win Again | Johnny Cash |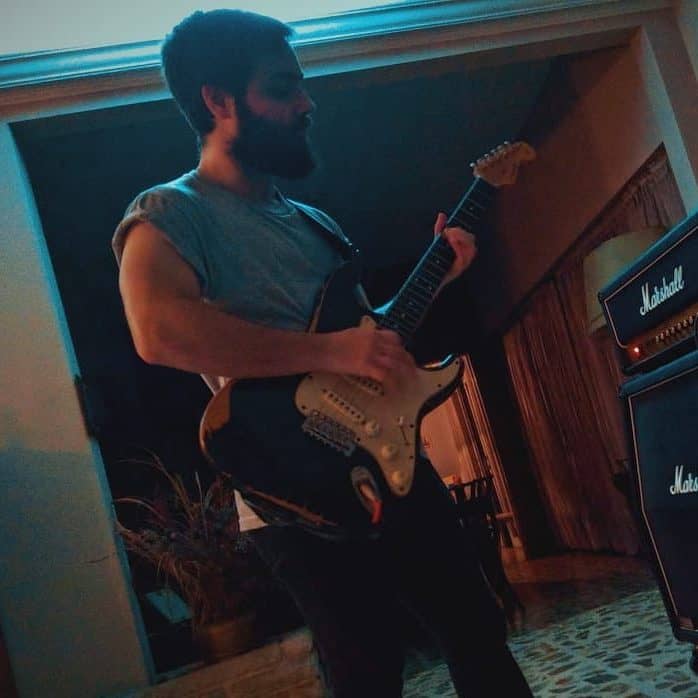 Hello there, my name is Ramiro and I've been playing guitar for almost 20 years. I'm obsessed with everything gear-related and I thought it might be worth sharing it. From guitars, pedals, amps, and synths to studio gear and production tips, I hope you find what I post here useful, and I'll try my best to keep it entertaining also.