Even though technology has helped people connect in ways that were unthinkable even a generation ago, it seems loneliness is like a mythological beast that just can't be killed.
But when you're feeling cut off from the rest of the world and starting to think that maybe there's something wrong with you, music has you covered.
Because listening to songs about others living through the same experience can be very comforting.
As the saying goes, misery loves company.
So stop (or start) crying in your soup and let's check out how some different generations and genres of music tackle this all too common phenomenon.
1. Tired of Being Alone
Let's start with a tune about the common situation of a loneliness induced by the end of a relationship.
While the lyrics to this song might not be breaking any barriers, Al Green's vocal performance is hard to beat. That guy could sing!
And the music itself isn't somber at all, making this song a great choice when you need something to cheer you up.
Personally, I don't need much of an excuse to listen to Al Green no matter what my mood is.
Written by: Al Green
Year Released: 1971
Album: Al Green Gets Next to You
2. Me and My Shadow
This song is almost 100 years old (1927) and has been sung by many artists such as Frank Sinatra and Sammy Davis Jr., Robbie Wiliams, Peggy Lee, and Bing Crosby over the years.
So when you're feeling blue you can take comfort in the fact that how you're feeling is really nothing new at all.
The lyrics are quite different in some of the versions but besides the general vibe of loneliness, some versions such as this one by Judy Garland, deal with how seeing other happy couples walking around can exacerbate someone's feeling of isolation.
In today's world, this is similar to discussions of the psychological effect of many people portraying their lives on social media as if everything is always perfect.
So the more things change the more they stay the same.
Written by: Al Jolson, Billy Rose, and Dave Dreyer
Year Released: 1957
Album: Alone
3. All My Rowdy Friends (Have Settled Down)
Here's a song that approaches loneliness from a different angle.
Because this one isn't about pining for love but rather missing the good old days of youth and painting the town red.
And if you're old enough you have probably known someone like the character in the song or been him yourself: the party animal who remained the same while others changed over the years.
And old friends who are now up to their necks with responsibilities such as spouses, children or demanding jobs can't meet you at the bar every weekend even if they wanted to.
Well, you can't stop time and C'est la vie (That's life) as the French say.
Written by: Hank Williams Jr.
Year Released: 1981
Album: The Pressure Is On
4. All By Myself
If you asked me what my favorite genre of music is, I probably wouldn't respond with Adult Contemporary.
That being said, my respect for Celine Dion has grown over the years, not just for her impressive vocal abilities but for the raw emotion that she can convey with her voice.
And so it is with her version of this song, which discusses how perceptions of partnership, love, and intimacy change over time, becoming more of a need than a want.
Of course, when you're younger you may think the grass is always greener on the other side of the fence and when you're in a relationship you wish you were single and vice versa.
But things don't always stay the same, do they?
Written by: Eric Carmen and Sergei Rachmaninoff
Year Released: 1996
Album: Falling into You
5. So Far Away
This sad and plaintive song is perfect for lonely nights or weekends spent at home.
This one isn't totally hopeless though as it remains unclear whether the object of her affection is gone forever.
The lyrics should resonate with anyone who is in a long-distance relationship or who has a partner who is in the military or another job that requires a lot of time away from home.
And So Far Away gets bonus points for having James Taylor playing guitar.
Written by: Carole King
Year Released: 1971
Album: Tapestry
6. Are You Lonesome Tonight?
Elvis was really the total package, a handsome devil and an exceptional singer.
Are You Lonesome Tonight is a combination of singing and a spoken verse that can make even the most cynical person get teary-eyed.
And as the prominent heartthrob of young girls at the time, the executives in the music industry knew exactly what they were doing with this song.
In fact, it was Presley's manager who suggested he should record a version of the song.
It reminds me a bit of One Direction, whose fan base was mostly teenage girls, releasing a song about how you're beautiful even if you don't think you are (What Makes You Beautiful).
But don't worry, that's the only comparison I would ever make between Elvis Presley and One Direction. They're not even in the same class in my opinion.
Written by: Lou Handman and Roy Turk
Year Released: 1960
Album: Are You Lonesome Tonight? / I Gotta Know (single)
7. Rock and Roll
It would be easy to come up with a list of Blues songs about feeling lonely as that is one of the main tropes of the genre.
And Led Zeppelin did a lot of songs that were rooted in Blues music, especially on their early albums.
Although this is off of their 4th album, it still has a distinct Blues influence while being very fast-paced and lively.
Nostalgia is running high for the character in the song, who wants things to be the way they were before, and the word "lonely" is repeated 5 times in a row which must be some kind of record.
Written by: Led Zeppelin
Year Released: 1971
Album: IV (untitled)
8. Only the Lonely (Know the Way I Feel)
This song off of Orbison's first album may sound a bit dated because of the style of the backing vocals that was so popular at the time.
But the main vocal melody is a winner and Roy Orbison had a unique voice that was able to do Elvis-style baritone lows and hit some pretty high notes too on songs like Crying.
And Roy wasn't just a good singer but a great songwriter also, which always gets extra respect from me.
Written by: Roy Orbison and Joe Melson
Year Released: 1961
Album: Lonely and Blue
9. Desperado
Hotel California may be the Eagles' swansong but this is another great tune.
The song deals with an (older and more experienced) person warning someone that the thrills of youth and freedom may not be the best long-term plan ("Your prison is walking through this world all alone").
And lyrics such as "You better let somebody love you, before it's too late" can be taken two ways: as a warning that your rebel lifestyle might be the death of you or that no one will want you when you're old and broken down.
If your friends drag you out to karaoke night, I think Desperado is always a safe bet since it doesn't require any vocal acrobatics and it's a good crowd-pleaser.
Written by: Don Henley and Glenn Frey
Year Released: 1973
Album: Desperado
10. Under the Bridge
The intro to this song just never gets old for me.
This early nineties rock hit may not be as funky as some of the Chili Peppers' other work but it gets extra points for creativity.
Because while a lot of people have pets as companions or sometimes even let things stand in for companionship (think about the Wilson volleyball that Tom Hanks' character finds in the film Cast Away), I don't know of too many people who have befriended a city.
Here that city is Los Angeles and though it sounds weird, it somehow works perfectly in the song as the character struggles to start over after a debilitating drug addiction.
36 More Great Songs about Loneliness
| | |
| --- | --- |
| Title | Artist |
| One | Three Dog Night |
| I'm So Lonesome I Could Cry | Hank Williams |
| Wake Up Alone | Amy Winehouse |
| Lonely Is the Night | Billy Squier |
| I'll Come Running | Brian Eno |
| The Lonely Ones | Chris Isaak |
| Lonely Is | Ella Fitzgerald |
| Lonely at the Top | Jamey Johnson |
| Owner of a Lonely Heart | Yes |
| Lonely Boy | The Black Keys |
| The Ballad of the Lonesome Cowboy | Chris Stapleton |
| Another Rainy Night (without You) | Queensryche |
| Dancing with Myself | Billy Idol |
| Here I Go Again | Whitesnake |
| Lonely | Akon |
| Space Oddity | David Bowie |
| Unloveable | The Smiths |
| Eleanor Rigby | The Beatles |
| Ain't No Sunshine | Bill Withers |
| Loneliness | The Bee Gees |
| How to Fight Loneliness | Wilco |
| I Get Lonely Too | Drake |
| The Loneliness of the Long Distance Runner | Iron Maiden |
| Lonely Avenue | Ray Charles |
| So Lonely | The Police |
| You're Gonna Me Lonesome When You Go | Bob Dylan |
| Lonely | Tom Waits |
| I Wish You Lonely | Morrissey |
| Isolation | Joy Division |
| You Are Alone | The Flaming Lips |
| Lonely Girl | Weezer |
| Solitary Man | Neil Diamond |
| You Are Not Alone | Michael Jackson |
| Blue Moon | Beck |
| Drowning Shadows | Sam Smith |
| Alone Again | Dokken |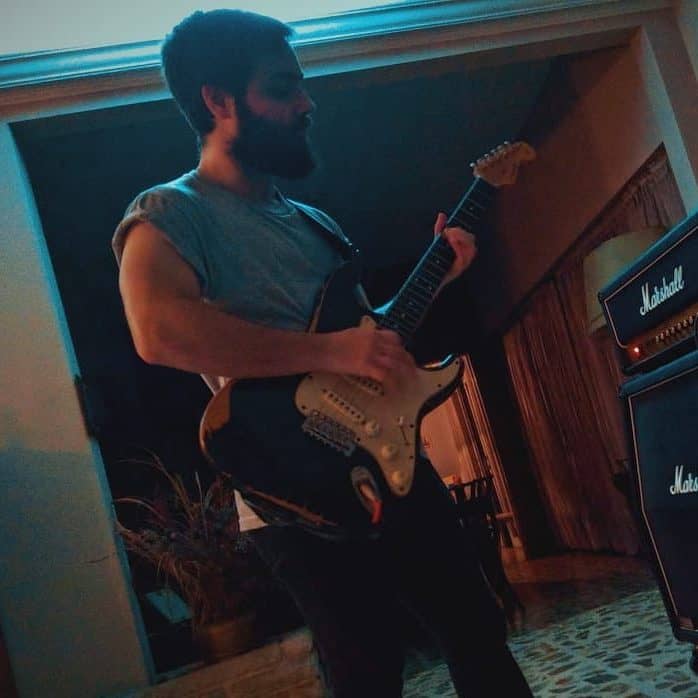 Hello there, my name is Ramiro and I've been playing guitar for almost 20 years. I'm obsessed with everything gear-related and I thought it might be worth sharing it. From guitars, pedals, amps, and synths to studio gear and production tips, I hope you find what I post here useful, and I'll try my best to keep it entertaining also.