Sometimes running away is the smartest thing you can do. I don't doubt that for a second.
But popular society's views don't often have a kind opinion of it, whether in films, tv shows, music, or books.
So even if you did the right thing to get out of a bad situation, later on, you may find yourself second-guessing your decision, as if you acted cowardly.
After all, John Wayne wouldn't back down from a fight, would he?
And your father is going to be so disappointed.
But don't worry because some musicians have you covered with songs about when escaping.is the correct course of action.
And knowing that others have been through the same experiences is always comforting.
So here are some songs about running away from places, situations, and people.
1. I Ran (So Far Away)
Would you rather have been in a band that everybody has forgotten or a band that people mostly remember for their outrageous hairstyles?
A Flock of Seagulls actually had a few cool songs even if they didn't age that well.
This one is about a guy who is so smitten with a beautiful woman that his initial instinct is to run away because… it would just be too intense I guess?
Keep in mind that this was in the 1980s and a lot of New Wave singers weren't afraid to show their sensitive sides.
But then the lyrics take a weird turn as they are abducted by aliens and he is trying to escape from the tractor beam of the UFO. Seriously.
Written by: A Flock of Seagulls
Year Released: 1982
Album: A Flock of Seagulls
2. Run to the Hills
This track about European colonists hunting down and destroying Native American communities was pretty reflective for a Heavy Metal band of their era. And I say good for them.
This song is about retreating when you are outnumbered and outgunned.
So there is no cowardice here; it's just about living to fight another day.
The verses are written from several different people's viewpoints but it's clear that Iron Maiden was condemning what European settlers did.
Written by: Steve Harris
Year Released: 1982
Album: The Number of the Beast
3. Runaway
If I can be nostalgic for a time when I wasn't even alive, I feel like they don't really write vocal melodies like this anymore. Maybe all the good ones have already been done.
This song is about as classic as you can get and Del sings about a girl who broke up with him, comparing her to a runaway.
Why did she leave? The character in the song honestly seems to have no idea.
It just goes to show you can never really know what is going on in someone else's private little world.
Written by: Del Shannon and Max Crook
Year Released: 1961
Album: Runaway with Del Shannon
4. Something in the Way
This song remains kind of an oddity in Nirvana's catalog.
It was so different from most Nirvana songs and showed that Kurt Cobain wasn't a one-trick pony.
This song is about someone living under a bridge and while Nirvana members said that Cobain never lived at the particular place being referenced, he did run away from home as a teenager.
So fictionalized or not, the emotions present in the song came from real-life experiences.
Written by: Kurt Cobain
Year Released: 1991
Album: Nevermind
5. Run On
This song that Moby built around samples from Run On for a Long Time by Bill Landford and the Landfordairs, was actually based on an even older hymn.
So in the lyrics here we have someone with loose morals being advised to get a move on to "try" to outrun the wrath of God (the original song was God's Gonna Cut You Down).
But there is also some reference to a homewrecker being advised to get out of the community, which is probably more a warning of impending physical harm than spiritual.
Which type of warning is scarier to you depends on your personal beliefs. Cool song though.
Written by: Moby
Year Released: 1999
Album: Play
6. Ms. Jackson
Since we've covered people ending relationships as being runaways I think it would be cool to take a look at this early 2000s banger of a song.
Because it offers a little twist to the normal metaphor
Basically this one tells a story of a man who can't seem to earn the respect of his baby mama's mother. She has always thought of him as a deadbeat.
And much of the song's lyrics are statements that he will continue to thrive and be present in his kid's life even if things didn't work out with Ms. Jackson's daughter.
So it comes down to running away from a bad relationship that involves a child, without running away from responsibilities to the kid. Nice.
Written by: Outkast and David Sheats
Year Released: 2000
Album: Stankonia
7. Runaway Train
This song features the singer discussing his issues with depression and empathizing with the hopeless feelings that can lead youth to run away from their homes.
But wait, it was a little more than that. It was also something of a public service announcement for the very real-world problem of runaways.
There were a few different music videos for the song that featured actual runaway children, some of whom have been located since although not always with a happy ending
So this is a great example of how a band can use music in a positive way and the song received a 1994 Grammy Award for Best Rock Song.
Written by: Dave Pirner
Year Released: 1992
Album: Grave Dancers Union
8. Jailbreak
Now I guess it depends on which side of the law you're on, but what more appropriate place is there to run away from than prison?
This song was obviously about prisoners planning to bust out of jail later that night and it is definitely a product of the dangerous persona that was expected of a rock band at the time.
Now the lyrics are actually a warning for the townspeople to take cover and stay out of the way, so the prisoner who is the protagonist of the song seems to be a halfway decent person, but he knows that his fellow prisoners won't play nice.
Maybe this song didn't age that well, especially the part about "Hey, good-looking female – come here", but tons of bands have covered it over the years.
Written by: Phil Lynott
Year Released: 1976
Album: Jailbreak
9. Burma-Shave
This track is about a drifter in the vein of Jack Kerouac or James Dean, who goes by the name of Presley and drives a Ford Mustang.
As he is driving he picks up a young hitchhiker who doesn't really have any destination in mind, just anywhere but where she is:
"Mister, anywhere you point this thing has got to beat the hell out of the sting of going to bed with every dream that dies here every morning".
Anyway, there is a story to the song that I won't spoil for you and if you track down a live version of it, that's even better.
Written by: Tom Waits
Year Released: 1977
Album: Foreign Affairs
26 More Great Songs about Running Away
| | |
| --- | --- |
| Title | Artist |
| Runaway | Bon Jovi |
| Jailbreak | AC/DC |
| Running Away | Hoobastank |
| Born to Run | Bruce Springsteen |
| Fast Car | Tracy Chapman |
| Running Away | Bob Marley and The Wailers |
| Free Bird | Lynyrd Skynyrd |
| Here I Go Again | Whitesnake |
| Turn Me Loose | Loverboy |
| You Keep Running Away | Four Tops |
| Runaway | The Corrs |
| Runaway Child, Running Wild | The Temptations |
| Runnin' Away | Sly and the Family Stone |
| Runaways | The Killers |
| Run Away from It All | Blackberry Smoke |
| Smalltown Boy | Bronski Beat |
| Fly Away | Lenny Kravitz |
| Runaway | Linkin Park |
| How to Disappear Completely | Radiohead |
| Sleep on the Floor | The Lumineers |
| Come Fly with Me | Frank Sinatra |
| Take the Money and Run | Steve Miller Band |
| Running Scared | Roy Orbison |
| Hold Me Down | Halsey |
| I Am Born to Run | American Authors |
| Little 15 | Depeche Mode |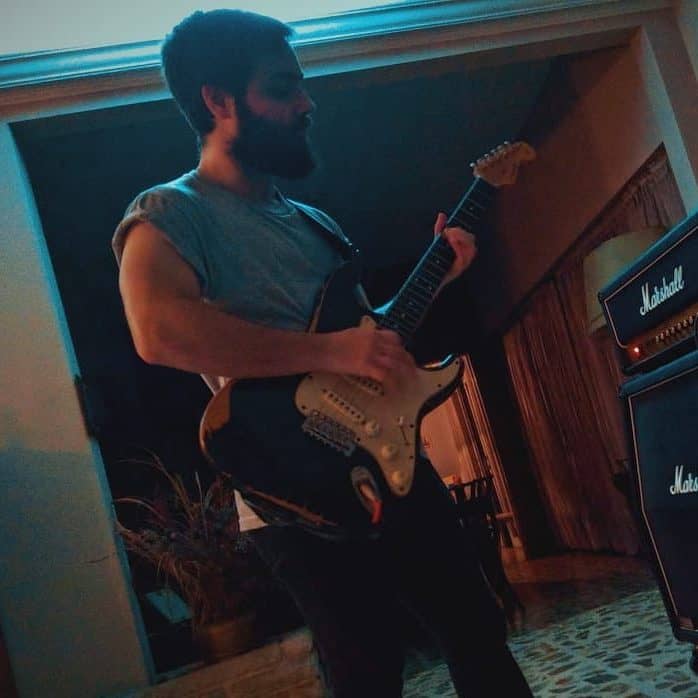 Hello there, my name is Ramiro and I've been playing guitar for almost 20 years. I'm obsessed with everything gear-related and I thought it might be worth sharing it. From guitars, pedals, amps, and synths to studio gear and production tips, I hope you find what I post here useful, and I'll try my best to keep it entertaining also.