The genre of R&B, which stands for Rhythm and Blues is kind of a hard category to really nail down.
But for some background, it used to refer mainly to Soul, Blues, and Funk music, which was mostly marketed to an African American audience.
And I think most people would agree that it sounds a whole lot better than the original term for the genre which was Race Music. I sure do!
But by the 1980s there were threads of pop, hip hop, disco, gospel, and electronica becoming intertwined in R&B music, a trend which continued in the 1990s and beyond.
And this was also during the period when purposely misspelling words and replacing words with numbers (such as 4/for and 2/to/too) was all the rage. I can't say I miss that trend much, do you?
But of course, love songs, often called "slow jams" in R&B, are always popular so they were a good bet for a band or artist trying to break into the music charts.
So today let's check out some love song earworms from the 1990s when FM radio was king and you couldn't escape these songs even if you wanted to!
See how many you remember or can at least recognize if these came out before your time.
1. Un-break My Heart
Toni Braxton hit it big with this song and although this list isn't in any particular order this is my personal Number 1.
Ms. Braxton sings this one with a lot of feeling and it's a pretty sad ballad to be honest.
And it's interesting to note that although the song's lyrics deal with pleading with a lover who left to return ("walked out the door" / "that sad word goodbye"), the music video is about missing a man who is killed in an automobile accident at the beginning of the video.
Hey, what are you gonna do? It's still a great song.
Written by: Diane Warren
Year Released: 1996
Album: Secrets
Award: 1997 Grammy for Best Female Pop Vocal Performance
2. I Will Always Love You
The version of this song recorded by Whitney Houston was a smashing success in the early 90s. And she really had an amazing voice!
It didn't hurt that the song was featured in the movie The Bodyguard (1992), in which Ms. Houston also starred in.
In fact, it reportedly was her The Bodyguard co-star Kevin Costner who suggested that she should record a cover of the song. Good call Kevin.
Now it could definitely be said that the song's lyrics are a bit elementary and over the top at times but it struck a chord with the public and is a mainstay in many publications' Top/Greatest lists.
Written by: Dolly Parton
Year Released: 1992
Album: The Bodyguard: Original Soundtrack Album
Awards: 1994 Grammy for Best Female Pop Vocal Performance and 1994 Grammy for Record of the Year
3. Kiss from a Rose
Seal hit it big time with this performance and the story goes that it was an old song that he had written but that he didn't think too highly of for many years. Lucky he changed his mind, huh?
This song was even picked up to be included in several film soundtracks such as The NeverEnding Story III (1994) and Batman Forever (1995).
In fact, it was the song's inclusion on the Batman Forever soundtrack that made the song huge since it wasn't a chart topper when it was first released.
I'm starting to think Seal had either stored up a bunch of good karma or was just a really lucky guy.
Year Released: 1994
Album: Seal (self-titled album) and the two aforementioned film soundtracks
Awards: 1996 Grammy for Best Male Pop Vocal Performance, 1996 Grammy for Song of the Year, and 1996 Grammy for Record of the Year
4. Fortunate
Now it's time to enter the infinitely smooth universe of Maxwell.
I mean this song practically oozes with the instrumental foundation being so chill and Maxwell's vocals layered with plenty of backup vocals.
And yet again its success is linked to a film soundtrack, this time the movie Life (1999).
Written by: R. Kelly
Year Released: 1999
Album: Life (OST)
5. Killing Me Softly with His Song
This song is like magic pixie dust.
A version of the song recorded by Roberta Flack and released in 1973 went to number 1 and then it became a number-1 hit again 23 years later when The Fugees did a cover version of it.
And it sailed right across the Atlantic to climb the charts in many European countries as well.
Now this song obviously has a huge Hip Hop influence to it but the intro singing is definitely more R&B than anything.
Written by: Charles Fox, Norman Gimbel, and Lori Lieberman
Year Released: 1996
Album: The Score
Award: 1997 Grammy for Best R&B Performance by a Duo or Group with Vocal
6. I'll Make Love to You
"Umm… honey what are you listening to?"
"It's Boyz II Men mommy. Aren't they great?"
While I wouldn't go so far as to call this song crude or vulgar, I'm sure it took a few parents by surprise when they heard their children singing it or listening to it.
But compared to some of the hot and heavy R&B tracks like I Wanna Sex You Up by Color Me Badd that were being released back then, it almost sounds sensitive and romantic.
Anyway, this hugely popular song made Boyz II Men a household name in the 90s.
Written by: Babyface
Year Released: 1994
Album: II
Award: 1995 Grammy Award for Best R&B Performance by a Duo or Group with Vocals
7. Always Be My Baby
This poppy hit was just another notch in the belt of megastar Ms. Carey.
Seriously, this girl must have a house that is made of solid gold by now. I have read that her recording of All I Want For Christmas Is You is a perpetual money maker every holiday season.
Always Be My Baby is mostly built around percussion, piano, and a lot of layered vocals with a mix of lyrics and the "not-quite-words" vocalizing that is so prevalent in R&B.
Wait… do these lyrics start to get a little creepy in a stalker kind of way ("You're never gonna shake me")?
Yes, they sure do, sort of like Every Breath You Take by The Police.
Oh well, just don't listen too closely I guess.
Written by: Mariah Carey, Jermaine Dupri, and Manuel Seal
Year Released: 1996
Album: Daydream
8. I Swear
This song was actually a cover version of a Country song from a few years prior that was given the R&B treatment to great commercial success.
While the song starts out in an A Cappella style you can hear the ambient noises of city life in the background to give it some atmosphere.
And though the music does eventually join the vocals it remains pretty sparse and the singing is always the focus except for the short horn solo.
I've got to say this song might be a little too saccharine or "easy listening" for some people though, almost like listening to a church youth choir… best in small doses.
Written by: Gary Baker and Frank J. Myers
Year Released: 1994
Album: All-4-One
13 More R&B Love Songs from the 90s
| | |
| --- | --- |
| Title | Artist |
| All My Life | K-Ci & JoJo |
| You Make Me Wanna… | Usher |
| How Deep Is Your Love | Portrait |
| At Your Best (You Are Love) | Aaliyah |
| That's the Way Love Goes | Janet Jackson |
| Twisted | Keith Sweat |
| All I Want for Christmas Is You | Mariah Carey |
| Angel of Mine | Monica |
| Can't Take My Eyes Off of You (I Love You Baby) | Lauryn Hill |
| Diggin' On You | TLC |
| Falling | Montell Jordan |
| Everytime I Close My Eyes | Babyface |
| Real Love | Mary J. Blige |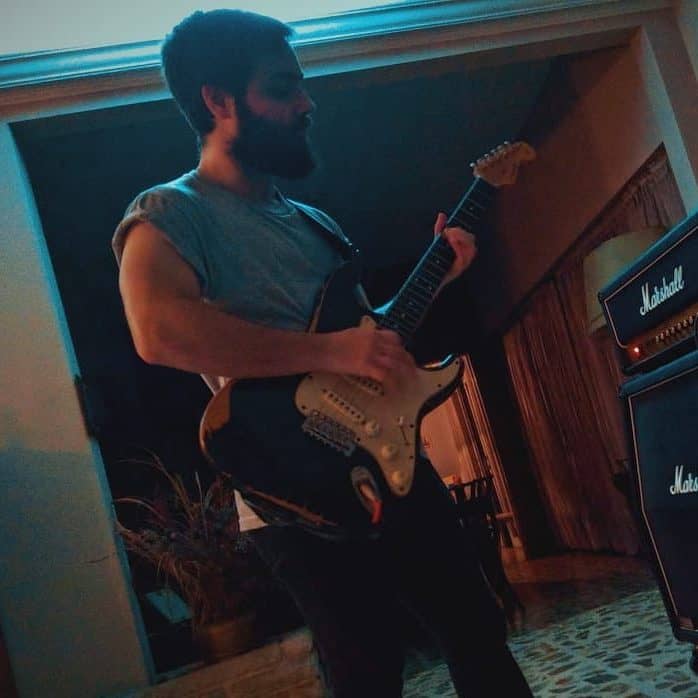 Hello there, my name is Ramiro and I've been playing guitar for almost 20 years. I'm obsessed with everything gear-related and I thought it might be worth sharing it. From guitars, pedals, amps, and synths to studio gear and production tips, I hope you find what I post here useful, and I'll try my best to keep it entertaining also.