Everybody has to work, this is how we pay our bills and feed ourselves, and even making music can feel like work sometimes.
For a lot of us, work can be drudgery and we may even dread our jobs, hence the love of the weekend and the Monday blues.
Luckily for us, musicians are people too and they know the feeling, and they've written about it too.
1. Manic Monday – The Bangles
Manic Monday was originally written by Prince and it was rumored that he gifted it to The Bangles in an attempt to win the affection of the band's rhythm guitarist, Susanna Hoffs.
The song was one of the Bangles' biggest hits, despite them not realizing it would be at the time.
As far as the history of the song's making goes, the arrangement was originally different, very much Prince's style.
But The Bangles rearranged things and made it into their own song, and carried it through with their own wit and skill.
2. Workin' For a Livin' – Huey Lewis & The News
According to Huey Lewis, this song was a semi-autobiographical one about his past jobs before he became a musician.
Lewis had written the song during his time as a truck driver, and many of the jobs noted are jobs he had.
The song overall talks about how we're working to stay alive, but just barely managing to make ends meet.
It's a song about the working class man and his struggles.
3. Takin' Care of Business – Bachman – Turner Overdrive
Randy Bachman wrote this song way before it was released back in 1973.
While he was still a member of The Guess Who, he wrote this song based on a recording technician who worked on The Guess Who's recordings.
He would take the 8:15 train, which obviously inspired the lyrics "take the 8:15 into the city."
The song takes an ironic look at the idea of glamorous rock stars who don't really need to work, contrasted with working-class men.
4. She Works Hard For The Money – Donna Summer
A blistering 80's dance track with a mixture of R&B and disco feel to it, this was the lead single off of Donna Summer's album of the same name.
She works Hard for the Money tells the story of a blue-collar woman who's just exhausted by her work, but keeps at it.
The song was inspired by a restroom attendant that Summer encountered named Onetta Johnson, and fun fact, she even had Johnson photographed for the album's rear cover.
5. Shiftwork – Kenny Chesney
For anyone who's done shift work, you know it can be pretty rough.
No consistent sleep patterns and odd hours, sometimes double shifts even, it's a really hard way to live, but somebody has to do it.
Shiftwork covers just that topic with a moderate up-tempo country groove to it that manages to approach a dreary topic with a simple country ruggedness.
6. Take This Job and Shove It – Johnny Paycheck
Something we've all thought about or even said at least once.
Take This Job and Shove It is a great stick it to the mankind of song. It was written by David Allan Coe and popularized by Paycheck back in 1977.
A song about an embittered man who has worked long and hard with no apparent reward.
We can all relate to that feeling.
7. Career Opportunities – The Clash
This is a pretty aggressive punk rock song from back in the day, and it dealt with the massive unemployment issues of late 70s Britain.
The song criticizes the way the government gives us jobs that keep us working as a slave, remaining in dead-end careers that keep us out of trouble but are really no better for us.
It's a perfect punk spirit of rebellion that drives this song, even its structure is staccato and almost noisy and I think that's what makes it good listening, especially when you're angry about your job opportunities.
8. Hard Day's Night – The Beatles
There's a lot of rich history behind the creation of this Beatles song, which I suppose is true for much of their music, but this one has a particularly interesting story.
Hard Day's Night was inspired by a slip of the tongue that Ringo Star had uttered at the end of a long day of work, with the band having worked into the early hours of the morning to the point where it was nighttime by the time they were finished.
Ringo made the comment "it's been a hard day's… Night" and the rest is history.
9. Money for Nothing – Dire Straits
The most successful Dire Straits single is inspired by Mark Knopfler listening to a man complaining about the musicians that emerged in the 1980s.
The music video for the song was one of the first examples of CGI human characters and it won a video award back in 1986.
Overall, the song is pretty catchy and cool, and if you haven't heard it, you should give it a listen.
10. Work – Rihanna
Work is a mixed song for me, going from its chanting chorus to its relatively slow verses and with a feature from Drake in it too.
It's a song about sex, with the word "work" being Jamaican patois slang for "doing the deed".
The song overall covers how Rihanna seeks a deeper connection, but her male counterpart is only interested in one thing.
"Work" was released in 2016 and was a bit of a callback to Rihanna's earlier themes of dancehall music.
The song received mixed reviews when it was first released but critics warmed up to it over time.
11. 9 to 5 – Dolly Parton
Dolly Parton has always been the sweetheart of country music and even in real life, she's a very kind and caring person.
So it's often missed that in this song, Parton's lyrics are quite bitter toward the 9 to 5 work scene, with a scathing criticism of employers who take advantage of and abuse their workers.
The song is so upbeat that you'd miss it if you're listening more to the melody than the lyrics and they manage to squeeze so much into less than 3 minutes.
It's a really good listen if you hate the day-to-day grind but would rather that thinking about it didn't bring you down.
12. Working for The Weekend – Loverboy
Working for the weekend is an odd blend of Loverboy's sound with that of power pop, which was more popular around the time of this song's writing and release.
Generating the Canadian rock band a lot of success by reaching number 29 on the US Billboard hot 100.
The song originated when guitarist Paul Dean was out on a walk one Wednesday afternoon, looking for song inspiration.
He noticed that many areas were void of people and he noted that they must be "waiting for the weekend."
Later this line was changed to what we now know.
13. Five O'Clock World – The Vogues
A golden oldie, Five O'Clock World was written back in 1965 by Allen Reynolds and recorded by the Vogues.
It was pretty popular around the time of its release, reaching No.1 on WLS in December 1965 and No.1 in Canada.
Five O'Clock World saw a resurgence of its popularity back in 1996 when it was used as the theme song for The Drew Carey Show, however, it was used in media many times before that.
You can hear it in the movie "Good Morning Vietnam" for example.
14. Door to Door – Creedence Clearwater Revival
A song about a door-to-door salesman, this song was inspired by band drummer Doug Clifford's earlier days working as a door-to-door salesman.
He was planning to be a pot and pan salesman back when he was a college student but decided not to after hearing how the salespeople would trick people into signing up for things they didn't need.
15. Welcome To The Working Week – Elvis Costello
A song that Costello seems to have directed at someone who knows nothing about working, a sardonic comment on the working life aimed at a more privileged woman.
The track was the first of his album "My Aim is True" and is short, but intense.
In addition to appearing as the opening track on Costello's 1977 album "My Aim Is True", Welcome to the Working Week was released as the B-side to "Alison", the second single from the album, that same year.
16. Work From Home – Fifth Harmony
17. Work Hard, Play Harder – Gretchen Wilson
18. Working Man Blues – Merle Haggard
19. It's My Job – Jimmy Buffett
20. Busy Man – Billy Ray Cyrus
21. Hard Way To Make An Easy Living – Toby Keith
22. Workin' Day and Night – Michael Jackson
23. Assembly Line – Randy Montana
24. 6 Inch – Beyonce
25. Got a Job – The Miracles
26. Working Class Hero – Plastic Ono
27. A Thousand Hours – The Cure
28. Cardiac Arrest – Madness
29. Carwash – Rose Royce
30. Working Girl – Cher
31. Drinking Class – Lee Brice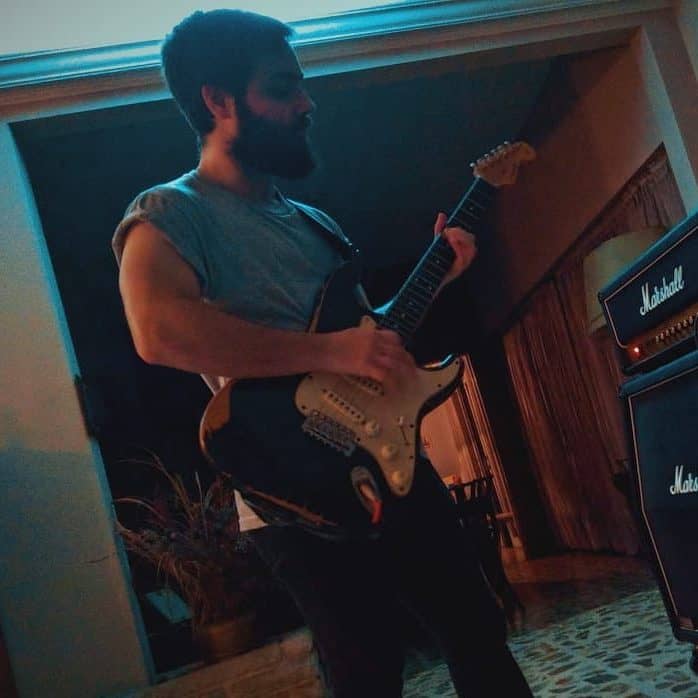 Hello there, my name is Ramiro and I've been playing guitar for almost 20 years. I'm obsessed with everything gear-related and I thought it might be worth sharing it. From guitars, pedals, amps, and synths to studio gear and production tips, I hope you find what I post here useful, and I'll try my best to keep it entertaining also.