Mondays. Go ahead and admit it, most of us look forward to Mondays as much as a root canal. The weekend is over, and we're about as far as the next one as we can get
It's somewhat comforting to know that certain artists share our disdain for Mondays, while others just want to help us get through them by singing and dancing.
So, with that, here are 11 great songs that will ease those Monday blues.
1. They Call It Stormy Monday – T-Bone Walker
When you have the blues, you have the blues. Here is a song that is as blue as it gets.
The narrator really isn't having a good week; Monday seems to be the least of his problems.
However, he is looking forward to the weekend, when he can go out and play.
T-Bone Walker probably didn't know it at the time, but his song has become one of the great blues standards, covered by everyone from BB King (who cites T-Bone as one of his biggest influences) to the Allman Brothers.
2. Blue Monday – New Order
New Order rose from the ashes of Joy Division, taking the early bits of New Wave in their music and upping them with synths and dance beats.
This track, from 1983's Power, Corruption and Lies, has since become the highest-selling 12-inch single in the UK and was highly influential in the development of Synth Pop.
With its driving beat and hypnotic synth riffs, if you're going to get through a Monday, you might as well dance your way through it!
3. I Don't Like Mondays – The Boomtown Rats
Nobody likes Mondays, especially Brenda Ann Spencer.
Her story inspired the song; a 16-year-old girl who killed two people and injured 18 others after opening fire at Grover Cleveland Elementary School in San Diego.
The chorus's line "I don't like Mondays" was the reason she said she did it when asked by the police.
This fun little piano ballad is the exact opposite in mood given the song's theme.
From the Rats' 1979 album The Fine Art of Surfacing the song feels more like a big "screw you" to the arguably most detested day of the week.
4. Manic Monday – The Bangles
One of the great pop songs of the 1980s, this song was featured on the Bangles' second album, 1986's Different Light. Much like other songs on this list, the song is a bit of a middle finger to Mondays, robbing the narrator of her fun day, Sunday.
However, with its upbeat arrangement, it's hard not to dance your Monday away to this fun song.
Fun fact, the song was written by none other than Prince, who also contributed background vocals under the pseudonym, Christopher.
Once you know this little tidbit, it's not hard to imagine this appearing on a Prince record.
5. Monday Morning – Fleetwood Mac
1975's "Fleetwood Mac" signaled huge changes to the band.
The addition of Stevie Nicks and Lindsay Buckingham (who also wrote the song) brought more commercial pop songwriting to the fold and veered away from the band's blues-rock origins.
This song is also classic Buckingham, with its driving rhythm and great sing-a-long bits, much of which will become staples of his work with Fleetwood Mac.
This song fits nicely with the other pop songs on this list, letting you breeze through your Monday.
6. Come Monday – Jimmy Buffett
Parrotheads rejoice!
Uncle Jimmy made the list!
The man who brought you a Cheeseburger in Paradise in Margaritaville gives us a tender love song that's just as tropical as the rest of his catalog.
Our narrator doesn't lament Mondays but looks forward to them.
Monday is the day that he'll be back home with the one he loves after being on the road.
A stark contrast to much of this list.
7. Monday, Monday – The Mamas and the Papas
Once again, another song that sings lamentations about Mondays (nobody really likes Mondays, do they?).
However, these lamentations did earn the Mamas and the Papas a Grammy award in 1967!
Featured in the album If You Can Believe Your Eyes and Ears, this track contains fantastic vocals and harmonies that could only be done by the group.
Extra points go to the Wrecking Crew, the LA-based collective of studio musicians and their stellar playing on the song.
8. Blue Monday – Fats Domino
Next on this list is a great, classic rock and roll song that, like others, laments the arrival of Mondays (I sense a theme here…).
Fats runs down the days of the week, looking for the weekend when he gets his pay and can have some fun (including the Sunday hangover).
Much like other songs, this theme is contrasted with excellent rock n' roll, as Fats plays a rollicking piano that just drives the song through the week and into the weekend, as it should!
9. New Moon on Monday – Duran Duran
Duran Duran had no shortage of hits, including this Top 10 hit from 1983's Seven and the Ragged Tiger.
This song was destined to be a hit, with its production and arrangement that were signature to the band's other hits.
The lyrics themselves neither lament nor praise the day of the week; a song about wanting to be with a woman, no doubt.
The new moon presents a chance for something new after being with a "cold satellite".
10. Monday – Wilco
Wilco brings the Stones-esque rock to this list with this track off 1996's Being There.
Again, neither a lamentation nor an ode to Monday, but the tale of Charlie, the man with a "pretty good band" and his comings and goings.
No mopiness here, or reasons to lament, this is just great, feel-good rock and roll that will make your Mondays go by a little easier.
Best served loud!
11. Monday Morning Blues – Mississippi John Hurt
Considering most people's disdain for Monday, it's only fitting to end this list with this blues.
With just his acoustic guitar, Hurt tells a story about a man in jail, being sentenced to work in the mines by the jury.
Monday is aching through his bones, laments the narrator, from his Monday blues, to not finding his Monday shoes.
Forget Stormy Monday, this is about as blue as you can get.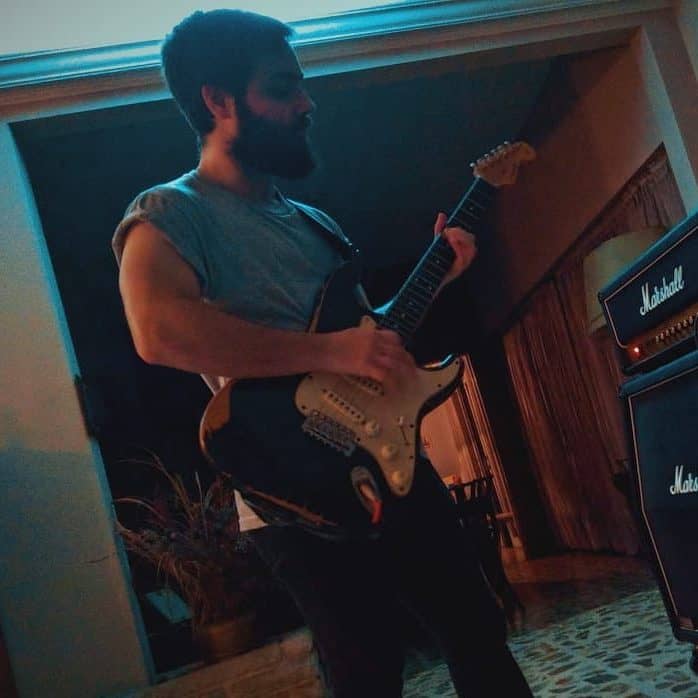 Hello there, my name is Ramiro and I've been playing guitar for almost 20 years. I'm obsessed with everything gear-related and I thought it might be worth sharing it. From guitars, pedals, amps, and synths to studio gear and production tips, I hope you find what I post here useful, and I'll try my best to keep it entertaining also.