Friday is everyone's favorite day of the week, it's the day that everyone spends all week waiting for.
It's just before the weekend, you usually get to go home early on a Friday and you get to sleep in the next day.
Owing to the anticipation most people experience, from Monday right through until the end of the week, many artists have undertaken to celebrate this day.
Whether it's about looking forward to Friday, how you spend your Friday, or how you choose to relax after a hard day's work, there's a tune for every Friday occasion.
1. Friday – Rebecca Black
Easily the greatest Friday song ever written, released in 2011, if you haven't heard this song yet, you're in for a treat.
Rebecca Black isn't nearly as widely known as most other pop stars, but this was her breakout song.
The lyrics "Yesterday was Thursday, today is Friday" will ring true in the ears of many who grew up in the 2000s.
Love it or hate it, "Friday" is both the best and worst song ever written about Friday.
The song features a rap verse from Patrice Wilson, which was uncredited on the single.
The song's reception was pretty negative overall, and it was parodied by many artists and comedians
The song was featured in a few television shows, including Tosh.0
Despite the negative reception, the song actually topped the US Billboard Heatseekers Songs chart
2. Friday is Forever – We The Kings
This song is the lead single from the Florida-based band.
This tune is all about living in the moment, with catchy lyrics, upbeat music, and sing-a-long lyrics. It's about as much as you can expect from a pop band as far as lyrical depth goes, detailing the singer's story of love, loss, and new love throughout.
The main joy of this song is its melody, with a catchy beat reminiscent of fifties rock, but with a modern beach town twist.
Travis Clark's boyish vocals help to sell the pop feel of the song, making it a typical listen for anyone looking to spend their Friday having a good time.
In short, this isn't a song for deep contemplation, it's all about just enjoying the tune.
3. Friday on My Mind – The Easybeats
Friday on My Mind was a worldwide hit when it came out in 1966 and it's definitely one of the catchiest songs about Friday I've listened to.
The Easybeats definitely sound influenced by the Beatles, from their music to their hairstyles.
The song is cleverly put together, using a modulating between minor and major modes for the verse and chorus respectively.
The verses describe the drudgery of the week and are a slow build-up to the chorus celebrating the pleasures of the weekend in the city.
Though the song has been termed a "working class anthem", George Young maintained it had more to do with their views on the world than any class statement.
Friday on My Mind has been named the best Australian song of all time by the Australasian Performing Right Association (APRA)
4. Finally Friday – George Jones
"Finally Friday" is probably one of those lesser-known Friday songs, a country tune, with a fiddle in it and everything.
This one will get you dancing in your chair if nothing else, with its catchy upbeat melody and the infectious vocal warmth of George Jones.
There's not much to be found on the net about this song, but you don't need to know all the facts to enjoy this earworm.
5. Cheap Thrills – Sia
Ironically, this song was originally intended to be sung by Rihanna for her album "Anti", but was rejected.
Sia took this song and made it into her first number-one single on the US Billboard Hot 100 Chart.
This song is probably known by everyone visiting this list, whether for better or for worse.
At one point it was being played on every radio station multiple times a day, so either you're going to remember it fondly or with a tinge of nausea.
"Cheap Thrills" features a constant tropical beat and electropop-style synth layers and is written in the key of F# minor, and is set in 4/4 time.
The song received an overall positive reception, being called a formidable track that saved 2016, whatever that means
6. I Gotta Feeling – The Black Eyed Peas
A song dedicated to all those who love to party.
When the band released this song, Will.i.am stated that it was dedicated to all the people out in the world that want to go out and party.
Mostly every song on the black-eyed peas record seeks to paint a picture of the band's party life.
Will.i.am stated that he wrote this song to give people an escape from their difficulties and help them forget about the tough times, to make them feel good about life.
If you're someone who likes to go out partying on a Friday night, this is definitely your jam.
7. Friday's Child – Nancy Sinatra
A bit of a change-up from previous songs on this list, Friday's child has got a more melancholic feel to it compared to the upbeat mood of the Black Eyed Peas.
I'm not generally someone who listens to R&B and Soul, but this track has a special quality to it.
With its slow marching drum beat carrying you through the song, the instruments come together with Nancy's vocals to get you really drawn into the mood of the song.
This is less a song to celebrate Friday and more one to wind down at the end of a hard week.
8. Last Friday Night – Katy Perry
Last Friday Night is one of those instantly recognizable Katy Perry songs.
Perry stated that she was inspired to write this song after a night of wild partying and streaking.
In fact, much of what's mentioned in the song actually happened, from the over-drinking to the streaking to the skinny dipping.
This song was released back in 2011 by Capitol Records with a remix featuring rapper Missy Elliot released to US radio stations and digital retailers on August 8, 2011.
The song performed well worldwide with a mixed reception by critics
"Last Friday Night (T.G.I.F.) made Perry the first and only female artist to have five number-one singles from one album in the Billboard Hot 100 chart
9. Thank God it's Friday – R. Kelly
Not R.Kelly's best work, but definitely a Friday jam.
This song makes for a good wind-down song for a Friday evening, despite the lyrics eluding to partying and disco lights.
I find it ironic, this song makes me want to jam in my room, but then curl up with a cup of tea and watch a movie.
I don't think that was the intention, because it seems to be an attempt at a party track, but as I stated, it's not R.Kelly's best work.
There's not a lot of trivia on this track, but fair enough, it is a bit all over the place.
I can agree with the song though "thank God it's Friday" makes for a feel-good vibe at the end of the week.
10. Runaways – The Killers
Runaways is a song about the desire for freedom and the desire to escape responsibilities, kind of an apt topic for a Friday song.
The song really only mentions Friday once, singing "we got engaged on a Friday night…" but the song continuously sings about an escape from day-to-day life.
It's mostly about Brandon Flowers' love for life on the road, touring, and moving.
According to a fan, it was stated that when the Killers took a break, Flowers released and toured two albums because he didn't want to sit around doing nothing.
The band released the track in 2012, releasing artwork on July 2, having it played for the first time on July 10, and releasing "Runaways" on iTunes on July 17.
The song debuted on the US Alternative top twenty songs at No.17
The song received positive critical reception all around, with Rolling Stone writer Jon Dolan calling the song a "Vesuvian gusher of Springsteen mythos, Toto-journey power hooks and singer Brandon Flowers' unmistakable commitment to unmistakable commitment."
11. Freaky Friday – Lil Dicky
Freaky Friday is a comedy hip-hop song featuring Chris Brown.
The song takes up the concept of a "freaky Friday" as in the novel of the same name, swapping the bodies of Chris and Lil Dicky.
It makes for a fun listen to help you unwind at the end of a week, even though the lyrics are mostly about a fictitious, comedic story that's unlikely to ever happen to you.
One can't help enjoying the narrative, as Dicky (in Chris Brown's body) celebrates being famous and attractive, while Brown enjoys being free from negative attention and racial judgments.
There has been some controversy around the song: shortly after its release, the Virginia Tech Hokies women's lacrosse team got themselves in a bit of trouble after some members of the team uploaded a video of themselves singing along to Chris Brown's verse where he starts saying "What's up my nigga" to everyone he encounters.
The song features some cameos at the end from Ed Sheeran, DJ Khaled, and Kendall Jenner
12. Bright Lights Bigger City – Ceelo Green
Released on March 27, 2011, "Bright Lights Bigger City" is the fourth single Ceelo Green's third studio album, The Lady Killer.
This song is a perfect Friday song for partygoers, it's all about being out, enjoying the nightlife, and living for the weekend.
Ceelo Green stated about the song "…We all work pretty hard throughout the week, and Friday and Saturday will always be special, so this is just a song to commemorate that."
With all that in mind, this song was written for the dance floor, so be sure to take it with you on your Friday night out.
The song has a remix version, featuring Wiz Khalifa, which was released on March 10, 2011. Khalifa's verse starts around two minutes and twenty seconds into the song.
13. Working for The Weekend – Loverboy
If you don't know this song, you've probably grown up under a rock.
Working for the Weekend has been featured in so much media that it's hard to say anyone can have missed it.
It's been played in everything from feature films to cartoons.
Working for the weekend originated when guitarist Paul Dean was out walking one Wednesday afternoon, looking for inspiration in his songwriting.
He noticed that most of the area was deserted because most people were at work.
He first began writing the song in a hotel room following a Montreal concert.
The song was kind of the band's breakout song.
They had been playing bars to little response from the patrons at the time when they decided to use the song to open one set. Dean recalled that "the dance floor was packed."
14. Friday I'm in Love – The Cure
A "very naive, happy type of pop song" according to Robert Smith, the primary writer.
The cure manages to make the song both happy and free, while also maintaining its characteristic melancholy to it.
It makes for a song that's positive and happy without being syrup sweet, which is more than I can say for a lot of pop music of today.
It's also one of those songs that craftily manages to mention the days of the week without sounding like a kid's nursery rhyme.
It's a song that manages to paint a picture of each day of the week while also singing about a romance over it.
It also has that typical 1990s rock sound, reminiscent of bands like The Goo Goo Dolls and Pearl Jam.
During the writing process, Robert Smith became convinced that he had stolen the chord progression for the song somewhere.
Ironically, despite the band being mostly known as a goth band, to the general public, they've been known by this song more than anything else.
15. Friday Night (Going Down in Flames) – The Damned Things
I had to sneak a more rock-type song into this list because this is after all a website for musicians too.
The Damned Things manage to make a very punchy song that gets you more revved up and ready to punch someone than wind down for the weekend.
Perhaps that's some people's cup of tea, but all in all, this is a song about going out and having a good time (perhaps a bit too good of a time).
Most people who know of the band, know who they're comprised of, but if this is your first hearing of them, it might interest you to know that they're actually a supergroup.
Comprising of Fall Out Boy's Joe Trohman and Andy Hurley, Anthrax's Scott Ian, Every Time I Die's Keith Buckley, and Alkaline Trio's Dan Andriano.
10 More Songs About Friday
| | |
| --- | --- |
| Title | Artist |
| Friday on My Mind | David Bowie |
| Friday Night in Dixie | Rhett Atkins |
| Friday Night | Eric Paslay |
| Friday Night, Saturday Morning | The Specials |
| Black Friday | Steely Dan |
| Dancing Queen | ABBA |
| Friday – Dopamine Re-edit | Nightcrawlers |
| Hello Friday | Flo Rida |
| It's Friday | Smashproof |
| Livin' It Up (Friday Night) | Bell and James |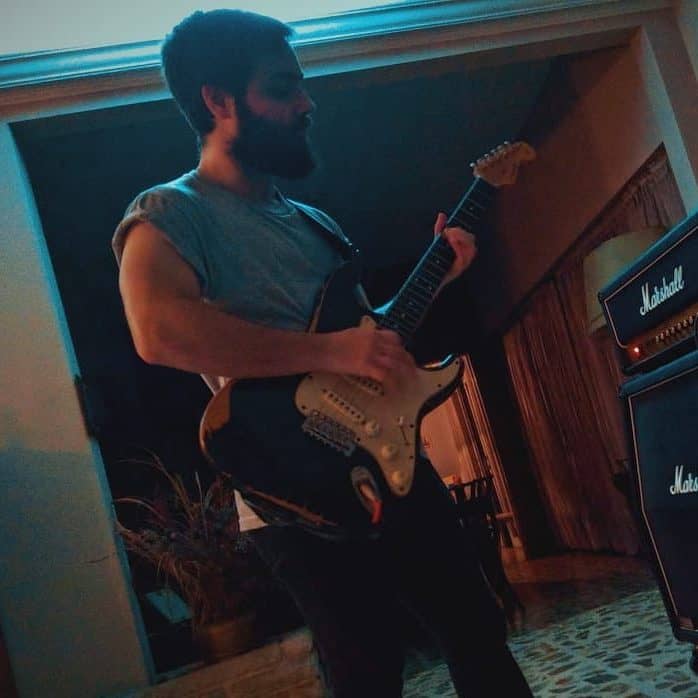 Hello there, my name is Ramiro and I've been playing guitar for almost 20 years. I'm obsessed with everything gear-related and I thought it might be worth sharing it. From guitars, pedals, amps, and synths to studio gear and production tips, I hope you find what I post here useful, and I'll try my best to keep it entertaining also.