Trains have long captured our collective imagination, evoking a sense of adventure, mystery, and nostalgia.
For centuries, trains have been a symbol of progress, connecting people and places across vast distances, while also representing a past era of romanticism and exploration.
It is no wonder that trains have been a popular subject for music, with countless songs written about these iconic machines.
These giant hunks of metal have been used to express raging power as well as melancholy love stories.
In this article, we explore 23 of the best songs about trains, including a variety of genres and eras.
From heavy metal and rock to ballads and punk, these songs represent the enduring appeal of trains as a subject of musical inspiration.
Through these songs, we will explore the many ways in which trains have been portrayed in music, from the joyous excitement of a journey to the melancholy of departure or the danger of an accident.
We will examine the poetic metaphors that trains have inspired, as well as the real-life stories that have captured the imagination of songwriters throughout the years.
So buckle up and get ready for a musical journey through the fascinating world of trains as we explore some of the most memorable and enduring songs about these iconic machines.
1. Crazy Train – Ozzy Osborne
The destroying power of an unstoppable train is depicted in this hard rock track. Ozzy Osborne ruled during the 80s and this song became a staple of that era.

Released in 1981 and included in the album Blizzard of Ozz this amazing piece will make dance, sing and jump along with it. Overall, a heavy metal song from all time with one of the most iconic solos in rock history.
2. Last Train To London – Electric Live Orchestra
Let's go to the station and jump on this train road to London! This disco track was danced everywhere back in its time and still nowadays is played at every party.
This piece is a must when it comes to upbeat funky bass lines and I assure you every bass player has learned how to play it.
Just by listening to its first notes, you will instantly recognize this song.
Published in 1979 and taking part in the album Discovery, Last Train To London tells the story of a man who falls in love with a woman on a train to London, and they dance the night away in the city.
3. Nightrain – Gun's N' Rose's
Being the third track of one of the best-known hard rock albums, this electric track has the energy of a runaway train.
Included in the iconic 1987 Gun's N' Rose's album Appetite For Destruction, the song is about how they were so reckless, crazy, and poor that the only alcohol they could afford was the Nightrain, a cheap wine.
4. Rock N' Roll Train – AC/DC
Reaching the top 1 in U.S. Billboard Hot Mainstream Rock Tracks, we have this amazing hard rock track famous by the Australian group AC/DC.
With fairly straightforward and celebratory lyrics, Rock N' Roll Train describes the power and excitement of rock music and the joy of being a part of the rock and roll scene.
Released as the lead single of the 2008 album Black Ice, its catchy guitar riff and driving rhythm feel like an unstoppable train.
Some interpretations of the lyrics suggest that the song is also about the band's enduring legacy and their commitment to keeping the rock and roll flame burning bright, even as other musical trends come and go.
5. Love Train – The O'Jays
Published as a single in 1972 to be later included in the album Back Stabbers, this song became a huge hit, reaching the top of the charts in the United States.
Besides, it became an anthem of the civil rights and peace movements of that time.
The "love train" works as a metaphor for a vision of a better world, encouraging people to come together to create a more peaceful and harmonious place to live.
This amazing song has been covered by iconic artists such as The Rolling Stones and Hall & Oates and continues to be played to celebrate unity and diversity.
6. Last Train Home – John Mayer
In this song, the train works as a metaphor rather than a literal train.
Released in the 2021 album Sob Rock, this track tells the story of a relationship that has hit a rough patch, with the narrator expressing regret and longing for a second chance.
This melancholic song resembles the 80s sound, featuring keyboard stabs and plenty of guitar licks.
In Mayor's words, the piece is like a tribute to the magnificent band Toto.
7. Runaway Train – Soul Asylum
Although the title may not fit, this song touches on issues of missing and exploited children.
From the 1993 album Grave Dancers Union, this song became a hit and sent a message of hope and solidarity, urging listeners to keep an eye out for missing children and to support organizations working to help them.
In addition to that, its music video helped in raising awareness about this issue.
In short, an emotionally charged song that uses music to draw attention to an important social problem.
8. Trains – Porcupine Tree
Featuring acoustic guitars and piano melodies, this British progressive rock band created this memorable song.
Released in their seventh studio album In Absentia in 2002, Trains is an introspective track about questioning life and reflecting on it.
The metaphor in the title refers to the choices and opportunities that a person faces in life, stating that in a world of infinite possibilities, choices will never end.
9. Locomotive Breath – Jethro Tull
This powerful and thought-provoking song uses train imagery as a metaphor for the destructive forces of progress and social decay.
Included in the 1971 album Aqualung, the song represents the inexorable march of progress and the destruction that comes with a world filled with corruption, violence, and despair.
In this song, the train symbolism is utilized to emphasize the notion that progress is a harmful power, and the train is a metaphor for the unstoppable impact of industrialization and technology.
10. Train in Vain – The Clash
Letting the train go by is something we've all done at one time or another, and this song talks about that.
Released in 1980 on the album London Calling, this track uses the train imagery to refer to missed chances and lost opportunities, in this case, a failed relationship.
This powerful and emotionally charged punk song also explores the pain of heartbreak.
The piece features a memorable melody and catchy chorus that have made it a classic of the genre and a fan favorite among The Clash's many hits.
11. Train Kept a Rollin' – Aerosmith
12. Casey Jones – Grateful Dead
13. Girl On a Train – Skizzy Mars
14. Driver 8 – R.E.M
15. Midnight Train to Georgia – Gladys Knight & The Pips
16. Downbound Train – Bruce Springsteen
17. Wreck Of The Old 97 – Johnny Cash
18. Downtown Train – Rod Stewart
19. Peace Train – Yusuf/ Cat Stevens
20. Train Wreck – James Arthur
21. Freight Train – Elizabeth Cotten
22. The Train – Macklemore & Ryan Lewis
23. Take The A Train – Duke Ellington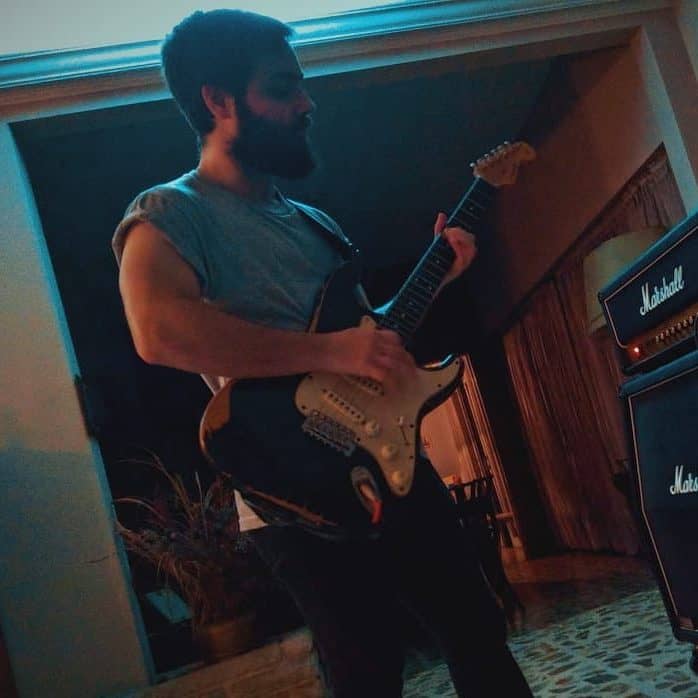 Hello there, my name is Ramiro and I've been playing guitar for almost 20 years. I'm obsessed with everything gear-related and I thought it might be worth sharing it. From guitars, pedals, amps, and synths to studio gear and production tips, I hope you find what I post here useful, and I'll try my best to keep it entertaining also.