If you are a musician or music lover is impossible you haven't heard about The Beatles and their great impact on music.
Music, as we conceive it today, was in large part thanks to its appearance back in the sixties.
This group brings an innovative sound and a way to create catchy songs for everyone's likes.
Despite being a band that disappeared more than fifty years ago, musicians continue to replicate their sound even today.
To mimic the guitar tone of the Beatles you will need for sure an Epiphone Casino, a widely used piece in recording and live shows by Lennon, Harrison, and McCartney. In combination with it, a valve amp will be a must to get those vintage crispy distorted sounds.
The following is a list of the guitars most used by these eminences in the history of music.
In addition, we will provide information about the amplifiers and effects used by the band and a little history about each instrument as well.
Guitars the Beatles did use
The Beatles is perhaps the band that built the music as we know it today so their sound has influenced and is desired by bunches of guitar players.
George Harrison and John Lennon were in charge of the guitars within the group and they are famous for using several models.
Harrison played SG and Les Paul, both Gibson instruments and a Fender Telecaster.
Lennon mostly used a Rickenbacker 325 but probably the most employed guitar for the two of them was the Epiphone Casino Semi-Hollow guitar.
Fender Telecaster
At that time, this wonderful instrument was a revolutionary piece that helped Harrison to model rock sound.
He used a standard Tele, two pickups config plus a three-way pickup switch.
This guitar was played in some of the most popular Beatles songs.
Get Back, Don't Let Me Down, and Let it Be were driven by this iconic instrument.
Check out Telecaster prices on Amazon
Gibson SG
George Harrison used a standard SG from the year 1964, its specs were two humbuckers, and a three-position pickup switch but its most eye-catching characteristic was a tremolo arm.
Harrison recorded in the late 60s using this instrument plus it was played in many live concerts.
This guitar is also known to be part of the videos of Paperback Writer and Rain.
Although it was owned by George, John also made use of this wonderful guitar to record songs in the studio around 1968.
Gibson Les Paul "Lucy"
A lot of history is behind the relic Red Gibson Les Paul.
Named after the comedian Lucille Ball, this instrument is one of the most famous in music history.
This unique guitar was owned not only by Harrison but also by John Sebastian and Rick Derringer.
The most widely told myth regarding Lucy is that when came to George's hands as a gift from his friend Eric Clapton to be used in the recording of While My Guitar Gently Weeps.
This instrument was only produced for a couple of months between 1957 and early 1958.
Their specs were the standard for Les Pauls and can be seen in the promotional video of Revolution.
Gretsch Country Gentleman
If we talk about Harrison's famous guitars we cannot forget about his black beautiful semi-solid Gretsch.
This instrument featured two single coil pickups and a tremolo.
It was mainly used in the recording of Please Please Me and innumerable shows during 1963.
Along with the Epiphone Casino, the Gretsch Country Gentlemen were probably the most used guitars by George Harrison throughout his career.
Rickenbacker 325 "Hamburg"
Had it not been for John Lennon and The Beatles, this guitar might not have been as famous as it is today.
The Rickenbacker 325 was the most trusty Lennon's guitar, used in the early days of the band when Beatlemania was rampant.
With a noticeably short scale (only 20 inches long), a semi-hollow body, and three unusual single coil pickups this instrument forged John's tone.
It was his most used guitar and although he preferred others in certain periods, he always returned to his beloved Hamburg, named after it because was bought there.
Epiphone Casino
Contrary to what happens nowadays, Epiphone outgunned Gibson in the 60s not only in quality but also in popularity and the reason simply relied on three people: McCartney, Lennon, and Harrison.
As the three members in charge of the string section broadly played the Epiphone Casino in studio recordings this guitar was the cornerstone of the Beatles' sound.
Consisting of a pair of P90s pickups that in combination with the guitar's hollow body, the Epiphone Casino brought to life wonderful riffs.
In the popular songs Ticket to Ride and Taxman this instrument was employed in the riffs and in the lead fills as well.
Check out Epiphone Casino prices on Amazon
Modern, cheaper alternatives
Although the Beatles' gear wasn't expensive at that time, today has become difficult to pay for it.
Fortunately, nowadays we have the opportunity to get similar or alternative instruments to get a sound alike.
The Eastwood Classic 6 semi-acoustic guitar is a great option for those who cannot afford the more expensive gear.
Featured with a dual humbucker pickup config, this guitar offers twangy tones in the bridge position and a warm consistent overall sound in the neck pickup.
In addition to that, these pieces are as strong to play live as in studio recording. You could get one of these used guitars for $350 onwards.
Gretsch Streamliner and Electromatic lines are also great alternatives for that vintage sound.
Epiphone Casinos were the most played Beatles guitars, despite not being the same as in the 60s, this model is still in production and as it is an Epiphone guitar you won't have to break the bank to get one.
But be careful, if you intend to achieve the Beatles sound P90s are a must in this guitar!
Last but not least, getting the Rickenbacker is one of the most difficult things due to the company is really tough with those that give it a try replicating their designs.
Therefore, most of the existing replicas are not generally worth it but maybe you might find a cheaper used copy that could do the job.
Best value for your buck
As mentioned before, most of the Beatles' songs were recorded using standard versions and today there exist budget alternatives for them.
Both Squier Stratocasters or Telecasters are competent instruments to get some of their tones (preferably Teles).
Check out Squier prices on Amazon
The same occurs with SGs and Les Pauls, the Asian company Epiphone provides a truly faithful version of them.
Check out Epiphone prices on Amazon
They perhaps do not have the same quality but the specs are identical and there is a wide range of options available.
For semi-hollow pieces, the one that may be the best fit could be the Gretsch Pro Jet which consists of an affordable (around $500 onwards) guitar that replicates very well the desired tone.
What is more, just like Epiphone and Squier, the Gretsch Electromatic series are third-party instruments that could be obtained even for an inferior price.
Check out Gretsch Electromatic prices on Amazon
Premium alternatives to get the Beatles' sound
In the same way, there are budget instrument choices, you can also find premium high-end alternatives to mimic the most influential British band sound.
They are signature models with very loyal specs and looks.
Epiphone Limited Edition USA John Lennon Casino 1965
In cooperation with Yoko Ono, Epiphone introduced this guitar in 2008.
This wooden piece replicates the one that John Lennon acquired in 1965 which presented a sunburst finish and was widely played in the recording of the album Revolver.
Everything in this guitar is a reproduction of the original instrument. It provides the same body size, headstock, even dual Dog-Ear P90s pickups, and a three-way toggle.
Gibson Harrison-Clapton 1957 Les Paul Standard "Lucy"
As we told you the Red Les Paul Harrison owned was given by his friend Eric Clapton and that's why the name.
In 2013 Gibson built a short number of these guitars, only 100 of them which made it really desired and hard to get nowadays.
It presents a rounded 50s neck profile with dual humbuckers which offer a well-defined fat tone.
This guitar is an exact copy of the one used by Harrison and Clapton so you will for sure get their tones.
Don't forget about amp and effects
Not only guitars were responsible for this group's characteristic sound, but the amps they used played also an important role in defining their output tone.
If your goal is to achieve their sound, vintage gear is a must and what better choice than the Vox AC-30 valve amp to do that?
These amps provide clear-cut midrange frequencies required to replicate their style. Besides, these little beasts offer a chimey bright well-compressed output.
The Vox AC-30 has been used by a bunch of guitar players due to its characteristic vintage tone so it has been copied uncountable times.
Check out VOX AC-30 prices on Amazon
Their famous tone could be achieved by a vast range of modern and pretty affordable practice amps thanks to digital modeling.
Regarding effects, this group is only connected to distorted or fuzzy tones common in the 60s.
At that time, there weren't loads of options as we have today.
The Beatles' overdriven sound could be easily achieved by cranking a valve amp to the limit.
They are also associated with fuzz, pretty noticeable in songs like Revolution and to get that tone, a FuzzFace pedal effect could be more than enough.
Check out Fuzz Face prices on Amazon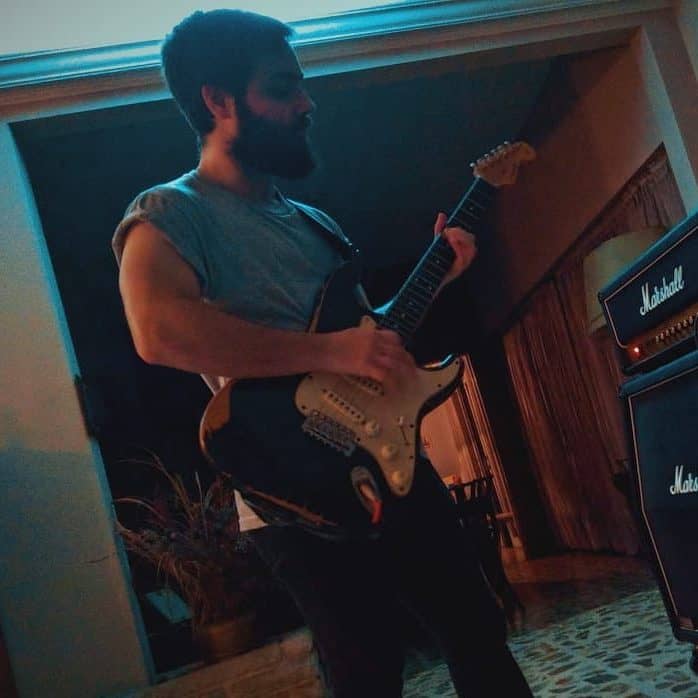 Hello there, my name is Ramiro and I've been playing guitar for almost 20 years. I'm obsessed with everything gear-related and I thought it might be worth sharing it. From guitars, pedals, amps, and synths to studio gear and production tips, I hope you find what I post here useful, and I'll try my best to keep it entertaining also.