Squier guitars are something to really consider if you are looking for a Fender-style guitar on a budget.
They are the closest you could get to an actual Fender, and their price to quality ratio has always been great.
The problem, when you start looking for the one, is that there are many lines that might look all the same to you.
And that's not your fault, they did look pretty similar to me also, before researching this article.
If you want a quick answer about the main differences among Squier guitar lines, here it is:
The main differences between Squier lines are tremolos, pickups, body woods, and body thickness. The Bullet and Affinity series are the most affordable and have thinner bodies. California, SE, and Standard series are great for modding. Deluxe, Vintage Modified, and Classic Vibes are of higher quality.
If you want to stick around for a bit longer, in this article I will give you a brief description of each of the most popular lines of Squier guitar lines. After that, I will put them side by side and tell you what are the main differences between them.
Finally, I will give you my insights into which one I think could work better for you.
Are you ready to get started?
Let's go!
Main characteristics of the Bullet line
The Bullet line is the entry point to the Squier brand. It's the cheapest you could get, and their quality is according to their price.
This low cost is achieved by choosing lower grade materials. Pickups on these guitars are ceramic and the bodies are made with affordable basswood.
The bridge and tremolo system are of the same quality and due to the tuning problems these instruments usually have, it's practically unusable.
The build quality tends to be all over the place, also. In some cases, the bodies of these guitars are full thickness and in some cases, they are thinner. It depends on the year and even month of manufacturing. This is something to take into consideration when thinking about mods.
For any beginner looking for a first instrument, this line might look appealing, however, if the budget allows it, going a bit higher in quality could be a wise investment.
Main characteristics of the Affinity line
The Affinity line is another of the brand's entry points, however, materials here are a bit more refined. Nothing too crazy, though.
Construction quality for this line is a bit more consistent, and the wood of choice here is a more Fender-correct alder variety. The pickups, also, are of decent quality (for the price).
This line of Squire guitars is a good choice for anyone looking for a cheap guitar to start taking lessons, and maybe they would take a few upgrades to push it into the mid-range territory.
Main characteristics of the California line
The California line might be something you never heard about. But it exists, I swear. This line was produced for Latin American and Asian markets. I always thought it was as common as any of the other ones, but when researching this post I found it out.
There is not much information available about these instruments, however, the consensus is that they are very similar to a Squier Bullet.
These are cheap instruments marketed to mostly poor countries, so surely some edges were cut to achieve the correct price point. However, I speculate that part of the cost cut was also on the "Fender tax" that the Squier line bears.
That is my theory to justify the differentiation of this line for specific markets. These could be cheaper Bullets, but with the extra cost cut coming from the branding.
Main characteristics of the SE line
The SE line or "Special Edition" refers to those Squier guitars that come in beginner starter packs. These instruments are very similar in construction quality as a Standard or perhaps a California series.
Many players pick these used as a modding platform, since they have full-thickness bodies, but they come with ceramic pickups, which are of lower quality.
As something to note, SEs come only with rosewood fretboards.
There's not much else to say about this series, and there's not much info out there either. If you see one of these in the aftermarket, give it a try. It might be a great find if you're thinking about upgrading a beginner's guitar into the mid-range.
Main characteristics of the Standard line
The Standard line was introduced in 1999 when the lineup of Squiers was a bit simpler. These instruments made more sense back then. They were discontinued at some point but they came back with a vengeance.
These guitars come with a modern "C" shape neck and look pretty good. Pickups are on the acceptable range for affordable guitars, however, if you plan a long-term relationship with the guitar, they could be an upgrade point.
Bodies for the Standards are made of agathis, and they have the bigger Fender 70s headstock.
Standards are considered great modding platforms since they come in full-sized bodies that would fit virtually any part you intend to upgrade.
Main characteristics of the Vintage Modified line
The Vintage Modified line is still an affordable line but geared towards players that don't want the traditional Fender tone. Not that you could absolutely get it with any other of the cheap Squier alternatives, but at least conceptually the idea is there.
This line offers hotter Duncan Designed pickups, that might appeal to a broader audience. Their bodies are made of basswood, and they incorporate rosewood in their fretboards.
This line is currently limited to the 70s Stratocaster, however, you could find the rest of the lineup on the used market.
Main characteristics of the Deluxe line
The Deluxe line is (or was) one of the highest quality Squier has ever produced. It takes every incremental improvement from more affordable series and delivers them in a very appealing fashion.
Deluxes come with Duncan Designed pickups, a fast maple neck in a C-shape, and a basswood full-thickness body. Fretboards are all maple, except for the Hot Rails version which comes with a rosewood one.
This line has many things in common with the Vintage Modified series which was also completely discontinued. Fender is probably trying to avoid overlaps among their product lines.
These guitars, again, are a great platform for modders. Their construction quality is great and they look amazing.
Main characteristics of the Classic Vibe line
The Classic Vibe line is Squier's top of the line, and it's, hands down where their better instruments are.
The price jump from a Deluxe, for instance, is really worth it.
These guitars come with era-specific specs, so you will get maple fretboards in 50s strats and rosewood ones in 60s strats.
A big selling point for this range of instruments is that Fender dropped the basswood in favor of higher quality alder for their bodies, making them more similar to what a true American Fender guitar is.
Construction and playability are on point, and they even have 6 point tremolos on strats.
I will not say these are great platforms for modding, since these are great guitars since they leave the factory. However, if you want to tweak and upgrade, of course, these will work great.
Main differences between Squier lines
Talking about the differences between these many lines is hard, however, if we focus on specific features I think we could do something informative.
That's why I chose to put together this small table that summarizes the most important features of all Squier lines:
| | | | | | | | | |
| --- | --- | --- | --- | --- | --- | --- | --- | --- |
| Spec | Bullet | Affinity | California | SE | Standard | Vintage Modified | Deluxe | Classic Vibe |
| Strat tremolo | 6 point | 2 point / 6 point | 6 point | 6 point | 2 point | 6 point | 2 point | 6 point |
| Body thickness | Thinner | Thinner | Full-thickness | Full-thickness | Full-thickness | Full-thickness | Full-thickness | Full-thickness |
| Body material | Basswood | Alder | Basswood | Agathis | Agathis / Basswood | Basswood | Basswood | Alder |
| Neck material | Maple | Maple | Maple | Maple | Maple | Maple | Maple | Maple |
| Fretboard material | Maple / Rosewood | Maple / Rosewood | Maple / Rosewood | Rosewood | Maple / Rosewood | Maple / Rosewood | Maple / Rosewood (Hot rails) | Maple / Rosewood (Era specific) |
| Pickups | Ceramic | Ceramic | Ceramic | Ceramic | Alnico | Alnico | Alnico | Alnico |
As you can see, the changes are subtle and incremental as you go up in price. Not are Squier guitars are built the same and it will be very important for making a clever purchase to decide beforehand which features you consider non-negotiable.
If you are buying and strat, perhaps the tremolo mount is important for you. However, I would say that tremolos at this price point are mostly aesthetic characteristics. So maybe don't worry too much about it.
The thickness of the body is an important feature for many players that would like to upgrade their guitar's bridge down the line.
In my opinion, and I'm being a bit biased here since it was my first guitar ever, the best Squiers for modders are the California Series since they have 6 point tremolos, full-thickness bodies, and ceramic pickups that you would ever hesitate on ripping out of them. They are rare in the US though.
A second-best for me would be SEs and Standards because they meet the most important requirement of having thick bodies at a lower price than the top Squier lines.
Classic Vibes are the highest quality ones and the ones that come with more options, especially for the vintage-loving freaks like me.
Which Squier line is the best? Quality rank
To give you a clearer picture, here is what I consider would be a reasonable ranking of the different Squier guitar lines in terms of their quality from highest to lowest:
Classic Vibe
Deluxe
Vintage Modified
SE
Standard
California
Affinity
Bullet
Which one should you choose?
Here in GearAficionado, I don't like making the hard choices for you. I think that picking a new guitar is a very personal matter that you should decide upon on your own.
I always encourage you to try out every instrument before pulling the trigger, at least the ones you decided you might like the most beforehand. There are certain subtleties that an article like this could never inform you of.
Hey, not even a YouTube video would ever make you feel the same things you will when playing a particular guitar.
All I can offer you is research, info, and comparisons. After this, it's all up to you.
However, if you would like to hear my insights into which of these Squire models I think would suit better different kinds of players, here they are:
If you are on a tight budget refrain from getting a Squier Bullet or Affinity series and look for higher quality entry-level strats from other brands.
If you can get one and would like to upgrade your beginner guitar, look for a California Series
If you can't get a California series, go after an SE or a Standard
If you want a guitar with higher output pickups and overall higher quality, check out the Vintage Modified line
If you are not that into modding and looking for a nice Squier, get a Deluxe series if you can find one
If you like vintage specs and want a guitar to keep as it was manufactured, shop for a Classic Vibe that matches your preferred era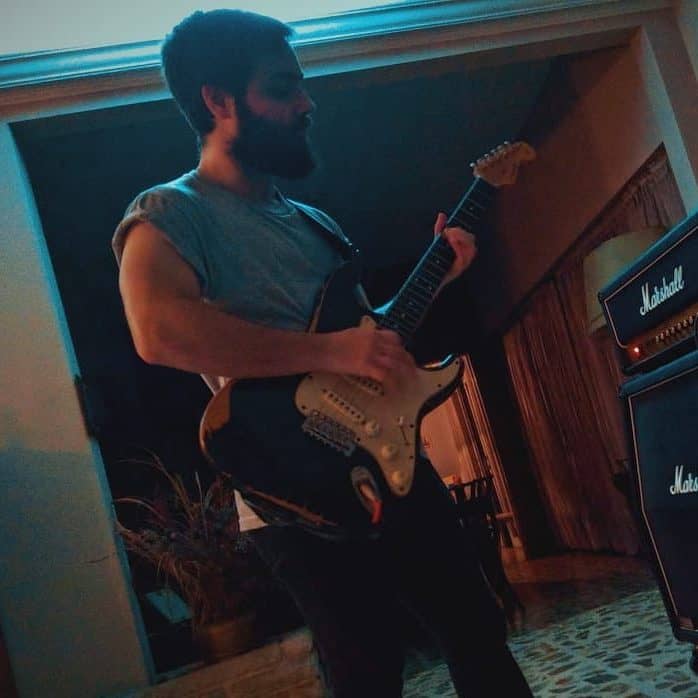 Hello there, my name is Ramiro and I've been playing guitar for almost 20 years. I'm obsessed with everything gear-related and I thought it might be worth sharing it. From guitars, pedals, amps, and synths to studio gear and production tips, I hope you find what I post here useful, and I'll try my best to keep it entertaining also.