Having all you need to sound great at your feet is something all guitar players have dreamed of since before the possibility existed.
With the years, what started being a gimmick that couldn't ever compete with a real amp and pedals became something pretty competitive.
Even competitive might not be enough. Ask the audience if they could tell between an amp modeler and the real thing in a mix.
But if you're here we don't need to turn you into the dark side of digital multi-effects.
The quality standard for these processors nowadays is amazing and you won't regret getting any of these, whether it's a Headrush, a Helix, a Kemper, a GT-1000, or an AX8.
What you want to know is which of these amazing pieces of gear will best suit your needs, and here is a short recommendation:
The main differences between the Helix, Kemper, Headrush, GT-1000, and AX8 are that the Helix offers in-depth tweaking. The Kemper has a great amp profiling feature. The Headrush has an amazing user interface. The GT-1000 includes BOSS's effect models. The AX8 sounds amazing but it's discontinued.
If you want to stick with us for a bit longer, in this article we will talk about the main features of all these multi FXs, then we will put them side by side and check out their main differences.
Finally, we will give you our insights into which one we think is best for you.
Are you ready?
Let's get started.
Headrush main characteristics
The Headrush is a very modern multi-FX in a pedalboard form factor.
Its main feature, which may captivate a lot of players is an amazing touch screen display. A technology that you actually carry in your pocket all the time, but that seems mind-blowing when it's featured in a piece of musical gear.
The industry is that behind on user experience.
But let's get back on track and praise the guys that decided to get the Headrush into the 21st century.
This touch screen makes the creation and editing of the signal chain a very easy and natural process. And it's, of course, a big selling point for this unit.
This piece of gear comes with a very broad selection of amps, cabs, and pedals. You won't miss any kind of sound with it unless you're looking for something very unique and specific.
The Headrush sounds great and it's very user-friendly. If you come from an analog background and know how to use a smartphone, don't be scared to give it a try.
The amps and cabs inside this pedalboard are all simulated, and so are the microphones and their placement. However, you can upload your own impulse responses, and it even includes some custom Celestion ones.
It's noticeable, though, that this unit does not offer a computer editor for your rigs, something that many other competitors do offer and many players find very comfortable.
Here are its main specs:
| | |
| --- | --- |
| Spec | Headrush |
| Amps | 33 |
| Cabs | 15 |
| Mics | 10 |
| Effects | 42 |
| Preset limit | 999 |
| Sound quality | Great |
| Ease of use | Amazing |
| Connectivity | USB |
| Inputs/Outputs | ¼ inch jack inputStereo aux input2 outputs2 XLR outputsHeadphone outputSend/returnMIDI in and MIDI out/thru USB |
| Expression pedal | Yes |
| Looper | Yes |
| Weight | 15.7 lbs |
Helix main characteristics
The Helix is an industry standard such as any multi-FX that Line 6 has ever launched.
This subsidiary of the Yamaha company has its fans and haters, but its products always shake up the market.
The Helix is a modern pedalboard that comes with an amazing set of amps, cabs, and effects. As with almost all of the contenders in this article, you won't miss any kind of sound with this machine.
The customization and tweaking possibilities are very deep with this unit. And for all the heavy editors it comes with software that supports editing your rigs from the comfort of your computer.
Line 6 also offers a Helix Native, which is a VST plugin that's actually the same firmware that the Helix uses. If you buy a Helix, you will get a big discount for this plugin.
The option to get all the Helix sounds in your computer without plugin the actual unit in, it's a great alternative for producers, and although it might not sound like a deal-breaker is something nice to underline.
This pedalboard approaches sound creation with the simulation alternative. You can choose between simulated amps, cabs, and microphones.
You can also incorporate your own impulse responses and use them as another block in the signal chain seamlessly.
The Helix's main features are as follows:
| | |
| --- | --- |
| Spec | Line 6 Helix |
| Amps | 62 |
| Cabs | 37 |
| Mics | 16 |
| Effects | 104 |
| Preset limit | 1024 |
| Sound quality | Great |
| Ease of use | Great |
| Connectivity | USB |
| Inputs/Outputs | 2 ¼ inputs2 ¼ inch outputs2 XLR outputs2 send/return optionsHeadphone and digital outputs MIDI input and output USB |
| Expression pedal | Yes |
| Looper | Yes |
| Weight | 14.6 lbs |
Kemper Profiler Stage main characteristics
When the original Kemper came out it surely grabbed the attention of many players. It could steal the "soul" of any amp, and that was amazing.
Rather than a gimmick, the profiling feature of all Kemper products remained as an alternative that many players look after.
The Kemper Stage unit offers you the same features as its vintage-radio-looking siblings but in a more rig-convenient form factor.
It is an amazing-sounding unit, and it's the choice of many touring musicians.
Although the profiling result is not a 100% perfect undistinguishable copy of the profiled amp, it gets 90% there and to the ears of the audience, it might be just the same.
Also, your mileage may vary with the profiles given the rig you use for making them. Your result will surely differ between line profiles and the ones you create using a particular cab and a particular mic.
That 10% loss mostly comes down to feel and "tweakability" since the Kemper profiles have all the same virtual control knobs for EQ, volume, and gain, that the original amp might not have or might have in a different configuration.
If you are a big fan of impulse responses, you can create your own virtual cabs for the Kemper using them. They will work great with profiles that didn't pass through an actual cab or a simulated one.
The sound approach with this unit in terms of amp sound is not simulated but profiled. It comes with a very generous list of factory-profiled amps, and it's very to get new ones online.
The Kemper is an amazing alternative that will give you endless alternatives for your tone.
Its main features are the following:
| | |
| --- | --- |
| Spec | Kemper Profiler Stage |
| Amps | 440* |
| Cabs | 316* |
| Mics | 120* |
| Effects | 72 |
| Preset limit | 999 |
| Sound quality | Amazing |
| Ease of use | Good |
| Connectivity | USB |
| Inputs/Outputs | 1 x 1/4″ (instrument)1 x 1/4″ (return/profiling)3 x 1/4″ (return)2 x 1/4″ (main)2 x 1/4″ (monitor)2 x XLR (main)2 x 1/4″ (send 1/2)Headphone and digital outputsMIDI input and outputUSB |
| Expression pedal | No |
| Looper | Yes |
| Weight | 10 lbs |
Boss GT-1000 main characteristics
The GT-1000 is BOSS's response to the multi-fx demand and it comes with its unique quirks and features.
To begin with, this unit is the only one of this shootout to incorporate Bluetooth connectivity and a phone app that lets you fine-tune your presets. Of course, this is just a detail but it's a great user experience feature.
Another interesting feature for many, and as you might expect, the GT-1000 gets all the most popular BOSS effects built-in, and it could be a nice selling point for you. These are modeled, obviously, but well, you can expect the best simulation from their actual makers.
The approach to amp sounds here is a bit different. BOSS came up with a fancy way for naming their own impulse responses called AIRD (Augmented Impulse Response Dynamics).
Basically, their AIRD system takes the amp and the cabinet as a whole and creates a unique profile from the 2 combined.
With this, you get a set of BOSS-designed digital amps (with their predefined cabinets) that are uniquely created for this unit with their unique features. For a clean pedal base to a heavy gain distortion option.
You also get a few of the must-have amp models created in the same way using the AIRD concept, such as Fenders, Marshalls, a Vox, a Mesa Boogie, etc.
Although these amps come with cabinets attached, you can experiment with alternative ones that come preloaded with the unit, alongside 5 simulated mics, or you can upload your own impulse responses. However, there's a low hard limit of only 16 custom impulse responses.
The BOSS GT-1000 main specs are:
| | |
| --- | --- |
| Spec | Boss GT-1000 |
| Amps | 23 |
| Cabs | 23 |
| Mics | 5 |
| Effects | 145 |
| Preset limit | 250 |
| Sound quality | Good |
| Ease of use | Amazing |
| Connectivity | USB, Bluetooth |
| Inputs/Outputs | INPUT jack, MAIN OUTPUT (L/MONO, R) jacks 2 send/return options2 x XLR (main) Headphone output MIDI input and output USB |
| Expression pedal | Yes |
| Looper | Yes |
| Weight | 8 lbs |
Fractal AX8 main characteristics
Fractal is the secret weapon for a lot of professional musicians. The AX8 is their discontinued pedalboard alternative, which's still preferred within some initiated circles.
For the uninitiated, you should know that Fractal usually focuses (and prices) their gear on the higher end of consumers. They go the extra step in simulation curation, quality, and variety.
Again, with the AX8 you won't lack any kind of sound you could imagine. Rather, most probably there will be a lot that you will ever use. But that's fine, we like having options.
The AX8 is clearly not intended for bedroom players, and it spits that in your face when you realize it doesn't have a headphone out.
Fractal means business.
The amps come in many flavors and are simulated with extreme detail. The cabinets are impulse responses, particularly curated with their microphone of choice.
With the AX8 you don't have the ability to mix and match cabs and microphones, but you get a very large set of factory IRs that represent cab-mic pairs and that can be matched with any amp since the amp and the cab block are independent.
This is one of the best-sounding units of this comparison, however, it has been discontinued and Fractal is currently not offering an alternative piece of gear in a similar form factor.
You can still find AX8s used in the aftermarket for around the same price as the competitors listed in this article.
The AX8 main specs are:
| | |
| --- | --- |
| Spec | Fractal AX8 |
| Amps | 222 |
| Cabs | 189 |
| Mics | No mic simulation, no detail of mics used in cabs |
| Effects | 130 |
| Preset limit | 512 |
| Sound quality | Amazing |
| Ease of use | Good |
| Connectivity | USB |
| Inputs/Outputs | 1 ¼ input2 ¼ inch outputs2 XLR outputs4 send/return options digital output MIDI input and output USB |
| Expression pedal | No |
| Looper | Yes |
| Weight | 11.8 lbs |
Main differences between the Headrush, Helix, Kemper, GT-1000, and the AX8
Choosing between one of these units is not an easy task. In this section, we will try to lay out their main differences to try and inform you better, and make what sets them apart clearer.
We will use some objective features, and we will define some subjective ones to better represent every one of these pieces of gear.
Here are all their specs put side by side:
Spec
Headrush
Line 6 Helix
Kemper Profiler Stage
Boss GT-1000
Fractal AX8
Amps
33
62
440*
23
222
Cabs
15
37
316*
23
189
Mics
10
16
120*
5
No mic simulation, no detail of mics used in cabs
Effects
42
104
72
145
130
Preset limit
999
1024
999
250
512
Sound quality
Great
Great
Amazing
Good
Amazing
Ease of use
Amazing
Great
Good
Amazing
Good
Connectivity
USB
USB
USB
USB
USB
Expression pedal
Yes
Yes
No
Yes
No
Looper
Yes
Yes
Yes
Yes
Yes
Weight
15.7 lbs
14.6 lbs
10 lbs
8 lbs
11.8 lbs
Price
$1000
$1700
$1700
$1030
$950
Cost per amp/effect
$13.33
$10.24
$3.32
$6.13
$2.70
Distinctive features or drawbacks
Touch display
No PC/Mac editor
Helix Native VST plugin
In-depth tweaking
Rig profiling
Bluetooth connectivity
BOSS effects
Stores only 16 user IRs
No headphone jack
As you can see, and given their current market prices, we defined a "cost per amp/effect" metric that shows how much you're paying for every amp or effect included in every unit.
Is that really important? We don't think so, but it's something to compare, and the AX8 is the clear winner, followed by the Kemper Stage. These 2 are also what we think are the better-sounding ones.
The price we used for the AX8 is an aftermarket lowerish one, so it might fluctuate given different market conditions.
All of these units are amazing pieces of gear and the differences are subtle, however.
You will likely be choosing between simulation options, ease of use, and feature such as built-in expression pedals.
Prices are also a defining factor, and the Helix and the Kemper are the 2 that stand out. They both give you very in-depth tweaking possibilities, and you might like the Helix's sound better than the Kemper's.
However, you should decide if they are worth the extra money compared to a Headrush, a GT-1000, or an AX8.
Helix vs Headrush
We think the Helix and the Headrush are not that far apart in tone and options, although the former does offer more in-depth configuration options and a pc editor. However, the Headrush, with its touch screen provides an amazing user interface and is priced lower.
Kemper vs Fractal AX8
The Kemper and the AX8 are a pair to be compared, with excellent tone outputs and similar approaches to modeling. However, the Kemper Stage is still in production, has the option to profile new amps and a big online library where you could get profiles if you don't feel like making them yourself.
Does that make for the price difference? Well, probably.
Helix vs Kemper
The Helix and the Kemper are priced similarly but differ in their simulation approach. The Helix uses simulations, improved with the possibility of adding IRs. The Kemper uses the profiling technology that imprints the tone of an amp and cab. We think the Kemper sounds better, but the Helix is more versatile.
With the GT-1000 we see a new approach to amp modeling, by giving you blank, "brand-agnostic", digital amp models that you can tweak and use the way you prefer. However, the guitar culture, we think, is very brand-centric, and likes to attach names to certain kinds of sounds.
This last unit brings innovation to the mix, and it's a nice differentiator from the pack, but it will have to come down to testing and hearing if it fits your needs.
Which one should you choose?
Here in GearAficionado, we don't like telling you what to buy blindly without knowing your particular situation or needs.
Getting a piece of gear as expensive as all of these alternatives is something very personal and a decision that you finally have to make alone.
We always encourage you, if that's possible, to try out the gear side by side before pulling the trigger. However, we know that it's not always possible or convenient.
What we can offer you is our insights about which kind of player we think would be more inclined to prefer one of these multi FXs over the others.
Here they are:
If you want to dial your tones exclusively in the pedalboard and want an amazing user experience, get a Headrush
If you want a pedalboard with no major drawbacks and at a reasonable price, check out the Headrush
If you like the idea of dialing your tones from your phone, the GT-1000 might catch your attention
If you are a big fan of BOSS effect pedals, pick up a GT-1000
If you want an endless library of amps and cabs, get a Kemper Stage
If you want to profile your own amps and take them on the road, use a Kemper
If you want the best tone to price relationship, the AX8 is for you
If you want all the impulse response hassle solved for you, give the AX8 a try
If you like tweaking your sounds to the last detail and are an impulse response user, try out a Helix
If you are also a producer, having a Helix in the studio and the Helix Native plugin in your computer might be a great combo
Sound comparisons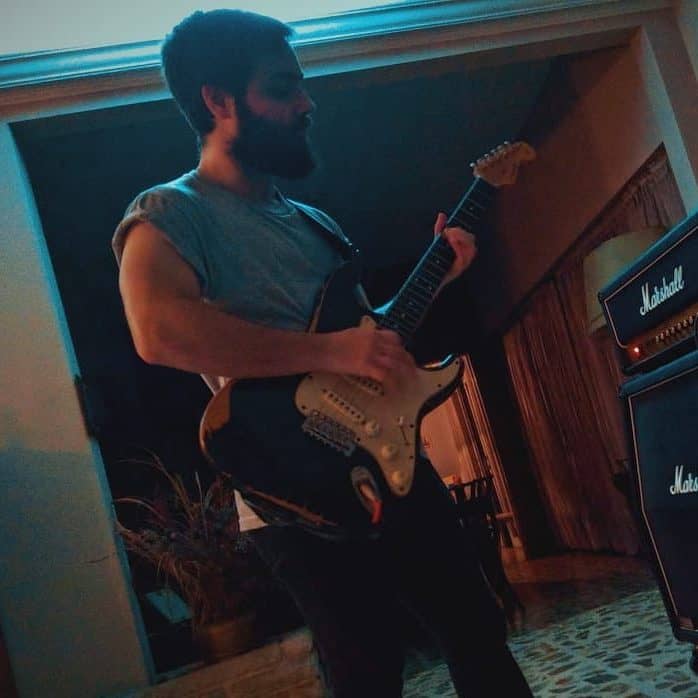 Hello there, my name is Ramiro and I've been playing guitar for almost 20 years. I'm obsessed with everything gear-related and I thought it might be worth sharing it. From guitars, pedals, amps, and synths to studio gear and production tips, I hope you find what I post here useful, and I'll try my best to keep it entertaining also.