Money… In some cultures, you're not supposed to bring it up in a conversation, and in other cultures, it seems it's all people talk about. 
Everybody needs it, everybody wants it; it's a universal aspect of life.
But no matter what ancient Egyptians thought, everyone nowadays agrees that you can't take it with you when you die.
And when it comes to music about money, most songs can be divided into two camps.
On one hand, there are songs that celebrate it and brag about it, especially in the genres of Hip Hop and Rap.
But then there are others that call money, and particularly greed, the root of all evil.
And in these songs, we are often given real-life examples of what people will do for money, no matter what the possible consequences may be.
So whether you're on team frugal or team greed, you should be able to find some songs about money that fit your style here!
1. 24K Magic – Bruno Mars
Once you get past the intro with the autotune vocals this funky track really takes off.
I normally don't enjoy "bling" songs that much, but this song hits a little differently than Hip Hop songs about "look how much money I have".
Because it's really more of a celebration of being alive to me, having a healthy ego, and not being afraid to show it.
And I'm solidly on team Bruno, from his solo work to the Silk Sonic collaboration with Anderson .Paak.
Money, jewelry, fine clothes, and everything else you'd expect makes an appearance here.
So the next time you're feeling fine and need some music while you getting ready to go out on a Friday or Saturday night, throw this song into the mix.
Written by: Christopher Brody Brown, Philip Lawrence, and Bruno Mars
Year Released: 2016
Album: 24K Magic
2. Money, The Root of All Evil – Horace Andy
Before reggae was popular came a style of Jamaican music called Dub.
I think it was mostly a local thing around Kingston and a lot of it can sound similar but I dig it.
And this 1970s Dub song always sticks in my mind as one of the greatest songs about money, as it explores what people are willing to do for money.
The recording is a little bit rough but that is all part of the charm for me; I actually like the grittiness.
And many songs from this genre were released as singles on vinyl records (45s) but thankfully some of them have been collected onto albums and are available digitally these days.
Written by: Horace Andy
Year Released: 2009 (originally from 1975?)
Album: Sings for You and I
3. Taxman – The Beatles
Apparently John Lennon and Paul McCartney were pretty controlling when it came to writing the Beatles' material.
But eventually, they relinquished some control and I'm glad that they did!
Some of my favorite songs by the band were written by George Harrison and include While My Guitar Gently Weeps and Something.
Taxman, a much simpler song, was also penned by Harrison and takes a stab at the politicians in Great Britain at the time with regard to changes in the tax laws.
Death and taxes are inevitable as they say, but the song's lyrics state that you can't even take a walk or sit down without paying for it anymore.
And after years of paying their dues and playing countless nightclub gigs they were finally striking it rich… only to find themselves in a tax bracket where the government took 90% of their income.
90%! That's messed up.
Written by: George Harrison
Year Released: 1966
Album: Revolver
4. C.R.E.A.M. (clean version) – Wu-Tang Clan
So money makes the world go around but there's a little more to this song than that.
Because the lyrics detail a life of selling drugs on the street, crime, and generally operating a black market rather than living in the "traditional" financial world.
And that means buying and selling in these environments is done with cold hard cash, hence the song's title referring to "Cash rules everything around me".
And the music? It still sounds great even about 30 years later.
The flows and delivery of the lyrics are impeccable while remaining unpredictable and the instrumental part of the song is wicked good too.
In Rap, artists tend to come and go pretty quickly (I've never heard of a Classic Rap genre) but Wu-Tang, and particularly this album still command respect.
Written by: Wu-Tang Clan
Year Released: 1993
Album: Enter the Wu-Tang (36 Chambers)
5. Red Velvet – Outkast
And to continue with the best the Rap genre has to offer, another 90s group, Outkast, is a strong contender.
Rappers love to boast about how much their jewelry costs.
But Outkast wasn't your average Rap group/duo. A lot of their music was thought-provoking, wise, and a mash-up of Rap, Rock, Gospel, Electronica, and Funk.
And this song tackles the problem of walking through the wrong neighborhood wearing jewelry that costs more than what the people who live there earn in a year.
It's like in a cartoon where a character gets hungry and starts seeing another character as a roast chicken or ham.
And as the lyrics state, "Bill Gates don't dangle diamonds in the face of peasants when he Microsoftin' in the place".
So just because you have money doesn't mean you have to flaunt it; pretty sage advice and it may even save your life!
Written by: Antwon Patton, Andre Benjamin, and David Sheats
Year Released: 2000
Album: Stankonia
6. Whiskey in the Jar – Thin Lizzy
This song has been recorded by a lot of bands, including Metallica, The Pogues, and The Dubliners.
But none of them come close to competing with Thin Lizzy in my opinion.
And it continues the history of the battle between those who have money and those who have little or none.
In older days highwaymen or highway robbers often preyed on rich travelers for their income and this developed into robbing coaches and mail trains in the USA later.
Or we can simply call it plain old mugging.
And this song details a story about just such a circumstance.
As the song's character sees a man named Captain Farrell counting his sizable fortune he robs him at gunpoint and then retreats to his lady's house.
But his lady has plans of her own and things don't end well for the protagonist.
So this amazing song is another case of money as the root of all evil.
Written by: Irish traditional
Year Released: 1972
Album: Whiskey in the Jar (single)
7. Can't Take It With You – Social Distortion
All this fuss, bragging rights, and violence about money don't really mean anything in the end, do they?
Unless you believe the Greek myth that you actually have to pay the ferryman to cross the river Styx and enter the afterlife.
And I think that Punk Rock is an appropriate style to deliver this message.
Social Distortion does it in this song with lines such as "It don't matter, baby, what you're worth. Seems we all, we all go back to Mother Earth."
Though this isn't a religious song it does remind me of the Biblical instruction that people should strive to store up treasures in heaven by being a decent person instead of playing the money game.
And as far as I'm concerned that's not bad advice.
Written by: Mike Ness
Year Released: 2011
Album: Hard Times and Nursery Rhymes
32 More Great Songs About Money
| | |
| --- | --- |
| Title | Artist |
| For the Love of Money | The O'Jays |
| Money, Money, Money | ABBA |
| If I Had a Million Dollars | Barenaked Ladies |
| The Penny | David Allan Coe |
| Stairway to Heaven | Led Zeppelin |
| It's All About the Benjamins | Puff Daddy |
| Poor Lil Rich | 50 Cent |
| Pennies from Heaven | Frank Sinatra |
| Money | Pink Floyd |
| Money for Nothing | Dire Straits |
| 99 Percenter | Ministry |
| Root of All Evil | The Underachievers |
| Gotta Stack Ya Paper | Lil' Flip featuring Shazstar |
| Greed | Ice Cube |
| Greed | Pennywise |
| Make That Money (Scrooge's Song) | Alice Cooper |
| On the Nickel | Tom Waits |
| Bad Penny | Big Black |
| What Do You Do For Money Honey | AC/DC |
| You Think I Ain't Worth a Dollar But I Feel LIke a Millionaire | Queens of the Stone Age |
| It's Money That Matters | Randy Newman |
| Can't Buy Me Love | The Beatles |
| You Never Give Me Your Money | The Beatles |
| Money On My Mind | Lil Wayne |
| RIch Girl | Hall and Oates |
| She Works Hard for the Money | Donna Summers |
| Money (That's What I Want) | Barrett Strong |
| Easy Money | Billy Joel |
| Opportunities (Let's Make Lots of Money) | Pet Shop Boys |
| Brother, Can You Spare a Dime? | Bing Crosby |
| Money Talks | Rick James |
| Mo' Money, Mo' Problems | The Notorious B.I.G. |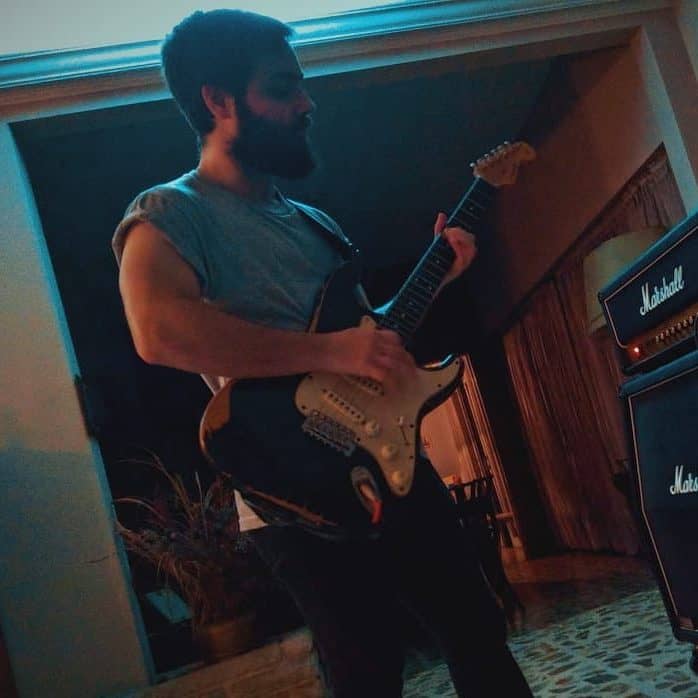 Hello there, my name is Ramiro and I've been playing guitar for almost 20 years. I'm obsessed with everything gear-related and I thought it might be worth sharing it. From guitars, pedals, amps, and synths to studio gear and production tips, I hope you find what I post here useful, and I'll try my best to keep it entertaining also.