Last updated on April 2023
As a guitar player, you know that the right amp can make all the difference in your sound.
And when it comes to quality amps, Mesa Boogie is a name that always rises to the top.
Founded in the late 1960s, Mesa Boogie has been producing some of the best guitar amps in the business for over 50 years.
In this article, we will be taking a look at the 5 best Mesa Boogie guitar amps on the market in 2023.
Whether you're a beginner or a seasoned professional, you're sure to find an amp that suits your needs in this comprehensive guide.
We'll cover everything from the classic Mark series to the versatile Rectifier amps, and everything in between.
Each amp will be evaluated based on its unique features, sound quality, and overall value for the price.
So if you're in the market for a new Mesa Boogie amp, or you're simply curious about what makes these amps so special, you won't want to miss this article.
Let's dive in and discover the top Mesa Boogie amps of 2023.
Key Takeaways:
Best Overall
An all-time classic. Plug-and-play metal machine.
Tone: 5/5
Ease-of-Use: 5/5
Versatility: 3/5
Price: 4/5
Most Versatile
Mark VII
A complex tone powerhouse for tweakers.
Tone: 5/5
Ease-of-Use: 1/5
Versatility: 5/5
Price: 3/5
Best Budget
Mini Rectifier
A budget-friendly Rectifier that captures its original tone.
Tone: 3/5
Ease-of-Use: 5/5
Versatility: 3/5
Price: 5/5
1. Mesa Boogie Dual Rectifier
The Dual Rectifier was launched in 1992, and since then it has been a staple in rock music.
Many legendary albums were recorded with guitars running through this legend of an amp, since then, and have given this piece of gear its unquestionable status.
In terms of sound, compared with the other entries on this list, it's fair to consider it a one-trick pony, but sometimes you just need that single trick done.
The Dual Recto is a 100-watt amp, switchable to 50 watts, which can help you get its power stage breaking up at slightly lower volumes, it runs on 6L6 power tubes, however, they can be easily replaced by EL34s to get a more "British" sound.
Tone: 5/5
Ease-of-Use: 5/5
Versatility: 3/5
Price: 4/5
How does it sound?
The first time I plugged my guitar into a rectifier the only thing I could do was smile.
And although its front plate has many knobs, its operation is pretty straightforward, and as with any good tube amp, any setting will deliver an amazing tone.
If you are looking for a rock/metal machine that will melt your face, this is your next amp.
Pros
Classic Mesa distorted sound
Lots of headroom to keep your cleans clean
Great with pedals
Variable output switch to break up the power stage at lower volumes
Many alternatives to achieve your perfect tone
Cons
Not as versatile as other entries in this list
Can be too loud for bedroom usage
Too many settings can be overwhelming
2. Mesa Boogie Mark VII
The latest and greatest from Mesa Boogie, launched in 2023 is a step up, and a spiritual successor, from the Mark V.
And no, don't look for a Mark VI because you won't find it.
Mesa has something for making things more complicated than they should and just skipped the 6th entry of this line.
As the Mark V, the VII can be considered a "greatest hits" compilation of the company's most sought-after amps, particularly the amazing IIC+.
This new iteration includes all players loved from the Mark V and incorporates a new second channel mode called "Mark VII" which sounds like a Mark IV blended with a Rectifier.
A combination that was very popular in studio recordings.
Now, apart from the excellent cab simulation system that is a complete overhaul and modernization of the unit, an important feature that many oversee is the bigger transformer Mesa put in this unit.
Transformers are a big tone factor for tube amps, and this upgrade really makes this new version sound slightly better overall.
Tone: 5/5
Ease-of-Use: 1/5
Versatility: 5/5
Price: 3/5
How does it sound?
As you can hear, the Mark VII is a complete powerhouse.
It will take some time until you find your preferred tone, but I'm pretty sure you will find it sooner or later.
This thing is as versatile as they make them, and although it probably doesn't make too much sense to upgrade to it if you already have a Mark V, if you don't and are looking for a Mark in your life, definitely go for this one!
Pros
Mesa Boogie's "greatest hits" put into a single amp
Slightly better tone than the Mark V due to the new transformer
Tons of different tonal options
Graphic EQ to better shape your sound
Multi-watt selector for low-volume usage
Built-in IR cab simulator outputs
Cons
Too complex for beginners or people that don't like tweaking
Not a reasonable upgrade from a Mark V
3. Mesa Boogie Mini Rectifier
As a bedroom player, metalhead, and Gear Aficionado I know how frustrating it is to not be able to crank your amp as it should be cranked.
However, we all know that if you value your hearing, that's not a great idea with 100-watt or even 50-watt units.
The Mini Rectifier has come to tackle this issue and let us have Rectifier goodness at home.
Tone: 3/5
Ease-of-Use: 5/5
Versatility: 3/5
Price: 5/5
How does it sound?
While retaining the character of the legendary Rectifier, this little brother packs a more tamed punch.
I find it great for home use, and even for playing small gigs, especially if you don't rely too much on clean tones.
In my opinion, 25 watts are not really enough to keep up with a drummer and still sound pristine and clean.
Other than that, small form factor amps are something I really enjoy playing with.
Something to point out, however, is the lack of cab sim or headphone out, which would have been a great addition for late-night practice.
Pros
Ideal for bedroom play or small gigs
Classic tone in a small form factor
Rectifier goodness at an affordable price
FX Loop great for time-based and modulation pedals
Multi-watt option in all channels down to 10 watts
Cons
Not lots of headroom for clean tones
No cab sim or headphone out
Only 2 channels compared with the big Rectifier
EL84 power tubes instead of big Rectfier's 6L6s sound slightly different
4. Mesa Boogie Mark V
The Mark V has been Mesa's flagship for years until the recent incorporation of its clear successor the Mark VII.
This amp is a compilation of Mesa Boogie's most acclaimed amps like the Mark IV or the IC+.
You can find them as channel modes in the third channel of this beast of an amp.
Its graphic EQ is a staple from this line, and acts post-preamp distortion, helping you shape your sound to the slightest detail.
The Mark V is still a fan favorite and a very current piece of gear that many players will surely enjoy at its now slightly lower price point compared to the Mark VII.
Tone: 4/5
Ease-of-Use: 2/5
Versatility: 4/5
Price: 3.5/5
How does it sound?
Of course, you can get a 100% the tone of the original amps the channels of the Mark V are inspired in, but I can assure you this is close enough.
The alternative otherwise is getting a second-hand collector's piece of gear that's now valued at outrageous prices.
The Mark V can also take a lot of other places and is perhaps one of the most versatile amps out there.
My take, however, is that if you are shopping for a new Mark amp, you should probably go for a Mark VII, since it's better enough to be recommended.
However, if you don't need a fancy cab simulation, you can save a few bucks by getting one of these.
Pros
Mesa's flagship until the Mark VII launched
Lots of tonal alternatives and settings
Graphic EQ to fine-tune your sound
Multi-watt switch down to 10 watts on all channels
Great with pedals
Cons
Too complex for beginners or people that don't like tweaking
The Mark VII can make it feel outdated
5. Mesa Boogie JP-2C IIC+
The JP-2C is John Petrucci's signature amp, but it's also a reissue of Mesa's most sought-after amplifier.
An original 80s unit of this model can fetch prices of up to $15.000, so even at the high price point Mesa launched this new take on the old classic, it still kind of makes sense.
This is, however, a modernized version that even includes cab simulation outputs, something that nowadays is an industry-standard.
Alongside that, you now get dual graphic EQs, because one is never enough, and three separate channels with their own settings.
Tone: 5/5
Ease-of-Use: 2/5
Versatility: 2/5
Price: 1/5
How does it sound?
Well, if you are a fan of John Petrucci there's nothing much to say, right?
This amp is his tone in a box, but it doesn't draw a line there.
A lot of legendary metal albums have been recorded with the original IIC+, "Master of Puppets" to namedrop one.
If you are exclusively looking for the IIC+ I really think you should go with this one.
Why bother with all the other stuff a Mark VII has to offer?
Pros
Legendary Mesa Boogie sound in a box
Dual footswitchable graphic EQs
Lots of tonal options per channel
Spring reverb
Built-in IR cab simulator outputs
Cons
Too complex for beginners or people that don't like tweaking
Not so versatile as other alternatives
Lowest multi-watt setting is 60 watts
Price
Buyer's Guide
Deciding which amp is the right one for you will depend on a series of factors. From its wattage to its complexity, weight, and form factor, to its versatility and tone.
Let me guide you through the most important things that should inform your decision.
Wattage and Headroom
The wattage of a guitar amp is a measure of its output power, and ultimately its loudness.
However, this equation is not linear.
What I mean is that twice the wattage doesn't mean twice the volume.
Rest assured, however, that anything over 50 watts will be gig-ready, and anything up to 25 watts is useable at bedroom levels.
A very important thing about wattage is what's called "headroom".
This means the slack the amp gives you before its power section starts adding saturation.
For distorted sounds, this extra saturation is great and desired, however, for clean tones it kind of defeats the purpose.
So, if you want squeaky clean sounds at venue volumes, I'd recommend you fetch a 100 watts unit.
Versatility
Depending on the number and variety of amps you already have, versatility might be important to you.
Some people prefer an amp that does just one thing incredibly well, while others like amps that can do everything.
Usually, there are certain tradeoffs with guitar amps, because of the way they are constructed.
It's usually accepted that you can't get Fender-clean tones alongside the dirtiest distortion possible from a single unit.
However, as technology advances, this age-old idea is contested time after time.
Now, being a realist, and unless you are a pro: It's likely that you will get used to the amp in a week and decide on one or two settings that sound the best to you and rarely move it from there.
So, you should question yourself if you really need the extra sound alternatives.
Complexity
Some amps are more complex than others.
And although, I believe that good guitar amps sound great at every possible setting, the more knobs there are, the more tweaking to get the tone you want.
If you just nail something nice to your ear on the first try, the fear of missing out will probably kick in sooner on later.
You will feel that you are not making the most out of your gear if you don't try the million other settings possible.
At least this is what happens to me.
But don't take me wrong: Complex amps are the most amazing thing for a Gear Aficionado, it's just that they demand some extra love, attention, and studying, and perhaps that's not what you want from it.
Sound
Different amp models have distinctive sounds that are a result of the interaction among their components.
The way channels are connected between them, their power output, and even the presence of an FX Loop have a say in how an amp ultimately sounds.
So, if you are looking for a specific tone, you should probably go for the unit that better represents it, or be aware that there might be deviations from the source in those that incorporate that sound just as an alternative.
Form Factor
There are basically 2 form factors for guitar amps, that I'm sure you are aware of: Half-stacks and combos.
Half-stacks are comprised of a head and a speaker cabinet and are perhaps the most versatile alternative because you can easily plug the head into a different set of speakers to experiment with new sounds.
Combos are more straightforward, and usually due to their reduced form factor lack a bit of low-end projection.
However, their convenience and transportability is something to consider in bedroom, home studio, or small gig settings.
FAQs
Are Mesa Boogie Amps Any Good?
Mesa Boogie amps are generally one of the better regarded in the guitar community.
They are known for their forward and tight sound, mid-push, and punchy projection.
Mesa amps have also been praised for their quality and legacy; some call them the best amps ever made.
What Mesa Boogie Amps Does Metallica Use?
Metallica has used several Mesa Boogie amps throughout their career.
For example, James Hetfield has used the Mesa Boogie Mark series amps, including the Mark IIC+, Mark IV, and Mark V. He has also used the Mesa Boogie Dual Rectifier amp.
Kirk Hammett has used the Mesa Boogie Mark IV and Mark V amps and the Triaxis preamp.
Additionally, former bassist Jason Newsted used the Mesa Boogie Bass 400+ amp.
However, as with any other popular band, Metallica's sound has evolved over the years, and they have used other amps and equipment in addition to Mesa Boogie.
Who Uses Mesa Boogie Amps?
Mesa Boogie amps are used by a wide range of guitar players across different genres.
Some notable musicians who have used and use Mesa Boogie amps include:
Carlos Santana
John Petrucci (Dream Theater)
Mark Tremonti (Alter Bridge)
Billy Duffy (The Cult)
John 5 (Rob Zombie, Marilyn Manson)
Dave Grohl (Foo Fighters)
Tom Morello (Rage Against the Machine, Audioslave)
Billy Gibbons (ZZ Top)
Steve Vai
Joe Satriani
This is just a small sample of the many guitar players who have used Mesa Boogie amps over the years.
What Mesa Boogie Amp Did Kurt Cobain Use?
Kurt Cobain used a Mesa Boogie Studio .22+ amplifier during Nirvana's In Utero tour in 1993.
This was a small combo amp that delivered a warm and punchy tone.
Cobain used this amp in combination with his Fender Jaguar guitar and various effects pedals to create his signature distorted sound.
The Mesa Boogie Studio .22+ amp was notable for its compact size and portability, making it a popular choice for musicians who needed a powerful but easy-to-transport amp.
Is Mesa Boogie Worth the Money?
Mesa Boogie amps are generally considered to be high-quality and well-built, with a reputation for delivering a powerful and distinctive sound.
They are also known for their versatility, as many models offer a wide range of tonal options and can be used in different genres of music.
However, Mesa Boogie amps tend to be more expensive than some other brands, which may be a consideration for some buyers.
Additionally, while many guitar players love the Mesa Boogie sound, it may not be the right fit for everyone.
Ultimately, whether a Mesa Boogie amp is worth the money will depend on your individual needs and preferences.
If you are looking for a high-quality, versatile amp that can deliver a powerful and distinctive sound, a Mesa Boogie amp may be worth the investment.
Does Gibson Own Mesa Boogie?
Yes, Gibson has owned Mesa Boogie since 2017.
Gibson acquired Mesa Boogie as part of their expansion into the professional audio market.
Mesa Boogie continues to operate as an independent subsidiary of Gibson, with founder Randall Smith still involved in the company's operations.
However, there have been some concerns among fans and retailers about changes to Mesa Boogie's business practices since the acquisition.
Is Mesa Boogie Still in Business?
Yes, Mesa Boogie is still in business and continues to produce high-quality guitar amplifiers as of 2023.
Where Are Mesa Boogie Amps Made?
Mesa Boogie amps are made in the United States.
The company's headquarters and manufacturing facilities are located in Petaluma, California.
Mesa Boogie takes pride in using high-quality components and handcrafting their amps to ensure that each one meets their rigorous standards for sound and reliability.
The company also offers a range of customization options, allowing customers to choose different features and finishes for their amps.
Overall, Mesa Boogie is known for their commitment to quality and attention to detail in the manufacturing process.
Are Mesa Boogie Amps Easy to Repair?
The ease of repairing a Mesa Boogie amp can depend on several factors, including the specific model, the type of repair needed, and the skill level of the repair technician.
Some Mesa Boogie amps may be easier to repair than others, depending on the design and construction of the circuitry and components.
In general, Mesa Boogie amps are known for their high-quality construction and use of premium components, which can make them more durable and less prone to breakdowns.
However, if a repair is needed, it is important to find a qualified technician who is familiar with Mesa Boogie amps and has experience working on them.
Mesa Boogie provides a list of authorized service centers on their website, which can be a good place to start when looking for a technician.
Are Mesa Boogie Amps Made in the USA?
Yes, Mesa Boogie amps are made in the USA.
The company's manufacturing facilities are located in Petaluma, California, where they handcraft their amps using high-quality components and rigorous quality control standards.
Mesa Boogie takes pride in their American-made products.
Conclusion
The good thing about buying amps from amazing brands like Mesa Boogie is that it's very hard to go wrong with any of them.
Pretty much all of the alternatives shown on this page will get you the tone you have in your head, or at least very close.
Deciding on the specifics is just a matter of taste.
But, also, rest assured that any of these units will be pretty easy to resell, in case you end up not completely loving them down the line.
Pair this with the usual 30-day return policy from retailers such as Sweetwater, and you will be golden.
My #1 Recommendation: Dual Rectifier
If you are looking for a rock/metal machine that will melt your face, this is your next amp.
Its operation is pretty straightforward, and as with any good tube amp, any setting will deliver an amazing tone.
Tone: 5/5
Ease-of-Use: 5/5
Versatility: 3/5
Price: 4/5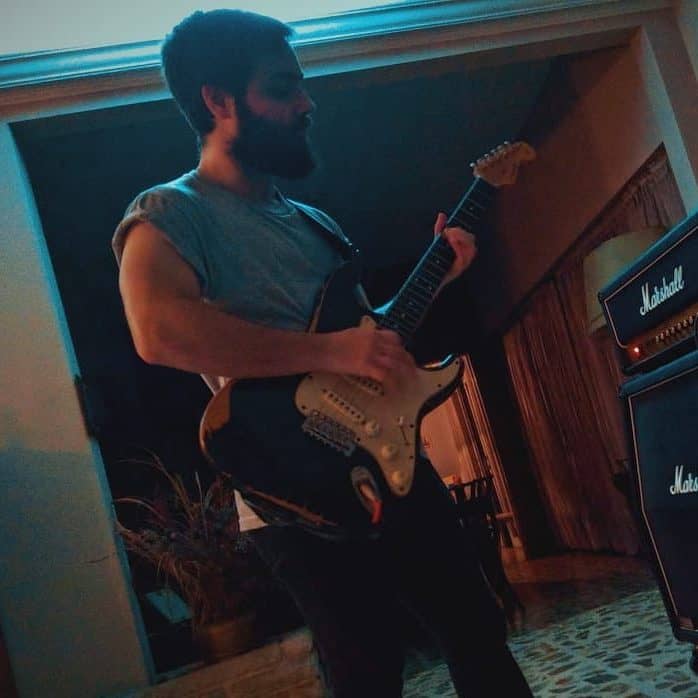 Hello there, my name is Ramiro and I've been playing guitar for almost 20 years. I'm obsessed with everything gear-related and I thought it might be worth sharing it. From guitars, pedals, amps, and synths to studio gear and production tips, I hope you find what I post here useful, and I'll try my best to keep it entertaining also.