December usually calls upon images of snowy peaks, mistletoe, wrapped gifts, and other holiday sundries.
It also means that radio stations, stores, and other places where you don't get to pick the playlist will be inundated with Christmas music.
Unless, you like that sort of playlist: In that case, more power to you!
However, artists have managed to mention the final month of the year in song without always invoking festivities.
Here are a few to intersperse between the Christmas fare:
1. December – Collective Soul

From the band's self-titled second record (or their actual first record, if you go by Ed Roland's opinion on the matter), this Top 20 hit was the second single from that record.
Not exactly a festive song.
The lyrics talk about someone who's being used by others (much like Roland felt toward the band's management).
The track itself is a well-crafted pop-rock tune, with great guitar interplay between Ed, his brother Dean and Ross Childress.
2. A Long December – Counting Crows

A great, standout ballad from the Crows' 1996 album Recovering the Satellites, this song was written following a car accident involving a friend of lead singer Adam Duritz.
A song about looking back on one's life and having hope for the future.
The song is also beautifully arranged with a great sing-along chorus, sure to get people at the pub swaying away!
And never has an accordion part sound so in place since John Mellencamp's late 80s/early 90s records!
3. December, 1963 (Oh, What A Night) – Frankie Vallie and the Four Seasons

Not a Christmas song, but one that will get a party started.
A feel-good song about a one-night stand, when the drums and piano kick in at the top, you know you'll be having a good time!
The song was originally released on the band's 1975 album Who Loves You and spent a good amount of time on the charts.
The song also found new life (and a new audience) thanks to Ben Liebrand's 1988 dance remix of the song.
4. Back to December – Taylor Swift

Taylor Swift is probably one of the biggest (if not the biggest) stars on the planet, yet still makes the time to say sorry, which is what this song is about.
Written as an apology to someone from her past (which turned out to be ex-boyfriend Taylor Lautner), this song can be found on her 2010 album Speak Now.
A typical power ballad with all the fixings that you would expect from the genre, sure to please fans of Taylor and new country.
5. Rose in December – Halestorm
Another power ballad, this time from one of the most hard-rocking bands today. 
Written by singer and guitarist Lzzy Hale when she was 17, this song harkens back to the epic balladeers of the 1980s such as Journey and Heart.
This song can be found on the group's 2001 self-released album Breaking the Silence.
6. December Day – Willie Nelson

Nobody sings a country ballad like Willie Nelson.
From his 1971 album Yesterday's Wine, this is a song that speaks of the end of something, using the seasons and months as a metaphor for the progression of something that is starting to end.
The song also makes part of a medley, talking about the protagonist's progression in life.
The song itself is everything you want in a Willie Nelson country ballad, great on its own, though best taken with the rest of the medley.
7. If We Make It Through December – Merle Haggard
And now for something a bit more upbeat from Merle Haggard, as far as the music goes at least. 
In the 1973 album If We Make It Through December, there is a sense of optimism from the narrator, though he tells the story of how he got laid off from his factory job just before the holidays.
Let's hope that he does make it to that warmer town come summertime.
Much like Willie, this song is everything you want in a Merle Haggard song, from the band to his vocal performance.
This is also the closest thing to a holiday song on this list, though it's more about hard times than festive cheer.
8. My December – Linkin Park

When you hear Linkin Park, you usually think of some of the best electro-metal ever made. However, they went in a bit of a different direction with this quieter, piano-based song.
The song's narrator talks of loneliness and regret and would trade many things to have someone to come home to.
Originally recorded as a single, this one can be found online, or on some special or import editions of 2001's Hybrid Theory
9. Air of December – Edie Brickell and the New Bohemians

Here is one last song from the group's 1988 album Shooting Rubberbands at the Stars (which also brought us the fantastic song "What I Am").
The song has some very new-age and world-beat elements to it, with its sparse arrangement, as well as Brickell's fantastic vocal delivery.
The narrator sings how she is affected by someone much like the cold air of December gives her a chill.
An interesting way to complete this list.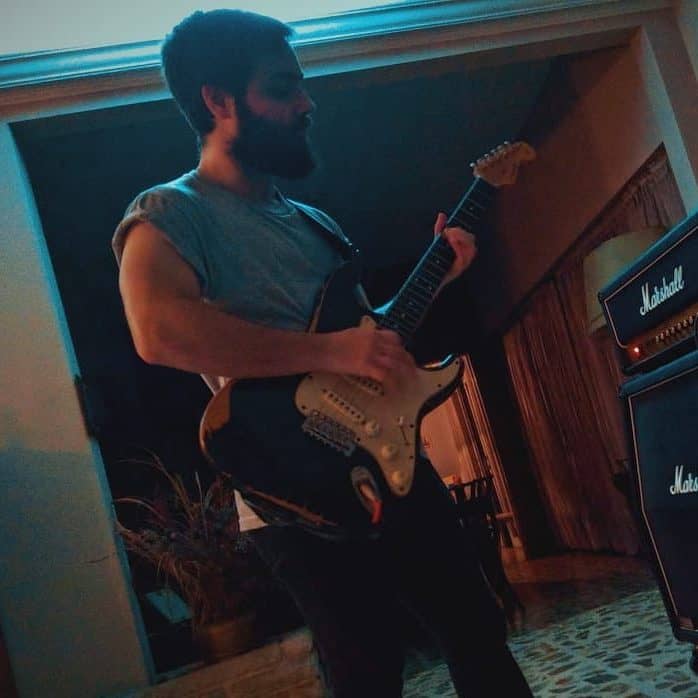 Hello there, my name is Ramiro and I've been playing guitar for almost 20 years. I'm obsessed with everything gear-related and I thought it might be worth sharing it. From guitars, pedals, amps, and synths to studio gear and production tips, I hope you find what I post here useful, and I'll try my best to keep it entertaining also.