Artists are sensitive people, and as such, they experience a wide range of emotions.
And I'm not talking solely about quantity, I'm talking about complexity.
See, emotions often come mixed. Blacks and whites collide and provide a limitless amount of grays which may be difficult to express with words.
Good luck music can do the talking!
In this list, you'll find 25 songs about emotions. But not just the standard emotions, here you'll find the most specific ones.
Those that, once again, only a musician could have managed to put into lyrics and melodies.
1. The Scientist – Coldplay
Workaholics out there, beware! Do not neglect your other life's matters because of work.
That's Coldplay's lesson in this song from the album A Rush of Blood to the Head.
The specific feelings here are two: the first one is the blind passion (or obsession) for working and accomplishing.
The second one is regret. Regrets for being too self-absorbed, missing on the other priorities, and realizing about it when it's already late.
2. Hurt – Johnny Cash
We cannot talk about feelings and not mention Johnny Cash.
The Man in Black took Nine Inch Nail's Hurt and made a version of his own.
The result was such a heart-sinking composition that even NIN's frontman Trent Reznor claimed the song belonged to Cash from that point onwards.
Hurt is a bitter reflection of life and everything that has been left behind over the years.
3. When I Grow Up – NF
What's your broken dream? For many, it's to make a living off the arts.
Naturally, plenty have fantasized about becoming a famous musician. Sadly, reality shattered their hopes and showed its ugly face to most kids after entering the 9 to 5 lifestyle.
When I Grow Up is pretty much the emotion I've just described. Or to be even more precise, a mixture of frustration, disappointment, anger, and dissatisfaction.
On top of that, however, there's a hint of faith as well.
That faith is the light at the end of the tunnel that helped rapper Nathan Feuerstein not to give up.
4. No One Else – Weezer
Jealousy is a natural emotion; a response to a stimulus, just like anger or sadness.
And just like any emotion, the problem emerges when there's difficulty in controlling it.
Don't let the joyous melody fool you. No One Else is about a man possessed by a toxic obsession with his girlfriend.
He expects her to "laugh for no one else" other than him, and to "never leave the house" when he's away.
Red flag? Yes, clear as water.
5. A Question of Time – Depeche Mode
In these lyrics, it initially appears as if an adult male is grooming an underage girl.
However, it's pivotal to take a second look at this thought. The true emotion behind the man's mind is fear.
He's afraid that this 15-year-old girl is beginning to look like a woman, making it a question of time before men "lay their hands" on her and rob her of her purity.
What's more, the man's anxiety grows deeper the more he pictures her "little one" being stripped down and messed up by these men.
Could this little one be his daughter? What do you think?
6. No Excuses – Alice In Chains
Quarrelsome relationships are worth the effort if you know what you're fighting for.
At least, that's the message behind Alice In Chains' No Excuses, written by guitarist Jerry Cantrell and dedicated to his friend and band partner Layne Staley.
7. I'm So Lonesome I Could Cry – Hank Williams
Country legend Hank Williams wrote an anthem to solitude.
Both melody and lyrics blended and brought to life this sorrowful composition that has been providing company to those who feel alone since 1949.
8. Judas – Lady Gaga
It's said there's a thin line between love and hate.
Lady Gaga took that idea and turned it into this groundbreaking song.
Judas is about dating the wrong person the one who betrays and breaks your heart, yet you find it impossible to cut the relationship off because of love.
9. Room With A View – The Interrupters
Bittersweet is the past.
Missing your parents and friends; recalling childhood experiences; mourning the loss of a significant other. This punk song is all about that.
There's also a fraction of good expectations for what the future will bring. After all, there's always a group of good-hearted people waiting to be met; you just don't know it yet.
Room With A View hits differently for everyone, and that's the magic behind it.
10. Last Train To London – Electric Light Orchestra
Have you ever experienced that battle between brain and heart?
I'm talking about those situations in which your reason advises something but your emotions pull toward the opposite side.
Last Train To London is about someone who preferred to stay at the disco with the person he/she likes instead of taking the last train home.
The 'problem for tomorrow's me' is a very unique feeling, and ELO couldn't have personified it better.
11. Different World – Iron Maiden
Do you know that feeling you get when you get what you wanted yet the void still lingers on?
Yeah, the British heavy metal band Iron Maiden has a song for that…
12. Hawaiian Roller Coaster Ride – Mark Keali'i Ho'omalu
Love is the ultimate form of fulfillment any human can experience.
This love can be achieved not only by meeting a significant other but also by doing the thing you enjoy the most.
This song from Disney's Lilo & Stitch soundtrack is dedicated to surfists' love for the ocean and for riding its waves.
13. Nowhere Man – The Beatles
Everyone feels lost from time to time. Another thing, though, is to feel you belong nowhere.
This one-of-many Beatles classic was written by Lennon after struggling to compose a song for the album Rubber Soul.
He felt he was going nowhere; although it's a bit pointless to say that in the end, he got somewhere.
I think there's much more than just being unable to find the right tune in these lyrics. I believe it resonates with a deeper part of Lennon when he couldn't find his "calling".
14. Nothing Compares 2U – Sinéad O'Connor
15. Emotions – Mariah Carey
16. Summer of 69 – Bryan Adams
17. It's A Great Day To Be Alive – Travis Tritt
18. Landslide – Fleetwood Mac
19. Everlong – Foo Fighters
20. Every Day Is Exactly The Same – Nine Inch Nails
21. Almost Lover – A Fine Frenzy
22. Wake Up Alone – Amy Winehouse
23. Like A Virgin – Madonna
24. I Was Wrong – Social Distortion
25. I Don't Love You – My Chemical Romance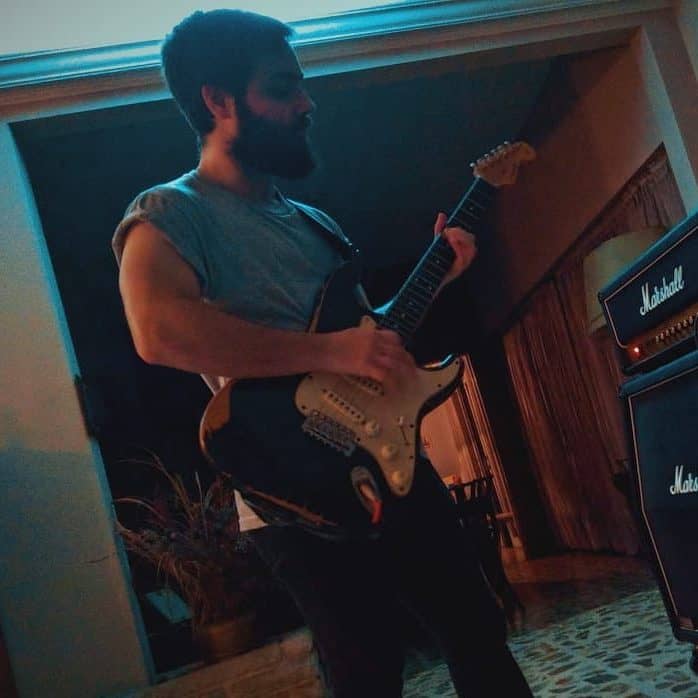 Hello there, my name is Ramiro and I've been playing guitar for almost 20 years. I'm obsessed with everything gear-related and I thought it might be worth sharing it. From guitars, pedals, amps, and synths to studio gear and production tips, I hope you find what I post here useful, and I'll try my best to keep it entertaining also.