Conflict lurks everywhere.
It can occur at home, at work, or at school. It can happen with a significant other, or with an old enemy.
It can be a street fistfight or a battle against a powerful government to gain your well-deserved rights.
One way or another, we have collected 25 songs for those troublesome times in which you'll need to stand up and defend your ground.
1. Fight Like a Brave – Red Hot Chili Peppers
Red Hot Chili Peppers were releasing hits way before Californication and Blood Sugar Sex Magik.
This song off their third studio album is proof of such a statement.
2. Fight Song – Rachel Platten
Platten stated that this song is based on her experiences and struggles regarding the music industry.
Fight Song is yet another track about "believing in yourself" and fighting your inner demons, as banal as it may sound.
Cliché or not, it seems she achieved the expected results in the end, so the song worked… good for her!
3. Fighter – Hardcore Superstar
This Swedish hard rock group signs about the experience of being a life-warrior in this half-acoustic, half-electric track that closes their 2022 album Abrakadabra.
4. (You Gotta) Fight For your Right (To Party) – Beastie Boys
You saw this one coming, but the song was a must.
After all, you should always fight for a rightful cause. In this case, for your right to have fun and enjoy life.
5. Know Your Enemy – Rage Against The Machine
Fighting for the sake of it is a recipe for self-harm.
As RATM claims, you must know who's your enemy and kick it down with all your might. Otherwise, it's a futile experience.
6. Fighter – Christina Aguilera
Fighter appears in Aguilera's fourth studio album Stripped.
According to the American singer, the song's about the abusive environments where she grew up in.
7. Title Holder – The Interrupters
In 2018, this Californian group released their third studio album Fight The Good Fight.
They strongly believe that to fight well is to fight like a title holder, stand like a champion, live like a warrior, and never let anyone break you down.
If their message is not enough to help you stand up for yourself, then their catchy song will.
8. Fight The Power – Public Enemy
It is said that power corrupts… or is the corruptible attracted to power, to begin with?
We don't have the answer. However, we do know that many powerful people take advantage of those who are "below" them.
Hip Hop group Public Enemy was well aware of it and confronted authorities with their music.
9. Live To Win – Paul Stanley
You might know this one from that South Park episode where the protagonists spend hours playing World of Warcraft online.
Paul Stanly wrote Live to Win to remind himself (and everyone else) that battles are won by fighting day by day.
10. Beat It – Michael Jackson
"It doesn't matter who's wrong or right, just beat it" sang the King of Pop in his diamond certificated album Thriller.
Beat It is an invitation to stand up and combat in the filthiest street fight ever with style and funk (not recommended at all, if you ask me…).
11. Get Up, Stand Up – Bob Marley & The Wailers
Thinking that reggae is all love, peace, nature, and chilling out is a fatal mistake.
Dozens of reggae classics focus on fighting for one's rights. Get Up, Stand Up is one of those songs.
In this 1973 hit, Bob Marley protests against religious fanatics and how they preach a Heaven-after-death experience, forgetting that life on Earth can be a Heaven itself.
12. I Fought The Law – The Clash
I Fought The Law was originally written by American singer Sonny Curtis.
It was later covered by plenty of artists, including Hank Williams Jr., Dead Kennedys, and of course, The Clash.
Needless to say, the song is about confronting the law. Unfortunately, this time the winner is the law itself.
Better luck next time…
13. P.F.F. – Hank Williams III
The initials stand for "Punch, Fight, Fuck."
So, yeah. This song is definitely about fighting.
More specifically, it is about starting fist-fights in a bar, while being drunk as a boiled owl.
14. The Battle of Cape Fear River – Alestorm
Take a Scottish pirate metal group, let them write a song about Captain Blackbeard and his final stand, and you get one of the most epic pirate metal songs about Captain Blackbeard and his final stand.
Who said fighting songs needed to be serious?
15. Till I Collapse – Eminem
More often than not, the worst battles are the ones we have with ourselves.
Eminem understands the meaning of struggling, so he wrote this song about self-motivation and keep holding on until his very last breath.
16. Blow Me (One Last Kiss) – P!nk
Blow Me is about arguing in one's relationship.
This is a likely-to-happen scenario in any relation.
What's important, of course, is that such confrontation leads to resolving a problem in the end.
17. Bring Em Out – T.I.
18. Mama Said Knock You Out – LL Cool J
19. Hell & Consequences – Stone Sour
20. 5 Minutes Alone – Pantera
21. Fight Night – Migos
22. You're Going Down – Sick Puppies
23. Bounce Back – Big Sean
24. I'll Fight Hell to Hold You – KISS
25. Fight – Motörhead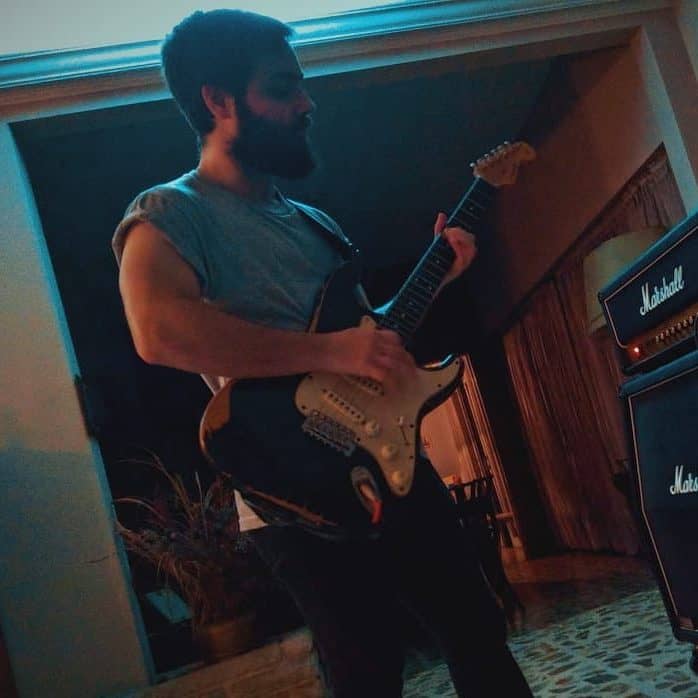 Hello there, my name is Ramiro and I've been playing guitar for almost 20 years. I'm obsessed with everything gear-related and I thought it might be worth sharing it. From guitars, pedals, amps, and synths to studio gear and production tips, I hope you find what I post here useful, and I'll try my best to keep it entertaining also.