Anxiety is a feeling of unease, worry, and fear.
Unfortunately, many people experience anxiety at some point in their lives, whether it is mild or strong. This anxiety manifests itself as a panic attack, obsessive-compulsive disorder, social anxiety, paranoia, etc.
Luckily, music is a powerful tool with the power to evoke pleasant emotions to manage or reduce anxiety. Some songs can provide comfort and relief, while others can help individuals process and express their feelings.
Naturally, talking about a problem makes it easier to solve it. Not to mention, it provides a sense of belonging.
After all, misery loves company and knowing that others may feel like we do, then it means we are not alone.
So, here you have 23 songs about anxiety. Hope they make you feel better!
1. Anxiety – The Ramones
From 1992's album Mondo Bizarro comes this half-classic, half-hidden gem.
Like most Ramone songs, Anxiety is a fast and ferocious two-minutes-track that truly manifests the sensation of having an anxiety attack.
2. Basket Case – Green Day
Basket Case combines anxiety, paranoia, neuroticism, and a bit of depression and places them inside the head of a poor guy.
The lyrics portray how it feels to be dealing with these mental health conditions.
It also demonstrates the nature of chronic anxiety: that the fears are not real; just a by-product of our brain.
As the song says "sometimes I give myself the creeps / Sometimes my mind plays tricks on me."
3. Breathin – Ariana Grande
According to singer Ariana Grande, she had always dealt with anxiety attacks.
This problem was aggravated during the Dangerous Woman tour.
Ariana was planning on playing in Manchester, England, but a terrorist attack put a stop to the show.
The event caused the deaths of 22 fans.
Once the tour was over, Ariana's anxiety did nothing but worsen.
4. Disturbia – Rihanna
Rihanna narrates in Disturbia how a deadly feeling crawls through her body.
The singer compares the unbearable emotion to a thief in the night that comes and grabs you by surprise.
5. Overkill – Men At Work
This is the story of a man whose sleep is disturbed because of anxiety.
He cannot stop thinking about a tragic future, and this image appears day after day and night after night.
As philosopher Seneca said: "We suffer more in imagination than in reality". I understand that a quote is not enough to cure anxiety, but I do believe is a small step toward betterment.
6. Crawling – Linkin Park
Linkin Park's main topics revolve around depression, fear, and mental health issues.
Crawling is no exception. The title is a transparent explanation of how it feels to deal with anxiety.
This crawling 'thing' consumes and confuses the person, giving a desperate sensation of lacking control over his/her life.
7. Anxiety – Jason Isbell
If there's something worse than having anxiety, it is having it interfere with the good moments in life.
In other words, when anxiety ruins a day at the beach, a music concert, or an intimate experience with a loved one.
This song is about that thought.
8. Mind Playing Tricks On Me – Geto Boys
Anxiety is not something that appears out of nowhere. It's the result of a traumatic event or hard lifestyle.
Mind Playing Tricks On Me analyzes the aftermath of living a thug life.
Singer Scarface from Geto Boys had a suicide attempt at a young age (which luckily survived). That event, and many others, served as an inspiration for this song.
9. Map of The Problematique – Muse
Not only anxiety but isolation and loneliness haunt the narrator of this song.
These hideous sensations make the person feel like a prisoner, yearning for liberation from all the pain and sorrow that this mental instability causes.
10. Paperbag Writer – Radiohead
This song's message is simply to relax.
Not in a leisurely kind of style, but rather, more realistically and pragmatically.
All you need to do is apply two techniques:
First of all, blow inside a paper bag. Second, "take your armor off" since you are no longer after an attack.
Naturally, Paperbag Writer grasps the failed nature of anxiety, which ultimately, is to protect ourselves.
After all, being anxious all the time means that you are overthinking everything in order not to be attacked or fail at surviving.
11. Shake It Out – Florence + The Machine
This track has a more positive view regarding mental health conditions.
As the singer implies, it's about "seeing the light at the end of the tunnel."
12. Trouble's Coming – Royal Blood
Hearing your mind telling you horrible possible case scenarios is torture.
In this great song from Royal Blood's third studio album, the singer can't stop hearing that trouble is coming sooner or later.
13. Jailbird – The Interrupters
"The trauma skips like an old CD"
That line couldn't summarize anxiety better.
Trauma echoes inside our heads and makes us feel like a bird inside a cage.
It may seem impossible, but inside this nightmare, there's a possibility of finding freedom, especially when used artistically, just like the band did with this song.
14. Alone In A Room – Asking Alexandria
15. The Fear – The Shins
16. In My Blood – Shawn Mendes
17. Unwell – Matchbox Twenty
18. Help I'm Alive – Metric
19. Save Myself – Ed Sheeran
20. Stressed Out – Twenty One Pilots
21. Just Hold On – Presence
22. Waving Through A Window – Dear Evan Hansen
23. Growing Pains – Alessia Cara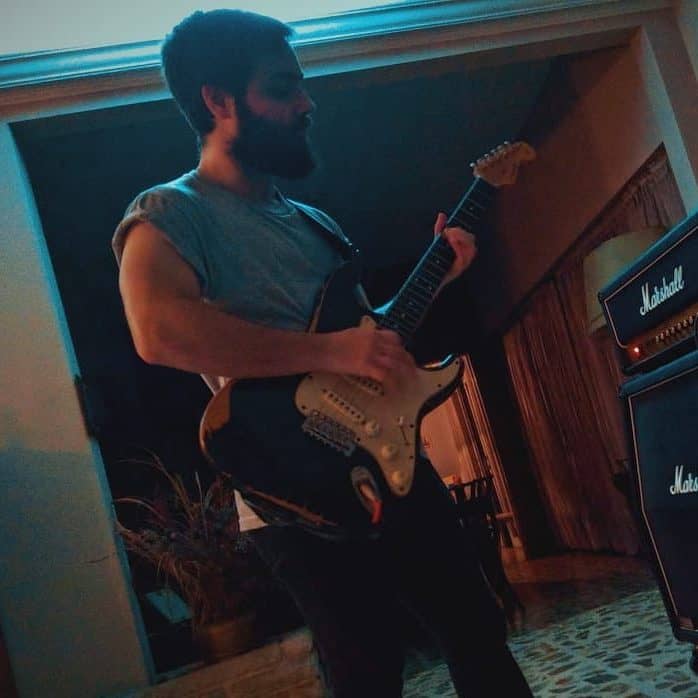 Hello there, my name is Ramiro and I've been playing guitar for almost 20 years. I'm obsessed with everything gear-related and I thought it might be worth sharing it. From guitars, pedals, amps, and synths to studio gear and production tips, I hope you find what I post here useful, and I'll try my best to keep it entertaining also.