Schizophrenia is a mental disorder characterized by a series of abnormal and threatening behaviors, including hallucinations, paranoia, delusion, and withdrawal from social activities.
As with any other mental disorder (depression, ADHD, anxiety), musicians have always found a way to transport the behaviors, emotions, and thoughts behind them and express them with words and melodies.
Today's list is pretty much it: 21 songs from various genres in which schizophrenia is the main topic.
Let's dive into it now!
1. 21st Century Schizoid Man – King Crimson
In this King Crimson classic, we sink deep into the troubled mind of a schizoid man.
He experiences a series of unpleasant moments, resulting from the traumatic events he witnessed when fighting the Vietnam War.
2. I'm Afraid of Americans – David Bowie
The Land of the Free is where possibilities are endless. It's the place of the American Dream, where anyone, no matter their background, can triumph and prosper if they work hard enough.
Except for Bowie. For him, the dream turned into a nightmare.
Of course, I'm talking about this song and, on top of that, the music video.
In the latter, a schizoid David Bowie runs through the busy city streets of America, escaping from a psychotic Trent Reznor who seems not to have good intentions.
It's a filming jewel and you should check it out if you haven't already.
3. Schizophrenia – Sonic Youth
This song appears in the 1987's album Sister.
The album is loosely based on the life of Phillip K. Dick, a science fiction writer.
Phillip K. Dick suffered hallucinations during the 70s (prior to his death in 1982). He claimed he was living two lives simultaneously.
The first one as himself, Phillip K. Dick, a writer living in California. The second one as Thomas, a Christian living in the 1st Century AD.
4. Paranoid – Black Sabbath
Sabbath's Paranoid is heavy metal's ultimate classic.
The lyrics deal with a poor man undergoing every mental illness you can imagine; mostly caused by his depression.
One of the symptoms of schizophrenia is an extreme withdrawal from social activities. This is flawlessly described by the man's unwillingness to develop healthy relationships.
5. Basket Case – Green Day
A fantastic song from the fantastic punk rock album Dookie.
It comes from the personal experience of frontman Billie Joe Armstrong, who experienced panic attacks as a child.
He said that writing this song was the only reasonable way to fight against the problem. As usual, the arts are a lifesaver.
In Basket Case, schizophrenia, panic attacks, and paranoia are compared to someone overconsuming drugs.
Someone who is so high that cannot comprehend whether the paranoia is real or just a side effect of the drugs.
6. Papercut – Linkin Park
The opening track to Linkin Park's debut album contains strong lyrics of a person battling inner demons.
Voices rumble inside the person's head, showering him with intrusive, negative thoughts.
Those voices feel so real that the victim turns around every now and then, believing there's someone speaking and following him.
7. Acute Schizophrenia Paranoia Blues – The Kinks
"I'm too terrified to walk out of my own front door / They're demonstrating outside I think they're gonna start the third world war"
This English band describes in this song a poor victim of his/her own head.
The citizen undergoes heavy, vivid hallucinations and believes that everyone is faking their identity; from the milkman to the woman next door.
The more the song advances, the more interesting and creepier the situation results, since in the end, it seems that everyone in the city is suffering from schizophrenia as well.
8. Schizophrenic Playboys – The Cranberries
In my opinion, Schizophrenic Playboys is about men mistreating girls, toying around with them, and messing with their emotions.
In other words, it's a word of warning to women; to watch themselves out from people who seem like a promising long-term partner, but are only looking for a momentary experience.
9. Unwell – Matchbox Twenty
Unwell works as a joker card for songs about mental disorders.
Naturally, lead singer Rob Thomas explained that Unwell is for anyone who is "fucked up and feels alone like that."
Therefore, it wondrously suits the mood and topic of this list. Not only because Schizophrenia leads to isolation, but also because of the stigma behind mental disorders.
10. Schizophrenic Conversations – Staind
Aaron Lewis, Staind's lead singer, wrote Schizophrenic Conversations to help himself deal with mental health issues.
Needless to say, the 'conversations' this song talks about happen within the narrator's head, meaning he is talking to himself.
I think it's futile to clarify that that conversation is far from being pleasant, wouldn't you agree?
11. Who Can It Be Now? – Men At Work
Men At Work's first single skyrocketed in the charts and became an 80s hit.
The lyrics convey a man alone in his house, paranoid to the bone.
12. Vermillion Part 2 – Slipknot
It's a pleasant surprise to find this dreary acoustic song in an album packed with roaring guitars, crashing drum beats, and furious screamings.
Vermillion's part two reveals a man confessing that the girl he loves is not real. That is to say, she was an illusion.
While the song never explicitly talks about schizophrenia or paranoia, it's safe to relate the event to the symptoms of this disorder.
13. Where Is My Mind – Pixies
A fascinating fact about Where Is My Mind is that it has been used in numerous films, every time, to show that the protagonist is struggling with his thoughts, unable to know whether the things he or she is experiencing are real or not.
Some of the movies in which this Pixies' ultimate classic appears are Fight Club, Mr. Nobody, Hold Me Thrill Me Kiss Me, Horns, and Sucker Punch.
14. Paranoid – Kayne West feat Mr.Hudson
15. Somebody's Watching Me – Rockwell
16. U – Kendrick Lamar
17. Schizophrenic Lifting Content – DJ Matt
18. Schizophrenia – XXXTentation
19. They're Coming To Take Me Away – Napoleon XIV
20. Chronic Schizophrenia – Wesley Willis
21. Schitzo – Brokencyde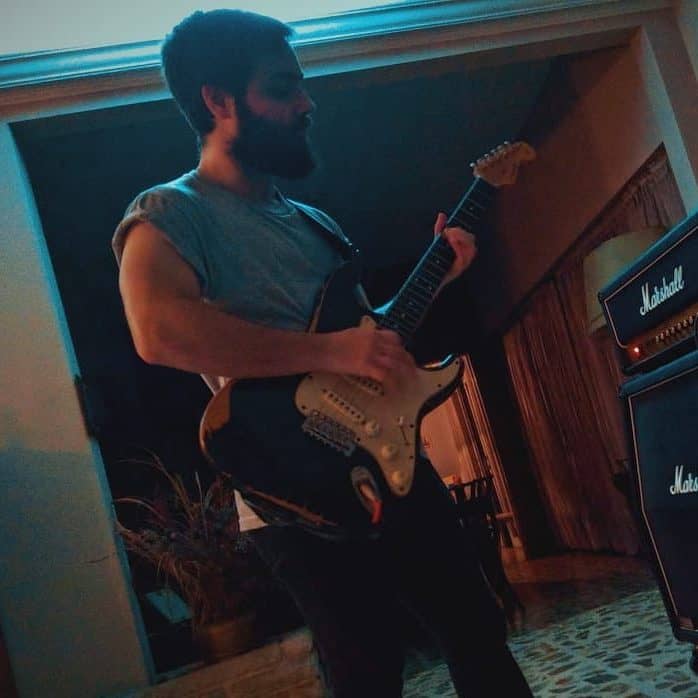 Hello there, my name is Ramiro and I've been playing guitar for almost 20 years. I'm obsessed with everything gear-related and I thought it might be worth sharing it. From guitars, pedals, amps, and synths to studio gear and production tips, I hope you find what I post here useful, and I'll try my best to keep it entertaining also.