Ever since the beginning of the music business, musicians and songwriters have struggled with mental disorders.
Suffering from a mental health condition is far from being undemanding.
Depression, delusion, PTSD, BPD, panic attacks, anxiety, addiction. These are some of the inner demons thousands of people experience every day.
It's easier said than done, but recovery is possible.
If you live in the USA, call 988 Suicide & Crisis Lifeline. Remember that you're not alone.
With that said, let's look at some songs about mental health. As usual, music is a remedy.
1. Save Myself – Ed Sheeran
Songwriter Ed Sheeran shares a valuable lesson in this song.
Before helping people, the best you can do is to help yourself.
Of course, helping others is a healthy way in which you can help yourself as well.
However, don't always put your needs aside just because of others.
2. Anxiety – The Ramones
Anxiety kicks heavy when the future lies in uncertainty.
But as the ancient philosopher, Seneca said: "We suffer more in imagination than in reality."
3. Skyscraper – Demi Lovato
Skyscraper is based on Lovato's experience after being taken to a treatment facility.
However, it contains a positive message: to hold on, rise above misery, and shine like a skyscraper
4. Welcome Home (Sanitarium) – Metallica
A fantastic song from the top-seller album Master of Puppets.
5. Hurt – Nine Inch Nails
Highly popularized by country musician Johnny Cash, but was originally written by Trent Reznor.
Hurt is the final track on Nine Inch Nail's second long play The Downward Spiral.
The truth is that the entire album deals with mental health issues. After all, Reznor has struggled with depression, addiction, and self-loathing in the past.
6. Nobody's Listening – Linkin Park
Linkin Park has written a dozen of anthems about mental health problems.
This one makes it to the list because, unfortunately, is a constant for those dealing with depression and other similar conditions.
More often than not, people won't listen at all.
But no matter how little support you're getting from your family or friends, remember that you're not alone.
You'll always find someone willing to assist and listen to you.
7. In The Mirror – The Interrupters
Singer Amy Interrupter has shared how much she has struggled with depression in the past.
In The Mirror depicts the dreadful feeling of running away from oneself, only to return to the same place over and over again.
8. Paranoid – Black Sabbath
The heavy metal anthem narrates the struggles of a man against his mind.
He no longer finds happiness in the things he used to enjoy, and his relationships start to weaken and shatter little by little.
Nonetheless, the final lyrics of the song leave a positive and relevant lesson: to enjoy life.
9. This Is For The Mentally Damaged – Hardcore Superstar
"This is for the mentally damaged / We're all damaged within"
Everybody wrestles with issues sooner or later. Unfortunately for some, these issues prevail for extended periods.
10. Fake Happy – Paramore
The most common answer to a "How are you doing?" question is a single word: fine.
In reality, many people providing this answer are not fine at all.
Although this is a result of tradition and well manners, the real problem appears when the "fine" is totally faked.
Having the guts to recognize a problem is the very first step toward recovery and genuine betterment.
11. Back from The Dead – Halestorm
Lzzy Hale made this empowerment song to encourage her fans to rise back from the dead and leave their miseries behind.
12. Fell On Black Days – Soundgarden
Chris Cornell spent some hard years during his teenage age.
Fell On Black Days is a narration of such events and the isolation he went through.
13. Basket Case – Green Day
Green Day took a funnier vision of mental instability with the lyrics of this song and the goofy music video it received.
Nonetheless, the song is far from being a mockery to those who suffer of conditions.
14. Live To Win – Paul Stanley
Paul Stanley wrote a victory song about rising from the bottom and fighting against his inner demons.
In his autobiography Face The Music: A Life Exposed, the KISS leader tells that he attended therapy at the age of 15, as a result of a dysfunctional family and a congenital deformity he was born with, known as microtia.
Stanley claimed therapy has done wonders for his life, and he encourages everyone to attend it if possible.
15. 911 – Lady Gaga
"My biggest enemy is me ever since day one" sings Gaga in this song from the album Chromatica.
Chromatica came out in 2020, in the middle of the global pandemic outbreak caused by COVID-19. A period in which humankind has seen a high increase in mental illness conditions due to lockdowns and uncertainty.
16. Paint It, Black – The Rolling Stones
This Rolling Stone classic is about depression and how hard it is to "face the facts" when everything around feels so gloomy and dispirited.
17. The Devil's Back – The Pretty Reckless
Taylor Momsen, leader of The Pretty Reckless, narrates a series of discouraging emotions as a result of a depressed state.
The music is somber and suits the song's message well.
18. Nutshell – Alice In Chains
There's a word that fits the mood of this song: misery.
Sadly, it depicted too well the hopeless state of singer Layne Staley, who died at the age of 34.
19. My Dark Place Alone – Murderdolls
20. Ungrateful – Escape The Fate
21. breathin – Ariana Grande
22. Summertime Sadness – Lana Del Rey
23. Lost – Death Angel
24. I Am Nothing – Katatonia
25. Shake It Out – Florence & The Machine
26. Mind Pollution – Vains of Jenna
27. Madhouse – Anthrax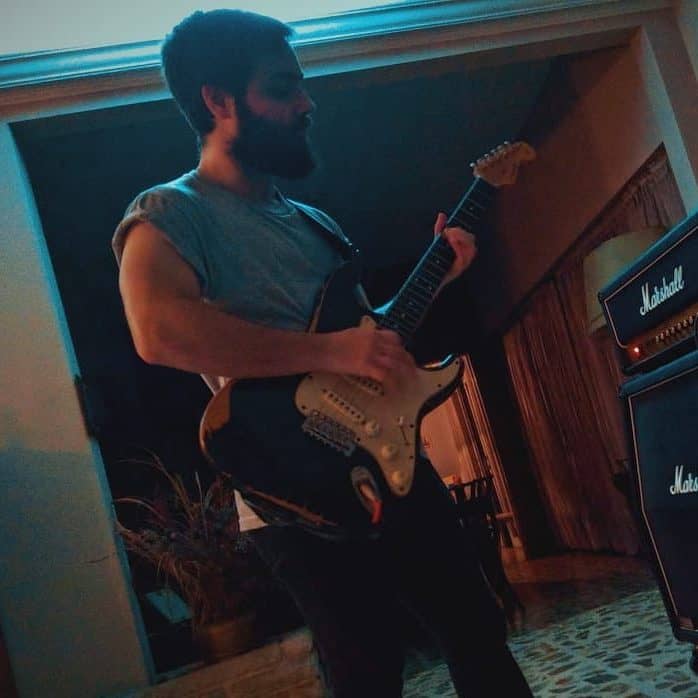 Hello there, my name is Ramiro and I've been playing guitar for almost 20 years. I'm obsessed with everything gear-related and I thought it might be worth sharing it. From guitars, pedals, amps, and synths to studio gear and production tips, I hope you find what I post here useful, and I'll try my best to keep it entertaining also.