Have you ever experienced that unnerving sensation of being followed by a stranger?
Or more common still, have you ever had your head making up strange theories about a friend or partner conspiring against you?
That is called paranoia. And no, you don't have to suffer from a mental health condition to experience that.
Naturally, there are different levels of paranoia. What's important at the end of the day is if they are consistent or not, and how much they interfere with your daily life.
Whether you suffer from it or not, here you'll find 23 interesting songs that talk about this phenomenon.
1. Paranoid – Black Sabbath
The most obvious choice to begin a list like this one has to be Paranoid by the legendary band Black Sabbath.
What's interesting, though, is that this song doesn't deal with paranoia exactly. More precisely, it's about a man battling depression.
2. They're Coming to Take Me Away, Ha-Haaa! – Napoleon XIV
Paranoia takes over a poor's person mind and destroys it.
What we cannot fully understand is whether the narrator is truly being chased by someone, or if it's everything within his mind.
But in the end, that's exactly what happens to paranoid people.
3. Love/Paranoia – Tame Impala
Plenty of Tame Impala fans agree that Love/Paranoia is about someone believing their partner is cheating on them.
It makes quite a lot of sense since jealousy leads to a heavily distorted reflection of reality too.
4. Somebody's Watching Me – Rockwell
"I always feel like / Somebody's watching me"
This 80s classic accurately depicts how it feels to be paranoid.
The narrator not only believes there're people after him. He also isolates himself as a result of it.
5. Paranoia – A Day To Remember
Here we have a song in which the perspective changes according to the structure.
To be more precise, the verse is narrated through the person suffering from paranoia. The pre-chorus, contrarily, is from the doctor's point of view.
Lastly, the chorus has paranoia personified.
6. Paranoid Android – Radiohead
Paranoid Android appears in Radiohead's 1997 album OK Computer.
It's one of the most-known songs from the band's catalog.
7. Foolin' – Def Leppard
Foolin' is a hideous song where a man has been harrowed by a woman.
He's no longer able to distinguish between what's real and what's not.
8. Paranoiac Personality – Alice Cooper
No one else but Alice Cooper could have written this twisted set of lyrics.
Paranoiac Personality is about a man struggling with his thoughts. He believes everyone's hiding dirty, little secrets, and that they're trying to get him.
As usual, the more he thinks about it, the more paranoid he becomes.
It's a never-ending cycle that feeds upon itself.
9. Paranoid – Post Malone
Trap singer Post Malone places himself as the protagonist who's experiencing paranoia.
10. Who Can It Be Now? – Men At Work
According to songwriter Colin Hay, the song was written in half an hour approximately.
It's the first single ever released by the Australian band Men At Work, and probably, their most-known song.
11. I'm Afraid of Americans – David Bowie
The music video for I'm Afraid of Americans has a scared David Bowie wandering the streets of America and being followed by a creepy Trent Reznor.
David's mind is against him, and paranoia crawls upon his senses.
12. Dream Police – Cheap Trick
What's less logical that believing everyone's after you?
To think that there is some police squadron monitoring your dreams and looking for you, of course!
Dream Police by Cheap Trick takes the idea of paranoia and turns it into an original and comical story.
13. Fear of the Dark – Iron Maiden
Fear of The Dark is an Iron Maiden classic from the album of the same title.
The track deals with the common irrational phobia of darkness and the fear of what might be lurking on the other side.
14. Basket Case – Green Day
Basket Case shows a variety of mental problems that go from neuroticism to depression.
At the end of the chorus, the narrator wonders whether he's becoming paranoid or he has just smoked too much weed.
15. Am I Going Insane? – Black Sabbath
Black Sabbath makes it twice on the list.
This psychedelic and eerie song appears on the album Sabotage from 1975.
16. Paranoid – Jonas Brothers
17. Paranoid – Ty Dolla $ign (feat b.o.b)
18. Air – Talking Heads
19. They Want My Soul – Spoon
20. Patient Number 9 – Ozzy Osbourne (feat. Jeff Beck)
21. 21st Century Schizoid Man – King Crimson
22. Destroyer – The Kinks
23. 13 Voices – Sum 41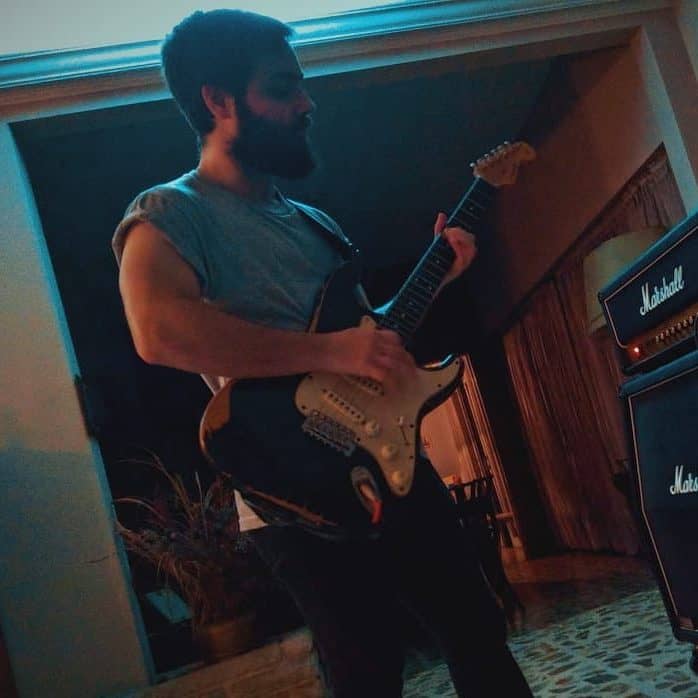 Hello there, my name is Ramiro and I've been playing guitar for almost 20 years. I'm obsessed with everything gear-related and I thought it might be worth sharing it. From guitars, pedals, amps, and synths to studio gear and production tips, I hope you find what I post here useful, and I'll try my best to keep it entertaining also.