Trauma is never really something we want to celebrate, but due to life being life, a lot of people have experienced some form of trauma or another.
A lot of great artists have endeavored to write music about their own struggles for us to relate to and today we'll be taking a look at that.
Whether it's about overcoming trauma or about coping with the pain of unresolved issues, you'll be able to find something on this list to commiserate with.
1. Somewhere I Belong – Linkin Park
Although not their most popular song, fans everywhere agree that "Somewhere I Belong" is greatly appreciated for its description of the anguish, discomfort, despair, etc… that many people feel on a daily basis.
Linkin Park managed to voice the words that many had been unable to find and allowed many to feel like they weren't alone in their struggles.
Released back in 2003 it's very much their earlier music, with the gruff texture that LP is known for and while rock might not be your first cup of tea, it's perfect for when you have bottled-up rage inside.
2. Beautiful Trauma – Pink
Pink wrote this song stating that: "life is f*ing traumatic, but it's also incredibly beautiful.." it was the title track of her 7th studio album by the same name.
The song is all about life's struggles but it's framed in a romantic perspective of going through those difficulties with someone.
It sings about a multitude of subjects including drug abuse, domestic violence, and feeling numb.
Not everyone can relate to all of it all the time, but we've all messed up and made mistakes and that's what this song comes down to.
3. Trauma – Meek Mill
Meek Mill drew from his own life experiences while writing this song, reminiscing on events that were deeply distressing for him.
Watching a friend die and having to face injustice on a daily basis can be overwhelming, but this track gives the listener a "place to rest" if you will, in the knowledge that they're not alone.
4. Praying – Kesha
How do we deal with abuse and how do we respond to the hurts of past abusers still surfacing in our lives in the present moment? Kesha's "Praying" attempts to look at these questions and answer them.
This is a song about being able to forgive your abuser and even praying that whatever hurt they have, will be healed someday.
This song was co-written by Ryan Lewis and Kesha found the song to be a perfect way to channel her feelings of hopelessness and depression that she had experienced in the past.
While many believe it's about her previous producer and his alleged sexual assault, Kesha had not outright named him in the song.
This is ultimately a song about hoping everyone can heal, even someone who hurt you.
5. This Is Me – The Greatest Showman
It can be especially difficult to accept who you are when you've spent your life being told you're unlovable or worse.
Many people have had to deal with such feelings and with being told such things and this song is all about that topic.
This Is Me is a song about being able to take abuse on the chin and let it wash off you like water off a duck's back.
This is a song about accepting yourself and learning to embrace yourself, even when you've spent your life being broken down and shamed.
6. A Little's Enough – Angels and Airwaves
A Little's enough is about how being broken can close our hearts and make us put up barriers, but just a little bit of love can start the healing process.
After all is sung and done, this is a song about learning to love again after being hurt and more importantly, learning to be loved.
7. Thank U – Alanis Morisette
"Thank U" is a song about gratitude, pretty obviously so, I suppose.
But it runs deeper than just being thankful for the good things that have happened to us.
It's also about being thankful for the lessons we've learned from the issues we've faced.
For Alanis, this song was something she wrote after her year-and-a-half break from life.
She went to India (hence the line "thank you India") and learned to stop and breathe and when she did that, she discovered immense gratitude for everything she'd been through in life.
8. Hurt – Johnny Cash
Originally a song by Nine Inch Nails, "Hurt" is a song that has a lot of self-loathing in it, but Johnny Cash gives it a reflective weight with his aged and simple vocals.
This song becomes all about realizing that not everything in life is worth having and the trauma we have to deal with when we lose the things truly valuable to us.
The music video features a couple of pictures of Cash's wife and implies that his connection to the song comes from the pain of losing a lifelong partner.
Which, if you've not experienced it, feels something like having half of who you are missing and having every room in your home echoing that absence.
9. Fight Song – Rachel Platten
Now that I'm done depressing you for a bit, here's a more uplifting song on the topic of trauma.
Fight Song is about overcoming our obstacles and being made stronger than we were before.
Platten wrote this song for herself while she was at a particularly low point in her life as a reminder that she still had fight left in herself.
It's a song to remind us not to give up.
10. Why – Rascal Flatts
"Why" is a song that seems to be masking the topic of suicide in a metaphor about performing music.
"Why" is probably the question we're all left asking when someone decides to take their own life and being close to them leaves us wondering if there was anything we could have done.
This song wasn't written by Rascal Flatts by the way, it was written by Allen Shamblin, in honor of a friend of his who took his own life.
For people on the verge of suicide, this song is something to remind you that you're not alone and that suicide is a permanent solution to a temporary problem, meaning that you can't take it back, but the sadness does pass if you just hold on.
11. Come However You Are – CityHarbor
"Come However You Are" is on this list as a song that's been written for those who feel unworthy of being loved or saved.
It's a Christian song, but it's also one of the most popular songs about trauma on the internet.
It's about surrendering all our hurt and pain to God and that no matter what shape you're in, you're loved and wanted.
12. Not Ready To Make Nice – Dixie Chicks
This song has a bit of controversial history to it.
The Dixie Chicks wrote this as a response to the treatment they receive after making clear their stance against the Iraq war back in 2003.
The song was written with the intent of being universally relatable, but it was a very personal track for all band members.
This song is about not backing down when you know you didn't do anything wrong and standing up for yourself despite the pain you're going through.
13. Lose Yourself – Eminem
Lose Yourself was written by Eminem in-between shooting for his semi-autobiographical movie "8 Mile".
If anyone has gone through a lot in life, it's definitely Eminem, and while he didn't write this song about any particular trauma specifically, and while we could say there are other songs from him about trauma, this one is about overcoming that trauma.
"Lose Yourself" is about rising to the challenge and overcoming the odds, despite the difficulties life throws at you.
It's about believing in yourself when no one else does and that's an important message when dealing with trauma in life.
14. Famous Last Words – My Chemical Romance
Famous Last Words is an encouragement song that Gerard Way (band frontman) wrote for his brother and bassist Mikey Way.
Mikey left the band temporarily due to his severe anxiety but agreed to resume working with them upon hearing this track.
The song is about determination and perseverance, about not being afraid to keep on living and speaking what's on your mind.
15. Elastic Heart – Sia
Sia wrote this song about finding love after heartbreak, and while heartbreak may not seem like as big a trauma as say being sexually assaulted or receiving death threats, depending on your age or how long you've been together, heartbreak can be soul-crushing.
Sia originally wrote this song for the Hunger Games and asked Katy Perry to sing it, but when Perry passed on it, she sang it herself.
This song is meant to be an uplifting tune about overcoming heartbreak and being able to move on with your life and it makes for a great motivator when the trauma feels like too much to handle.
10 More Songs About Trauma
| | |
| --- | --- |
| Title | Artist |
| The Sound Of Silence | Disturbed |
| Unwritten | Natasha Bedingfield |
| Until It Sleeps | Metallica |
| Colour Me In | Damien Rice |
| Stairway to Heaven | Led Zeppelin |
| Hurricane | I Prevail |
| Trauma | NF |
| Trauma | H.E.R |
| Father Of Mine | Everclear |
| Touch Me Again | Petrol Girls |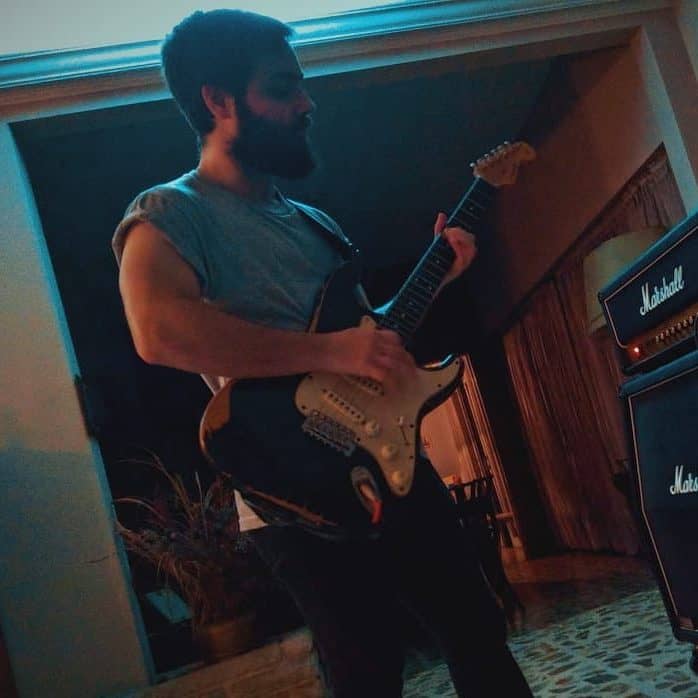 Hello there, my name is Ramiro and I've been playing guitar for almost 20 years. I'm obsessed with everything gear-related and I thought it might be worth sharing it. From guitars, pedals, amps, and synths to studio gear and production tips, I hope you find what I post here useful, and I'll try my best to keep it entertaining also.