Death is an inevitable part of life, and it's no surprise that musicians have explored this topic in their lyrics.
From heart-wrenching ballads to upbeat anthems, songs about dying cover a wide range of emotions and perspectives.
Some songs about dying serve as a form of comfort or solace, offering listeners a way to process their grief or come to terms with their own mortality while others are more abstract or philosophical, contemplating the mysteries of the afterlife or the meaning of life in the face of death.
In this article, we'll explore some great songs that tackle this difficult subject matter delving into a diverse range of genres, from classic rock to country to hip-hop.
Along the way, we'll examine the stories and themes behind each song, highlighting how these artists have approached the topic of dying in their music.
So, whether you're looking to explore the beauty and tragedy of life's final moments, or simply searching for comfort in the face of mortality, these songs about dying are sure to leave a lasting impression on you. 
1. In My Time of Dying – Led Zeppelin
Led Zeppelin was always a synonym for blues and just like many other of their songs this piece comes from an older blues track called Jesus Make Up My Dying Bed by Blind Willie Johnson.
Included in their 1975 album Physical Grafitty, this song is the longest Led Zeppelin interpretation in recordings, lasting 11:06 which are exactly 666 seconds.
The song is originally a religious ode to mortality and the search for meaning in life.
There have been many versions of this song, with Bob Dylan and Led Zeppelin being the most famous.
2. The Last Carnival – Bruce Springsteen
Just like the previous piece on the list, this track is a tribute to a person who passed away.
On this occasion, Bruce Springsteen writes about his band member and stalwart friend Daniel Federici, the organ player of the group during their growing years.
Released in 2009 and included in the album Working On A Dream, the song serves to express the pain of the loss and how much Springsteen misses him.
In the track, Jason Federici, Daniel's son, participates playing the accordion. 
3. Tears in Heaven – Eric Clapton
Some of the songs appearing in this compilation have sad stories behind them but this one may be the darkest and most tragic.
This track was part of the album Rush which was published in 1992.
The ballad is about the passing of Conor, Clapton's kid who died at the age of four but that's not the worst part.
The death of a child as young as four years old is already a tragic event but what is devastating about this event is the way in which it happened, the baby accidentally fell from the 53rd floor of a skyscraper in Manhattan.
4. I Will Follow You into the Dark – Death Cab for Cutie
Love is one of the most powerful feelings and for better or for worst all of us have experienced it.
Released in 2006 and included in the album Plans this song connects both, love and death.
The singer Ben Gibbard is longing for the love of his girlfriend even before dying.
Whether in heaven or hell, he will follow her to meet again in the afterlife.
5. If I Die Young – The Band Perry
If I Die Young is a touching and reflective song by American country group The Band Perry, released in 2007 as part of their self-titled debut album.
The song's lyrics are a reflection on mortality and the brevity of life, encouraging listeners to cherish the time they have.
The band members have stated that the song is about appreciating the experiences they have had so far in their lives and finding fulfillment in living in the moment.
With its heartfelt lyrics and haunting melody, the song has become a beloved classic in the country music genre.
6. You Gotta Move – Mississippi Fred McDowell 
A gospel composition that originated as an African spiritual song, later making its way to the American market.
You Gotta Move has a solid and simple statement: no matter your living conditions or experiences, there is no escaping from death.
It has been versioned by many musicians, including Sam Cook, The Rolling Stones, and of course, Fred McDowell. 
7. 25 Minutes To Go – Johnny Cash 
Similar to the Iron Maiden song, 25 Minutes To Go narrates the story of a prisoner minutes before facing death. This one, however, has some ironic and funny connotations.
Each of the 25 minutes that pass by describes a specific situation before the convict is hanged at the gallows pole.
It's even funnier if you watch the music video.
8. Heaven – Beyoncé 
When Beyoncé had a miscarriage, she wrote Heaven, to pay tribute to her lost child. 
9. 21 – Delilah 
The singer had a friend of hers who died in prison at the early age of 21, thus, the title of this track.  
10. I Will Not Say Goodbye – Danny Gokey 
Grieving someone's death is a hard-to-deal-with experience. Unfortunately, it could take years, decades, or even a lifetime to recover from it.
It seems that I Will Not Say Goodbye is about this last idea; of choosing not to let go of a lost loved one.
What do you think about it? Do you believe is better to let go or to hold on despite the pain? 
11. One More Day – Diamond Rio 
12. Die A Happy Man – Thomas Rhett 
13. Many Men (Wish Death) – 50 Cent
14. Hurt – Johnny Cash
15. Slipped Away – Avril Lavigne
16. Die Young – Kesha
17. Candle In The Wind – Elton John
18. See You Again – Wiz Khalifa
19. One More Day – Diamond Rio
20. Fire And Rain – James Taylor
21. (I Just) Died In Your Arms Tonight – Cutting Crew
22. Supermarket Flowers – Ed Sheeran
23. I Can Only Imagine – MercyMe
24. Live Like You Were Dying – Tim McGraw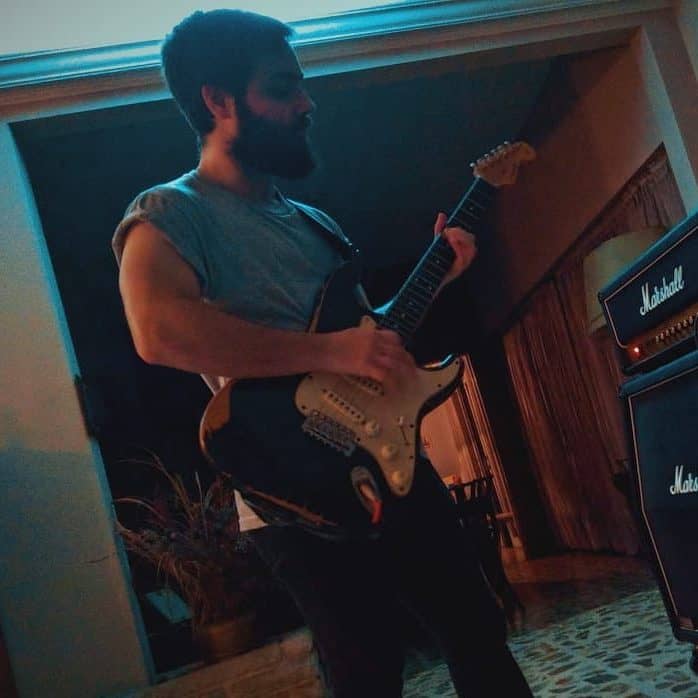 Hello there, my name is Ramiro and I've been playing guitar for almost 20 years. I'm obsessed with everything gear-related and I thought it might be worth sharing it. From guitars, pedals, amps, and synths to studio gear and production tips, I hope you find what I post here useful, and I'll try my best to keep it entertaining also.