Most of us are familiar with Charlie Brown saying "Good grief!" whenever he is fed up with a situation.
But what is it exactly?
Grief is often linked to bereavement or the loss (usually by death) of someone close.
But it can also be brought about by the end of a relationship, opportunity, job, etc. You may think of it as another way to say "mourning".
And it can also more loosely cover general feelings of sadness and depression.
In this sense, it can encompass situations such as mourning the loss of youth, the will to live, hope… you know the feeling when it seems like the color has drained out of everything.
So let's explore some different ways that musicians have encapsulated this feeling over the years and maybe some of these will help you through tough times in your own life.
1. My Heart Will Go On – Celine Dion
Everyone of a certain age knows this song and most people associate it with a very sad and tragic scene in the blockbuster film Titanic.
But this song has a special way of dealing with grief, as the character in the song sings about how her deceased lover will continue to live in her heart, memories, and dreams.
So if you have hit a rough patch of your own and are struggling with the loss of a loved one, I think the message in these lyrics can be quite therapeutic.
And the music is of course soothing too, with Celine Dion keeping her powerful vocal ability under wraps in favor of a softer emotional style.
So I have no qualms about naming this track the quintessential song about grief.
Written by: Will Jennings and James Horner
Year Released: 1997
Album: Titanic: Music from the Motion Picture Soundtrack and Let's Talk About Love
2. Hells Bells – AC/DC
Is Hells Bells a song about grief?
It sure is! It's just a different way of dealing with grief than most people are used to.
Instead of sadness and self-pity following the death of former AC/DC singer Bon Scott, the Aussie rockers gave him one "hell" of a sendoff.
Keep in mind that one of the most famous songs that Bon Scott sang was Highway to Hell so I think Hells Bells is an appropriate tribute.
And the guys in the band knew Bon Scott and presumably knew his personality better than anyone.
So I suspect that he would have been pleased by the band continuing to put out great music rather than having his friends moping around and mourning him.
Written by: Brian Johnson, Angus Young, and Malcolm Young
Year Released: 1980
Album: Back in Black
3. Pennyroyal Tea (Live Version)- Nirvana
Here is an example of a song dealing with grief that is not caused by bereavement.
In case you don't know what pennyroyal tea is, it is a type of tea that women would drink as a natural abortion aid, especially in hippie cultures.
And Kurt Cobain sang about drinking it to "Distill the life that's inside of me" along with listing what he saw as his many faults.
Cobain notoriously didn't deal with the band's rise to fame well and at some point, there was a certain "something" that was missing in his life… chemically, emotionally, we can't really know for sure.
And when the song was released as a single one of the B-sides was "I Hate Myself and Want to Die". All of the signs of an impending suicide were right there out in the open.
In addition, after meeting Kurt Cobain (and his subsequent suicide), Beatnik writer William S. Burroughs apparently stated that " It wasn't an act of will for Kurt to kill himself. As far as I was concerned, he was dead already."
And the death of Nirvana's frontman sadly left a legacy of grief among his fans all over the world.
But he is still loved and missed to this day.
Written by: Kurt Cobain
Year Released: 1993 (album) and 1994 (live)
Album: In Utero and MTV Unplugged in New York
4. Tearz – Wu-Tang Clan
"After laughter comes tears".
This is a song that definitely "kept it real" as the popular Hip Hop culture saying goes.
Because not only does the song start with a spoken word portion depicting the painful aftermath of a murder, but the verses also deal with loss.
The first verse is about a young kid going out to buy bread for his mother being shot and the second verse deals with a friend catching a fatal case of HIV from unprotected sex.
And inner city crime is a huge problem that continues to cause grief in households around the world.
So I think it's important to remember that just because some people choose to get involved in bad situations, their families are sometimes the ones who suffer the most.
Written by: RZA Ghostface Killah and various sampled songs.
Year Released: 1993
Album: Enter the Wu-Tang (36 Chambers)
5. Sinking – The Cure
This powerful slow-burn song is another take on grief that doesn't come from an outside source.
Rather, here the pain is from a situation like looking in the mirror and realizing that your youth (and the optimism of youth) is something you will never get back.
Now I probably could have chosen from a lot of songs about grief from The Cure's long career but this one has always haunted me and I don't think the anguish in Smith's voice is affected that much.
Furthermore, it is the closing track to an amazing album that is a roller coaster of emotions and that makes it all the more special to me.
Written by: Robert Smith
Year Released: 1985
Album: The Head on the Door
6. Tears in Heaven – Eric Clapton
This touching song was born of a very real tragedy: the death of Clapton's toddler son at only 4 years old.
And those who are young and/or don't have children just can't imagine what that must feel like.
But this song may help bridge that gap a little bit, with its reflection that sometimes it may feel like being dead in order to be with someone you lost, may feel preferable to continuing to live.
But Clapton acknowledges that we must keep going and wait for our own time to come: "I must be strong and carry on 'cause I know I don't belong here in heaven".
Some people may think it's wrong to "capitalize" on such a tragedy but I think that's just too cynical.
The song is a sweet tribute and musicians who spend their whole lives writing music have to use the tools at their disposal to work through their grief.
And listening to this track may convince others to appreciate the time they have with their loved ones a little more too.
Written by: Will Jennings and Eric Clapton
Year Released: 1992 (both albums)
Album: Rush: Music from the Motion Picture Soundtrack and Unplugged
7. Last Kiss – Pearl Jam
8. Terrible Lie – Nine Inch Nails
9. Me and Bobby McGee – Janis Joplin
10. I Grieve – Peter Gabriel
11. Wish You Were Here – Pink Floyd
12. Un-break My Heart – Toni Braxton
13. Gone Too Soon – Michael Jackson
14. Heaven Was Needing a Hero – Jo Dee Messina
15. The Last Carnival – Bruce Springsteen
16. Bloody Kisses – Type O Negative
17. The Long Black Veil – Johnny Cash
18. See You on the Other Side – Ozzy Osbourne
19. I'll Be Missing You – Puff Daddy feat. Faith Evans and 112
20. All Those Years Ago – George Harrison
21. See You Again – Carrie Underwood
22. Everybody Hurts – R.E.M.
23. In My Time of Dyin' – Bob Dylan
24. Go Rest High on That Mountain – Vince Gill
25. The Greatest Man I Never Knew – Reba McEntire
26. Toilet Tisha – Outkast
27. Who You'd Be Today – Kenny Chesney
28. Supermarket Flowers – Ed Sheeran
29. The Carter Family – Carly Simon
30. Hallelujah – Leonard Cohen
31. Brendan's Death Song – Red Hot Chili Peppers
32. Black Velvet – Alannah Myles
33. Soul One – Blind Melon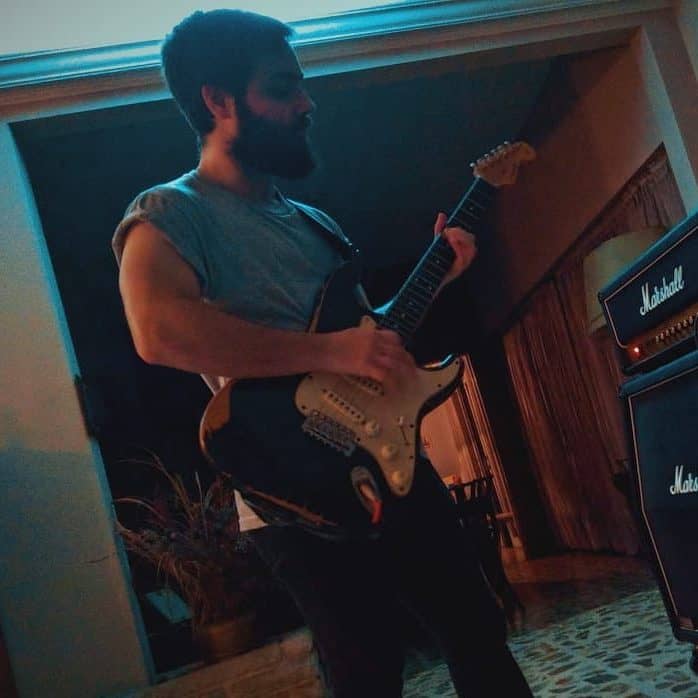 Hello there, my name is Ramiro and I've been playing guitar for almost 20 years. I'm obsessed with everything gear-related and I thought it might be worth sharing it. From guitars, pedals, amps, and synths to studio gear and production tips, I hope you find what I post here useful, and I'll try my best to keep it entertaining also.