I think that Gospel music is one of those genres that is a little bit hard to pin down sometimes.
In its most basic form, it can be considered religious music since it is derived from spiritual Christian music or hymns.
But although much of Classical music was also dedicated to God, Gospel is more specifically music with vocals and oftentimes choirs, almost like prayers that you sing.
I hope that makes things a little simpler, but I'm afraid there's more to it than that.
Because it also has its roots in Scotland and Black Americans living in the Southern parts of the USA hundreds of years ago.
But for today's exploration, we will mostly cover American Gospel songs; the skin color of the Gospel singer is of course not important, but this will mostly be older songs to avoid getting into Christian Contemporary Music.
Now you might be surprised at some of the musicians that you always considered as Country, Rock, Pop, Soul, or R&B singers who put out Gospel albums too.
And hopefully, you may discover some new talents that you've never heard of as well…there's only one way to find out!
1. People Get Ready – The Impressions
The Impressions were a really big deal in the Soul music scene of the mid-20th century.
And a lot of their most famous hits were Doo-Wop love songs meant for easy listening.
But songwriter Curtis Mayfield also had a religious side that came through perfectly in this incredible Gospel song (and my personal favorite of the genre).
The lyrics deal with a spiritual reckoning and the train mentioned in the song leads to salvation in God, flirting with the idea of the rapture (2nd coming of Christ) when those who are saved will ascend to Heaven.
And the music and vocals are, to borrow a Biblical phrase from the book of Psalms, smooth as butter.
The song has also been covered by a long list of artists from Bob Dylan to Seal, but for me, the original still ticks all the boxes of a flawless song.
Written by: Curtis Mayfield
Year Released: 1965
Album: People Get Ready
2. Amazing Grace – Mahalia Jackson
Here we have probably the most famous hymn of all, one that everyone knows even if they've never set foot in a church.
And I think that's because the feelings expressed in the lyrics are pretty universal.
Because if you've never found yourself feeling wretched or lost, I would really like to hear your secret to being happy all the time!
And this version is special for being performed by Mahalia Jackson who was a real heavyweight in the Gospel scene of her time, influencing many contemporary and future singers.
Jackson's vocals, accompanied by piano and organ, are intense, dynamic, and emotional, letting you really feel the power of the song.
Written by: John Newton
Year Released: 1947
Album: (single – later released on Amazing Grace in 1977 and 1989)
3. Take My Hand, Precious Lord – Aretha Franklin
First of all, this song is notable for being written by Thomas A Dorcy who was hugely influential in the Gospel music movement during the 20th century.
And singer Aretha Franklin was herself influenced by Mahalia Jackson, which I think you can definitely hear in this recording.
Although Aretha was later often referred to as "The Queen of Soul", she was only a teenager when she did this! That really makes you think about what you had accomplished by age 14, doesn't it?
The song itself deals with asking God for guidance through life's troubles, a classic theme in Gospel music which she does justice to with a heartfelt performance.
So let's give the beautiful Aretha Franklin the R-E-S-P-E-C-T that she earned and deserves.
Written by: Thomas A. Dorcy and George N. Allen
Year Released: 1965
Album: Songs of Faith
4. This Train Is Bound for Glory – Sister Rosetta Tharp
Similar to People Get Ready, here we again have a train representing salvation, a metaphor that was popular in Black Spiritual music.
And Ms. Tharp wasn't just a great Gospel singer, she could also rock out on guitar too.
Although she played both acoustic and electric guitars, the photos of her playing electric guitar in the early to mid-20th century are more intriguing.
Because even though I wasn't alive back then, I'm pretty sure that was a pretty unique thing for a female singer at the time.
And she may not be a household name these days but members of Cream, the Yardbirds, and the Rolling Stones were influenced by her playing and she was even inducted into the Rock and Roll Hall of Fame as well.
Now that's a pretty good resumé for a girl from Cotton Plant, Arkansas, which has a current population of about 500 people.
Written by: (traditional)
Year Released: 1939
Album: (single)
5. Let It Be – Ferry Aid
This classic Beatles song isn't usually considered a Gospel song but it is sometimes performed as a religious song and this version features a full backup choir.
(In fact, the B-side to this 1987 single is a Gospel Jam Mix but it's not available on Youtube that I can find).
Nowadays it is recognized that the lyrics "Mother Mary comes to me, speaking words of wisdom 'Let It Be'" were inspired by Paul McCartney's mother who was named Mary.
But since people couldn't access the internet and find out Paul's mother was named Mary in 1970, the lyrical reference was obviously meant to be interpreted by the public as the Virgin Mary.
Furthermore, Ferry Aid was an 80s supergroup (consisting of McCartney, Kate Bush, Gary Moore, Edwin Starr, and others) that recorded this version of the song and donated the profits to charity following a ferry accident that killed almost 200 people.
Some people say that actions speak louder than words and so while singing Gospel music could be seen as lip service, I think that raising money for a charitable cause following a disaster is really doing the Lord's work.
Written by: Paul McCartney and John Lennon
Year Released: 1987 (original version 1970)
Album: Let it Be (single)
6. Blessings – Chance the Rapper featuring Jamila Woods
7. Touch the Hem of His Garment – The Soul Stirrers (vocals by Sam Cooke)
8. I Love the Lord – Whitney Houston
9. How Great Thou Art – Al Green
10. What A Friend We Have in Jesus – Ella Fitzgerald
11. Rock of Ages – Wilson Pickett
12. Oh Happy Day – The Edwin Hawkins Singers
13. The Old Rugged Cross – Johnny Cash
14. Break Every Chain – Tasha Cobbs Leonard
15. The Cross – Prince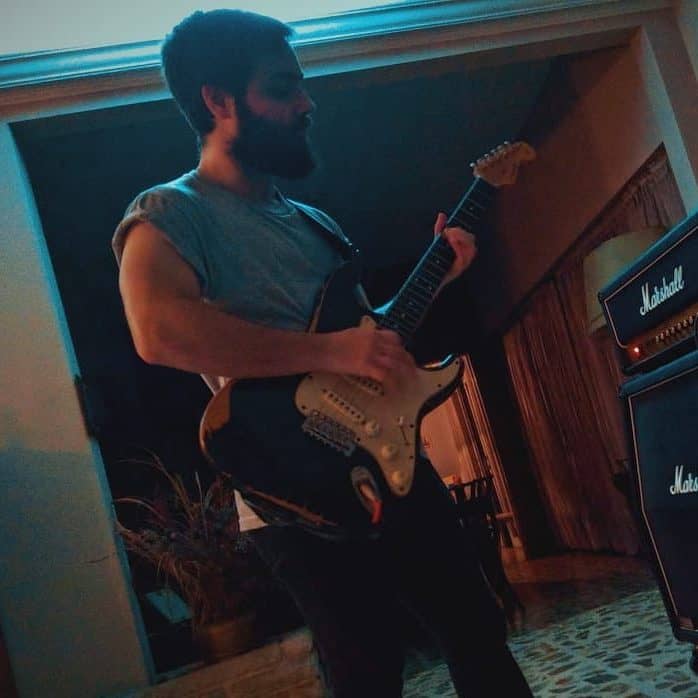 Hello there, my name is Ramiro and I've been playing guitar for almost 20 years. I'm obsessed with everything gear-related and I thought it might be worth sharing it. From guitars, pedals, amps, and synths to studio gear and production tips, I hope you find what I post here useful, and I'll try my best to keep it entertaining also.