Heaven has long been a subject of fascination and inspiration for songwriters and musicians of all genres.
From gospel hymns to rock anthems, songs about heaven have been used to reflect on life, death, and the afterlife.
For some, heaven is a place of peace and salvation, while for others it is a symbol of hope and longing.
These songs have the ability to touch our hearts and minds, evoking feelings of comfort, joy, and inspiration.
In this article, we'll take a journey through the history of music and explore some of the most popular and enduring songs about heaven.
We will delve into the messages and themes conveyed by these songs and how they have resonated with audiences throughout the years.
We will look at the religious and spiritual connotations of heaven, as well as the more secular and personal interpretations of this otherworldly concept.
So put on your headphones and get ready for this journey through the seven heavens.
1. Amazing Grace – John Newton
Heading the list, we have a Christian anthem written by the English clergyman John Newton.
Published in the 18th century (1779), this is one of the best-known compositions in English-speaking countries.
Through its music and lyrics, Newton intended to transmit the message of redemption and forgiveness.
This chant supports the idea that through sin's forgiveness is possible to reach heaven's gates.
2. Knockin' on Heaven's Door – Bob Dylan
Although many people believe that this track was made by Guns N' Roses, it actually is a Bob Dylan composition.
This folk song was first released in 1973 as part of his album Pat Garrett & Billy the Kid soundtrack.
The song has been interpreted as a plea for peace and an end to suffering.
Besides, it's a timeless classic that still resonates in people's heads and may be relevant for many years to come.
3. Heaven – Kane Brown
Heaven is a rock country track released in 2017.
The song takes part in the self-titled studio album Kane Brown.
The piece is a love song that talks about the idea of heaven as the perfect place to be with a loved one.
The lyrics describe a longing for a place where the worries of the world disappear and people can only focus on their loved ones.
4. Heaven – Bryan Adams
In this position, we have a power ballad by the great Bryan Adams.
The track describes the feelings of missing someone who has passed away and the hope for a place in the afterlife where they can be together again.
The song was included in his fourth album Reckless which was published in 1985.
Featuring a catchy melody and powerful guitar riffs, the song was a commercial success, reaching the top of the charts in several countries and it's considered one of Bryan Adams' most popular songs.
5. Tears in Heaven – Eric Clapton
Tears In Heaven is a song with a dark story behind it and is probably one of the saddest Clapton tracks.
Released in 1992 and included in the album Rush, it was written as a tribute to his son, Conor, who died tragically in a fall from a building.
The track reflects on the grief and sorrow of losing a child and the yearning to meet him in heaven.
The song has a soft and emotional melody, with Clapton's signature guitar playing expressing his deep sadness and the overwhelming emotions he felt after this terrible loss.
6. Heaven – Avicii
This wonderful track is the third single of the album Tim by the Swedish D.J. Avicii.
The interesting thing about this song is it was released in 2019 after Avicii's death.
In addition, this piece reflects on the idea of finding peace and fulfillment in the afterlife.
Chris Martin collaborates in this powerful tribute to the artist and his music, which continues to inspire and touch people.
7. Stairway to Heaven – Led Zeppelin
Included in their fourth studio album Led Zeppelin IV, this magical piece is considered a rock anthem.
Stairway to Heaven is an epic, multi-faceted track that has been interpreted as a journey towards enlightenment and spiritual transcendence.
Released in 1971, this song comprises a slow beginning that builds in intensity.
Featuring guitar riffs, drums, and vocal harmonies, it creates a powerful and emotive sound.
Besides, the guitar solo is also considered one of the greatest in rock history. No more to say, a classic from all times.
8. Everybody Wants To Go To Heaven – Kenny Chesney
This song has a particular story. It was originally going to be recorded by George Strait for his Troubadour album in 2008, but after Strait decided not to include it, it was recorded by Kenny Chesney instead.
Everybody Wants To Go To Heaven was released in the 2008 album Lucky Old Sun and tells the story of a man who discusses his way of life with a preacher.
This religious figure advises him to give up the vices such as alcohol consumption and promiscuity, in exchange for a more pious lifestyle.
9. Letter To Heaven – Dolly Parton
Written by Dolly Parton in 1963, Letter To Heaven is a song that tells the story of a little girl who writes a letter to her deceased mother.
The lyrics describe how her grandfather helps her write the letter which is later "send to God".
Like most tracks in the list, this one is about grief, longing, and the afterlife, and it can be interpreted as a reminder that even though someone is gone, their memory and love remain.
This beautiful musical piece was included in the album Hits Made Famous by Country Queens which is a compilation by Dolly Parton and Faye Tucker.
10. Heaven – Beyoncé
This slow-tempo soft track was released in the 2013 album Beyoncé and carries a profound message.
The singer talks about a loved person who passed away and expresses her sadness at the passing.
Although Beyoncé says how hard she fought for this person, the experience made her stronger.
At the end of the song, there's a passage of the prayer "Padre Nuestro" in Spanish which refers to the will of God to be done on earth as it is in heaven.
11. Locked Out Of Heaven – Bruno Mars
Contrary to most songs in the article, this one uses Heaven as a metaphor.
Released in 2012 and taking part in the album Unorthodox Jukebox this track become a success at that time.
The track describes a person who thinks he has been expelled from heaven but now he loves the feeling of paradise.
However, he feels a spiritual connection when he is with her lover.
The singer wants to stay there forever, and he wants to spend the rest of his days with this woman.
12. Heaven – DJ Sammy Ft. Yanou & Do
13. My Heart Will Go On – Celine Dion
14. Heaven – Julia Michaels ft. Trippie Redd
15. When I Get Where I'm Going – Brad Paisley
16. If You Came Back From Heaven – Lorrie Morgan
17. Hymn Of Heaven – Phil Wickham
18. Heaven is a Place on Earth – Belinda Carlisle
19. Heaven Knows I'm Miserable Now – The Smiths
20. Heaven and Hell – Black Sabbath
21. Heaven Help Us – My Chemical Romance
22. Heaven Beside You – Alice in Chains
23. Heaven for Everyone – Queen
24. Heaven and Hell – Kanye West
25. Heaven's On Fire – Kiss
26. Heaven Help – Lenny Kravitz
27. Heaven or Las Vegas – Cocteau Twins
28. Heaven Help Me – Lizzo
29. Heaven/Help – CHVRCHES
30. Heaven Can Wait – Dean Martin
31. Just Like Heaven – The Cure
32. Cheek to Cheek – Elle Fitzgerald, Louis Armstrong
33. Knockin' On Heaven's Door – Guns N' Roses
34. Heaven Knows – The Pretty Reckless
35. Too Much Heaven – Bee Gees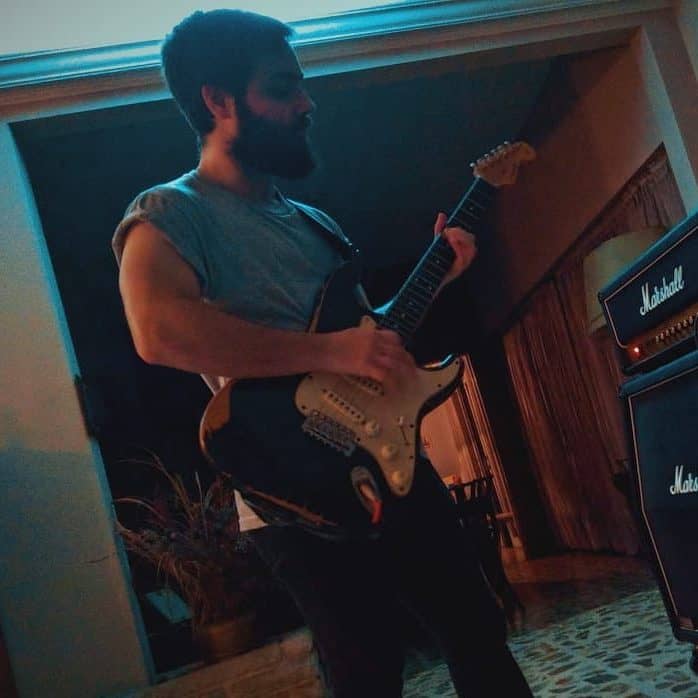 Hello there, my name is Ramiro and I've been playing guitar for almost 20 years. I'm obsessed with everything gear-related and I thought it might be worth sharing it. From guitars, pedals, amps, and synths to studio gear and production tips, I hope you find what I post here useful, and I'll try my best to keep it entertaining also.