Friends are the family we choose for ourselves.
They make life bearable when it gets difficult and they are often the people we go to when we want to share our successes.
As such, there are a number of songs about friendship that perfectly embody the people that matter to us.
Here is a list of 25 that do just that:
1. That's What Friends Are For – Dionne Warnick, Elton John, Gladys Knight, Stevie Wonder
If you're going to have a list of friendship songs, this one is always going to top the list.
The song is slow, but my goodness does it hit just right.
The names of the singers should be enough to garner reverence, but then you hear the harmonica start and when each person gets their turn at the mic…it's magical.
2. You've Got A Friend In Me – Randy Newman
Another strong contender for the top spot on this list, Toy Story changed the way movies were animated almost 25 years ago.
Randy Newman's voice is unmistakable and his talk-singing style fits perfectly with an already memorable movie.
3. You're My Best Friend – Queen
Yeah, there are a bunch of high-quality, famous songs about friendship.
Queen's song really sticks true to form and almost gives shivers with their famous vocalizations.
If you're feeling a little out-of-sorts with a friend of yours, send this their way and it'll clear everything up.
4. Lean On Me – Bill Withers
An older classic, this song is more recognizable now with the slightly older generation.
But that doesn't make its message any less relevant. We all need somebody to lean on.
5. With A Little Help With My Friends – The Beatles
You know it's a solid list when one of The Beatles' best works is fifth.
Also about getting help from friends, this song has been redone a couple of times but this version stands out as the best one hands down.
6. Thank You For Being A Friend – Andrew Gold
The name really says it all.
Andrew Gold's upbeat piano is met with sleigh bells, really giving it a holiday vibe but the message, once again, is without question.
Gratefulness towards our friends is a marquee takeaway.
7. All My Friends – LCD Soundsystem
This 7-minute endeavor is a full-out appreciation post about how things get better with their friends around.
If that isn't worthy of this list then I'm not sure what is.
8. Stand By Me – Ben E. King
There are simply too many famous songs to tier this list correctly.
All of these songs are good.
If you haven't heard this song you've been living under a rock because my goodness it hits just right.
This song is more about having your friends stand by you rather than be leaned on, which is a nice differentiation.
9. Wind Beneath My Wings – Bette Midler
I can fly higher than an eagle.
Bette Midler pumped this classic out ages ago and, like the Beatles, she still has the best version to date.
In case it wasn't clear, the support from her friends is the wind beneath her wings.
10. Real Friends – Kanye West
Life of Pablo may have been some of Kanye's last great work (I leave that open to discussion).
But Real Friends takes a more in-depth look at what friendship means and what real friends do for each other.
11. Umbrella – Rihana
This song was a bop from day 1, but then.
Tom Holland ate it up at a lip-sync battle and now even more people know Rihanna's great works.
When the sun shines we shine together, told you I'll be here forever.
12. My Best Friend – Weezer
"When everything is wrong, I'll talk to you", and "you are a blessing".
The goddamn chorus is "you're my best friend and I love you".
I don't know how else to explain how this song belongs on this list.
13. I'll Be There – Jackson 5
A very young MJ (may he rest in peace) puts this classic to work with his already amazing vocals at such a young age.
Another example of a well-covered song, we think this one is the best version around.
What do you think?
14. Friends In Low Places – Garth Brooks
Yes, even country singers have friends.
Garth Brooks' song represents one of the few that breach country music as a genre and becomes famous for simply being a good song.
15. Friendship – Chris Stapleton
Chris Stapleton's voice is so smooth it could slice through steel.
This song is about reaching out to your friends to make sure they're taken care of as well because we love and appreciate them.
16. Graduation – Vitamin C
This song was huge about 20 years ago. If you skip to 1:10 in the song you'll understand why.
This melody has been used a few other times over the years and is probably the epitome of a song nobody knows the words to until the chorus.
17. Friends – The Beach Boys
Of course, The Beach Boys have something to say about friendship.
Helping each other get by and knowing you are well, all in that Beach Boys semi-harmonic, higher-key singing we've grown so accustomed to from them.
18. I'll Be There For You – The Rembrandts
So no one told you life was gonna be this way * * * * (you can't not clap).
This already-catchy song was pushed up to super-stardom from "Friends".
The song itself is about being there for each other, and the show… well you know what the show is about.
19. My Old Friend – Tim McGraw
In another country music entry, Tim McGraw says the words we'd all say to our friends at any time – that we wouldn't trade anything for our friendship.
20. Anytime You Need a Friend – Mariah Carey
An older Mariah song, Mariah really digs into her vocals and lets her friends know that no matter what, if you need her she will be there for you.
Pair that with the gospel-like backup vocals and you've got something incredible.
21. I'm Only Me When I'm With You – Taylor Swift
Taylor Swift is no exception to friendship (except if it's from Kanye).
If you like Taylor Swift's music, you're going to like this song.
22. Friends – Elton John
Elton breaches the list a second time with another slow song, but this one is deep and feels a different way from before.
This son is more of a look back on friendships made along the way, as opposed to…well, what friends are for.
23. We're Going To Be Friends – The White Stripes
This is one of the most innocent songs on this list, which given the company of artists here is shocking.
If you haven't heard his tune, it's a simple guitar riff with lyrics about spending time together and realizing your friendship is going to be a good one.
24. My Friends – Red Hot Chilli Peppers
The Red Hot Chilli Peppers go right for the heart in this song and talk about how difficult it is when you're on your own and don't know.
But with friends in your life, you can have a semblance of balance that you wouldn't get otherwise.
25. Friend like me – Robin Williams
The only reason this song is last is that it's so good; you have to close out strong with a list like this.
Robin Williams (may he rest in peace) gave us everything in his performance as Genie.
So much so, in fact, there there are dozens of additional takes Robin did in the movie that never made the final cut.
Regardless, this song is excellent and untouchable (sorry Will Smith, you did your best though.)
In Conclusion
Doesn't matter what artist, what music genre, or what time period the song comes from, everyone has something to say about friendship.
It's such a universally understood concept that it can be discussed from not only tons of places, but tons of different angles: new friendship, appreciated friendship, shared friendship, and what friendship means…there's just so much to explore.
When you get enough songs about an idea like this, obviously there are going to be artists and songs that rise to the top of the lists.
This list should be a good benchmark for new songs to come and compare to when friendship is sung about again.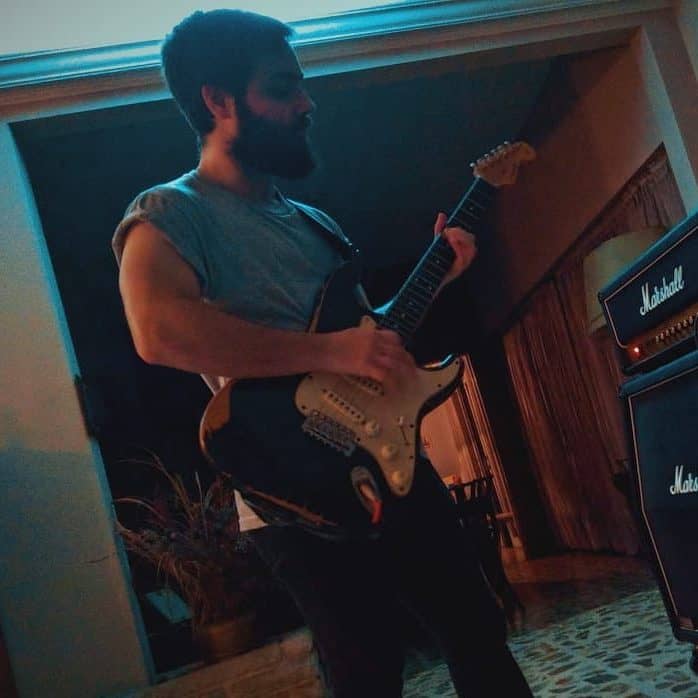 Hello there, my name is Ramiro and I've been playing guitar for almost 20 years. I'm obsessed with everything gear-related and I thought it might be worth sharing it. From guitars, pedals, amps, and synths to studio gear and production tips, I hope you find what I post here useful, and I'll try my best to keep it entertaining also.