When we think about snakes, we often think of either the slithery serpent or an untrustworthy person.
Many songs have been written about reptiles, often with metaphorical meanings and interesting ideas from musicians.
Sometimes these songs illustrate betrayal or difficult situations the singer went through, and other times snakes are used as a sexual metaphor or comedic device.
Either way, below are the best songs about snakes you'll find, from pop to rock to blues, the list is wide so enjoy the variety.
1. Snakes – Pixies
In this song, the Pixies warn about snakes coming to your town and when they do: there will be nothing we can do when the rattle shakes.
The lyrical meaning is pretty wide open for interpretation, as is with most Pixies songs.
The music video is even more bizarre than the music itself. I won't spoil it for you if you're into song music videos, but needless to say, it only leaves more questions about the song than answers.
The Pixies came up with this song in the studio while recording EP2
The song was released back in 2014 on the Indie Cindy album
2. There's No Such Thing As a Jaggy Snake – Biffy Clyro
Biffy Clyro is a pretty underrated band by most standards and if you haven't heard of them before, I recommend you check out their other music too if you're into indie rock.
Released in 2004, off the album "Infinity Land."
The song uses changing time signatures and angular guitar riffs while also including everything in it that makes Biffy Clyro who they are.
Many fans consider this song to be their quintessential song because of this.
The song doesn't follow a conventional verse-chorus structure. It rather contains several distinguishable sections with recurring motifs.
3. Snake Charmer – Blink 182
Blink 182 writes something a little trippier than their usual songs here but it's considered a hit among fans.
The song is about falling for a girl who toys with your feelings and makes you chase her.
The song references sin and Adam and Eve in the chorus, which I suppose also plays as a contrast to the imagery of a snake.
Snake Charmer is off the neighborhoods album, released in 2011
Snake charmer was based around a riff that Tom DeLonge had come up with before the band's hiatus according to Mark Hoppus
4. Raised by Snakes – Telex
A bit more of a retro electronic feel- Raised by Snakes actually mentions snakes as a theme far more heavily than some of the other songs on this list.
The bassline and electronic melody give a very 80's feel to the song, almost reminiscent of the Ghost Buster's theme song.
It might not be everyone's cup of tea, but it's a song about snakes and that's why you're here. Give it a listen.
5. Big Snake – Lloyd Cole and The Commotions
"Big Snake" reminds me a lot of Duran Duran in the way that it opens as well as Lloyd Cole's vocal style being similar. This would make sense considering the time of its release.
Big Snake was recorded in 1987 off their album "Mainstream."
The album as a whole didn't do as well as their other ones and the band decided that after releasing the album that they would break up and come to the end of their career together.
6. Snakes – Papa Roach
Papa roach uses the idea of snakes as more of a metaphor for backbiters and jealous people in this song.
Opening up with a loud and in-your-face guitar intro, the song sounds about the same as most other Papa Roach songs, but it's still considered pretty good by most fans.
The song discusses someone who stole from lead singer Jacoby Shaddix or screwed him over, stabbing him in the back.
Shaddix extends the metaphor of a "snake in the grass" throughout the whole song, ending off by transitioning into pure screaming vocals.
"Snakes" is the 8th song off the Infest album, which was their first major label release and is still their most popular album by far.
7. Snakebite – Alice Cooper
Snakebite is a song off of Alice Cooper's album "Hey Stoopid," which was his solo twelfth studio album, released on July 2, 1991, by Epic Records.
Alice Cooper has been dubbed the father of shock rock due to his stage performances along with the imagery in most of his songs.
With a raspy and rough voice, he brings his characteristic sound to this song too.
8. Snake Eyes – Alan Parsons Project
The British pop/ progressive rock band The Alan Parsons Project work to create a beautiful and catchy song here, using "snake eyes" as a poetic device to describe a person with a gambling addiction.
It gives the first-person perspective of the addict, who keeps telling himself that if he wins one more time, he'll take his winnings and leave the casino.
Sadly, it never ends for him.
Snake eyes is a throw of two ones with a pair of dice, and is used throughout the song and usually pertains to bad luck in gambling.
The song actually uses this as a joke, because snake eyes are a loss and in the following lyrics "seven, eleven" would cause you to lose if it comes up in the throw of the dice.
Essentially the song is about betting on something you can't win.
9. Inject the Venom – AC/DC
Inject the Venom was released in 1981 off the album "For Those About To Rock." The song is open to a lot of interpretation and sports the band's unique sound throughout the song.
With a big, crunchy guitar opening along with the way they sing the chorus, this song might not be well-known, but it's definitely an AC/DC banger.
At first glance, this song relates injecting venom from snakes to being a retaliation to the wicked, but some speculate that the song, like many AC/DC songs, is sexually charged.
When reading the lyrics about "sticking it in" it does start to seem that way. Just a fun fact. Either it's about retribution or about injecting your "venom" mercilessly into someone.
10. Here Comes the Snake – Cherry Poppin' Daddies
A Eugene, Oregan-based ska-swing band, Cherry Poppin' Daddies may have a weird name, but they're pretty catchy.
This song uses snakes as a euphemistic metaphor for a man's genitals.
The song sings about giving a girl what she's been wanting, and helping her get over heartbreak from before.
Essentially, it seems to be about remedying heartbreak with the singer's "snake."
A bit of a tongue-in-cheek reference, but the brass riff in the song really carries the whole thing along.
The band was known for delving into a number of genres during their time in music (1980-2010), from pop to rock to retro swing, they really did a lot.
11. Anaconda – Nicki Minaj
Released on August 4, 2014, is the second single from Nicki Minaj's third studio album, The Pinkprint.
The song received critical acclaim in the western hemisphere, reaching high on a number of charts throughout the world.
The song was considered somewhat controversial at the time and you've no doubt heard this song at least once before, but did you know that it's in essence a response song of sorts?
Minaj sampled much of the song from Sir Mix-a-Lot's "Baby Got Back" which we all know for the phrase "I like big butts and I cannot lie."
Minaj took the message from this song and wrote "Anaconda" as a response from the perspective of the women being sung about.
Using lyrics to refer to men as sexual objects that are just used for financial gain or for gifts.
In a lot of ways, this song has been said to encourage prostitution along with drug use and the over-sexualization of the female figure.
There's a lot I can say about this song, but I think we'll stop at saying it's a song that refers to a snake.
12. Snakes – No Doubt
Snakes was released in 1995, with a punk/alternative rock sound so common to that time, the song has a lot of lyrical ideas centered around snakes and deception.
The song references snakes being charmed by flutes as a sort of double metaphor, first making out that people are being charmed by deception and then later mentioning snakes and poison. I think it's a very politically charged song, where the Government are snakes "causing wars."
No Doubt is a band that was led by Gwen Stefani, and while many know the name, I bet many didn't know that she had her roots in early nineties rock.
You'll note that this song sounds very different compared to later songs from the band, particularly the third album.
That's because after the second album, the main songwriter for the band, Eric Stefani, left the band and they had to replace his style.
Gwen took up the job of writing the songs and so the sound of the band changed a lot after.
13. Get on the Snake – Soundgarden
Another song with a more deep idea to it than just using snakes as a metaphor for sexual innuendo.
Get on the Snake is a song about the highway, getting on it, and riding your motorcycle to freedom.
The song talks about "Cola colored skies," which have been understood by some as either a beautiful sunset or a reference to air pollution.
Some facts:
The song is an ode to the days when Soundgarden was just starting out, traveling from gig to gig in their beat-up van.
The band uses a really weird time signature in this song: 9/4. The band's guitarist Kim Thayil said "you can't dance to it, but it sort of sneaks up on you."
Christ Cornell added the music to the song, but Thayil wrote the music for the song.
14. Spiders and Snakes – Jim Stafford
Spiders and Snakes is a 1974 song recorded and written by Jim Stafford.
The song begins with a narrator asked by a girl, to walk her home from school, which he accepts.
The girl suggests they spend some time alone together, and the narrator takes her to go swimming.
The song plays out in a fashion typical to its time, with its country and rock feel, it makes for a catchy listen.
It's not everyone's cup of tea though and I think the guitar riff allows it to be a good background song to "boogie" to on a Sunday morning.
It was the second of four U.S. Top 40 singles released from his debut album and also the highest charting at number three.
The lyrics in the verse are spoken and only the chorus is sung.
15. Snake Eyes and Sissies – Marilyn Manson
Released on July 19, 1994, "Snake Eyes and Sissies" is the eleventh track on the 1994 album "Portrait of an American Family."
The song is pretty dark in its lyrical content and it only mentions snakes once around the end.
Some trivia:
The backmasked sampled quote at the beginning of the song "Killing is killing, whether done for duty, profit or fun.." is from Richard Ramirez, the Night Stalker.
The song's working title was "Snakeyes and Boxcars"
There are lyrics missing from the booklet. Right before the "Pedophile dream", you can hear quiet singing with the lyrics, "I was prophesized by Shangri-las…"
16. Attacked by Snakes – The Aquabats
A song that starts with a very middle-eastern sound.
The Aquabats just sound weird.
That's about all I can say about this song, is that it's weird. If that's your thing, you'll love it and while I can't say it's a bad song, it's definitely different from every other song on this list.
The Aquabats started out as something of a comical ska band, but later experimented with their sound and have since become more of a rock band.
Mixing in elements of punk, pop, and electronic music too, they often use their music as a means to sing about stories of themselves as crime-fighters.
This also plays into their stage performances, which are usually theatrical, featuring staged fights.
They also had a TV show: "The Aquabats! Super Show!," a live-action musical action-comedy series that aired from 2012-2014.
The series was revived in 2019 as a Biweekly Youtube series.
17. Snake – Lil Keed
This is one of Lil Keed's biggest hit songs since it became viral on TikTok. It's the 9th song on his debut album "Long Live Mexico."
Lil Keed's life was cut short at 24 around May 2022, and currently, there's no report on his cause of death.
It's a bit sad that his music became more popular after his death, but that tends to be the case with most musicians because their death becomes a hot story.
Regardless of that, this is a song that heavily references snakes, the entire chorus is just the word "snake."
19. Snake Man – The Doobie Brothers
The Doobie Brothers remind me a lot of the Bee Gees in their sound.
That's just my feeling from them, I think it has a lot to do with their look.
Their music is something of a mixture between 60's disco and country, and snake man leans a bit more toward the country and blues style of songs.
The song is about being chased by a snake man, but the narrator seems to be at their home in the song.
It's a pretty short song as far as lyrics go and I think it's not a very deep song, but it's kind of enjoyable if you don't listen too hard to what's being said.
21. Crawling King Snake – The Doors
This song is really a song from The Doors themselves.
It's been covered by many artists and it's believed to have originated as a Delta blues in the 1920s and is related to earlier songs, such as "Black Snake Blues."
In 1971, the Doors recorded an adaptation of "Crawling King Snake" with band drummer John Desmore recalling the group often listening to the song during their early years.
Jim Morrison eventually suggested they record the song, which they did for their sixth album, L.A. Woman.
You might have a lot of fun and look back through history at the different bands that covered this song, some include:
Big Joe Williams, who sang the original in 1941
John Lee Hooker
Tony Hollins
The Black Keys released a single in 2021
Junior Kimbrough
10 More Songs About Snakes
| | |
| --- | --- |
| Title | Artist |
| Black Snake | John Lee Hooker |
| Snake Mountain Blues | Townes Van Zandt |
| Black Snake | John Lee Hooker |
| Tube Snake Boogie | ZZ Top |
| Union of the Snake | Duran Duran |
| Slither | Velvet Revolver |
| The Snakepit | The Cure |
| Baby Snakes | Frank Zappa |
| Snake Eye | AC/DC |
| And the Snakes Start to Sing | Bring Me the Horizon |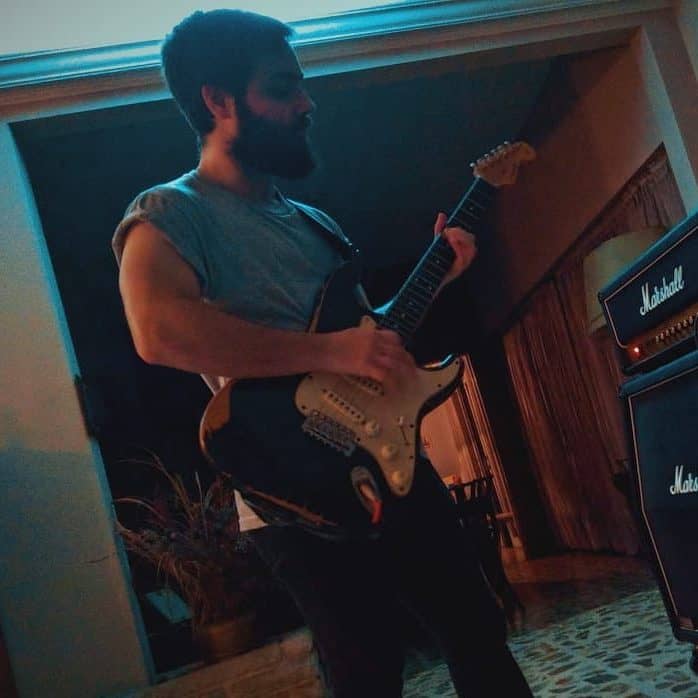 Hello there, my name is Ramiro and I've been playing guitar for almost 20 years. I'm obsessed with everything gear-related and I thought it might be worth sharing it. From guitars, pedals, amps, and synths to studio gear and production tips, I hope you find what I post here useful, and I'll try my best to keep it entertaining also.