Unexpected twists and turns in life are rather common. As a result, plenty of musicians decided to narrate their feelings about them in songs.
From love stories that celebrate the unexpected joys of romance to upbeat anthems that encourage listeners to embrace the unexpected.
Whether it's a sudden burst of inspiration or a life-changing event that takes us by surprise, these songs capture the excitement and energy of life's unexpected moments.
Here you'll find 21 songs about surprises (and the lack of them, too!)
1. No Surprize – Aerosmith
The opening track to the sixth studio album Night in the Ruts.
The song narrates the many wild adventures lived by the band since their early beginnings in the Max's Kansas City in New York, more precisely, the show that got them a record deal.
2. No Surprises – Radiohead
Quite a shock watching the music video, which suits both the title and the list's topic.
According to bass player Colin Greenworld, No Surprises is a "stadium-friendly" song to relax the audience and make them feel comfortable.
This fact is more noticeable after listening to the previous, unnerving track Climbing Up The Walls in the 1997 album OK Computer.
On the other hand, singer Thom Yorke says that if the song is played right on a live performance, it will sound "fucking dark." Instead, the band prefers to play it slower.
3. A Wonderful Surprise – The Downtown Fiction
Next Valentine's day, make sure to share this song with your crush or significant other.
The singer proudly states that every time he looks inside the eyes of the woman he loves, he receives a "wonderful surprise"
4. The Surprise Knock – The New Pornographers
This Indie song is about unpredicted visitors that arrive with pleasant presents.
The Surprise Knock is a rather energetic and upbeat creation that will immediately hook anyone.
5. Surprise, Surprise – The Rolling Stones
The first studio albums by The Rolling Stones were characterized for having lots of versions.
In reality, there were more covers than original songs.
Surprise, Surprise, however, is a pleasant exception, since it's written by Jagger/Richards.
It's the last track on the Stones' third studio album (in the USA) called The Rolling Stones, Now!
For many, it's considered one of the wildest and strongest early releases of the band.
6. Charlie's Inferno – That Handsome Devil
Charlie's Inferno is a song about a guy called Charlie.
He went to church every Sunday, had an easy life, and never did any wrong to anyone.
Unfortunately, he passes away because of a heart attack.
When he reaches Heaven, though, he finds an unpleasant surprise: He's not allowed to enter.
Charlie believes there's a mistake of some kind, as he reaches the gates of Hell.
I encourage you to check this sad but funny fan-made video.
7. Fortune Teller – Benny Spellman
A man goes to the fortune teller and asks what his future holds.
The woman explains that the next woman he meets will be love at first sight. The man, then, returns excitedly home.
Sadly, no girl appeared whatsoever. He didn't find true love, and his heart sank.
The angry man returns to the fortune teller to ask for his money back, but surprise! The man falls in love with the fortune teller.
8. Whorehouse Blues – Motörhead
Whorehouse Blues is a bit about everything. It narrates certain adventures that Lemmy and company had throughout the thirty years on the road.
As one of the verses says, "And you know, life's full of surprises…"
Indeed, life's packed with them, both pleasant and unpleasant.
9. She Likes Surprises – Soundgarden
The last track of the Superunknown album that appears only on the LP edition and international CD.
A relatively strange song that presents a continuous guitar bending throughout the verse together with another guitar playing a series of chords.
This combination makes it a weirdly happy song until the chorus arrives and it becomes another excellent grunge song.
If you have never heard of this one, give it a try. It will probably surprise you.
10. Surprise Me – SWV
The R&B American trio released Surprise Me in the 1999 Greatest Hits collection.
It's a soft and easy-to-listen song. It might be a fantastic idea to choose this one after having a hard day at work.
11. Every Rose Has Its Thorn – Poison
When singer Bret Michaels discovered that his girlfriend was cheating on him, his heart was broken.
Every Rose Has Its Thorn shares an unpleasant surprise, but one that was needed.
But you have the last word. Is it best to live a comfortable lie or a hard-to-grasp truth?
12. What A Surprise – Neil Sedaka
After spending one of the most memorable nights in his life, Neil Sedaka still can't believe that the woman of his dreams is standing in front of there and preparing breakfast.
Congratulations Neil!
13. Surprises – Billy Joel
Billy Joel wrote this song as a result of an unpleasant surprise.
In 1982, the American singer underwent a motorcycle accident.
Although he didn't suffer from severe wounds in the head or body, his hands needed surgery.
Joel panicked. He didn't know whether he would be able to play piano again after the intervention.
It's said that in every obstacle lies an opportunity. So, Billy Joel wrote this song, which narrates the unpredictability of the world.
In his own words: "You don't think something like that is going to happen to you and it does happen to you"
14. Sister Surprise – Gary Numan
15. Surprise Valley – Widespread Panic
16. Shanghai Surprise – George Harrison
17. Beautiful Surprise – Tamia
18. No Surprises – Luka Bloom
19. No Surprise – Daughtry
20. Certain Surprise – John Martyn
21. It Took Me By Surprise – Maria Mena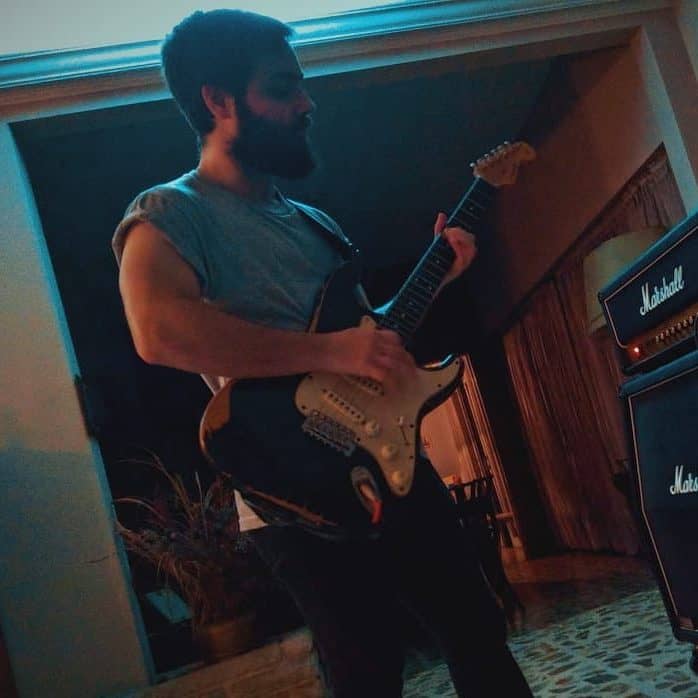 Hello there, my name is Ramiro and I've been playing guitar for almost 20 years. I'm obsessed with everything gear-related and I thought it might be worth sharing it. From guitars, pedals, amps, and synths to studio gear and production tips, I hope you find what I post here useful, and I'll try my best to keep it entertaining also.