Just like any other emotion, sadness has various useful purposes.
It's a way of signaling to others that we're in need of help. Not to mention, it's also the way our body and mind tell us to slow down and recover energy.
Sure, even if you know sadness is useful, that doesn't mean you're going to enjoy it more.
Nonetheless, what does make the gloomy moment less terrible is a handful of sad songs to make you company.
Next time you're drowning in your own tears, pick some of the songs on this list and your hard-to-swallow experience will not feel so cruel.
1. I'm So Lonesome I Could Cry – Hank Williams
The King of Rock N' Roll himself described it as "probably the saddest song I've ever heard." So naturally, this couldn't be missing from the list.
Ever since its release in 1949, it has been versioned by plenty of artists, like Volbeat, Amy Lee, Jerry Lee Lewis, and the already-mentioned Elvis Presley.
2. Nutshell – Alice In Chains
Nutshell contained a foreshadowing message that only made sense after the tragic loss of singer Layne Staley.
The lyrics depict the desolation the singer was experiencing, and that if it continue that way, he would rather be dead. Indeed, Staley died of an overdose in 2002.
3. Yesterday – The Beatles
The passing of time affects us all in one way or another.
Yesterday is a bitter longing for the good days of our youth and childhood when we were free of troubles.
4. Hurt – Johnny Cash
Initially written by Trent Reznor and published on Nine Inch Nail's album The Downward Spiral.
In American IV, producer Rick Rubin pushed Cash to make a version of Hurt. Cash wasn't sure about it but accepted the proposal in the end.
It's sad enough listening to an old Johnny sing about sorrow and loneliness. It's even sadder, though, when we watch the music video and see the fragility in his eyes.
5. Every Rose Has Its Thorn – Poison
Frontman Bret Michaels wrote this power ballad after finding out his loved one was cheating on him.
The simile is quite transparent: the woman was beautiful as a rose but had a painful thorn; only felt after getting too close.
6. My December – Linkin Park
My December is a bonus track on the special edition of Hybrid Theory.
Written by Mike Shinoda, it narrates the yearning for returning home during tours.
While the lyrics are bitter and wistful, is the melancholic melody of the piano and the hazy drum beat the ones that make My December one of the saddest Linkin Park songs.
7. The Day I Left The Womb – Escape The Fate
The story of a child who was abandoned by his mother. On top of that, his brother found himself deeply into drug abuse.
The song is about the hardships of being raised in a dysfunctional home. And to make it more dismal still, it's an autobiographical story.
8. Every Day Is Exactly The Same – Nine Inch Nails
Living a lifeless routine where nothing exciting ever happens is soul-consuming.
That emotion (or lack of it) is expressed in this song from the 2005 album With Teeth.
Although the feeling that appears on the surface is apathy, deep down lies the putrid root of sadness.
9. Snuff – Slipknot
When All Hope Is Gone came out in 2008, people were surprised by this musical masterpiece.
It was not the first time Slipknot did a sad, acoustic song (listen to Vermilion, PT. 2 from the previous album).
However, it was probably the first time fans of every music genre agreed on how great this song was, whether it came from a metal band or not.
10. Solitude – Black Sabbath
Master of Reality is a heavy album with a somber sound and dreary lyrics.
It also contains the saddest Sabbath song ever written (either this one or Changes, you have the final word).
11. Exhausted – Foo Fighters
Foo Fighters' debut album is packed with energy and raw guitar riffs.
It's quite a contrast to discover that the final track is such a gloomy and depressed one.
12. Hyacinth House – The Doors
In this song from LA Woman, singer Jim Morrison expresses his loneliness and sadness, yearning to find a person to whom he can be himself.
13. July – Katatonia
July is about being abandoned by a loved one. What's more, it focuses on the helplessness of facing the emotions that come after a breakup.
In the chorus, we notice a taint of resentment and anger toward the ex-partner, as if shouting to the sky "why have you left me?"
14. Don't Know What You Got (Til It's Gone) – Cinderella
A power ballad that portrays an unhappy reality: you appreciate the things you have in your life once you've lost them.
Of course, you can always avoid this regret and be thankful for what you have before it's too late. What are you grateful for?
15. I Ain't No Nice Guy – Motörhead
Sometimes, a realization hits us hard as a rock and brings us to the ground.
This Motörhead track coming from the album March or Die is about that discovery: one night it dawns on us that we are not as good of a person as we thought we were.
Shame and guilt may crawl up our spine during that night, but we must understand that this event is just the first step to a drastic improvement.
16. The Devil's Back – The Pretty Reckless
17. I Don't Love You – My Chemical Romance
18. Alien – The Interrupters
19. Blue – Joni Mitchell
20. Crying – Roy Orbison
21. Back To Black – Amy Winehouse
22. Creep – Stone Temple Pilots
23. Tears In Heaven – Eric Clapton
24. I Know It's Over – The Smith
25. The River – Bruce Springsteen
26. So Far Away – Avenged Sevenfold
27. The Crying Game – Dave Berry
28. Cowboy Like Me – Taylor Swift
29. Landslide – Fleetwood Mac
30. Try Sleeping With A Broken Heart – Alicia Keys
31. My Heart Will Go On – Céline Dion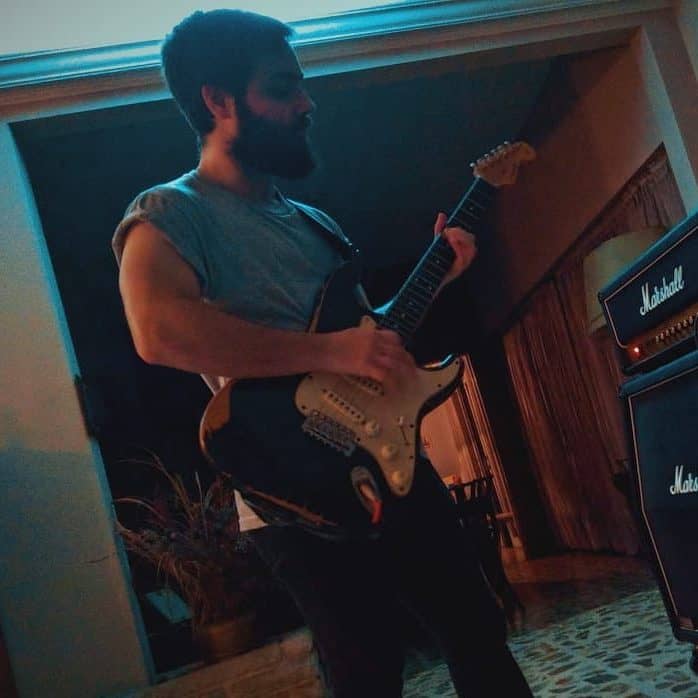 Hello there, my name is Ramiro and I've been playing guitar for almost 20 years. I'm obsessed with everything gear-related and I thought it might be worth sharing it. From guitars, pedals, amps, and synths to studio gear and production tips, I hope you find what I post here useful, and I'll try my best to keep it entertaining also.