For centuries, even millenniums, humankind has struggled with the passing of time and unavoidable death.
Some may fear it, some may yearn for it.
But one thing is for sure: no living person has been unaffected by this reality.
The most interesting aspect related to the afterlife, though, is how much of an inspiration fuel is for artists.
Novels, paintings, sculptures, and poems. Thousands of pieces have been ironically born as a result of death.
But we're not here to chat about museum paintings or gothic literature. We are here for the music.
Check this list with the best songs about death… while you're still alive…
1. The Show Must Go On – Queen
When the main topic is dying, this song might be one of the first that comes to your mind.
Released in 1991 and included in the fourteenth Queen studio album Innuendo, this amazing, memorable piece is about Freddy's look toward life and was written while Mercury was dying because of AIDS.
The title of the song conveys a deep meaning, with the lead singer continuing to perform despite he was getting worse and worse.
Besides, it makes the listener feel the loss, as it was part of the band's last record.
2. Fade to Black – Metallica
This power ballad has the structure Metallica has accustomed us throughout the years, an acoustic, slow, and mellow intro followed by emotive lyrics and distorted electric guitars.
It was released in 1984 in the album Ride The Lighting, goes on the theme of death and tells the story of a man who commits suicide
The members of the group were obsessed with the idea of death and that inspired the topic of this song and the whole album.
What is more, at that time equipment of the band was stolen: a drum kit and a custom amp that had been a gift from Hetfield's deceased mother.
3. Under The Graveyard – Ozzy Osbourne 
Ozzy Osbourne said that 2019 was the toughest and most painful year of his life, due to various medical interventions.
In 2020, the Prince of Darkness released his 12th studio album Ordinary Man, where the song that makes it on the list comes from.
Naturally, it's about the loneliness that we'll experience when we make it to our graves.
4. Killed By Death – Motörhead 
Lemmy Kilmister escapes death itself in this goofy but badass music video.
It seems that not even Death has been able to get rid of Kilmister's misbehaviors.
5. If I Die Tomorrow – Mötley Crüe 
Some Mötley Crüe members have had near-death experiences.
The most unbelievable story is the one from bassist Nikki Sixx who was officially dead after a heroin overdose but revived when injected with two adrenaline doses by a paramedic. 
6. Wake Me Up When September Ends – Green Day
The 2005 album American Idiot was probably the record that brought most of Green Day's popularity and this track is part of it.
Lots of memes have been made after this track but the truth is that the song carries a deep and sad meaning.
Wake Me Up When September Ends is about Armstrong's father, who died of severe esophagus cancer.
In the lead singer's words, this is one of the most autobiographical he has written and at times very difficult to play due to the themes it touches.
7. Afterlife – Avenged Sevenfold 
Let's suppose that, somehow, you discover Death is coming to you in a matter of seconds.
There is no way of running away from your destiny. You'll die no matter what.
In that case, what would you do?
Would you be grateful for what you've experienced? Would you protest and beg for more time?
Afterlife by Avenged Sevenfold is an example of the latter case.
In this classic, we find a person who can't accept her fate and tries to escape the great beyond.
8. A Tout Le Monde – Megadeth 
A list titled "Best Songs About Death" couldn't leave out a song from a band with death on its title.
On top of that, Dave Mustaine has composed more than one song where death makes its presence.
However, A Tout Le Monde stands out the most because of the vulnerability that comes when reflecting on mortality.
9. Tears In Heaven – Eric Clapton 
Eric Clapton had the disgraceful experience of losing a son.
He tried to mitigate his pain by writing Tears In Heaven, which has since become one of Clapton's classics.
This is not a rock song, but he is a rock legend.
10. Check Your Head – Buckcherry 
The focal lesson in Buckcherry's Check Your Head is how little problems matter when compared to losing a loved one.
The singer expresses he has lost some friends at a very young age. Thus, daily troubles such as paying bills end up being meaningless.
Instead, one must be happy with nothing but the present moment.
11. Hallowed Be Thy Name – Iron Maiden 
The final track on Iron Maiden's The Number of The Beast tells a lurid tale of a man being led to the gallows pole.
As he creeps toward the ending, the man meditates on his unfortunate fate, wondering why God would let him die if it even exists at all.
One of the most gooseflesh moments is the final verse where the man takes a last look at the world:
"When you know that your time is close at hand / Maybe then you'll begin to understand / Life down here is just a strange illusion"  
12. (Don't Fear) The Reaper – Blue Öyster Cult
The title of this track is straightforward and leaves no room for speculation.
Released in 1976 by this psychedelic rock band, the piece was part of the album Agents Of Fortune.

It was thought that the song was about suicide, but it focuses on the inevitability of mortality and encourages listeners not to fear it.
Songwriter Dharma reportedly created the lyrics while contemplating the possibility of an untimely death at a young age and reuniting with loved ones in the afterlife.
13. There Is a Light That Never Goes Out – The Smiths
Following the line of Gibbard, the talented Morrissey found a way to love so hard even if that would result in his death.
This song was included in the album The Queen Is Dead and released in 1985.
The track narrates the story of a guy who is in a car in the front passenger seat, next to his lover.
The boy is so in love that he mentions that if they crash and die, it would be such a heavenly way to leave this life.
14. Condolences – Wednesday 13 
Condolences is an unsettling song that may suit a funeral of some kind.
The lyrics narrate a person crawling through the darkness, from this world to the afterlife. 
15. Angel of Death – Slayer 
World War II has left a huge, deep, and permanent scar on our history.
Angel of Death talks about the horrors experienced by Jewish people in the holocaust.
Because although death is a natural aspect of life, it turns into an injustice when done in mass by the hands of a group of people or a single person.
16. Dead! – My Chemical Romance 
17. Dead In Hollywood – Murderdolls 
18. Gone Away – The Offspring
19. (I Just) Died In Your Arms Tonight – Cutting Crew
20. When Death Calls – Black Sabbath 
21. Death Comes Ripping – The Misfits 
22. Pet Sematary – The Ramones 
23. Death By Rock N' Roll – The Pretty Reckless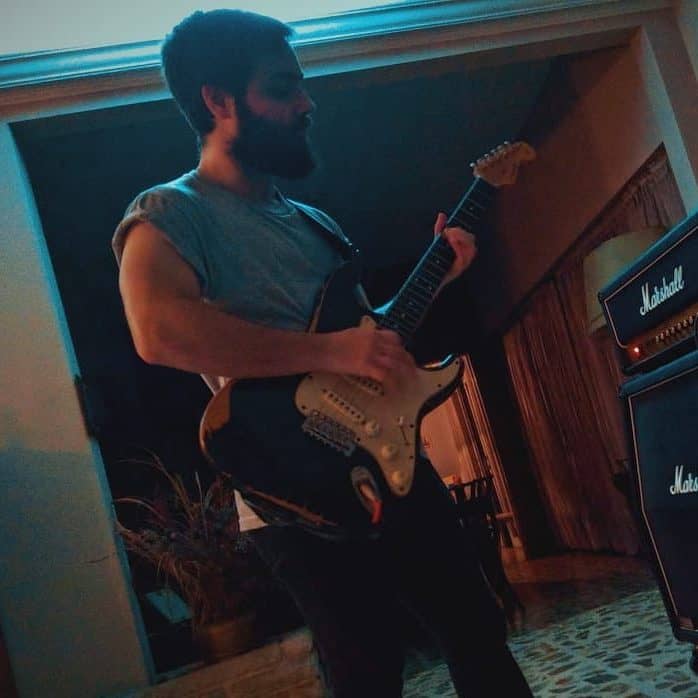 Hello there, my name is Ramiro and I've been playing guitar for almost 20 years. I'm obsessed with everything gear-related and I thought it might be worth sharing it. From guitars, pedals, amps, and synths to studio gear and production tips, I hope you find what I post here useful, and I'll try my best to keep it entertaining also.