Depending on where you live, you may pound the pavement every day or rarely walk more than a few steps between your car and your destination.
But walking has a lot of benefits and I don't just mean physical exercise and getting some fresh air either.
Many people like to take a walk to think something over or just clear their minds.
And if you find yourself in a heated argument, taking a walk to simmer down and reassess the situation is some of the best advice you can get.
There are also many interesting ways that walking is used metaphorically in the English language.
For example, if you can "talk the talk and walk the walk" you can prove that you can live by your own standards and advice.
Or you may have to "walk through fire" to achieve your goal even when life is tough.
And there are plenty of musicians who have tackled the subject from all sorts of angles, from fun dance songs to professions of undying love.
So let's check out some songs that will put a little pep in your step.
1. Fields of Gold – Sting
This beautiful song celebrates the beauty of the natural world as a young couple walks through fields of barley, making some memories along the way.
And it's full of romance as well, as Sting sings about how the memory of this tryst will come back whenever his lover sees the golden fields.
One of the later verses actually jumps forward to the future, confirming that his promises that she will remember this special time were true, although it's unclear if the man in the song is still alive by then.
Musically the song is soothing and Sting keeps his vocals subdued to match the mood, making this a perfect song for a relaxed date night with your own sweetheart.
Written by: Sting
Year Released: 1993
Album: Ten Summoner's Tales
2. Walking in My Shoes – Depeche Mode
This song is built around the idea that you should empathize and try to understand someone else's struggles before you admonish them.
The most common phrase is "walk a mile in someone else's shoes" and this was also the title of a song from 1970 by Joe South (also covered by Elvis Presley).
And in this song that Depeche Mode released as a single, Dave Gahan predicts that "You'll stumble in my footsteps (…) If you try walking in my shoes".
So if you're quick to criticize others, try to remember this song or at least the proverb that it preaches.
Written by: Martin Gore
Year Released: 1993
Album: Songs of Faith and Devotion
3. Walking to New Orleans – Fats Domino
With all of the conveniences of modern life, it can be easy to forget that not all that long ago, if you needed to get somewhere and you didn't have a horse (or a camel) then you were stuck with the heel-toe express.
And this song doesn't have any fancy metaphors going on; it's just a song about putting one foot in front of the other.
While it's an R&B song the lyrics definitely borrow some ideas from the Blues as Fats sings about wearing out his shoes on his long journey.
But there is an optimistic feel to the song as well, as he leaves behind an unhealthy relationship to return to his hometown.
Written by: Fats Domino, Bobby Charles, and Dave Bartholomew
Year Released: 1960
Album: Walking to New Orleans (single)
4. I'm Gonna Be (500 Miles) – The Proclaimers
This song may be cheesy, but its bouncy rhythm is infectious and it's undeniably one of the most famous songs about walking.
Lyrically it's a pretty straightforward love song about a man who is clearly dedicated to his lady. I might even say he is obsessed with her!
And he professes his devotion by singing that he would walk a thousand miles just to collapse at her door.
Written by: Charlie Reid and Craig Reid
Year Released: 1988
Album: Sunshine on Leith
5. These Boots Are Made for Walkin' – Nancy Sinatra
There's been a lot of discussion about "nepo babies" in the news lately (celebrities who are the children of celebrities) and there's no denying that Nancy Sinatra falls into that category.
But she was a great singer and when she teamed up with songwriter Lee Hazlewood, she released some of my favorite Pop songs of the 1960s such as Summer Wine and Some Velvet Morning, so I think she earned her fame.
And while Tammy Wynette sang about Stand by Your Man in the late 1960s, just a few years earlier Nancy Sinatra had something completely different in mind.
Because in this song, she warns her man that she's going to use her boots to walk all over him if he continues to be unfaithful. Hopefully, that's just a figure of speech!
Written by: Lee Hazlewood
Year Released: 1966 (single was released in 1965)
Album: Boots
6. Walk on By – Bryan Adams
7. Walk Like an Egyptian – The Bangles
8. Walkin' After Midnight – Patsy Cline
9. Walk On By – Isaac Hayes
10. They Walked in Line – Warsaw (Joy Division)
11. Atmosphere – Joy Division
12. Dead Man Walking – Jelly Roll
13. Walking on the Moon – The Police
14. Walk on Faith – Mike Reid
15. Walk Through This World with Me – George Jones
16. Jesus Walks – Kanye West
17. Walk on Water – Eminem feat. Beyoncé
18. When My Boy Walks Down the Street – The Magnetic Fields
19. To Walk the Night – Samhain
20. Walk – Pantera
21. I Walk the Line – Johnny Cash
22. The Walk – The Cure
23. Twenty-Five Miles – Edwin Starr
24. Walk of Life – Dire Straits
25. Walking My Baby Back Home – Nat King Cole
26. Walk This Way – Aerosmith
27. Walk – Foo Fighters
28. Walking on Broken Glass – Annie Lennox
29. Walking in Memphis – Marc Cohn
30. Fire Walk with Me – The Black Keys
31. Walking on Sunshine – Katrina and The Waves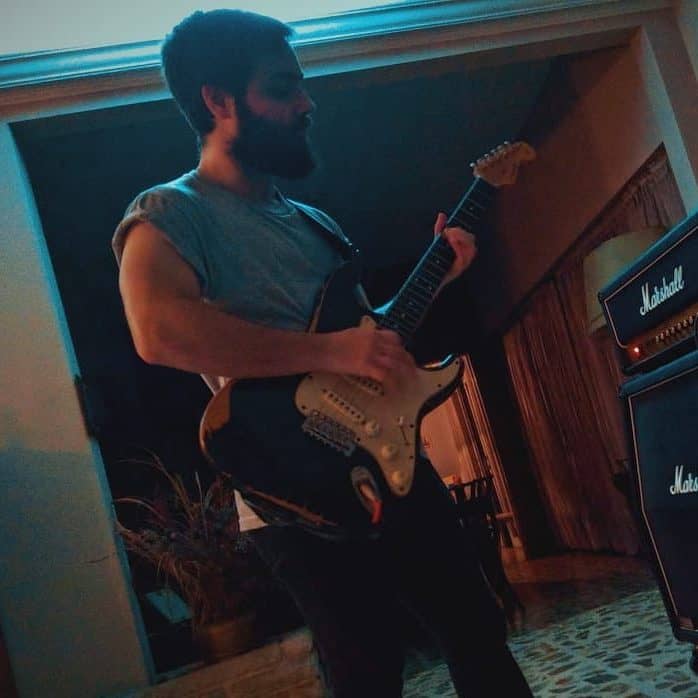 Hello there, my name is Ramiro and I've been playing guitar for almost 20 years. I'm obsessed with everything gear-related and I thought it might be worth sharing it. From guitars, pedals, amps, and synths to studio gear and production tips, I hope you find what I post here useful, and I'll try my best to keep it entertaining also.