Well, dads get a holiday each year, but what about the other 364 days in the year?
The rest of the days you're likely to hear comments like "OK Boomer", groans about dad jokes, classic songs being referred to as Dad Rock, etc.
And although some people never know their fathers, everyone has one and it's a relationship that some people don't think about much once they reach adulthood.
But today that's all going to change because we're going to check out some songs that deal with fathers.
And not just from the son or daughter's perspective but also from what it's like to be a dad because as some people know, it's a pretty big deal.
So whichever group you belong to there is sure to be something here that will encourage you to evaluate your own life and maybe even strengthen your relationship with your own father or kid(s).
1. I Learned from You – Hannah Montana (Miley Cyrus) feat. Billy Ray Cyrus
First of all, I want to say that I know that teenage Pop music is a huge industry with a lot of money behind it.
But just listen to this song! Could you sing like that when you were 13 years old?
As the song points out, a lot of Miley Cyrus's success is probably due to her father's influence and guidance in her life.
Because her father was also a Country music star in the 1990s and has done several duets with his daughter over the years.
And it's nice to hear that a young person appreciates what her father does for her, especially at an age when it's more common to feel alienated from anyone over the age of 19.
So although it can be easy to dismiss singers who were Disney child stars as "not real musicians", I have to admit Miley Cyrus has earned my respect over the years and maybe some of the credit is due to her father.
Written by: Matthew Gerard and Steve Diamond
Year Released: 2006
Album: Hannah Montana (OST)
2. New Life – Blind Melon
This is a Rock song from a father's point of view and deals with the impact that becoming a parent can have on a person.
And it was an autobiographical song by singer Shannon Hoon about finding out that his girlfriend was pregnant.
When you find out you're going to have the ultimate responsibility, it can really throw you for a loop.
And while the basic interpretation of new life is the birth of a baby, the singer wonders "When I'm looking into the eyes of our own baby, will it bring new life into me?"
It's a fair question and I think a lot of parents who have dealt with emotional issues in their own lives have probably felt the same way.
And in Shannon Hoon's case, all of his (and the band's) accomplishments such as having a hit song on the radio, touring the country, and playing to a gigantic crowd at Woodstock '94, don't prepare you for being a father!
Sadly he died a few months after the birth of his daughter, but I like to think that she has listened to this song at least a few times.
Written by: Blind Melon
Year Released: 1995
Album: Soup
3. First Man – Camila Cabello
If you have a daughter and are dreading the "empty nest" when your baby girl meets Mr. Right, just pray that your daughter is as thoughtful as the character in this song.
Because she knows how much she means to her dad and how much he worries about her.
And it's natural that fathers feel protective of their children and maybe even judge their daughter's boyfriends a little too harshly at first.
But instead of being annoyed at her father, she is understanding and knows that it all comes from a place of love.
And the title of the song comes from her way of comforting her father, by reassuring him that she knows that he was the first man to ever love her.
It's just a wholesome song about appreciating what your parents go through emotionally and all of the things they did for you when you were growing up.
Written by: Camila Cabello, Jordan Reynolds, and Amy Wadge
Year Released: 2019
Album: Romance
4. He Didn't Have to Be – Brad Paisley
Country music is king when it comes to composing songs about fathers or any family ties for that matter.
This song even tackles a situation that is very common but isn't written about that much in music: stepparents.
The lyrics are written like a story and tell of a young boy who gets invited along to the movies on a date between his mother and her new beau.
And as his mother gets a new husband, the boy gets a new father: "we went from something's missing to a family".
It doesn't stop there either as Brad Paisley vows to pay it forward and strive to be at least half the father to his own offspring that his awesome stepdad was to him.
Written by: Brad Paisley and Kelley Lovelace
Year Released: 1999
Album: Who Needs Pictures
5. Song for Dad – Keith Urban
I can remember being a teenager and like most teenagers, I swore that I would never turn out like my parents.
I mean that is the most horrifying thought that you can have at that age.
But whether you like it or not, you inherit more than just genes from your parents and one day you may discover that you have turned out pretty similar to one or both of your parents.
Have you ever seen a picture of your father (or mother for women) when he was younger and it's like looking in a mirror?
That's not a problem for Keith Urban who strives to be more like his father and even includes some clever lines like "When somebody says I hope I get to meet your dad, I just smile and say you already have" to make his point.
Written by: Keith Urban
Year Released: 2002
Album: Golden Road
6. Waited So Long – Carly Simon
This is another song that deals with daddy's little girl growing up and the pain that fathers can feel as their daughter becomes a woman.
But Carly Simon doesn't beat around the bush regarding the issue with lyrics like "Daddy, I'm no virgin. And I've already waited too long".
But it's not as harsh as it may seem, as she also tells her father she is sorry several times in the track, but it's time for her to start her own life and live independently.
And although it's hard for parents to let go sometimes, it's easy to forget that your parents were young once too and they can remember what it's like to feel the excitement of youthful love.
But I still feel like she could have been a little more tactful about it, you know?
Written by: Carly Simon
Year Released: 1972
Album: No Secrets
7. Daddy's Hands – Holly Dunn
8. They Don't Make 'Em Like My Daddy Anymore – Loretta Lynn
9. Papa Was a Rodeo – The Magnetic Fields
10. Papa – Paul Anka
11. Daddy Doesn't Pray Anymore – Chris Stapleton
12. Things Dads Do – Thomas Rhett
13. Mr. Mom – Lonestar
14. Father's Love – Gary Valenciano
15. Daddy's Little Girl – Michael Bolton
16. The Greatest Man I Never Knew – Reba McEntire
17. Father of Mine – Everclear
18. Bein' A Dad – Chris Janson
19. Not All Heroes Wear Capes – Owl City
20. Rooster – Alice in Chains
21. Papa Was a Rolling Stone – The Temptations
22. My Dad – Davy Jones
23. Song for My Father – Sarah McLachlan
24. My Father – Nina Simone
25. Don't Take the Girl – Tim McGraw
26. Beautiful Boy (Darling Boy) – John Lennon
27. Ready, Set, Don't Go – Billy Ray Cyrus feat. Miley Cyrus
28. Papa Don't Preach – Madonna
29. Let Me Be the Man My Daddy Was – The Chi-Lites
30. My Father's Eyes – Eric Clapton
31. Single Father – Kid Rock
32. I Still Can't Say Goodbye – Merle Haggard
33. Drunk Daddy – Cherry Poppin' Daddies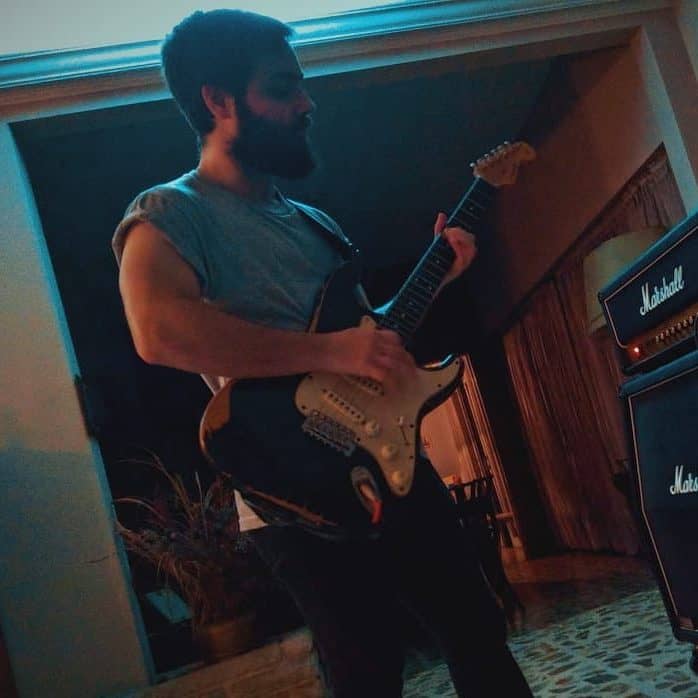 Hello there, my name is Ramiro and I've been playing guitar for almost 20 years. I'm obsessed with everything gear-related and I thought it might be worth sharing it. From guitars, pedals, amps, and synths to studio gear and production tips, I hope you find what I post here useful, and I'll try my best to keep it entertaining also.