Going on a musical journey with your guitar should always be an exciting and enjoyable experience.
That's why we've put together a fantastic collection of 31 fun guitar songs that will keep you entertained while you sharpen your skills.
These songs have been carefully selected for their infectious melodies, catchy rhythms, and easy playability.
Whether you're a beginner looking for catchy tunes to start your guitar adventure, or an experienced player looking for a lighthearted break from the norm, these songs have something to offer everyone.
From classic rock anthems to contemporary pop hits, this eclectic mix is your ticket to a fun and fulfilling guitar experience.
So grab your guitar, strum along, and let the fun begin!
1. Losing My Religion – R.E.M.
To begin with, we have this endless classic from the 1991 album Out of Time.
This track is undoubtedly the best-known song by this American band.
As it is extremely popular, it makes it a perfect and fun piece to play and sing along to.
Just by grabbing your guitar and strumming some chords, you can master it in only a couple of minutes.
The intro consists of a simple sequence made of four open chords: F – Dm – G – Am.
You have to play that twice and add a G in the last time but pay attention to the rhythm because Dm and G act as a sort of passing chords.
The verses showcase the progression Am – Em played thrice plus Dm and G at the end and every verse is the same.
Then, there's a section that can be understood as a chorus, which repeats the same as the intro.
Then we have what seems like a bridge, a section that plays some plucked notes on the first string over the progression Am – G – F – G.
Right after that, the vocals come back and the guitar plays C – Dm twice.
At the very end, the guitar plays a melodic line to close the song.
As you can notice, quite an easy plus fun track to play on guitar!
2. Smells Like Teen Spirit – Nirvana
Nirvana has been one of the cornerstones of grunge music and Smells Like Teen Spirit is their most precious hit.
Released in 1991 and included in their acclaimed album Nevermind, this song is perhaps one of the first songs a beginner learns on guitar.
Anyone who can handle a bunch of power chords and can play simple melodic lines will play the track straight away.
What is even more, after strumming the first notes everyone will recognize it instantly.
The intro consists of a simple power chord progression: F5 – Bb5 – Ab5 – Db5.
However, it's not so easy, between F5 and Bb5, and Ab5 and Db5 you will have to strike some rhythmic ghost notes.
In the verses, you only need to pluck and let ring the notes in the first frets of the second and first strings.
While reaching the chorus, in a sort of pre-chorus you have to play those two notes repeated times.
Once in the chorus, just repeat the sequence in the intro but towards the end there is a slight change.
First, you have to play the progression F5 – E5 – F5 – Gb5 and then the same sequence but replacing Gb5 with Bb5 – Ab5.
Then, the only new section is the solo, a melodic line that resembles the melody of the vocal during the verses.
Once you learn every section you have to remember the structure and you will have learned the grunge anthem.
3. Wake Me Up – Avicii
From the 2013 album True, this piece will only take you five minutes to master.
Although it is an electronic song, it has a track with some hidden guitars that sound incredible on acoustic guitar and are perfect for singing along.
From the intro to the outro, Wake Me Up follows the same chord progression: Bm – G – D – A.
All you have to do is memorize it and learn the lyrics to impress your friends.
You can also invite one of your guitar-playing friends and play the melody while he or she strums the chords.
In short, a simple and popular song that will get everyone's attention!
4. House of the Rising Sun – The Animals
5. (I Can't Get No) Satisfaction – The Rolling Stones
6. All the Small Things – Blink-182
7. Wake Me Up When September Ends – Green Day
8. Crazy Little Thing Called Love – Queen
9. Moves Like Jagger – Maroon 5
10. Juice – Lizzo
11. Sweet Child O' Mine – Guns N' Roses
12. No One Knows – Queens of the Stone Age
13. Feel Good Inc – Gorillaz
14. Eye of the Tiger – Survivor
15. Song 2 – Blur
16. Don't Start Now – Dua Lipa
17. Rebel, Rebel – David Bowie
18. Master of Puppets – Metallica
19. Sweet Home Alabama – Lynyrd Skynyrd
20. Crazy Train – Ozzy Osbourne
21. Get Lucky – Daft Punk
22. Stand By Me – Ben E. King
23. Crazy On You – Heart
24. Seven Nation Army – The White Stripes
25. Highway To Hell – AC/DC
26. Can't Stop – Red Hot Chili Peppers
27. Take Me Home, Country Roads – John Denver
28. Happy – Pharrell Williams
29. Little Wing – Jimi Hendrix
30. I'm Yours – Jason Mraz
31. Africa – Toto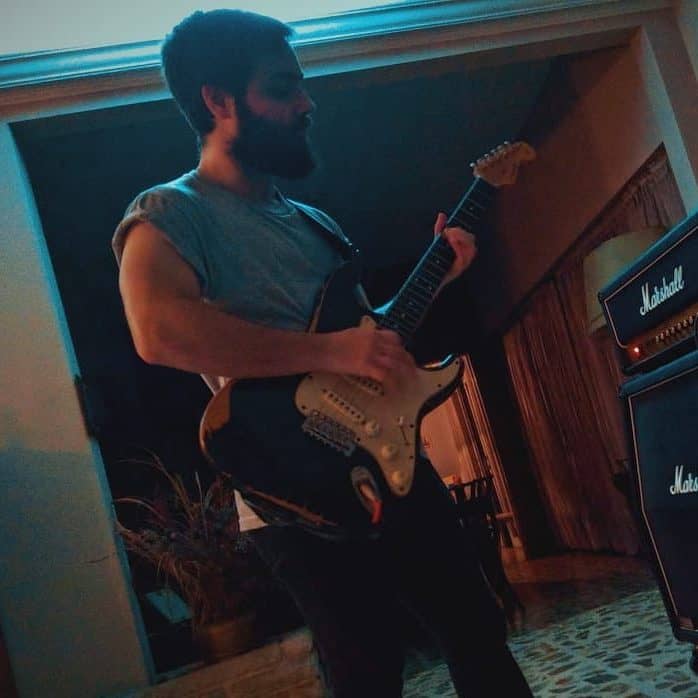 Hello there, my name is Ramiro and I've been playing guitar for almost 20 years. I'm obsessed with everything gear-related and I thought it might be worth sharing it. From guitars, pedals, amps, and synths to studio gear and production tips, I hope you find what I post here useful, and I'll try my best to keep it entertaining also.