There are a lot of guitar players out there who would probably never have picked up the instrument if it wasn't for Rock music.
I'm definitely one of those people.
While the style isn't exactly topping the music charts in today's musical scene, I think Rock music had a pretty good mainstream run, going from about the early Sixties to the turn of the millennium.
It's a style that can be loud, brash, angry, etc., and the energy that it contains often appeals to youth, which coincidentally is when many people start playing an instrument.
Of course, it's definitely still around too, you just have to search a little harder to find the good stuff than you did in the past.
And I'm sure it will come back en vogue at some point as generations tend to reject whatever their parents grew up with. Just imagine when EDM is considered Golden Oldies.
But in true Rock and Roll style, many of us don't care what the current trends are, or even what other people think. We just love Rock music!
For guitarists everywhere, it's a blast to play this style and although there are some super talented players that are on a completely different level, there are plenty of songs that players who are just starting out can cut their teeth on too.
So here's a huge list of songs that beginners and veterans can enjoy…
1. Heart of Gold – Neil Young
Neil Young is one of those figures that will always resonate with younger musicians and music connoisseurs.
For example, he is sometimes called the godfather of Grunge music, but not necessarily because of this song, which employs a simple acoustic guitar and harmonica arrangement.
It is one of his most well-known compositions though and it's an excellent choice if you want to add a new song to your repertoire.
There are a few little fills that you can add in but most of the song uses the same chord progressions in slightly different orders.
Here is how to play it.
Intro: Em7 D Em and then fill (play two times)
Fill:
D|——–0–2-
A|–0h2——-
Em C D G (three times)
Repeat the first line of the intro once.
Verse: Em C D G (three times)
Em G C G (two times)
Outro: Em7 D Em (three times)
Em G C G
And here's a lesson:
2. About a Girl – Nirvana ("Unplugged" version)
One of Nirvana's best songs (in my opinion) was actually from their first album Bleach, and while many of their early songs fell out of favor after the success of Nevermind, this one often remained part of their live set.
Then later the MTV Unplugged in New York version became an instant classic and was released as a single five years after the original was released on Bleach.
And for a Kurt Cobain song, the lyrics are surprisingly traditional compared to a lot of the stream-of-consciousness style lyrics he was famous for.
Musically it is also a great example of how Cobain used "sloppy" playing to achieve some interesting chord voicings.
Here is how to play the song (tune down a half step to match the live album version).
Intro, Outro, and Verse: Em G (repeat as needed)
Chorus: C# C#/G# F#7add11 (play two times)
E(5) A(5) C
Em G (four times)
(C#/G# is just like C# but you add the sixth string fretted at the 4th fret too.
F#7add11 is F# with the 1st and 2nd (and maybe 3rd?) strings played open.)
And here's a lesson:
3. Secret Agent Man – Johnny Rivers
If you like your Rock with a side of Surf and danger, this is a perfect song with a catchy but stupidly simple intro and easy chords.
It was actually part of a TV show soundtrack in the UK but Surf Rock masters The Ventures did a great version of it too.
Of course, the riff is very reminiscent of the James Bond Theme song but the rest of the song has its own feel with a very effective use of minor chords to set the mood.
Here is how to play it.
Intro:
E|——-0—-0—-0—-0—-0—-0—-
B|—————————————  
G|—-/4—-5—-5—-6—-5—-5—–
Verse: Em Am Em B7
Em Am Em Am Em
Chorus: Bm Em (play two times)
C B7
Em C E
And here's a lesson:
4. She Drives Me Crazy – Fine Young Cannibals
For something a little different you can try this song that is technically classified as Dance Rock.
The music video is as cheesy as you would expect for a song from 1988 but the album, The Raw and the Cooked that it is from, is a longtime guilty pleasure of mine.
And while the song is based on guitar, I feel like the guitar is used in a way that many Eighties songs would use a synth.
Intro: D and C power chords for the rhythmic riff
D G Bm A (play two times)
Verse and Chorus: D G Bm(11) A
Instrumental break/fill during verse: Play the D C intro riff followed by a fill strumming the 1st thru 3rd strings with a type of D and D#m barre chords like this.
E-10 E-11
B-10 B-11
G-11 G-11
It's a very simple song but there are some nuances as far as switching between power chords and open chords to pay attention to. Just check out the video if you need extra help.
And here's a lesson:
5. Picture – Kid Rock feat. Sheryl Crow
I'll never fully understand how Kid Rock went from the insanity that is Bawitdaba to this Country Rock song.
But no matter what Kid Rock is saying or doing to stir up controversy, I have to admit this song is an absolute banger
Plus, Sheryl Crow's performance is stellar too.
It's also a really popular duet to perform at karaoke bars so there's a good chance your friends already know all the words!
It's a really simple composition with only four cowboy chords and you can finger-pick or strum it.
This is how to play it.
Verse: G C D C G (play two times the first two verses and three times for the third verse)
Chorus: Em G D C G (two times and repeat the D C G line an extra time at the end of the last chorus)
And here's a lesson:
6. Don't Bring Me Down – Electric Light Orchestra
7. Whiskey in the Jar – Thin Lizzy
8. I Love Rock and Roll – Joan Jett and the Blackhearts
9. I Don't Want to Miss a Thing – Aerosmith
10. I'm in Love with You – The 1975
11. Loco – Coal Chamber
12. Dirty Old Town – The Pogues
13. First It Giveth – Queens of the Stone Age
14. Hate to Say I Told You So – The Hives
15. Boulevard of Broken Dreams – Green Day
16. Black Cat – Janet Jackson
17. Ballroom Blitz – The Sweet
18. I Think I'm Okay – Machine Gun Kelly feat. Travis Barker and Yungblud
19. The Killing Moon – Echo and The Bunnymen
20. Dude (Looks Like a Lady) – Aerosmith
21. Du Hast – Rammstein
22. That's When I Reach for My Revolver – Mission of Burma
23. Heart Shaped Box – Nirvana
24. Bullet with Butterfly Wings – The Smashing Pumpkins
25. Rock and Roll – The Velvet Underground
26. Hunger Strike – Temple of the Dog
27. Enjoy the Silence – Depeche Mode
28. In Between Days – The Cure
29. You Really Got Me – The Kinks
30. Just a Girl – No Doubt
31. Jubilee Street – Nick Cave and the Bad Seeds
32. Sunday Bloody Sunday – U2
33. Take It on the Run – REO Speedwagon
34. What a Wonderful World – The Ramones
35. Lady Picture Show – Stone Temple Pilots
36. How's It Going to Be – Third Eye Blind
37. Hungry Like the Wolf – Duran Duran
38. Should I Stay or Should I Go – The Clash
39. 20th Century Boy – T-Rex
40. American Woman – Lenny Kravitz / The Guess Who
41. Don't Want to Know If You Are Lonely – Hüsker Dü
42. Eye of the Tiger – Survivor
43. Sweet Dreams (Are Made of This) – Marilyn Manson
44. Another Brick in the Wall Part 2 – Pink Floyd
45. Life During Wartime – Talking Heads
46. Sex and Candy – Marcy Playground
47. D'yer Mak'er – Led Zeppelin
48. I Ran (So Far Away) – A Flock of Seagulls
49. Sunshine of Your Love – Cream
50. Self Esteem – The Offspring
51. Father of Mine – Everclear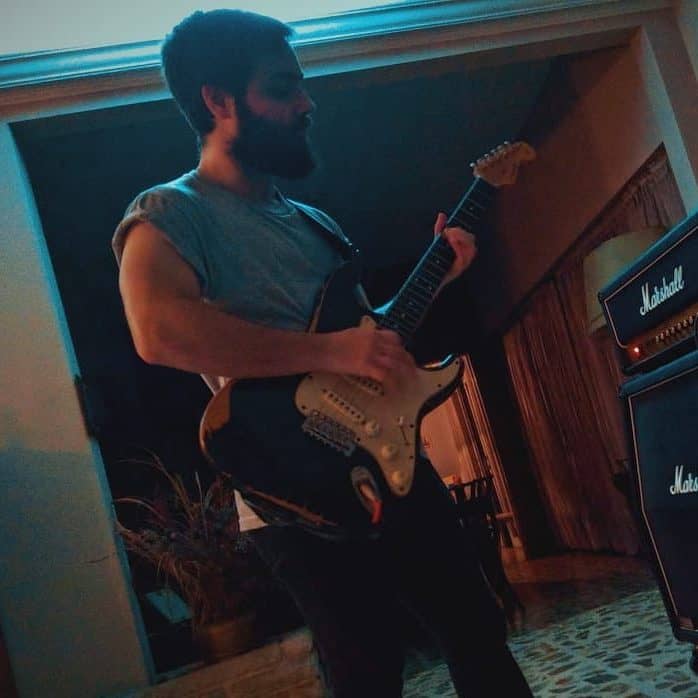 Hello there, my name is Ramiro and I've been playing guitar for almost 20 years. I'm obsessed with everything gear-related and I thought it might be worth sharing it. From guitars, pedals, amps, and synths to studio gear and production tips, I hope you find what I post here useful, and I'll try my best to keep it entertaining also.